Dig This Reporting
The gossip tidbit is that Kobe and his wife, for whom he had to purchase a huge diamond due to his raping a young girl at a Colorado hotel, are expecting another child.
Note the underline in the paragraph below from
13WHAM.
Ahem. Kobe Bryant was NOT cleared of the rape. The young lady dropped the case when Bryant's shark lawyers began to rip her apart.
Now perhaps, as Kobe claims, it was consensual sex. Although the Colorado prosecutors thought the damage to the young woman was enough to cause the rape charge to be very believable.
Still, that is NOT the same thing as being "CLEARED".


Kobe Bryant to be a Dad Again

Controversial basketball star Kobe Bryant and his wife Vanessa are expecting their second child in May.

The couple already has a three-year-old daughter named Natalia.

A spokesperson for the couple says, "In addition to their excitement, Kobe and Vanessa have been sharing a lot of laughs because, after hitting game winning shots for the Los Angeles Lakers, Kobe has been making late night food runs for his wife's pregnancy cravings only to get home with the food and find out that her craving has changed."

Bryant was cleared of raping a 19-year-old hotel worker in Colorado last
year. He claimed the sex was consensual.
~~~~~~~~~~
A Book You Really Oughta Read
I like it so much it will be the feature book for this Blog post.
Because with such luminaries and political experts as Barbra Streisand, Cher, and the very handsome Michael Moore, how can you go wrong?
The book is
Do As I Say (Not As I Do) : Profiles in Liberal Hypocrisy
by Peter Schweizer.
Check out the Amazon listing for the book. Better, buy one. And hey, check the comments by such unbiased users such as BitchAboutBush.com "Support The Anti-Bush Movement @" (http://www.BitchAboutBush.com). Heh.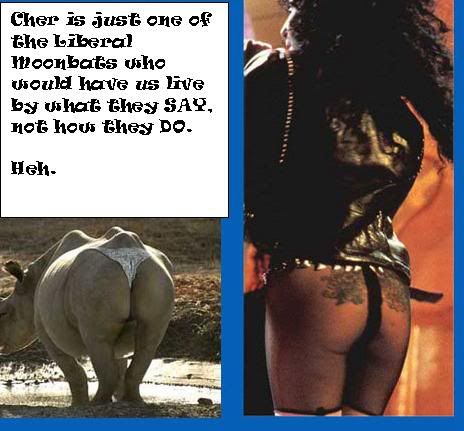 We hear Al Franken is suing.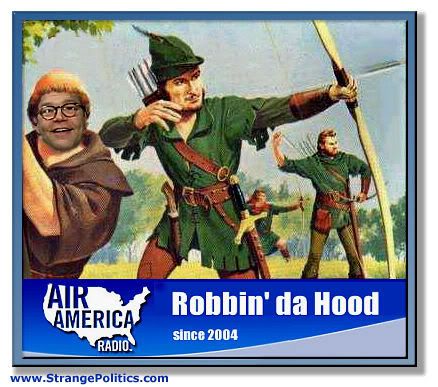 ~~~~~~~~~~
Trump Making $15 Million for Ten Speeches
We're all for capitalism here and if The Donald can get these kind of bucks for talking, then more power to him.
The speeches will be for
The Learning Annex
, according to
SFGate.com,
a "Sylvan Learning Center" type of place that was, ahem, featured prominently in a recent
The Apprentice
episode.
We also hear Trump is filing bankruptcy on some of his Atlantic City casinos.
Wethinks The Donald with the impossible hair should be making up my mind just who he is. Is he a savvy business fellow who managed to grow his father's legacy to a grandness of epic proportions? Is he a TV star? Or is he a huckster selling his soul for the highest offer?
It'll die off someday, somebody should tell The Donald. Someday he'll just be a has-been with ridiculous hair.

The Apprentice" star Donald Trump is set to make $15 million for ten one-hour speeches.

The property tycoon will headline The Learning Annex Real Estate Wealth Expo Tour 2006 after his reality TV show made him a celebrity as well as a tycoon.

The Learning Annex president Bill Zanker says, "In the 25-year history of The Learning Annex, there's never been a bigger draw than Donald Trump.

"He's worth every dollar we're paying him and then some."

Trump will take the show to Las Vegas, New York, Dallas, Houston, San Diego,
Chicago, San Francisco, Los Angeles, Boston and Philadelphia.

~~~~~~~~~~
More Laughs From USA Today and Condoleeza Rice
The incident of Condoleeza's "demon eyes", pic below, was covered
here on Blogcritics.
Seems some Photoshopping was done to a picture of Condi and she came off looking possessed.
Here's some more laughs on behalf of USA Today.
~~~~~~~~~~
A Note to Check It Out
Somebody on Blogcritics will be reviewing it. Might even be me.

A quartet of intriguing musical pairings have been added to the line up of
performers for the "2005 American Music Awards," airing Tuesday, November 22 on ABC-TV.

Added to the list of performers for the 33rd annual special are: Bow Wow, Omarion &Ciara who will perform a medley including the current chart hits "Let Me Hold You" and "Like You"; Cyndi Lauper with special guest Sarah McLachlan performing Cyndi¹s classic "Time After Time," which is included on her forthcoming album "The Body Acoustic"; Pharrell brings along Gwen Stefani and they will perform "Can I Have It Like That" from his forthcoming "In My Mind" album; and Santana with feature Los Lonely Boys in his performance of "I Don't Wanna Lose Your Love" from his newly released "All That I Am" album.

~~~~~~~~~~
Judith Miller, Vaunted NY Times Reporter, Retires
After spending three months in jail and testifying before the grand jury on the CIA Wilson/Plame leak,
The WAPO reports
that Judith Miller will be leaving the NY Times after a 28 year career.
Wonder if she'll get a gold watch.

After becoming the news, Times reporter Miller retires
Agreement over departure includes letter to editor, clarification of criticism

By HOWARD KURTZ
Washington Post

NEW YORK - Judith Miller, the New York Times reporter who went to jail as a First Amendment champion in the CIA leak case but wound up being rebuked by her executive editor and some of her colleagues, resigned from the paper Wednesday after a controversial 28-year career.
~~~~~~~~~~
Finally, Gotta Admire the Ambition
Because somebody actually ordered the hamburger depicted below.
What a hoot.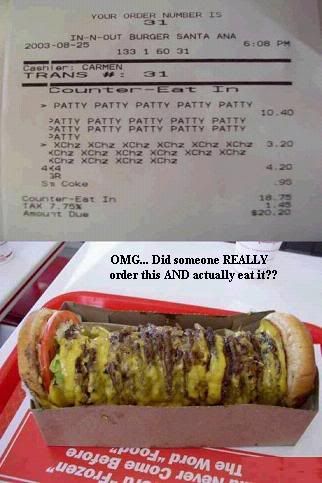 ~~~~~~~~~~
More Gossip/Speculation HERE
=============

Biden Backs Down
Heh. Seems threatening to shove rosary beads down someone's throat is not considered good political form.

Biden admits he shouldn't have threatened to shove rosary beads down people's throats

Senator Biden is backing off of some controversial remarks he made last month during a campaign appearance in Kentucky.

Biden told WDEL's Allan Loudell Thursday that he regrets saying he would shove his rosary beads "down the throat" of the next Republican who questioned his faith.
~~~~~~~~~~
Nanny Minner Not Doing Too Well
Seems even her friends, the mighty Delaware state worker unions, are even picketing the lady's house.
Indeed this Biden buddy has ratings tanking so bad they make Bush's look astronomical. Read on for her next act.
All of the following from a GOP email.

Two unions, representing state workers, set up a picket line at the Governor's Mansion at Woodburn Monday afternoon.

Council 81 and Local 3384, under the American Federation of State, County and Municipal Workers, is seeking legislative hearings for employees in the Division of Youth Rehabilitative Services.





Incompetent administrators and nepotism are just a few of the problems, according to Don McIlvain Vice President of Local 3384.

The union says the un-addressed problems are creating an unsafe and hostile work environment.
=============
If you think Gov. Aunt Bee Minner's popularity has been slowly going down the tubes of late, you're right, according to a new poll on governors.

Minner, with 26 months left in her second term, has a popularity rating of 39 percent -- according to SurveyUSA.com and local sponsor WCAU-TV in Philadelphia.

In terms of polling, that's dismal...


~~~~~~~~~~
Because Delaware Can Never Have Too Much Biden
And Nanny Minner, so it is speculated, will insure our next generation will have more Cheshire cat grins when BEAU BIDEN is appointed Delaware Attorney General to replace Jane Brady.
More from the GOP email:

Political cronyism has no place when it comes to public safety, and the Attorney General's office is no place for on-the-job training
David A. Crossan, Sr., Executive Director of the Republican State Committee of Delaware, issued the following statement concerning the choice before Gov. Ruth Ann Minner about whom to appoint to the office of Attorney General for the State of Delaware:



"Given the immense impact the Attorney General's office has on the safety of all Delawareans, Ruth Ann Minner is faced with a choice of great importance. She can dip into the vast legal talent and experience in Delaware and appoint someone with extensive credentials and experience, or she can play politics with the Justice system by appointing Beau Biden, who has little to no qualifications to be the state's top law enforcement official."

"If his name were Beau Smith, his qualification to be Attorney General would be laughable."

"Political cronyism has no place when it comes to public safety, and the Attorney General's office is no place for on-the-job training."

"At age 35, trial lawyer Beau Biden is very callow having been a member of the Delaware bar for a mere 3 years. Given the rich pool of legal talent in Delaware, Minner appointing Beau Biden would be transparent cronyism and a slap in the face to the many talented and distinguished lawyers from whom the Governor could choose."
~~~~~~~~~~
Mike Castle-Traitor and RINO
.
Last week, Delaware's one and only representative in the House of Representatives, Mike Castle, voted AGAINST drilling in ANWAR.
Go to hell. We get ourselves one piddly Republican elected and the traitor goes and votes to keep this country dependent on foreign oil, to keep our grandchildren dependent on foreign oil.
Ladies and gems, next time, either the GOP gets a candidate who's a real REPUBLICAN, or go on and vote Democrat. We know where they're coming from.


Mike Castle's Web site


Contact information for the RINO below

Wilmington Office
201 N. Walnut Street
Suite 107
Wilmington, DE 19801-3970
(302) 428-1902 300

Dover Office
South New Street
Dover, Delaware 19904
(302) 736-1666 1233

Washington Office
Longworth HOB
Washington, DC 20515
(202) 225-4165

Georgetown
(302) 856-3334

While You're At It-

Contact these folks at the Delaware GOP and ask them why Castle's against this country. Who's contributing to his campaign. Why did he sell our children's future?

Republican State Committee of Delaware
3301 Lancaster Ave,
Suite 4B
Wilmington, DE 19805
302-651-0260
302-651-0270 (fax)

David A. Crossan, Sr.
Executive Director
302-651-0260, ext. 3
dcrossan@delawaregop.com

Terry A. Strine
Chairman
302-651-0260, ext. 2
terryastrine@i-realty.com

Chris DuHadaway
Office Manager
302-651-0260, ext. 1
cduhadaway@delawaregop.com

Ken Grant
Communications Director
302-651-0260, ext. 4
302-588-4151 (cell)
kgrant@delawaregop.com

~~~~~~~~~~
More Delaware posts HERE
=============================

Dogs savage a crocodile
Pack of Dogs kill Croc In Florida
Sometimes nature is cruel but there is also a beauty in that cruelty. The crocodile as one of the ultimate predators can fall victim to the kind of implemented 'team work' strategy which is possible due to the pack mentality and social structure of canines.
See the attached and remarkable photograph courtesy of Nature Magazine
- but not if you're squeamish!
Editor-Got this off of an email list I'm on. Info and sign up data below.
CuteandFunnyAnimals*
Do you like animals and their antics? Here is the place to go. This is a family oriented group that has cute and funny animals and animal related things for the animal lover in you. Give us a try! You will be glad you did. To subscribe to this group, send an e-mail to:
CuteandFunnyAnimals-subscribe@yahoogroups.com
~~~~~~~~~~
More pics of week HERE
=============