We Didn't Even Know They Were Engaged!
Seems Elton John's getting "married" to his long-term partner, David Furnish. Seems George Michael got into a snit over his lost invitation. Said invitation finally showed up, although mine own invite must have gotten lost in the snail mail.
We love that bit about Elton's wedding being "low-key".
Heh.

John has invited Michael and his partner Kenny Goss to join their post-nuptials celebration.

The Candle In The Wind hitmaker and his partner David Furnish have invited only their parents to their marriage ceremony on Decembe 21, shortly after homosexual marriages become legal in the UK for the first time.

Michael says: "Absolutely, I'm going to the wedding. I think it'll be low-key."
~~~~~~~~~~
Prince Charles' Christmas Card
Once again the snail mail messed up. For my Christmas card from the Prince of Wales has not yet arrived. Not to fear!
I found it on the Internet and decided to share with all yon readers who too did not get a card.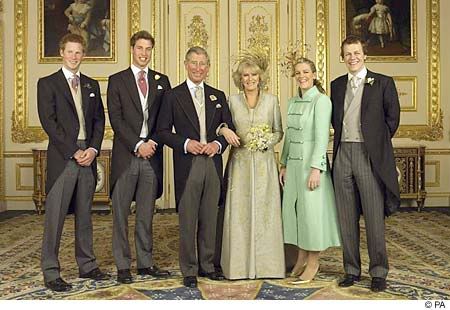 ~~~~~~~~~~
Bono Could Forgive 3rd World Debt With Just His Hat
Heh.
This fellow is so out of touch with reality.
Witness the price tag to obtain his favorite hat.
And he wants American taxpayers to continue to finance the thieves and thugs of the world.
Heh.
| | |
| --- | --- |
| | Meanwhile, the Indianapolis Star reports that "when U2 singer Bono found himself in Italy without his favorite hat, he spent $1,700 to have it flown to his side--first class." And if Bono can spend that kind of money for a lousy hat, is it really too much to expect every taxpayer to cough up at least as much for foreign aid? |
~~~~~~~~~~
Barbara Walters' 2005's Top Ten Most Intriguing People

Dakota Fanning
Thomas Mesereau
Condoleezza Rice
Beth Holloway Twitty
Tom Cruise





Kanye West
Lance Armstrong
Jamie Foxx
Teri Hatcher
Camilla Parker Bowles
Okay, let's look this list over. I agree with the choices of Condoleezza, Beth Holloway Twitty, Lance Armstrong and Camilla Parker Bowles.
Tom Cruise? Well the man is doing everything to extend his waning career, to include marrying a naïve chick, purchasing ultrasounds and promoting Scientology. Intriguing? Come on, he's the result of a massive PR machine.
Teri Hatcher? Teri's certainly had her problems. Haven't we all? But intriguing? Fascinating? I can't imagine spending more than five minutes of my busy life with the woman.
Oh, Kanye West? What the hell is his claim to fame? That he uttered, in the middle of a hurricane then devastating the Gulf coast, that Bush didn't care about black people? A statement based on exactly what? Did not the Mayor of New Orleans' leave the black citizens stranded at the Superdome while scores of school buses were left to be swept by the flood? Did not the Governor of Louisiana cry and fiddle and essentially do nothing, finally evacuating citizens at the urging of, guess who? Bush! What would have happened, as miserable as that Superdome was, but what would have happened had they been left to the flood waters in the 9th ward?
And Bush doesn't care about black people?
And Baba Wawa thinks this melodramatic man is intriguing?
So okay, below I have compiled MY list of fascinating people in 2005. The criteria I used was to choose someone of a somewhat celebrated status with whom I'd like to spend an interesting evening.
So who am I to be picking the ten most fascinating, intriguing people of 2005? Just a humble Grandma Blogger is all.





Pope Benedict XVI
Jon Corzine
Beth Holloway Twitty
Tookie Williams-assuming he's still alive
Camilla Parker Bowles
Chris Matthews
Cindy Sheehan
Laura Bush
Donald Rumsfeld
any soldier stationed in Iraq

Okay, Chris Matthews isn't really anybody. Except, hey, the man fascinates me. Every night I tune into
Hardball
just to see what crazy story he's got that would have him believe his glory days of Watergate and Tip O'Neill have come again. I also love the way man spits, literally, during his weird attempts to become the next Tim Russert.
I agree with Baba on Beth Holloway Twitty. This woman is fighting like the dickens to get justice for her daughter. At times there's complaints about her occupation of the air waves but hey, if it were my daughter I'd be doing the same thing. Not sure I could do it as well as Beth though.
I don't like Cindy Sheehan but she fascinates me. This woman has managed to turn the death of her beloved son into a real business. All the while fooling the Moonbats who think she is sincere that she is the designated speaker for all soldiers killed in battle.
Finally, yes I'd love to share an evening with a solder stationed in Iraq. I'd love to hear tales of the action, the inside tidbits on what it's like out there. Further, I think
all
of the soldiers stationed in Iraq should have been Barbara Walters' most intriguing people. These people volunteered for a duty that most would find difficult not to mention dangerous.
~~~~~~~~~~
More Gossip/Speculation HERE
=============

RINO Christmas Party
For anything involving the Delaware GOP is, by definition, a Republican In Name Only event.
| | |
| --- | --- |
| | Republican State Committee Holiday Party Date: 12/14/2005 Event Time: Starts: 6:00 PM Location: Charles Parks' Studio Wilmington, DE Details: Join your friends for our annual Holiday get- together! This party is open to EVERYONE! (Please bring new hats, gloves, or scarves for those less fortunate) |
~~~~~~~~~~
Minner Hides the Prison Settlement
Does Nanny Minner do anything transparent and above board? We know Biden pulls her strings and Biden, well Biden's running for President.
Now we find out that Delaware taxpayers have settled on the case of the counselor who was kidnapped and held hostage for seven hours. She was also raped before the guards shot the convict and killed him.
We understand that part of the victim's demand was an apology from Nanny Minner, who royally screwed up on this one. Also the victim wanted preventative measures put in place in the Delaware prison system that this would not happen again.
So okay, the victim got a nice settlement from the state. A settlement totally unrevealed by Minner until hounded by the press. And the victim perhaps dropped all those noble notions once the money was forthcoming.
The problem is, we DON'T KNOW what the details of the settlement were.
Yet it's being paid with our money!

Excerpts from the Delaware State News

A prison counselor who was held hostage for nearly seven hours and raped last year at Delaware Correctional Center settled her federal lawsuit against the state last month, her lawyer and the Department of Justice said Wednesday.

The state will pay Cassandra Arnold $1.65 million, said Janice Fitzsimons, a spokeswoman for the state attorney general's office. The money will come from the state contingency fund that covers liability issues.

The suit was settled Nov. 1, but state officials did not reveal the agreement until Wednesday when a Delaware State News reporter asked about the case.

"Public business should be conducted in public, especially with an issue that is as publicized as this one," said John D. Flaherty, a lobbyist for the government-reform group Common Cause Delaware. "This settlement certainly should have been disclosed as soon as it happened."
~~~~~~~~~~
More Delaware posts HERE
=============================

Looks Like a House I Used to Own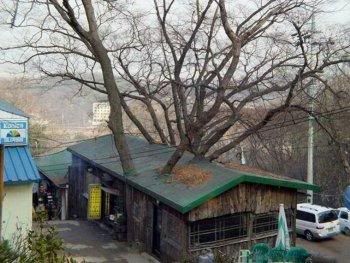 ~~~~~~~~~~
More pics of week HERE
=============