To Be Published on Monday 1/2/06-Tune In!

All stories at this link. Scroll down to appropriate date.
Patriot Act Fought; Times and the NSA Leak
Monday-12/19/05

Somebody's paying these people to make us lose this war. The Democratic Senators who hate America and love their own power are getting contributions from someone very interested in having the U.S. leave the Mideast to the thieves and thugs who control the oil wealth.





Witness the only two Democrats who voted to extend the Patriot Act are the only ones up for re-election next year. They know that while we sit helpless out here in la-la land that, given the first chance, we'll vote these clowns out of office who would risk harm and damage to us and our loved ones.

It's the "cut-and-run" crowd who want to, well cut and run. More at link.





Further, it's since been revealed that the reporter who wrote the article has a book coming out soon. What better way to promote book sales then a big hoopla in the NY Times right before the book is released? It's their methodology.

Get the Times to come out with a big whoop bogus article. Release the book and watch sales soar. Then, of course, an appearance on "60 Minutes". Follow the money. Simon & Schuster is owned by Viacom which also owns CBS which is the network of "60 Minutes".

Oh, and how about that bit about holding onto this news due to requests by the Administration? What a damn crock. They held onto for enough time for Risen to write his book! More at link.
#######
All stories at this link. Scroll down to appropriate date.
~~~~~~~~~~
Bush's News Conference; The Democratic Rebuttal…Heh.
Tuesday-12/20/05





I watched the press conference yesterday and was very surprised on two levels. One that Bush held a press conference so soon after his speech of Sunday 12/18/05, from the oval office. Two, Bush was obviously a man with an attitude during this presser and who can blame him?

Most of the questions were not about the THIRD, count 'em THREE, successful elections in Iraq. Most of the questions were about that bogus NY Times story about NSA email intercepts and wire taps of so-called "American" citizens.

They don't work, these Lamestream Journalists. They do attend all the nosh fests put on by the various and sundry, including those staged by John McCain. Who is the proud author of the "Al-Queda Bill of Rights". The rest of the time they read the NY Times headlines then spend many hours regurgitating it, even if the headline is a complete lie and they know it. More at link…






I saw Carl Levin my own self and with my own lying eyeballs. This man represents a lot of Arabs in his constituency by the way. Which is fine and may Mr. Levin continue to represent those who elected him with panache.

But is he the voice of the entire Democratic party? We must assume so as he was the one first up on the podium after the Bush news conference, mostly spouting nonsense. More…at link.
#######
All stories at this link. Scroll down to appropriate date.
~~~~~~~~~~
Dems Move to Impeach Bush; The Rockefeller Memo
Wednesday 12/21/05

For now they'll settle for frog-marching their political enemies to jail on trumped up charges. In the case of President Bush, they're determined to impeach the bastard. John Kerry let it slip at a recent Christmas party for his campaign staff that the Dems hope to take over the House in the 2006 midterms and then they will be able to properly impeach President Bush.

I heard Barbara Boxer with mine own lying ears say that she's talking with John Dean, of all people, about impeachment proceedings.

The latest NSA flap is a step to that end.
More at link.

Gotta love Lord Jay Rockefeller. This is the man the Dems can go to when they need something incriminating against Bush. Rockefeller sits on the House of Lords' Intelligence Committee, the minority senior member. All of a sudden, lo and behold, the fellow comes out with a handwritten letter that very vaguely suggests the good Lord Rockefeller had issues with the briefings given to the House of Representatives' and the House of Lords' senior Intelligence Committee members.
More at link.




#######
All stories at this link. Scroll down to appropriate date.
~~~~~~~~~~
Drilling in ANWR Voted Down
Thursday-12/22/05

Ladies and gems, WHO benefits from the U.S. being totally unable to drill for oil in its own soil?

The answer is NOT the wildlife. We've got oil wells in Texas, we've got oil wells in the Gulf Coast, we've got an oil well on the grounds of Beverly Hills High School for God sake! There's been no massive animals kills or environmental damage from oil wells. Environmental damage would be even less in the frigid Artic.

So why can't we get the congress critters to allow us to drill in OUR OWN COUNTRY? Something almost every American would want. The House of Lords know it. They know that drilling for oil in ANWR is something most Americans save the enviro wackos would want. Anything that keeps our gas cheap and our households humming, sure. Most of us don't like those sons of camels anyway who we must kiss butt to buy their oil.

One would think that ELECTED officials would vote in such a thing handily and with a smile.
More at link.




######
All stories at this link. Scroll down to appropriate date.
~~~~~~~~~~
Political Cartoon of the Week
Bush could tell McCain a thing or two about torture.
######
All stories at this link. Scroll down to appropriate date.
~~~~~~~~~~
Prior Weeks Just Passed HERE
===============

From One of My Favorite Hosts
Chris Wallace hosts Fox News Sunday. Here's his pithy commentary on the out-of-control Howard Dean.
By the way, where is Dean lately?

Asked about DNC chair Howard Dean's recent prediction that the U.S.
would lose the war in Iraq, Chris Wallace told Carr:

"We are in a war. We do have 150,000-plus American soldiers over
there. I mean, it's Tokyo Rose, for God sakes, going on radio saying
we can't win the war."
~~~~~~~~~~
Talk About Stomping on the Bill of Rights
Last I looked, forcing an American to pay for the crimes of another American is nowhere in the Bill of Rights.

IT'S ALL ABOUT THE MONEY

"(Hawaii) now requires new owners of a car to pay unpaid parking tickets incurred by its previous owner. . . . The new owner and the old owner are of course separate persons. Usually, we understand that each member of a two-person group is morally responsible only for his own actions. Often the law recognizes this. Suppose the previous owner of a car committed a murder with the car. You can't be charged with murder even if you now own the very same car. So why -- and on what grounds -- force somebody to pay for the parking fines incurred by somebody else? Can you say, 'revenue from parking tickets'?"

- Paul Jacob of Americans for Limited Government




~~~~~~~~~~
Of all the dumb ass things to say, this absolutely, and don't tell me not, tops it all. Democratic Senate Minority Leader Harry Reid reveals how he REALLY feels. Imagine such a silly concept that WHOEVER HAS THE MOST VOTES WINS! No wonder the Democrats ignore the Iraqi elections. Getting the most votes means nothing to them.
As a result of Harry's fine bit of wisdom, from this moment on I shall refer no more to that chamber of congress known as the "Senate" by that name.
They will forever be called
"The House of Lords".
That oughta make Harry happy.

House and Senate negotiators have agreed on a year-end legislative package that includes $42 billion in reduced spending growth and, most important, oil drilling in Alaska. The deal seems to be a pretty good one, even though conservatives are angry that Bill Frist included $4 billion in new spending in the package.

Reid's Response Below.

"We've become like the House of Commons. Whoever has the most votes wins. It hasn't worked that way in 216 years."
~~~~~~~~~~
No Comment Needed
| | |
| --- | --- |
| | "More Iraqis think things are going well in Iraq than Americans do. I guess they don't get the New York Times over there."—Jay Leno |
~~~~~~~~~~
Insert Smile Here

From Chris Rock:
"You know the world is going crazy when the best rapper is a white guy,
the best golfer is a black guy, the tallest guy in the NBA is Chinese,
the Swiss hold the America's Cup, France is accusing the U.S. of
arrogance, Germany doesn't want to go to war, and the three most
powerful men in America are named Bush, Dick, and Colon."

Need I say more?"
~~~~~~~~~~
Where Would Jesus Shop?
I mean, how low can you go?
No wait. You could take your members' union dues, make big contributions to your local Maryland Representative's campaign, and get a law introduced to FORCE employers to pay their employees YOUR way.
But to intimate that Jesus would not shop at Wal-Mart?
If Wal-Mart had loaves and fishes cheaper than anywhere else, I'm thinking He'd go there.

Wal-Mart Statement on Union-Funded, 'Where Would Jesus Shop?' Campaign

WASHINGTON, Dec. 9 /PRNewswire-FirstCall/ -- The following was released today by Wal-Mart Stores, Inc. (NYSE:WMT) :

Wal-Mart Stores, Inc. today released the following statements concerning the United Food and Commercial Workers' decision to waste its members' dues on an attack campaign against the store while thousands of union jobs disappear and its offensive, misguided attempts to veil its attacks with religious overtones.





~~~~~~~~~~
Since He's Mine Own Fine Lord
From the House of Lords, I mean, representing Delaware. Came across this witty ditty in my Blog travels and had to smile. For Lord "Hairplugs" Biden just came back from Iraq. Do you suppose if he found anything bad he wouldn't be out and about and proclaiming this in front of the cameras he adores? Instead we hear…silence.
From the Captain:
| | |
| --- | --- |
| | Who was it that said, "As the Iraqis stand up, we will stand down"? Was that the Man Without A Plan? It seems that the plan has been in place for quite a while, and that Slow Joe Biden couldn't recognize a trained military or security troop if he tied Biden's shoes for him." |
~~~~~~~~~~
Somebody's Sig Line
Found in an email.
Finishing up with a smile and an unvarnished truth.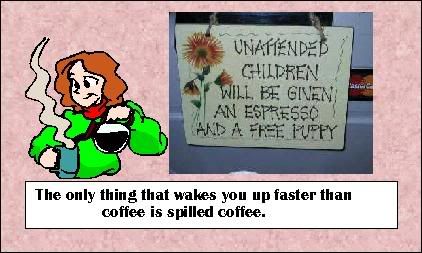 ~~~~~~~~~~
More Notable/Quotables HERE
=================

It's Cooooold Outside
Time for a little penguin batting practice to while away the winter days. Click on the pic below for a simple, but addictive, little game.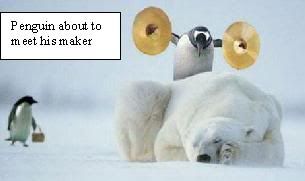 ~~~~~~~~~~
More Web Notables HERE
===========