Martha's "Turkey Hill" For Sale. Paper Cell Phones? Brad & Angie's Baby and Blind Item Fun
Pic of the Day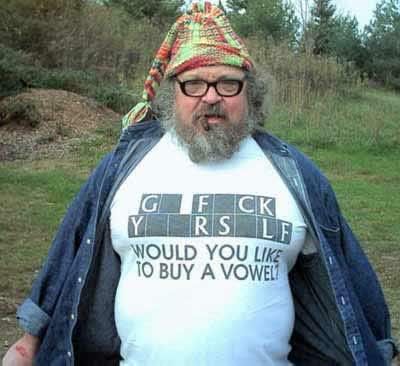 ---
Quote of the Day




An ignorant person is one who doesn't know what you have just found out.

An onion can make people cry, but there has never been a vegetable invented to make them laugh.

Ancient Rome declined because it had a Senate; now what's going to happen to us with both a Senate and a House?

Be thankful we're not getting all the government we're paying for.

Diplomacy is the art of saying 'Nice doggie' until you can find a rock.
Will Rogers
Web Site Worth the Visit
For the Children...I tested this site out on my 2.5 year old little angel, Kaitlyn Mae. She loved it. Great for Grandkids and Grandparents!

Great Kids Site


TIDBITS

~An Ode to America~

Why are Americans so united? They would not resemble one another even if you painted them all one color! They speak all the languages of the world and form an astonishing mixture of civilizations and religious beliefs. Still, the American tragedy turned three hundred million people into a hand put on the heart.

Nobody rushed to accuse the White House, the army, and the secret services that they are only a bunch of losers. Nobody rushed to empty their bank accounts. Nobody rushed out onto the streets nearby to gape about. The Americans volunteered to donate blood and to give a helping hand.

After the first moments of panic, they raised their flag over the smoking ruins, putting on T-shirts, caps and ties in the colors of the national flag. They placed flags on buildings and cars as if in every place and on every car a government official or the president was passing.

On every occasion, they started singing their traditional song: "God Bless America!" I watched the live broadcast and rerun after rerun for hours listening to the story of the guy who went down one hundred floors with a woman in a wheelchair without knowing who she was, or of the Californian hockey player, who gave his life fighting with the terrorists and prevented the plane from hitting a target that could have killed other hundreds or thousands of people.

How on earth were they able to respond united as one human being?

Imperceptibly, with every word and musical note, the memory of some turned into a modern myth of tragic heroes. And with every phone call, millions and millions of dollars were put in a collection aimed at rewarding not a man or a family, but a spirit, which no money can buy.

What on earth can unite the Americans in such a way? Their land? Their galloping history? Their economic Power? Money? I tried for hours to find an answer, humming songs and murmuring phrases with the risk of sounding commonplace.

I thought things over, but I reached only one conclusion... Only freedom can work such miracles.

~ Cornel Nistorescu

"Turkey Hill Farm" For Sale
For a mere $8 million plus, Martha Stewart's famed farm can be yours. Complete with a parlor floor stenciled by Martha herself.
Put your bids in now.
From Blogcritics.org:
Luxist reports that Martha Stewart has placed Turkey Hill Farm, her Westport, CT, estate home, on the market. Stewart is asking $8,995,000 for the 3,100 sq. ft. home, which sits on nearly four acres of lushly landscaped grounds. The home, which has three bedrooms and two baths, was originally built in 1805. Restored by Stewart herself, the home is near vintage.
Barbaro Update
Seems vaunted race horse Barbaro is recovering nicely. The poobahs at the Preakness track swear, after viewing stills, spans and something they call "head-on" shots of the race when Barbaro broke his ankle, that another horse, "Brother Derek", somehow got close to Barbaro and Brother Derek's leg came down on Barbaro's leg, shattering something called the "pastern". Brother Derek's jockey adamantly denies his horse hit Barbaro.
Another interesting tidbit, one widely bandied concept is that though Barbaro won't be able to race again, he can be used for stud. By reading the article linked below, it's not quite that simple. If Barbaro's leg doesn't heal properly, he won't be able to mount a mare. That's what the vet says, folks, read it yourself. Although the vet treating Barbaro predicts the horse will recover handily to achieve stud ability, to be sure. I for one hadn't thought that a leg break could also affect a horse's ability to stud.
From The Horse.com:
According to Richardson's daily reports, the post-op recovery couldn't be going any better, with Barbaro, who remains in intensive care, handling everything with the same courage, toughness, and class he displayed during his undefeated, but all too brief, career on the racetrack.

AND
There have been numerous theories on why the injury occurred, but it is all speculation. The latest theory comes from Pimlico Race Course officials who watched the race frame by frame and strongly believe Barbaro's right hind leg was struck by Brother Derek just before the colt's misstep.
Top Ten GOP Adulterers
Came across this tidbit and considered it should perhaps be a Political Tidbit feature. Then I read the list and saw so many lies that it was more gossip. Quoted below are three of the alleged Top Ten GOP Adulterers.
You'll never believe who's the number one GOP adulterer.
From Pensitoreview:
7. Former House Speaker Newt Gingrich, is probably the most audacious serial adulterer in any political party.

8. Former Rep. Bob Barr's notoriety as an adulterer was one of many ironies around the so-called Defense of Marriage Act (DoMA) which he wrote, and which was passed with the leadership of fellow adulterers Sen. Majority Leader Bob Dole and House Speaker Newt Gingrich.

9. Rep. Henry Hyde, who served as chairman of House Mangers in the adultery-related impeachment of President Clinton, was a home-wrecker himself. Hyde had an affair when he was a young and foolish man of 41 while he and his girlfriend were both very much married. Her husband later said Hyde broke up his family.
BLIND ITEM FUN
From: Page 6-6/5/06
ASKED
WHICH super-skinny celeb says she wants to gain weight but can't?

Seems that when she was not so thin, she had her stomach stapled and is stuck with her skeletal look . . .
GUESSED
Nicole Richie

If it were anywhere other than Hollywood, it couldn't be Nicole Richie. I mean, no ethical doctor would perform a dangerous, invasive surgery on a woman who is 10--20 pounds tops!--overweight. Seriously the girl was never fat.

Plus....people who have had their stomach stapled *can* still gain weight. Look at Carnie Wilson (I know, she had gastric bypass). She gained 40lbs or so since her surgery.

This BI probably is Nichole Richie...but she isn't thin because of a stomach stapling....she's thin because of the booger sugar.

ASKED

WHICH Hollywood starlet, who's earned a rep for sleeping with almost anyone, is now into threesomes? She likes to get it on with two guys at once in club bathrooms . . .
GUESSED
I'll say, Lindsay Lohan

Nah, Tara Reid.

ASKED

WHICH young, divorced celebrity left her man because she thought she had found true love with someone else? Sadly, the guy she had an affair with freaked out when she left her husband for him and hasn't called her since . . .
GUESSED
Jessica Simpson

Sophia Bush.

ASKED


WHICH actress is so desperate for male attention, she's been known to turn into a "psycho-stalker?'' After her last one-night stand, her conquest, whom many assumed to be gay, said he couldn't get rid of her.
GUESSED
Teri Hatcher (Ryan Seacrest - 1 night stand -

Brad and Angelina's Baby

They sure weren't shy about getting the baby's pic out there.

From Chicilan.com:



Al Gore Gets No Respect

Although his new movie "An Inconvenient Truth" should be shouting this ex-presidential contender's name on every poster and include him in every trailer, oddly, all references to Gore's name and participation in the film have been removed from all promotional hype.

Heh.

They didn't call him Al Bore for nothing.

From Deadlinehollywooddaily.com:

Why isn't Al Gore anywhere on his movie poster? The Drudge Report wonders that today because not only his image but also his name is nowhere to be found on Paramount's poster, not even among the film's credits. This, though An Inconvenient Truth is Al's "little slide show," as he himself calls it, and stars the former vice president and 2000 Democratic presidential candidate.

Speaking of Losers

The Dixie Chicks aren't doing that well either. The Lamestream media has been hyping their current album sales of 500,000 as wonderful although their prior albums have sold in the multiple millions. The vaunted group of female country/western songbirds who lambasted President Bush overseas did manage to totally alienate their audience but this alleged "comeback" was supposed to be spectacular.

Don't forget all the publicity help the Chicks got from the Lamestream, including Larry King interviews and monitoring by all the major newspapers.

Still they've had to cancel several concerts due to disappointing ticket sales.

The thing I like most about the demise of the Dixie Chicks is that no matter how damn much the liberals moan that we're not being "fair" to the group, that we're not allowing them their "free speech", that the Chicks are brave to speak "truth to power", heh, THEY CAN'T DO A DAMN THING ABOUT IT!

They can't make us buy records and they can't make us attend concerts.

Live with it.

From Yahoo.com:

NASHVILLE (Billboard) - Initial ticket sales for the Dixie Chicks' upcoming tour are far below expectations and several dates will likely be canceled or postponed.

Ticket counts for the 20-plus arena shows that went on sale last weekend were averaging 5,000-6,000 per show in major markets and less in secondaries, according to sources contacted by Billboard. Venue capacities on the tour generally top 15,000.

American Idol 2006 News

Looks like the American Idol finalists are out and about and doing okay.

From American Idol 2006 Blog:


Just Released! Listen to the new duet of Chris Daughtry and Ed Kowalczyk of Live performing the band's new single, "Mystery". If your a Chris Daughtry fan like I am, you are going to love this song.

AND
From Yahoo.com:

NEW YORK - Being the "American Idol" runner-up has its rewards, too. Katharine McPhee, who lost out to Taylor Hicks in the top-rated Fox show's finale two weeks ago, has signed a record deal with music mogul Clive Davis in conjunction with 19 Recordings Unlimited, the label managed by "Idol" creator Simon Fuller, it was announced Tuesday.

Food Police Update

First Question: Who in the federal government of lazy bureaucrats authorized this stupid study?

Because that is what this report is, the result of a study "requested and funded by the FDA" is, our government throwing money at some organization called The Keystone Center, to come up with recommendations for restaurants that I could have done and I would have compiled the report far cheaper.

The report calls for common sense actions as regards restaurant servings but go on, restaurants are in business to make money. A silly report like this is unlikely to change their food-serving habits and portions.

Sure, McDonalds reacted to public criticism and began offering salads and juices alongside their greasy offerings. You can believe if salads and juice doesn't sell at McDonalds they simply won't sell it.

I guess the above report is supposed to serve as "pressure" to restaurants across the land.

I don't think it will work.

Now to find out what politico has a brother-in-law working for The Keystone Center.

From the WAPO.com:

WASHINGTON -- In the fight against obesity, restaurants should shrink portions, provide more nutritional information and bundle such calorie-laden food as burgers and pizza with healthier side dishes, according to a federally commissioned report to be made public Friday.

The report, requested and funded by the Food and Drug Administration, lays out ways to help consumers manage their intake of calories from restaurants, cafeterias and ready-to-eat meals bought at grocery stores. It does not address school meals.

Paper Cell Phones?

Why not? Once upon a time I'd have laughed myself silly over the concept of paper cameras yet go into any tourist gift shop and there you have it.

From Mobilefanatic.net:

It is named "Paper says" and it is aimed at travelers because renting phones, bringing your own or buying phone cards are all too inconvient. So why not have a vending machines that offer disposable phones?

Ending With a Smile

Ah, Brittany. A lousy mother and now we know you are an intellectual boob.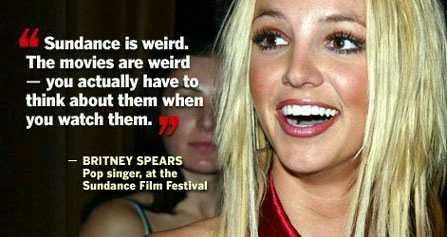 More Gossip/Speculation HERE