Star Jones, Michael Jackson, Blind Item Fun, Carrying Your Home Network In Your Pocket. Much more.
Pic of the Day
---
Quote of the Day

But she looked good in the swimsuit.



Question: If you could live forever, would you and why?

Answer: "I would not live forever, because we should not live forever, because if we were supposed to live forever, then we would live forever, but we cannot live forever, which is why I would not live forever."
Miss America 1995 from Alabama Heather Whitestone



Web Site Worth the Visit
The Dancing Hippo

Serious. Have some fun. Watch those dancing hippo feet.

Dancing Hippo


TIDBITS

+------------------ Bizarre Animal Facts ------------------+


A 1,200-pound horse eats about seven times it's own weight each year.


A chameleon can move its eyes in two directions at the same time.


A bird requires more food in proportion to its size than a baby or a cat.


A chimpanzee can learn to recognize itself in a mirror, but monkeys can't.


A woodpecker can peck twenty times a second.


All clams start out as males; some decide to become females at some point in their lives.


An iguana can stay under water for 28 minutes.


Beaver teeth are so sharp that Native Americans once used them as knife blades.


Camels have three eyelids to protect themselves from blowing sand.

The Star Jones Flap
I have had such a good chuckle over all the Star Jones/Rosie O'Donnell/BabaWawa flap and that vapid show "The View".
First, while all the blow-dried pundits sat around their handsome tables and discussed just why "The View's" problems was such a topic across the, well, the blow-dried pundit shows, they were, ladies and gems, DOING THE SAME THING!
Star Jones, gotta admire that woman. She made a career out of her wedding to a fellow of questionable sexuality. It made "The View's" producers mad but she kept at it, giving free advertising for free wedding products, and generally making herself the star that her first name implies.
This, of course, gives BabaWawa heartburn because BabaWawa likes the world to think she is a drop-dead serious Journalist with a lisp. BabaWawa asks world leaders what kind of tree they think they are. Heh.
So the show has to get rid of Jones only she ain't going gently into that good night. And hey, they are replacing her with Rosie O'Donnell! Such a sweet thing, ole Rosie.
Wethinks that gang at The View better hold on. Star Jones' wedding might well be the last exciting thing they ever do.
A good newsgroup thread on this matter.
Amber Frey Remarries
It wasn't that long ago that I read Amber's book "Witness for the Defense",
Review HERE.
While I liked the book, I lamented Frey's inability to employ proper birth control as she seemed to end up pregnant with no forethought. Now the news that she will be getting married and hey, we wish her well.
Below, quoted from a Google Newsgroup:
LOS ANGELES - Amber Frey, the former mistress of Scott Peterson who became a key witness in his murder case, planned to marry her neighbor Wednesday, her attorney said.

Frey, 31, is marrying Robert Hernandez, a neighbor who works in law enforcement, said her lawyer, Gloria Allred, confirming a report on People magazine's Web site.

Hernandez, who was not involved in the Peterson case, proposed after taking Frey and her two young children to Disneyland. The couple met in October 2005.
Jackson and Rowe
Heh. If ever a celebrated "couple" were illustrative of everything that is wrong with this society, it would be Debbie Rowe and Michael Jackson.
Michael Jackson is, folks, let's admit it here, a man with a "problem". The California jury that heard his case didn't convict because hey, it's California and Michael Jackson is a celebrity! Unleashing him not only on the under-aged boy population but giving him legitimate custody of his own "children", poor things.
Now Debbie Rowe was a dental assistant who agreed to bear Jackson two babies. For a fee, of course, and we don't really know who donated the sperm cell.
Nonetheless there are two small children living a weird life as they travel about covered in nylon and God only knows what goes on in that Jackson household. Debbie Rowe also lied like a piker while on the stand testifying against Jackson.
Money does really bad things to people. Like allowing a bunch of unprincipled human beings to bring children into the world and betray everything once held dear. Now Debbie Rowe, suddenly acting all maternal like, wants her agreed upon money from Jackson and changes in her visitation rights. Heh.
And we watch all this out here in la-la land and know that these are nut cases. Those poor children, however, are very real little people.
From TMZ.com:
Debbie Rowe to Jacko -- "I Need Cash, STAT!"

Michael Jackson's ex-wife claims the singer owes him a fortune and desperately needs money. She says she "sits on the brink of bankruptcy."

TMZ obtained a motion filed by Debbie Rowe, asking a Los Angeles County Superior Court judge to order Jackson to pay her $50,000 in living expenses for the next four months. In the legal papers Rowe claims she needs the money to continue her fight for the custody of the couple's two children. Rowe is also asking for $195,000 in legal fees. Rowe says if she does not get the money to pay her lawyers, she will have to represent herself in the custody battle.

In her motion, Rowe attached the couple's financial settlement agreement from their 1999 divorce case. The agreement provides that Rowe was to receive $1 million dollars up front, and an additional $1 million dollars a year for the next three years. After that, Rowe was to receive $750,000 a year for the next six years. Rowe's total take: $8.5 million. Rowe claims Jackson has not lived up to the agreement.

Under the settlement, Rowe also acquired the couple's Beverly Hills mansion.

The settlement agreement provides a peek into Jackson's lavish lifestyle. It lists 59 vehicles the singer owns, including a Rolls Royce limousine, four tractors and firetrucks.

The motion also includes the custody arrangement, which provides that Rowe was to get visitation once every 45 days, from 10 a.m. to 7p.m.

Rowe is currently challenging the custody and visitation agreement.
Come On, the World NEEDS This
Imagine a "cyber keyboard" and a "cyber monitor" cast upon your desk then gone when the power switch goes off.
I'd been hearing about this new so-called "Blue Tooth" technology from some of the geek sites. Soon it will be a reality. Imagine, just carry that pocket of pen-like objects outside, boom, set it up, and with the help of a wireless network, a keyboard and monitor right on the patio table.
I'll wait for this before I upgrade my computer.
This pen instrument produces both the monitor as well as the keyboard on flat surfaces from where you can just carry out the normal operations you do on your desktop.
BLIND ITEM FUN
From: NY Daily News BLIND ITEM 7/13**
ASKED

Which Hollywood rumor that won't die has that hunky actor secretly dating a long-ago sitcom co-star who has now come of age? Let's hope it's just an urban myth.
GUESSED
My guess--John Stamos and one of the Olsen Twins...either the one who
eats, or the one who doesn't eat and dresses like a (loaded) bag lady.

This pairing fits the hints given in the blind item:

1. Stamos is considered to be a hunk.
2. The show "Full House" is a long-ago sitcom (I checked--it ran from 1987 to 1995; yikes! I suddenly feel so old).
3. The Olsen Twins just turned 20 last month.
4. Finally--note the word "urban"...wasn't Stamos's most recent show set in NYC (and not in a generic suburb)?

From: **NY Daily News BLIND ITEM 7/12**
ASKED

Which married hip-hop megaproducer is having an affair with one of his young secretaries that is the talk of the music biz?

GUESSED
Kimora Lee Simmons husband.

ASKED

This sexy actress is a longtime twelve stepper and she's been on and off the wagon for years. She controls her urges best when she faithfully attends AA meetings. Her beautiful young teenage daughter is also an aspiring actress and recently started to get work. But drugs got in the way of her ambition and she landed in AA also. Mother and daughter both attended the same meeting recently and they each shared with the group. Imagine their shock when they discovered they each had a weakness for the same lethal drug: crack. The mother was horrified to realize what her daughter might have inherited from her, besides good looks.

GUESSED
Melanie Griffith and Dakota Johnson.

From: **NY Post Page 6 Gossip Extra BLIND ITEMS 7/9**
ASKED

WHICH middle-aged movie hunk's legendary aloofness is chemically induced? He has primo marijuana FedExed to his hotel rooms wherever he goes.
GUESSED
Is Harrison Ford still considered middle-aged?

From: NY DAILY NEWS/BEN WIDDICOMBE 07/02
ASKED

Which Hollywood A-lister just discovered it was her NYC gbf planting all those nasty items about her in the gossip columns?
GUESSED
I'm guessing "gbf" is gay boyfriend and the Hollywood A-lister is Teri Hatcher.

New "World's Ugliest Dog Contest"

This from the Sonoma-Marin fair.

Below, some contenders. Click on the link for many more ugly dogs.





Angeline Jolie and Her New Role

I am familiar with the story of Daniel Pearl and am glad it is coming to the silver screen. Hey, I'm also glad Jolie got the part of Pearl's widow. Let's see if the lady can act as well as she can reproduce.

From Yahoo.com:

Jolie to play widow of journalist Daniel Pearl

Thursday July 13 3:11 AM ET

Actress Angelina Jolie will star in a movie as the widow of murdered Wall Street Journal reporter Daniel Pearl, trade paper Daily Variety reported in its Thursday edition.

"A Mighty Heart," adapted from Mariane Pearl's memoir of the same name, will begin shooting within the next five weeks, the paper said. The book details Pearl's search for her husband, who was abducted and beheaded by militants in Pakistan in early 2002.

"I am delighted that Angelina Jolie will be playing my role in the adaptation of my book," Daily Variety quoted Pearl as saying. "I deeply admire her work and what she is committed to."

News of the Weird

For a small fee, see this fellow remove his skull.

From Yahoo.com:

KOLKATA, India (Reuters) - Hundreds of people are thronging a hospital in the eastern Indian city of Kolkata to see a patient holding a piece of his own skull that fell off.

Doctors say a large, dead section of 25-year-old electrician Sambhu Roy's skull came away Sunday after severe burns starved it of blood.

"When he came to us late last year, his scalp was completely burned and within months it came off exposing the skull," Ratan Lal Bandyopadhyay, the surgeon who treated Roy told Reuters Wednesday.

Media Nuggets

Thanks to Freeper Anita at FreeRepublic.com.


Will he get an Hard-ball invite? - someone is refusing to go to Iraq, but he is an ABC Television Reporter.

The Baltimore Sun, Chicago Tribune, Newsday and the Los Angeles Times will CLOSE several Foreign Bureaus -> including Beirut, Lebanon, Islamabad, Pakistan, London, Beijing, South Africa and Moscow. Ssshh! ABC & NBC closed their Moscow bureau too.

Look at the timing of this death. He has the financial resources and powerful friends (Bush family, etc.) to pull off a fraudulent death to escape justice. There must be an independent source allowed to verify the death of Ken Lay." - No, this is not from DU chat, but fom the Wash.Post chat.
Ending With a Smile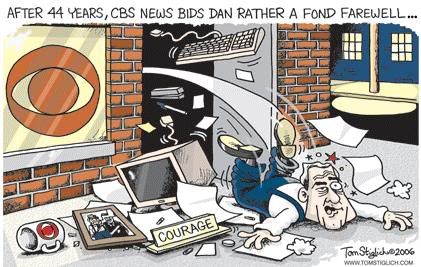 More Gossip/Speculation HERE