Here's a cooking post and two good dessert "recipes". Okay, so one is home-made from a packaged cake mix but it's a good finished product. And a Pilsbury dessert product way better than I could ever make from scratch.

Also, time for a Katrina update. Now New Orleans Mayor Ray Naginhead endorses corrupt LA congress critter Jefferson. Also, people aren't returning to New Orleans and I must wonder why. Maybe they're sick of the constant corruption too?
Pic of the Day
---
Quote of the Day


DOUBLE STANDARD

"I don't get it. Muslim cab drivers are free, on moral grounds, to say 'no' to passengers carrying liquor. That's OK. Religious tolerance and all. But if a doctor or pharmacist chooses to NOT prescribe, or sell, RU486 for moral reasons, then it's the 'Christian Right"' forcing their beliefs onto others. Anyone see a double standard here?"

- News & Views reader Michael Dean of Wisconsin



Web Site Worth the Visit
Attention Nature Photographers

You have until the last day of 2006 to enter your photo in the Nature Conservancy's Nature Photo Contest

Nature Photo Contest


TIDBITS

Hints to Make Life Easier


Reheat Pizza
Heat up leftover pizza in a non-stick skillet on top of the stove, set heat to med-low and heat till warm. This keeps the crust crispy.. No soggy micro pizza.


Reheating refrigerated bread
To warm biscuits, pancakes, or muffins that were refrigerated, place them in a microwave with a cup of water. The increased moisture will keep the food moist and help it reheat faster.


Newspaper weeds away
Start putting in your plants, work the nutrients in your soil. Wet newspapers: put layers around the plants overlapping as you go cover with mulch and forget about weeds. Weeds will get through some gardening plastic they will not get through wet newspapers.


Broken Glass
Use a dry cotton ball to pick up little broken glass pieces of glass - the fibers catch ones you can't see!


No More Mosquitoes
Place a dryer sheet in your pocket. It will keep the mosquitoes away.


Squirrel Away!
To keep squirrels from eating your plants sprinkle your plants with cayenne pepper. The cayenne pepper doesn't hurt the plant and the squirrels won't come near it.


Flexible vacuum
To get something out of a heat register or under the fridge add an empty paper towel roll or empty gift wrap roll to your vacuum. It can be bent or flattened to get in narrow openings.


Reducing Static Cling
Pin a small safety pin to the seam of your slip and you will not have a clingy skirt or dress. Same thing works with slacks that cling when wearing panty hose. Place pin in seam of slacks and - voila - static is gone.


Measuring Cups
Before you pour sticky substances into a measuring cup, fill it with hot water. Dump out the hot water, but don't dry the cup.. Next, add your ingredient, such as peanut butter, and watch how easily it comes right out.


Get Rid of Ants
Put small piles of cornmeal where you see ants. They eat it, take it "home," & can't digest it so it kills them. It may take a week or so, esp. if it rains, but it works & you don't have the worry about pets or small children being harmed!


Take baby powder to the beach
Keep a small bottle of baby powder in your beach bag. When you're ready to leave the beach sprinkle yourself and kids with the powder and the sand will slide right off your skin.


Desserts Made Easy
Came across a totally pre-packaged dessert at a Wal-Mart and these treats were such a hit I had to post for the benefit of yon culinary readers.
The dessert treat to which I refer are Pilsbury turnovers and who would think such an easy and relatively inexpensive treat would be such a hit?
This particular product is not widely available in that I've not seen them in any of the more conventional groceries in my area. I did, to my surprise, find them in a local Walmart superstore and decided to try them out.
My mother-in-law and husband ate one each and pronounced them delicious. They keep well and are amazingly easy to make. Sure, it's not rolling-dough, mix-the-ingredients cooking but they are great treats. I'm sure kids would love them too.
Below is a recipe for a cake that is essentially a doctored affair from a cake mix. I'm a bit skeptical about these sorts of treats, taking the position that if I'm going to do a lot of work I may as well bake it from scratch.
But the result was quite good, not overly sweet, and the type of cake that welcomes either a simple dusting of powdered sugar or an elaborate frosting, take your pick.
Fudge Ribbon Cake

Decadent and delicious are the only words to describe this rich fudge cake.
With some of our easy modifications listed below, you can also make a full
size layered cake or fun individual cupcakes that the kids will love!

Servings: Makes one (10-inch) cake
Serving Size: not available
Nutrition: not available
Prep Time: 20 minutes
Cook Time: 50 minutes
Total Time: 70 minutes


Ingredients
1 (18.25- or 18.5-ounce) package chocolate cake mix
1 (8-ounce) package cream cheese, softened
2 tablespoons butter or margarine, softened
1 tablespoon cornstarch
1 (14-ounce) can EAGLE BRAND Sweetened Condensed Milk (NOT evaporated milk)
1 egg
1 teaspoon vanilla extract
Chocolate Glaze (recipe follows) or confectioners' sugar

Instructions
Preheat oven to 350ºF. Prepare cake mix as package directs. Pour batter into
well-greased and floured 10-inch bundt pan.

In small bowl, beat cream cheese, butter and cornstarch until fluffy.

Gradually beat in EAGLE BRAND®, egg and vanilla until smooth. Pour evenly over cake batter.

Bake 50 to 55 minutes or until toothpick inserted near center comes out clean. Cool 15 minutes; remove from pan. Cool. Drizzle with Chocolate Glaze or sprinkle with confectioners' sugar.




Notes: CHOCOLATE GLAZE: In 1-quart glass measure, combine 1 (1-ounce) square unsweetened or semi-sweet chocolate and 1 tablespoon butter or margarine. Microwave on HIGH (100% power) 30 to 40 seconds or until melted. Stir in 3/4 cup confectioners' sugar, 2 tablespoons water and 1/2 teaspoon vanilla extract until smooth and well blended. (Makes about 1/3 cup).

CAKE VARIATION: Fudge Ribbon Sheet Cake: Prepare cake mix as package directs. Pour batter into well-greased and floured 15x10-inch jellyroll pan. Prepare cream cheese topping as above; spoon evenly over batter. Bake 20 minutes or until toothpick inserted near center comes out clean. Cool. Frost with 1 (16-ounce) can ready-to-spread chocolate frosting.

FUDGE RIBBON CUPCAKES: Prepare cake mix as package directs. Fill 36 paper-lined muffin cups half-full of batter. Prepare cream cheese topping as above; spoon about 2 tablespoonfuls into each cup. Bake 20 minutes or until toothpick comes out clean. Cool. Frost with 1 (16-ounce) can ready-to-spread chocolate frosting. Garnish as desired.
MORE COOKING/HOME ARTS HERE
Where Are the New Orleans' Citizens?
This is a feature I write specifically for my granddaughter, Kaitlyn, this Blog's namesake. I started documenting all the information immediately following Hurricane Katrina and have been posting updates ever since.
Since the liberals keep trying to change history, this lone Blogger is determined to keep the record straight that at least one American school child know the truth.
It's now October of 2006, Kaitlyn, over a year since Katrina hit Louisiana. New Orleans is still not doing too well, grandchild, and now we understand that the city can't seem to get its citizens to return.
Much of this reason is because the rebuilding effort hasn't gone well at all. And much of this reason is because the politicos handling it all are STILL as corrupt as ever. Mayor Naginhead paid big bucks to have abandoned cars removed even though a company offered to do the job for free.
Many of New Orleans' residents were evacuated to Houston and those fine citizens welcomed their fellow Americans with open arms. At this time Houston has a rising crime problem so why should these people return home to sporadic electricity and a dismal future?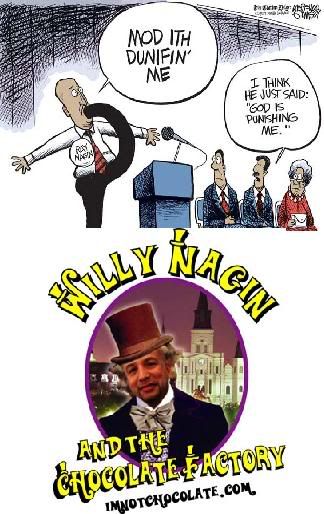 From Breitbart.com:
Fewer than 190,000 people are living in New Orleans a year after Hurricane Katrina, according to a door-to-door survey released Thursday. The population of 187,525 is about 41 percent of the 454,000 people estimated to be living in Orleans Parish before the storm hit Aug. 29, 2005.

A spokeswoman for the Louisiana Recovery Authority, Natalie Wyeth, called the results "the definitive, most precise set of numbers we've seen."
More Examples of Louisiana Corruption
So even before Katrina hit it would seem that federal funds allocated to purchase frequently flooded homes was routed to corrupt Louisiana officials.
I must assume that this effort was a way to get tormented homeowners out of their homes that were subject to so much flooding that they were likely unable to find a buyer. Tough to watch everything you own turn to dust.
So the feds come up with the bucks to help these people out. Yet the culture of corruption is so entrenched in Louisiana that this money was spent, NOT on the homeowners' relief, but to line the pockets of LA politicos.
Don't forget, it was ALL Bush's fault.
From NOLA.com:
SHREVEPORT, La. (AP) — Two former top officials in Louisiana's Department of Homeland Security and Emergency Preparedness have pleaded guilty to lying to federal investigators in 2004, and are to be sentenced early next year.

U.S. District Judge Tom Stagg has scheduled sentencing Jan. 10 for Col. Michael L. Brown, the agency's former assistant director, and former financial auditor Michael C. Appe. Brown entered his plea Sept. 25 before Stagg; Appe pleaded three days later.

A third defendant, former flood mitigation officer Daniel Falanga, was convicted of perjury in March and sentenced to six months in prison.

All three were indicted in November 2004 after an investigation that started with allegations that the government misspent $6 million in federal money provided to buy frequently flooded homes in Ouachita Parish.

Further investigation revealed that Louisiana owed the Federal Emergency Management Agency more than $30 million for similar projects in 32 parishes. LHSEP was supposed to oversee the program.
The Corrupt Support the Corrupt
So the few citizens left in New Orleans still cast their vote for Mayor Naginhead and hey, you get what you vote for.
Representative William Jefferson was found with $90K cash in his fridge and some of his partners are singing like canaries.
Well if you're looking to stay in power best to support co-corrupt politicians because, hey, it's all a good ole boys club anyway, right?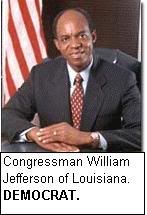 From NOLA.com:
Nagin embraces Jefferson campaign
Mayor returning a political favor
Friday, October 06, 2006
By Frank Donze
New Orleans Mayor Ray Nagin, who rarely misses an opportunity to tout his efforts to rid City Hall of corruption, said Thursday that he will enthusiastically urge voters to re-elect U.S. Rep. William Jefferson, the target of a sprawling federal bribery probe that has cost the veteran congressman his seat on an influential House committee.

When he was locked in a tough re-election campaign last spring, Nagin said, Jefferson was one of the few local elected officials to stand by him. As an embattled Jefferson prepares to face a dozen challengers in a Nov. 7 bid for a ninth term to the 2nd Congressional District seat, Nagin said he is returning the favor by agreeing to appear in campaign ads and literature.
more Katrina Posts HERE.
~~~~~~~~~~