Here's a Pop Culture update and so far we've got a brave boy who saved his siblings from a rabid fox, a "scantily clad" Muslim woman causes uproar, a band plays in Antarctica, A desperate housewife weds and what? Bart Simpson naked?

This plus more as it happens across the fruited plains and needs my attention.
Pic of the Day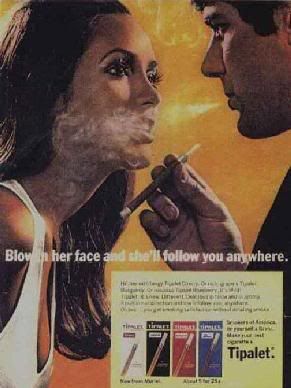 ---
Quote of the Day



"To tell you the truth, I couldn't pay my next month's rent when I got the part. I was thrilled to have a pilot of my own." - Lynda Carter on Wonder Woman
*******
"He was an Every man, disguised as Every woman imbuing his role with a sense of humanity-transforming a character that might just as easily be seen as a clown into one that has become part of our language and our culture." - Larry Gelbart, Producer, Writer and
Creator of 'M*A*S*H.'
*******
"I used to be able to eat anything and go right to bed. Fried chicken, onion rings, half a bottle of wine. But as you get older, your insides rebel." - Cameron Diaz
*******



Web Site Worth the Visit
THE FOUR WORD FILM REVIEW

Want to check out a movie but don't know if it's any good? Don't have time to read a long, engrossing review? Yeah, me neither! That's why you can cut to the chase at The Four Word Film Review where the feature "Shark Tale" is summed up as "Veggie shark, fishy tale," and "Team America: World Police" is described as "America's heroes strung up." Good reviews, no nonsense.

ABOVE SITE HERE


TIDBITS

RANDOM TIDBITS ON JACKIE ROBINSON

Jackie Robinson was 28 years old when he broke into the Major Leagues, yet he still won the unified Rookie of the Year Award.
***
Fifty years after he became the first modern black player, Major League baseball chose his number as the first one to ever retire for every team.
***
In 1982, Jackie Robinson became the first Major League Baseball player to appear on a US postage stamp.
***
In 1949, Jackie Robinson led the National League in stolen bases and batting average, was named to his first All-Star Game, helped the Brooklyn Dodgers win the pennant by one game, and was named the years Most Valuable Player.
***
Shortly before his death, Jackie Robinson was selected to throw out the first pitch at the 1972 World Series, the 25th anniversary of his breaking Major League Baseball's color barrier.
***
An outstanding athlete, Jackie Robinson was the first ever four-sport letter winner at UCLA (football, track, basketball and baseball). His accomplishments outside of baseball included leading the Pacific Coast Conference (later the Pac-10) in scoring twice in basketball, becoming the NCAA champion in 1940 in the broad jump (25 feet, 6.5 inches), and achieving All-American status in football.


The Religious Police Will Be Here Soon Enough
Whenever the chance should arise I always tell females that happen to be in my surround that what they might consider that charming mode of dress by Muslim females is NOT a choice by those wearing same.
Often I see shocked eyes open wide at the revelation. For I too once thought that Muslim garb of a burqua was a tradition much in the manner that our own Amish and Mennonite community wear purposefully plain clothes of a certain standard. Too many Americans, especially American females, are not aware that women who don't wear a burqua are often beaten and thrown in jail in those lovely freedom-loving countries ruled by Islam on this planet.
For if there's one thing western women understand it's freedom of dress.
If this country ever wanted to get serious about informing Americans how absolutely despotic those Muslim nations are, particularly to their females who can't even drive the public roads in some countries, our leaders would be informing us about the atrocities these people perpetuate.
Oh, and where's all the women's libbers protesting this mistreatment? Oh...one more time, the burqua also quite effectively hides the nightly beatings administered by fine and kind Muslim husbands. Husbands who often have many wives and can divorce a wife by saying "I divorce you" three times.
So below a little view of how these people govern. She sings in a nightclub but check out her top. Dear Lord send that woman to hell immediately!
Not to worry. The religious police are on the job!
From NST.com:

IPOH: How should a Muslim singer dress if she's singing with a band in clubs?

Singer Siti Noor Idayu Abd Moin, 24, posed this question after she was apparently detained by the Perak Religious Department officers at the Rum Jungle Club in Sunway City, near here, last Tuesday.
Young Hero Saves Siblings from Rabid Foxes
I know for a fact that foxes can be aggressive animals and I also know they often have rabies.
In fact, I've simply had to stop walking my dog due to foxes in this area. First, my dog, God bless her, would LOVE to chase that fox come on, what dog doesn't want to go chase a fox? And that fox, often infected with rabies, loves to tease the dog and is often very brazen.
I can't stand the critters is what I'm saying here.
So I totally believe that the fox in the story below was so aggressive and unafraid of humans. That's been my experience with foxes and this unnatural behavior is almost always due to a rabies infection.
From CBSnews.com:
(AP) A 5-year-old boy grabbed a rabid fox by the neck and pinned it to the ground during a family cookout, protecting six other children before his stepfather could kill the animal.

"I wanted to protect my little brother," said Rayshun McDowell, who battled the fox in the front yard of his home Sunday in Kingstown, a town about 50 miles west of Charlotte.
This little boy seems like he has the stuff too many of our congress critters seem to be missing. Some call it courage.
Kook Marries Osama's Son
Well I think she's a kook. According to the hype, however, Osama's new daughter-in-law is a bit of a British sophisticate.
Heh.
I have no attribution for the following quote as it came to me via email. I have, however, verified the information and news of the nuptials of Osama Bin-Laden's son (this is his SECOND wife as these fine Muslim men are allowed many wives) has been widely reported.
British woman says she wed Osama's son
MOULTON, England (AP) — A British woman said Wednesday she has married Omar bin Laden, the al-Qaeda leader's fourth son, after they met in Egypt last fall.

Jane Felix-Browne, a 51-year-old grandmother from this village in northwestern England, said in a telephone interview with The Associated Press that she met bin Laden, 27, while riding a horse near Egypt's Great Pyramid and they married on April 24.

The Times and Sun newspapers, which initially reported the story, said she was in Egypt for medical treatment for multiple sclerosis at the time.

Felix-Browne confirmed that and said she was returning to Egypt this weekend for further treatment. She said she won't meet her husband there but they talk each day via the Internet.

News of the nuptials caused a ripple of excitement in Moulton — a quaint English country village more accustomed to community fairs and dances than international media attention. "It gave me goose bumps when I heard the news," said nursery supervisor Gill Targett, who knew Felix-Browne. "It's all very scary considering what Osama bin Laden has done to so many innocent people. He's still a relation and blood is thicker than water."
Perky Katie Slapping Editors?
First, let the record show that Katie Couric, God bless this vapid woman who CBS keeps trying to ram down our collective throats, is not doing too well in the ratings. Right from the start the common thought was that this woman would fail as the new CBS news anchor.
Now we are to understand that the stress of this failure is so out of hand that the perky one is actually slapping people?
From DrudgeReport.com:
"During the tuberculosis story in June, Couric got angry with news editor Jerry Cipriano for using a word she detested— 'sputum' —and the staff grew tense when she began slapping him 'over and over and over again' on the arm, according to a source familiar with the scene. It had seemed like a joke at first, but it quickly became clear that she wasn't kidding."
Make no mistake I cannot stand this silly female. Katie Couric should be forced to wear a burqua and live in Saudi Arabia. Then I might respect her a bit as a news personality.
Further, she got mad because a writer used the word SPUTUM, get this, in a story about tuberculosis?
So it would seem she is also an idiot.
Dead Earth Concert Failed All the Way From Antarctica
I sure hoped yon readers caught the many wise entertainers in the recent "Live Earth" concerts organized by the mentally stable Al Gore. But if you did not, you are not alone. It would seem that many billions of us fools out here in la-la land too missed all the joy of watching drugged-out entertaining has-beens lecture us about a natural event that exists in the imaginations of nuts across the planet-global warming.
The band from Antartica was a hoot, however, and in a polite bow to their determination, we mention them here in this humble Blog read by two or three people every other day. These would be the same two or three people who actually watched the Dead Earth concerts. Heh.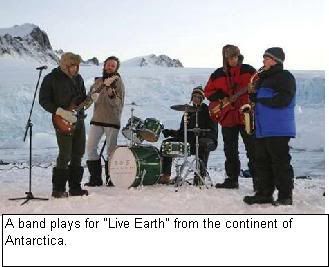 From News.com:
NUNATUK, an unknown rock band from Antarctica, is about to become famous.
However brief its moment in the limelight, the group comprising two engineers, a marine biologist, a meteorologist and a polar guide will be watched by millions around the world when it appears as part of the Live Earth concerts on Saturday.
Billed as the "coolest gig in Live Earth", the outdoor performance at the British Antarctic Survey's Rothera Research Station will be pre-recorded and broadcast on the day on television, the internet and possibly at the gigs themselves.
AOL Lawsuit
Well myself has used AOL from the very day it went into business and, indeed, I subscribed to its precursor, a little network known as Quantum Link. I've had the AOL user name PATFISH1@aol.com for almost twenty years and I can't lose it.
So I immediately signed up for the new AOL without charge and honestly I had no problem with the AOL people so I've no complaints there. But according to the news blurb below quite a few paid subscribers had a dickens of a time getting out from under.
From CBSnews:
AP) Averting a looming court battle over how it has been handling the exodus from its Internet dial-up service, AOL has agreed to make it easier for its remaining customers to leave as part of a $3 million settlement with 48 states and the District of Columbia.
I DO, however, have a million complaints about the new AOL free service. Hand to God, if I could I'd go back to actually paying for an email service. Because AOL's free service has so much advertising in the new web site which much be accessed and inside of the email that it regularly totally blows out my computer. And there are three computers in this house and AOL manages to regularly bomb them all out.
Bart Simpson Naked?
We came across this tidbit and we are shocked. The movie managed to keep a PG rating so it can't be all that bad, right?
From the Australian.news:
GOOD news for children of all ages: The Simpsons Movie has been awarded a PG certificate, despite a full-frontal image of a naked, skateboarding Bart.
The first details of the northern summer's most keenly awaited blockbuster emerged after a screening in London of edited highlights that was surrounded by airport-style security.

The invited audience was frisked and forced to surrender mobile phones.

Environmentalism and Christianity are the satirical targets in the big-screen debut of the animated series, which reaches cinemas here on July 27.

Video of the Week
From my husband who regularly surfs the Internet for his favorite bands.
In 1979,the Neighborhoods were the hottest band in Boston,They were young,cute,and they rocked hard.Dont know why they never made it nationally.This clip from a local TV show shows them playing live,which was their forte.Be sure and watch to the end.One can see that modern-day Punkers Green Day spent some time copying these guys.
SITE HERE
"Desperate Housewife" Married
As a fan of this show I was surprised to discover Eva Longoria recently was married.
From Chron.com:
Professional basketball star Tony Parker married Desperate Housewives star Eva Longoria at a civil ceremony in Paris on Friday — a prelude to their expected star-studded weekend wedding bash at a lavish and storied chateau.
No doubt the pics of the wedding bash will be sold to a celebrity mag.
Squirrel Spies?
I am not for one nanosecond surprised.
I've often thought that the power of the squirrel-rodent should be harnessed for the greater good.
For humans have YET to design an alleged "squirrel-proof" birdfeeder, no mind the claims. I have seen squirrel-rodents walk tightropes across dangerous gullies to access the bird seed. I've seen them dangle upside down and I've seen them leap distances that defy gravity.
Finally some smart Iranians have managed to use the squirrels as spies.
From KAMANGIR.net:
According to IRNA, the official Islamic Republic news agency, the national Police chief has implicitly verified the news about the confiscation of a number of squirrels, equipped with eavesdropping devices, on the Iranian borders. He has declined to give any more details, but, reportedly, when asked about the confiscation of 14 spy squirrels, he stated, "I have heard about it, but I do not have precise information". IRNA adds, "These squirrels were equipped by foreign intelligence services, but were captured two weeks ago by the Police".
No, we're not making this up and further, I am impressed all to hell.
More Gossip/Speculation HERE
Add POST to Technorati Favorites
=======================