Andy Baldwin was a beloved Bachelor in 2007. He chose she who would be his bride, Bevan.
Last I heard, ole Andy was out and about and looking for lusty ladies via
his Facebook Account
Below, a pic I made from the Bachelor 2007 series....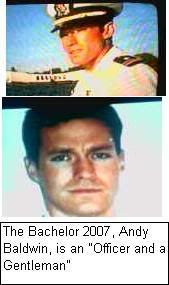 And below, a pic from...huh? Bravo's "Top Chef-DC"?
What was really cute was how ole Andy tasted the food being offered by a Top Chef contender and said he wouldn't feed it to his children.
What the hell?
Does he have children now what with being all busy leading ladies on, picking a lady and evidently throwing her overboard, recruiting porn stars on his Facebook account and now he's on Facebook?
Ole Andy will someday be on a show called "WHERE ARE THEY NOW?" about former Bachelors and how they ended up. Andy will likely be peeking through an eyehole in one of those little storefront strip joints in DC, his private part in his hand and all busy....with no wife or love in sight.
Obviously this guy seeks fame, you think?