Today
Daily Update:
23 Year old Football player dies suddenly.
~~~~~~~~~~~~~~~~~~~~
It's been a week of strange airplane crashes, Cindy Sheehan-24/7, the heartbreaking Gaza pullout and a no-show on the Iraqi constitution.
All covered in pictures and prose in this Week Just Passed.
~~~~~~~~~~~~~~~~~~~~
Here's a Notable/Quotable.
This week, of course we have Howard Dean and his comments about Iraq's new constitution.
And a cute quip from CaptainQuarter's about Able-Danger.
~~~~~~~~~~~~~~~~~~~~
Perhaps only women should visit our Web Site of the Week.
For there's a serious case of PMS Blues going on.
With a song for accent.
~~~~~~~~~~~~~~~~~~~~
Daily Update Below.

Thomas Herrion
He was a big man. Still, he was only 23.
What could bring down such a young guy?
From ESPN:
The 23-year-old guard collapsed after coach Mike Nolan spoke to his team following the game on a relatively cool Saturday night. Medics administered CPR on the 6-foot-3, 310-pound player before an ambulance took him to a Denver hospital.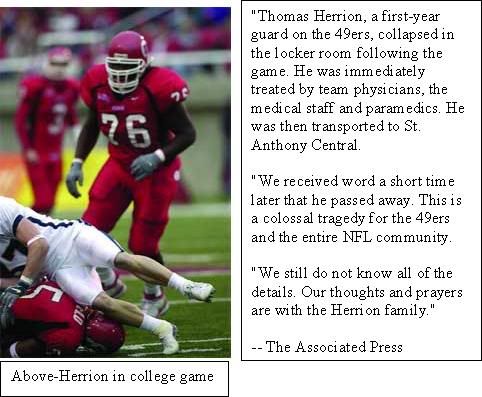 Tomorrow

Daily Update:

~~~~~~~~~~~~~~~~~~~~
It's a True Crime Update and I can't talk for yon readers.

But The Wise I is sick of BTK and glad he's going away for the rest of his life.

Also, body of pregnant Latoyia Figuroa found and yet another sighting of missing PA. Prosecutor Ray Gricar.

And for the most heinous crime of the week, how about taking a red Acura and senselessly killing innocent ducks and their ducklings?
~~~~~~~~~~~~~~~~~~~~
Here's a TV Review that's waaaaaay more than just a review of an ordinary program.

For Animal Planet's new program "Backyard Habitat" is the epitome of my own extensive work in the National Wildlife Federation's Backyard Wildlife Habitat Program.

If nothing else, click in for the story of the hummingbird moths.
~~~~~~~~~~~~~~~~~~~~
It's time for some Comments.

This week we have defenders of that criminal organization-Air America.

And discussions on speaking English.

As usual, there's an intelligent comment from a Liberal for your smirking pleasure.
~~~~~~~~~~~~~~~~~~~~

~~~~~~
TV Events of Note
Discovery-Monster House-8 pm
Tune is as a house is turned into a monument to Paris.
CLICK HERE FOR "TODAY"POST ABOVE
Click on the 7.05 archives on the sidebar to review the rest of July's Blog posts.