Hanoi Jane Now "Jhiad" Jane
Can this woman get any lamer?
Anything to promote a movie. Even espousing the murder of innocent people.
From the Viking Phoenix:
Jane Fonda has announced plans to support the global Islamo-fascist jihad with a nationwide bus tour.
~~~~~~~~~~
68 Year Old Woman with 15 inch Waist!
Came across this tidbit in my travels and couldn't resist.
What would possess someone to aspire to this strange achievement?

Cathie Jung, 68, has a 15 inch waist. This very tiny size is due to wearing a corset 23 hours day for the last 22 years... She is photographed in London on July 19, 2005.
~~~~~~~~~~
Another Sex Tape on the Loose
What is with these celebrities who can't hold on to their sex tape?
Goodness I have all sex tapes of husband and self stored safely in a lock box. Insert smile here because if they really did exist I'd have them somewhere safe not that anyone would want to see them.
And it's not like the celebrities losing their sex tapes are short of funds.
No wait. Gasp. No!
You think they release them on purpose and claim they were stolen?
Lies!
From IMDB:
Colin Farrell and his ex-lover Nicol Narain have secretly spoken about their sex tape which has become the subject of a scandalous lawsuit - because the Playboy Playmate wanted the actor to know she never leaked it. Sexy Narain is appalled by press reports connecting her to the leak, which she filmed with Farrell's permission when they were a couple, but she wanted to speak to the Irishman before firing back. Now she insists that, like Farrell, she has no idea how the 15-minute tape got into the wrong hands.
Came across this list on a gossip newsgroup of other famous folk who have lost their sex tape.
Rob Lowe and "underage" whore
Pam Anderson & Tommy Lee
Pam Anderson & Brett Michaels
Tonya Harding & Jeff Gillooly
Jenna Lewis and Travis Wolfe
Eve & boyfriend
R. Kelly and 14 Year old girl
Paris Hilton and Rick Solomon
Vince Neil & Brandy Ledford
Vince Neil & Janine Lindemulder
Gina Lee Nolin and husband
Fred Durst and unidentified whore
Joanie Laurer (aka Chyna) and Sean Waltman
~~~~~~~~~~
Rachel Hunter in Playboy
Known for her recent appearance as a contestant in "Dancing with the Stars", we hear Rachel Hunter will soon bare all in Playboy magazine.
And she looked so pretty in her dancing costume.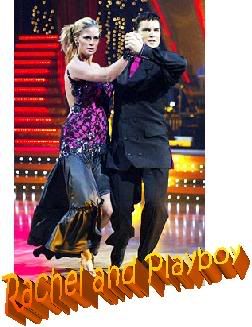 ~~~~~~~~~~
From NY Post Page 6 Blind Items 7/25
ASKED:
WHICH newly humiliated actress is not so innocent herself? We hear that while visiting her cheating man on a movie set, she hooked up with his married co-star during an all-night cocaine binge . . .
GUESSED:
Sienna Miller
Sean Penn
ASKED:
WHICH randy restaurateur has a naughty little habit of taking nude pictures of his carnal conquests - and then showing them to his staff?
GUESSED:
Randy Gerber, Mr. Cindy Crawford.
~~~~~~~~~~
I Love His Sandwiches
Dagwood Bumstead turns 75 soon. He looks as young as the day I first saw him.
Hats off to the Bumsteads who has made us smile for 75 years!
From Reuters:
Blondie turns 75
By Robert Green in Florida
July 29, 2005


BLONDIE and Dagwood Bumstead are about to celebrate their 75th anniversary as one of the world's most popular couples and many of their cartoon colleagues are coming to the party.



Garfield, Hagar the Horrible, Dick Tracy and Beetle Bailey are among the characters who will join the Bumsteads on Sunday, Sept. 4. President Bush and his wife Laura will appear a week earlier, according to Blondie cartoonist Dean Young.
More Gossip/Speculation HERE

Selling Route 1?
Just a quick note here about something husband keeps telling me. The Wise I has heard nothing and after research, found nothing.
But as alleged by spouse, Delaware is selling Route 1?
To who?
Why?
More on this next week.
~~~~~~~~~~
Delaware GOP Dean Scream Contest
By the time this hits Blog print the contest will be over.
Still I thought the idea to be quite a hoot.
Next week we'll post the fine winners.
Yeaaaaaaaaaaaaaaaaaaaaaaaaaaaaaaaa!
From a Delaware Republican Party Email:
"This event is free and open to people of all ages -- as long as they have a sense of humor!

Contestants will be judged on a variety of categories, including:


lack of poise and appearance
loudness
quality of insane angry ranting

Scripts will be provided at the contest, but here's a copy so you can start practicing:


"We're going to South Carolina and Arizona and North Dakota and New Mexico. We're going to California and Texas and New York, and we're going to South Dakota and Oregon and Washington and Michigan. And then we're going to Washington, D.C. to take back the White House......yeaaaaaaaaaaaaaaaaaaaaaaaaaa!"

Confirmed Celebrity Judges (so far):


WGMD Radio's Dan Gaffney
WILM Newsradio's John Watson
WGMD Radio's Ron Letterman
Judge Bill Lee

Sign up for the contest at the Republican Booth at the Delaware State Fair or by e-mailing kgrant@delaw aregop.com">
~~~~~~~~~~
Delaware Teachers Growing Marijuana!
The marijuana plant was "potted".
From Delmarvanow:
After receiving an anonymous tip, the Governor's Task Force arrested two Cape Henlopen School District teachers at 8:40 a.m. on Friday, July 22, in Bethany Meadows for allegedly growing marijuana at their residence, according to Master Cpl. Jeff Oldham, public information officer for the state police.

"The Governor's Task Force went to the home and observed marijuana growing on a sun porch in plain sight so they contacted the occupants," Oldham said.

~~~~~~~~~~
More Delaware Posts HERE

New On The Job
--------------------------------------------------------------------------------

The new manager walks into his office and, while settling into his new desk, finds 4 envelopes. On one he finds the words 'open me first,' and the other three are numbered 1 to 3.

He opens the first envelope and finds a letter from his predecessor saying:' These three envelopes will save you a world of trouble. In case of emergency, please open these envelopes in sequential order; envelope one first, envelope two second, and envelope three third.'

The manager shrugs, puts the envelopes back, and forgets about them.

Six months later, the workers go on strike. The company closes, and is losing money fast.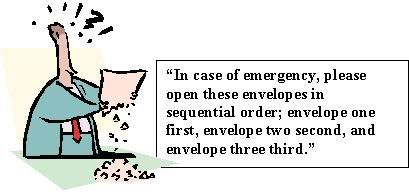 After a long night negotiating with the union, he remembers the 3 envelopes. So he opens the first one and it says: 'Blame me, your predecessor for everything'.

Wonderful idea he thinks, and indeed it works and the crisis comes to its end. His job is saved, and everybody's happy.

A few month later, another strike hits. He goes to the drawer and opens the second envelope. It reads, 'Blame the government for everything'.

It works like a charm, and he breathes a sigh of relief as his job is, once again, saved.

A month later the workers declare another strike. The manager goes directly to the third envelope and it reads, 'Prepare 4 new envelopes'
More Fish Giggles HERE