Click on picture to read entire review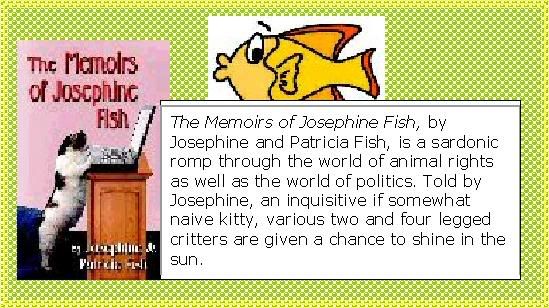 Dallas-the Movie
Intriguing. But John Travolta as JR?
And who, I must ask, shot JR?
From Newsmax.com
"Mel Gibson and Kevin Costner have joined the list of A-list actors under consideration for the role of J.R. Ewing in the upcoming big-screen version of the classic TV show 'Dallas.' John Travolta has emerged as the leading contender for the role, but no decision will be made until the script is rewritten, according to the trade publication Variety. . . . Tommy Lee Jones' name has also surfaced.

"Whoever lands the part will join what's likely to be a star-studded cast. Jane Fonda is reportedly being eyed for the role of Miss Ellie, played by Barbara Bel Geddes in the TV soap opera, while Catherine Zeta-Jones, Jennifer Lopez and Demi Moore are the favorites to play Sue Ellen (Linda Gray's TV role). Drew Barrymore and Reese Witherspoon are being courted for the role of Pamela (Victoria Principal), Jessica Simpson and Lindsay Lohan are contenders for Lucy (Charlene Tilton) and Owen Wilson is among those under consideration for Bobby Ewing (Patrick Duffy)."
~~~~~~~~~~
Joan Rivers Speaks the :::smirk::: Truth
Although I don't buy for a minute that bit about Cruise's first two wives profiting from him. I think it was part of the PLAN.
At the risk of lawsuit, I suggest that Cruise's sexuality has been questioned frequently over the past many years. Those wives of Cruise lent him, well, a legitimacy. IF they were marriages of convenience I must stipulate.
If they were, than I'm quite sure Kidman et all negotiated their own reward from the deal.
Heh.
From Femailefirst:
The notoriously rude Rivers believes Cruise's former partners exploited the WAR OF THE WORLDS star to boost their own status, and maintains the DAWSON'S CREEK beauty will be no different.

She says, "Each woman has done very well by him - NICOLE KIDMAN and PENELOPE CRUZ. So this one, Katie Holmes, who doesn't seem to have much talent, is probably the luckiest of all.





"I saw her in BATMAN BEGINS and, let's just say, she better hang on to Tom
for a while!"


And now we have the following. Hope this factoid lays all those nasty Cruise rumors to rest.

Heh.




Tom Cruise's fianc'e, Katie Holmes, is pregnant with the couple's child, Cruise's spokesperson, Lee Anne DeVette, tells PEOPLE exclusively.
~~~~~~~~~~
We Love This One
Not being a great fan of the former President, I find the details from Louis Freeh, Clinton's Director of the FBI, intriguing. And I don't think for a minute he's state unequivocally that bit about a FACT if he didn't have unimpeachable proof.
From the Drudge Report:
| | |
| --- | --- |
| | In another revelation, Freeh says the former president let down the American people and the families of victims of the Khobar Towers terror attack in Saudi Arabia. After promising to bring to justice those responsible for the bombing that killed 19 and injured hundreds, Freeh says Clinton refused to personally ask Saudi Crown Prince Abdullah to allow the FBI to question bombing suspects the kingdom had in custody – the only way the bureau could secure the interviews, according to Freeh. Freeh writes in the book, "Bill Clinton raised the subject only to tell the crown prince that he understood the Saudis' reluctance to cooperate and then he hit Abdullah up for a contribution to the Clinton Presidential Library." Says Freeh, "That's a fact that I am reporting." |
~~~~~~~~~~
From Page 6:
ASKED
WHICH soon-to-be-divorced celebrity carries on a secret life in the apartment above his garage? His wife put up with his same-sex philandering for years, but she finally got annoyed with his long-term relationship with a singer staying above the garage . . .
WHICH handsome reality TV host rudely insulted two young ladies at the bar in the W Hotel in Times Square with ungentlemanly remarks about the girls' chests? He then called an escort service and was partying with a Russian call girl 20 minutes later.

Guessed
eddie Murphy
Rogan, Jeff Probst.
~~~~~~~~~~
Speaking of Eddie Murphy
From IMDB.com:
Murphy Calls Up Pre-Nup As Divorce Heats Up

Funnyman Eddie Murphy is recalling a 12-year-old pre-nuptial agreement with
his estranged wife Nicole as their divorce gets messy. In court papers filed
by the Shrek star, Murphy insists the couple's "premarital agreement" is
"valid and enforceable" and he intends to use it to make sure he doesn't
lose a valuable chunk of his fortune to his soon-to-be ex. And the bitter
comedian is calling for his and Nicole's kids to be kept away from his
estranged wife's new man, businessman Alan Daniels. In the divorce papers,
he insists, "Nicole Murphy shall be restrained and enjoined from having the
children in the physical presence of Alan F. Daniels." The couple, who split
in August, will also be battling over two New York homes, worth a combined
$37 million, and a Beverly Hills, Los Angeles estate, worth upwards of $10
million.
~~~~~~~~~~
Stevie Wonder Might See Again?
It's a longshot, but why not go for it?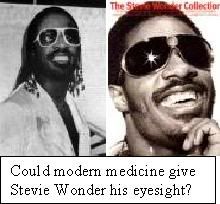 From Femalefirst:
Stevie Wonder May Get His Sight Back
October 5, 2005, 6:13:02

Blind soul legend STEVIE WONDER could get his sight back - thanks to new
microchip technology. .

The 55-year-old singer has been blind since infancy, but is in negotiations
to become a guinea-pig for pioneering sight surgery. .

He says, "I've been tested and there was some possibility that I could maybe
be a candidate.".

~~~~~~~~~~
More Gossip/Speculation HERE

They Really Do Want to Lease Route 1!
Husband had been telling me about this since mid-summer.
Well I've never heard of a state leasing one of its main roads.
Got to be something the liberals running this state cooked up.
Below is information I received in a GOP email.
I'm just not sure I agree that assertion by Oberle that the only reason investors would want to lease a road is for depreciation purposes.
Although, ahem, I can't imagine why anybody would want to lease a damn highway.
Something smells to high heaven with this idea though I don't have a grip on just what the stink is or where it comes from.
I get this eerie feeling that Minner or Biden have a cousin who will contribute to their PAC if they lease Highway 1. OR who knows, maybe the Saudi sons of camels want to buy the thing.
There's many rules and regulations about depreciating leased assets. I'm not convinced it's this cut and dried. One can depreciate "leasehold improvements" but for investors to buy such a thing as a highway just to depreciate any improvements they would have to make on it seems dubious economically. Those "improvements" do require money to make.
Soon enough the truth will filter out. This idea has Democratic scam written all over it.
State Rep. Bill Oberle Questions Legality of Proposed Leasing of Delaware 1

State Rep. Bill Oberle (R-Beecher's Lot) is asking the federal government to issue a ruling on whether leasing Delaware 1 to private interests would be legal.

"The main interest for any investor or investment group to lease Route 1 would be so they could depreciate the asset, thereby gaining a more favorable tax status," Rep. Oberle said. "That strikes me as a bit odd. This road was constructed primarily with federal money, with the balance coming from the state. If such a deal were to go through, taxpayers would be paying twice for this road - once to build it and once to pay tax benefits to investors. There is no free lunch. Reducing the tax burden on these investors will mean someone else will have to pick up the slack."
~~~~~~~~~~
What About Delaware Disaster Plans?
Received this same information in a GOP email.
Which both pleases and concerns me.
I don't trust states run by Democrats. Laws of logic. Louisiana, run by Democrats. Texas, run by Republicans. Mississippi, run by Republicans. Alabama, run by Republicans. Which one had the worst experience in dealing with recent hurricanes?
Now there are some Republicans, mostly RINO's, here in Delaware. I note that it was the Republicans who demanded a review of Delaware's evacuation and disaster preparedness.
For Delaware is very much hurricane territory, although fortunately protected by North Carolina's peninsula that tends to drain Atlantic ocean hurricanes headed this way of any strength. Sooner or later, the law of averages says a hurricane is going to hit this state head on.
I predict Delaware will be swamped like New Orleans and parts of it will never recover. Hope this doesn't happen in my lifetime but there you have it.
Senator Biden's too busy running for President and after any camera still plugged in. I wonder if he's ever looked into Delaware's emergency plan.
Then Biden would likely take to boo-hooing all over the TV screens like Louisiana's Landreau, complaining about the Feds and how badly they are running things in Iraq.
I've one message to these liberals in Delaware. This citizen shall not depend on anyone else in the world to take care of herself and hers but herself.
Neither my pets, myself, or husband, will be plucked from a house roof top. We will not be crammed into a Wilmington convention center like a pack of dogs, left to rot while Biden tries to figure out how to clean up his image before sending in the National Guard. We will leave, lawfully and early, with our pets.
I would never trust a Democrat with my or my family's safety. It's as simple as that.
Delaware Disaster Plans on the Minds of State Representatives

In the wake of Hurricanes Katrina and Rita, members of the State House of Representatives are interested in reviewing Delaware's plans to deal with potential disasters here.

The House Homeland Security Committee will be getting a briefing from Department of Safety and Homeland Security Secretary David B. Mitchell on Delaware's strategy for emergency response. The Oct. 4th briefing (7 p.m. to 9 p.m. at Legislative Hall) is expected to cover various disaster scenarios and protocols for mass evacuations. The Delaware Department of Transportation, the Delaware Emergency Management Agency, the Federal Emergency Management Agency and the American Red Cross are also expected to participate.

"What we saw on the Gulf Coast should serve as a wake-up call for every state and municipality in the nation," said Homeland Security Committee chair State Rep. Joe Miro (R-Pike Creek Valley). "Both hurricanes resulted in widespread damage and the need for extensive evacuations. Planning and implementation broke down in the Katrina aftermath, but seemed fairly well executed in the case of Rita. We want to make sure that if Delaware has to deal with an unexpected disaster, our reaction is more like what happened with Rita rather than Katrina."
~~~~~~~~~~
Because We Couldn't Resist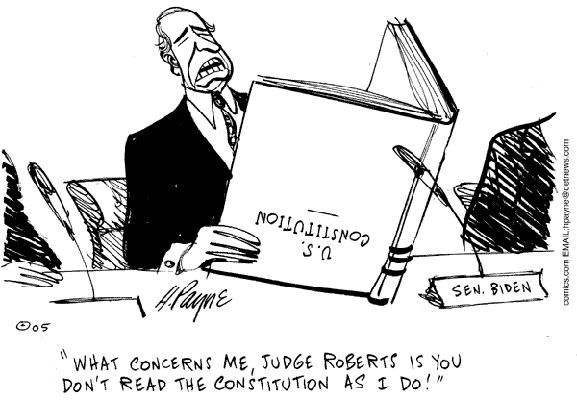 ~~~~~~~~~~
More Delaware posts HERE