Yoko Defends John's Song Writing
She's always been a center of controversy. As well as a bit of a mystery.
Now Yoko comes out swinging against John's songwriting ability versus Paul's.
I'm supposing that bit about the "June with Spoon" is an allusion to obvious, perhaps childish, rhyming.
From Google Groups:
| | |
| --- | --- |
| | The petite artist continued: "John was very human and sometimes in the middle of the night he would say, 'Are you awake ?' and I would say, 'Yes, yes' and he said, 'You know, they always cover Paul's songs and never mine and I don't know why'. I said, 'You're a good songwriter, it's not June with Spoon that you write. |
~~~~~~~~~~
Sir David! Say It Ain't So!
How I remember the man's distinguished accent and cerebral look at pop culture in his day as host of an American talk show. Now knighted, Sir David Frost is going to be joining al-Jazeera of all things.
Does he need the money that bad?
| | |
| --- | --- |
| | The BBC and al Jazeera share the same anti-Isarel bias. According to reports from the BBC, TV has-been personality Sir David Frost, has signed up to broadcast for al-Jazeera, the Arab station which spews anti-American and anti-Israel hatred. |
~~~~~~~~~~
Melanie Griffith-No Class
We're not sure how it came about. Perhaps a stewardess told Ms. Griffith to hang up the cell phone. Perhaps another passenger complained to a stewardess about Griffith's cell phone usage.
Ms. Griffith herself tells a version of the story.
Whatever and however it came down, Melanie Griffith made up that bit about a dying relative. She was speaking on the cell phone when not appropriate. If you're on a plane on the way to visit a dying relative, one would think all updates would have been obtained before takeoff, eh?
Or is Melanie Griffith another spoiled celebrity thinking she is above the laws of us mere peons out here in la-la land?
From IOL.com:
Griffith felt she was targeted by the jealous stewardess because she was a celebrity, but she wasn't about to let the woman enjoy her moment of misguided power.

She says: "I hung up the phone and then I thought: 'Bitch, I'm gonna get her back.' I saw her go up to the other stewardesses and they were talking and I asked one of them to come back.

"I said: 'Could you please tell her that I was speaking to a loved one, who is dying in a hospital in New York, and that's why I'm flying there, and she just made me hang up and I'm gonna now fly the whole way not knowing anything.'"

==========
below, story told on The View:
She told the story on "The View" last week. It was not a stewardess who
told her to stop talking on her cell phone, it was another passenger who
literally started screaming in her face about "people like you who think
they can do anything, etc....". As Griffith tells the story, the
plane was still receiving passengers and it was ok to operate the cell
phone. She then called a stewardess over and gave her the story about
someone dying in NY to relate to the passenger.
~~~~~~~~~~
Michael Jackson Out and About
The best tidbit, the show
Billy Elliot"
is about 11 year old boys!
And we're still waiting for that song for Hurricane Katrina victims.
from Yahoo.com:
Jackson Falls in Throng Outside Theater

Michael Jackson fell to the ground as he tried to make his way through
a throng of hundreds of fans outside the Victoria Palace theater, where he watched the stage version of the movie "Billy Elliot."

Security staff forced a path for Jackson, 47, through the admirers and photographers standing outside the theater so he could reach the front door. But the singer fell in the commotion.

At the performance, Jackson mingled with other spectators, chatting and signing autographs.



"He talked to us saying hello and there were a lot of people around him," said Roxanne Wisenberg, 47, of San Diego. "He was very nice and his children were with him."

Jackson was in London to work on recording a song to benefit Hurricane Katrina victims. He was staying at the Dorchester Hotel in Park Lane, where fans gathered outside in hopes of seeing him.

The visit to Britain was believed to be his first since his acquittal

~~~~~~~~~~
Because They're So Cute
The panda babies will be allowed to meet the human public in early November per recent reports.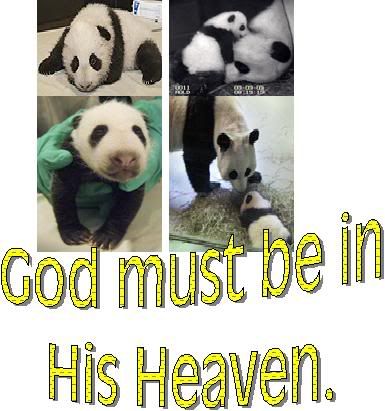 ~~~~~~~~~~
More Gossip/Speculation HERE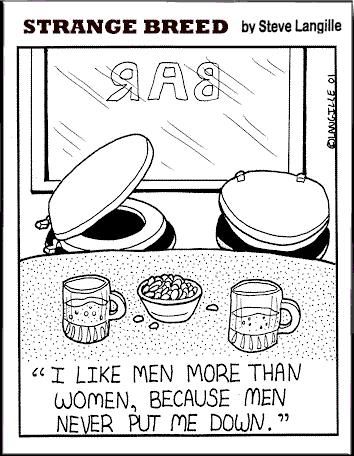 ~~~~~~~~~~
More pics of week HERE

Republicans Coming Out of Closet?
Received notification in my Ebox about this new organization. Right here, in liberal Delaware!
Someday there will be a Republican party with bite here in the First State.
Senate Republicans In Delaware.org
~~~~~~~~~~
Delaware Flu Shots
Of course ordinary Americans who carry this country on our backs, such as myself, are not eligible for the freebies. The link below provides a list of clinics distributing the flu shots.
I suppose folks like myself can PAY for the vaccine.
Delmarvanow.com:
| | |
| --- | --- |
| | DPH is distributing its 3,200 pediatric doses, designated for the federal Vaccines for Children (VFC) program, to community health care providers. VFC provides free vaccinations for children under age 18 who are uninsured, underinsured, eligible for Medicaid or are American Indian or Alaskan Native. Under current rules, these vaccine units cannot be diverted to other individuals |
~~~~~~~~~~
More Delaware posts HERE