The Jug-Eared Prince and the Rottweiler
There was such scant coverage of the Jug-Eared Prince of Wales, who would be selling used cars were it not for his royal lineage, and his bride, Camilla, known as "the rottweiler" as dubbed by Charles' first wife, Diana.
The lackluster coverage forced The Wise I to go out and about looking for gossip. And I found some.
Before, some general comments and mine own wise observations.
Why on earth did the White House Chef serve buffalo medallions of all things? Okay, so it's uniquely American but it's hardly a dish enjoyed by very many Americans. It was a conscious choice, however. Laura Bush approved I must surmise. Myself would have had something more enjoyed by the native populace. Okay, maybe not hot dogs, but some Texas barbecue, perhaps?
I did tune in to Fox when Charles and Camilla were scheduled to arrive at some rinky-dink outdoor market in California somewhere. It was explained that Charles is an organic farmer and wanted to see first hand American organically grown vegetables.
All in all, although the media coverage was rather low-key, not at all like the frenzy that greeted Princess Diana, there was little rancor.
Then Americans aren't royal-crazy like the Brits. We did enjoy reading about Diana's exploits and on some level commiserated with her. But she married the jug-eared Prince KNOWING he was involved with Camilla. Surely she knew on some level that she would serve as naught but the royal womb. Then she goes and gets involved with that son of a camel fellow, speeding through Paris tunnels at hundreds of miles an hour with no seatbelt fastened.
As for Camilla, she looked nice. Certainly she's been the love of Charles' life forever. She's not Diana, however, and she isn't as pretty and fashionable as Diana.
Below is a quote about Prince Charles and his intention to tell our President to go easy on the Muslims. Perhaps Charles should be talking to France's President Chirac, what with those Paris riots and everything.
Finally, a listing of the attendees at the State Dinner to host the royal company. With, heh, links and more gossip about some of the attendees and their guests. Other guests of interest are bolded.
How about Condoleezza and her football hero?
From the Telegraph.com:

The Prince of Wales will try to persuade George W Bush and Americans of the merits of Islam this week because he thinks the United States has been too intolerant of the religion since September 11.

The Prince, who leaves on Tuesday for an eight-day tour of the US, has voiced private concerns over America's "confrontational" approach to Muslim countries and its failure to appreciate Islam's strengths.

The Prince raised his concerns when he met senior Muslims in London in November 2001. The gathering took place just two months after the attacks on New York and Washington. "I find the language and rhetoric coming from America too confrontational," the Prince said, according to one leader at the meeting.

======================================

By The Associated Press
Guests at the White House dinner Wednesday in honor of Britain's Prince Charles and his wife, Camilla, as released by the office of the
first lady:

His Royal Highness The Prince of Wales, and Her Royal Highness The Duchess of Cornwall
Dr. Kenneth Z. Altshuler, Stanton Sharp Professor, Department of Psychiatry, University of Texas Southwestern Medical Center at Dallas, and Mrs. Ruth Altshuler
The Honorable Katharine Armstrong, and Mr. Ben Love (Guest)
Mr. Michael Beschloss, historian, and Mrs. Afsaneh Beschloss, President and Chief Executive Officer, The Rock Creek Group
The Honorable Nancy G. Brinker, Founding Chairman, The Susan G. Komen Breast Cancer Foundation, and Dr. Richard Merkin, Heritage Provider Network (Guest)
Mr. Tom Brokaw, Special Correspondent, NBC News, and Mrs. Meredith Brokaw
The Honorable George Herbert Walker Bush, and Mrs. Barbara Bush
Miss Jenna Bush, and Mr. Henry Hager (Guest)
From the Wonkette



Remembering that Jenna was dating a Wake Forest dude (I also went to Wake), I said to the guy, "Hey, didn't you go to Wake Forest?" He said yeah, and I asked him his name: "Henry Hager".


Mr. Marvin P. Bush, Managing Partner, Winston Partners, and Mrs. Margaret Bush
Mr. Neil Bush, Chairman, Ignite! Learning, and Mrs. Maria Bush
The Reverend Kirbyjon H. Caldwell, Pastor, Windsor Village United Methodist Church, and Mrs. Suzette Caldwell
Mr. Joseph Canizaro, Chairman and Chief Executive Officer, First Bank and Trust, Chairman, Donum Dei Foundation, and Mrs. Sue Ellen Canizaro
The Honorable Andrew H. Card, Jr., Assistant to the President and Chief of Staff, and The Reverend Kathleene B. Card, Trinity United Methodist Church
Ms. Elizabeth L. Cheney, Principal Deputy Assistant Secretary for Near Eastern Affairs, Department of State
Mr. Philip J. Perry, General Counsel, U.S. Department of Homeland Security
Ms. Mary Cheney, and Ms. Heather Poe (Guest)
The Honorable Richard Cheney, Vice President of the United States, and The Honorable Lynne V. Cheney
Mr. Andrew Cosslett, Chair, Duchy Originals, Chief Executive Officer, Intercontinental Hotels Group, and Mrs. Louise Cosslett, Windsor, Berkshire, UK
Mr. Harlan R. Crow, Crow Holdings, and Mrs. Kathy Crow
Mr. Oscar de la Renta, Designer, and Mrs. Anne de la Renta, Vice- Chairman, The Metropolitan Museum of Art
Dr. David Donald, Lincoln Historian and Professor Emeritus, Harvard University, and Dr. Jennifer Groh, Professor of Psychology, Dartmouth College (Daughter-in-law)
Mr. Llwyd Ecclestone, Jr., Chairman, Ecclestone Organization, and Mrs. Diana Ecclestone
The Honorable Donald B. Ensenat, Chief of Protocol, United States, and Mrs. Taylor Ensenat
The Honorable Donald L. Evans, Chief Executive Office, Financial Services Forum, and Mrs. Susan Evans
The Honorable William S. Farish, Former American Ambassador to the United Kingdom of Great Britain and Northern Ireland, and Mrs. Sarah Farish
Mr. Bradford M. Freeman, General Partner, Freeman Spogli & Co., and Ms. Penelope S. Royall, Deputy Assistant Secretary for Health, Department of Health and Human Services (Guest)
The Honorable Bill Frist, United States Senator (R-Tenn.), and Mrs. Karyn Frist
Sir Fred Goodwin, Group Chief Executive, The Royal Bank of Scotland Group, and Lady Joyce Goodwin, Edinburgh, Scotland
Mr. Kelsey Grammer, Actor, and Mrs. Camille Donatacci Grammer
The Honorable Stephen J. Hadley, Assistant to the President for National Security Affairs, and Mrs. Ann Hadley, Assistant U.S. Attorney, U.S. Department of Justice
The Honorable Jane Harman, United States Representative (D-Calif.), and Mr. Brian Frank (Son)
The Honorable J. Dennis Hastert, Speaker of the House (R-Ill.), and Mrs. Jean Hastert
Mr. Wallace Holladay, Jr., President, Holladay Corporation, and Mrs. Winton Holladay
Lieutenant General Russel L. Honore, USA, Commanding General, First U.S. Army, and Mrs. Beverly Honore
Mrs. Caroline Rose Hunt, and Mr. Charles M. Simmons (Guest)
The Honorable Clay Johnson III, Deputy Director for Management, Office of Management and Budget, and Mrs. Anne S. Johnson, Director, Arts in Embassies Program, Department of State
Mr. James Kidner, Assistant Private Secretary to The Prince of Wales
Mr. Robert P. Koch, President and Chief Executive Officer, Wine Institute, and Mrs. Doro Koch
Ms. Wendy Kopp, President and Founder, Teach For America
Mr. Richard Barth, Jr., President, District Partnership Division, Edison Schools
Mr. Henry R. Kravis, Founding Partner, Kohlberg Kravis Roberts & Co., and Mrs. Marie-Josee Kravis, President, The Museum of Modern Art
The Honorable James C. Langdon, Jr., Attorney, Akin Gump Strauss Hauer and Feld LLP, and Mrs. Sandy Langdon
The Honorable Ronald S. Lauder, Chairman, Central European Media Enterprises, Chairman, Clinique Laboratories, and Mrs. Jo Carole Lauder, Chair, Friends of Art and Preservation in Embassies
Mr. Charles Leavell, Rolling Stone Keyboardist, Trustee, American Forest Foundation, and Mrs. Rose Leavell
The Honorable Joseph I. Lieberman, United States Senator (D-Conn.), and Mrs. Hadassah Lieberman
Mr. Yo-Yo Ma, Cellist
Ms. Jill C. Hornor
?????
Ms. Amanda MacManus, Assistant Private Secretary to The Prince of Wales and The Duchess of Cornwall
His Excellency Sir David Manning, KCMG, Ambassador of the United Kingdom of Great Britain and Northern Ireland to the United States, and Lady Catherine M. Manning, Spouse of the British Ambassador to the United States
Mr. John Marion, Honorary Chairman, Sotheby's North America, and Mrs. Anne Marion, Investor and Art Collector, Fort Worth, Texas
The Honorable Anita McBride, Deputy Assistant to the President and Chief of Staff to the First Lady, Office of Mrs. Bush, and The Honorable Timothy J. McBride, Senior Vice President of Government Relations, Freddie Mac
Dr. Azar Nafisi, Professor, Johns Hopkins University
General Peter Pace, USMC, Chairman, Joint Chiefs of Staff, and Mrs. Lynne Pace
Mr. Mike Rake, Esq., Chairman, Business in the Community, Chairman KPMG International, UK
Mrs. Nancy Reagan
Mr. Merv Griffin (Guest)
The Honorable Condoleezza Rice, Secretary of State, and Mr. Gene A. Washington, Director of Football Operations, National Football League (Guest)
From the Times of India:



NEW YORK: As a girl, she vowed that she would marry an American footballer, but she has ended up helping to run the country instead.

Now there is speculation that Condoleezza Rice may fulfil both ambitions after she invited a handsome sportsman not once but twice to the White House as her date.

The gossip began when Gene Washington, a former player with the San Francisco 49ers, turned up at a formal dinner for President Gloria Macapagal-Arroyo of the Philippines just over a week ago.


Chief Justice John G. Roberts, Jr., The Chief Justice of the United States, and Mrs. Jane Sullivan Roberts
The Honorable Donald H. Rumsfeld, Secretary of Defense, and Mrs. Joyce Rumsfeld
Professor Witold Rybczynski, Professor, University of Pennsylvania
Ms. Shirley Hallam
Mrs. Linda Scott, Spouse of Mr. H. Lee Scott, President, Walmart, and Mr. James L. Scott (Brother-in-law of Mr. H. Lee Scott)
Mr. Red Steagall, Poet Laureate of the State of Texas 2006, and Mrs. Gail Steagall
Mr. Robert A.M. Stern, Dean, Yale University School of Architecture, Founder and Senior Partner, Robert A.M. Stern Architects
Ms. Kathryn Stott, Concert Pianist
Mr. Lynn C. Swann, Commentator, ABC Sports Collegiate Football, and Dr. Charena Swann
Mr. H. Patrick Swygert, President, Howard University, and Ms. Patricia Worthy (Guest)
The Honorable Robert Tuttle, American Ambassador to the United Kingdom of Great Britain and Northern Ireland, and Mrs. Maria Tuttle, Spouse of the American Ambassador to the United Kingdom of Great Britain and Northern Ireland
Mr. R. Emmett Tyrrell, Jr., Editor in Chief, The American Spectator, and Mrs. Jeanne Hauch Tyrrell
Mr. Tom Watson, Professional Golfer, and Mrs. Hilary Watson
The Honorable Anthony A. Williams, Mayor of the District of Columbia, and Mrs. Diane Williams
Mr. Herman Wouk, Author, and Mrs. Sarah Wouk
___
Source: The White House
~~~~~~~~~~
The American Music Awards
A quick note about this awards show with the intention of reminding yon readers to tune in. I am sure that someone on Blogcritics will be doing a review.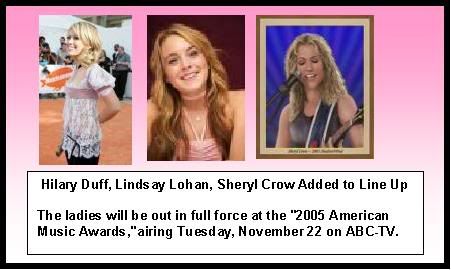 ~~~~~~~~~~
Maybe They Should Sell It on Ebay
Seems like the Russians aren't all that enamored over their fallen hero, Vladimir Lenin. Who was, after all, a mass murderer.
Seems like they're taking bids for his embalmed body.
I'd start the Ebay auction off at a hundred bucks, see where it goes.
From Yahoo.com:
| | |
| --- | --- |
| | The head of the Russian Buddhist region of Kalmykia said Friday he was willing to stump up $1 million to give a new home to the embalmed body of Bolshevik leader Vladimir Lenin. |
~~~~~~~~~~
Woody Allen Tells His Story
The nude pictures saved him, the pervert says.
Soon-Yi should watch out for her daughters what with Woody around and so attracted to young children. We understand they never change their stripes.
From the GuardianUK:

Allen thanks his lucky stars for Soon-Yi

Woody Allen has described his relationship with his wife Soon-Yi Previn, which caused a huge scandal and wrecked his ties with former longtime companion Mia Farrow, as "one of the truly lucky things that happened to me in my life."

Allen, who turns 70 on December 1, set tongues wagging in 1992 when he split from Farrow and went public about his relationship with Soon-Yi, Farrow's adopted daughter who was then 22. Allen and Previn were married in 1997 and now have two daughters, aged five and six.

In an interview with Vanity Fair, Allen says that Farrow's discovery of the nude pictures of Soon-Yi he had in his apartment was "one of the fortuitous events, one of the great pieces of luck in my life."
~~~~~~~~~~
Why Does CNN Hate Martha Stewart So?
Witnessed with my very own eyeballs.
Three times this past week I've noticed CNN had a feature about
Martha Stewart's The Apprentice
. On every occasion that network went out of its way to mention how badly the show was doing.
Which might be true, understand. But I don't see Fox, ABC or CBS doing such frequent updates about a television series.
Makes me wonder about their motives.
My own review of Martha Stewart's The Apprentice on Blogcritics HERE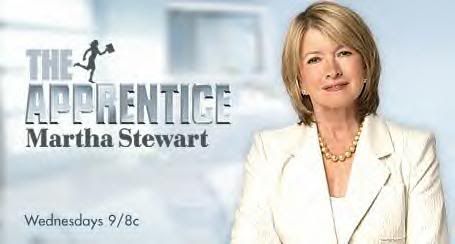 ~~~~~~~~~~
Tries to Help, Loses Nose
It's not funny. And I'm not laughing.
But folks, wild animals are, well, WILD.
The intention was noble. The poor seal wouldn't get into the water like the human being thought it should. So she tried to help it along.
And her nose cannot be re-attached.
From the New Zealand Herald--


Seal bites off woman's nose

JOHANNESBURG - A seal bit off a South African woman's nose after she
tried to help it back into the sea.

Elsie van Tonder, 49, is expected to undergo surgery this week after
being bitten on a beach near George, about 400km east of Cape Town on
Saturday.





Her nose was found but could not be reattached to her face, local
media reported.

"The seal had been lying in the same spot since Friday, so the lady
and a few other people were trying to take it back to the water," said
Herman Oosthuizen, a marine biologist with the Department of Environmental Affairs.
~~~~~~~~~~
Happy Birthday Kermit!
He's 50!
And he doesn't look a day over 45.
~~~~~~~~~~
More Gossip/Speculation HERE
=============

Calling All Delaware Gardeners
Got the following in an email from the Delaware Nature Society head guru. Thought I'd share the info he provided as well as encourage all Delaware gardeners to stick with the native plants.
Myself purchased three native Delaware plants and my oh my, they grow wonderfully and are quite handsome.
Which is as it should be, no? They are native to Delaware after all.
Wanted to let everyone know of a valuable resource to add to your personal libraries "The Flora of Delaware: An Annotated Checklist". by Bill McAvoy & Karen Bennett published by the DNREC - Division of Fish & Wildlife - Natural Heritage and Endangered Species Program.

Their web site is. If you scroll down the page to "Delaware's Flora" there is a link to the order for the Checklist.

You can also order by telephone by calling Janet Dennis at 302-653-2882. The cost is $14 + $3 S/H.

I use it quite often. It lists:
All known species in Delaware including common and botanical names;

Their status (i.e. native/alien, uncommon, conservation concern, historical, adventive);

Distribution (Coastal Plain/Piedmont, moist woods/dry fields/tidal marshes/etc.);
Below is a quote and a picture from the helpful web site listed above.
| | |
| --- | --- |
| | The State of Delaware has one of the highest percentages of rare and uncommon plants of any other state in the country. |
~~~~~~~~~~
What the Hell's Going on With DelDot?
Like everything else in this most corrupt state, the Delaware Department of Transportation is a mess.
From an email from the Delaware GOP, we find out that two Republicans are going to "speak out" on this mess of an agency that has the state, what the hell? Selling Route 1?!?
The RINOs in this state should have been on this long ago.
Hey, ladies and gems, it's a LITTLE state! All the other states manage to get their roads in order without selling them for Pete's sake.
Somebody tell Senator Biden.
No wait. Biden doesn't answer his constituent concerns. He's too busy running for President. Which he will never, we should smile, be.
From DelawareGOP.com:

Greg Lavelle and Bill Oberle speak out on DelDOT issues

State transportation projects of all sizes and costs are being delayed or scrapped altogether. The fact that DelDOT has declared itself in crisis should not make transportation funding an issue that transcends all other challenges in Delaware.

Solutions being put forth by DelDOT for consideration by a small group of legislators and others range from increasing tolls, fees and gas taxes, to privatizing -- selling the rights to future toll revenue and day-to- day management -- on Del. 1 and perhaps other roads.

From our experience and observation, DelDOT has been in a planning binge for the past few years. Working groups have been established to look at issues large and small, and every plan that results becomes a promise to build in a short time. Clearly planning has gone well beyond ability to deliver on the actual construction of projects.
~~~~~~~~~~
Biden Quote
It's a repeat from this week's Quotables post. But it bears the duplication. This is the guy who's our Senator, ladies and gems. And we hear his son is right behind for when Hairplugs gets elected President.
~~~~~~~~~~
Merryland and the Ehrlich Flap
Short quotes and links provided below. It's heating up, folks.
It's a complicated story. The main jist of the story is a possible "sting" setup orchestrated by none other than the vaunted Washington Post.
FreeRepublic.com:

WBAL news team has announced at 5pm on The Ron Smith Show that MD4Bush has been identified as Ryan O'Doherty, a former Maryland Democrat Party operative/official.

Further details will emerge in moments.
FreeRepublic.com:

"When we obtained copies of the chat room messages between NCPAC and MD4BUSH, it was clear that they contained potentially newsworthy information," Brenner said. To verify their authenticity, he said, "someone acting on behalf of MD4BUSH provided reporter Matt Mosk with the sign-on information necessary to view the messages on freerepublic.com."

Brenner said Mosk logged on as MD4BUSH two or three times before the Feb. 9 publication of his article only to verify that the messages were genuine.

More Info
~~~~~~~~~~
More Delaware posts HERE
=============================

Since Kermit Turns 50 This Week…
We thought this pic of the week appropriate.
~~~~~~~~~~~~~~~~
More pics of week HERE
=============