All news stories as delineated and/or pictured below can be found at
this link.
The individual highlights of this Week Just Passed can be found by scrolling to the date indicated in the detail below.
~~~~~~~~~~~~~~
In this week just passed, the week ending Sunday 11/20/05, it began interesting but definitely ended with a bang.
Early in the week the world was able to witness a female suicide bomber as she confessed as to her mission and how it came about. We also had those Republican traitors on the ANWAR vote.
How could we forget how Jay Rockefeller admitted he advised our enemies about the Bush administration's plans to attack Iraq? Admitted it on Meet the Press by golly.
Still early in the week we had the strange case of those Pennsylvania teenagers. As of now it is STILL not clear whether the daughter of the couple murdered by Ludwig was part of the murderous scheme.
Then they were captured.
Mid-week there was severe weather in the Midwest. This even as Hurricane Gamma whirled and threatened in the Gulf region. Latest weather info is that this strangely named hurricane is no threat to coastal United States.
Also in mid week we had the Senate voting to protect precious enemy detainees and their demand for even more paperwork from the administration which they will not read.
The week ended with a bang, however, with a knock down, drag out fight in the House of Representatives. Democrats were backed into a wall and had to put their money where their lying mouths were.
Heh, only three had the courage of their convictions.
Female Jordanian Suicide Bomber Admits Guilt
Scroll to Monday's post-11/14/05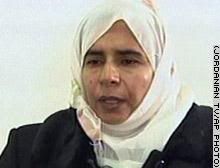 ~~~~~~~~~~
Delaware RINO Betrays for Soros Money
Also on Monday's post, 11/14/05, including info on my little conversation with Terry Strine, chairman of Delaware's GOP.
~~~~~~~~~~
Bonnie & Clyde
Adolescent murder from the center of Pennsylvania Dutch country. Scroll to Tuesday's post-11/15/05 for information on the murder and capture.
~~~~~~~~~~
Jay Rockefeller
Freudian slip on Meet the Press. Also on Tuesday's post.
~~~~~~~~~~
The Senate…
… well they do essentially nothing if you scroll to Wednesday's post-11/16/05. So okay they voted to kill more trees and some weird compromise on terrorist detainees that means nothing.
~~~~~~~~~~
The U.N., The Internet and Joe Wilson
No, not all together, Check out Thursday's post, 11/17/05 for interesting news on all of the above.
~~~~~~~~~~
That Rollicking Show in the House of Representatives
Indeed the week ended with a bang. At the very top of the post is an editorial written by The Wise I summarizing it all. Friday's post-11/18/05 has even more information.
~~~~~~~~~~
All news stories as delineated and/or pictured below can be found at
this link.
~~~~~~~~~~~~~~~~~~~~~
Prior Weeks Just Passed HERE

We're Not Defending the French
But if this is how their Muslim population feels, note that bit about the horror of France wanting to give Muslim children the same freedoms they give to the French, then the French shall never win.
Of course not. All Muslims have known in their lives is government by religion. Governing by religion is not only the lazy way to govern, it also leads to oppression. Witness the mess in the Mideast.
From Yahoo.com:

Sabrine, a 41-year-old mother of four who came from Tunisia 20 years ago, said police shouldn't blame parents for failing to stop the trouble.

"We cannot bring up our kids the way we want, to teach them Islam," said Sabrine, adding that France encourages children to choose how they want to practice religion.

"They say religion is not obligatory or that parents are not allowed to make their children wear the hijab (veil) or to pray," she said. "They want to give our children the same freedoms they give to the French."
~~~~~~~~~~
A Plain Truth from Australia
Maybe if it's spelled out?


From news.com.au:

TREASURER Peter Costello said radical Muslims would not be allowed to turn Australia into an Islamic state.




~~~~~~~~~~
So Bad, Not Even a Jew Would Do It
Meanwhile, no mind those Jordanian marches, the handsome King of Jordan married to the beautiful American woman needs to work on un-brainwashing his subjects.

From the Telegraph:

In Zarqa, Munder Moomeni, a 38-year-old former soldier who lives next to Zarqawi's house, 13 Ramzi Street, described his former neighbour as "a bastard". "By killing Jordanians here in Jordan, civilian Jordanians going to a wedding, they did something that not even a Jew would do," he said.

~~~~~~~~~~
Dean Finally Reveals Democrat Agenda
~~~~~~~~~~

Charles Krauthammer's Definition of Bush Derangement Syndrome:

"the acute onset of paranoia in otherwise normal people in reaction to the policies, the presidency -- nay -- the very existence of George W. Bush."

~~~~~~~~~~
Jay Rockefeller, Heh.
If his lips are moving, he must be lying.
~~~~~~~~~~
More Notable/Quotables HERE
=================

Review of Conservative Blogs
And the best of them are included in the review.
Click on the picture to access the best minds on the web and what they write about.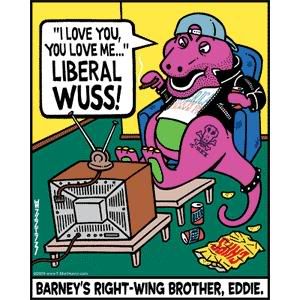 ~~~~~~~~~~
More Web Notables HERE