All details can be found on this link.
Cindy Sheehan
Poor baby. No one showed up for her book signing.
Scroll the link to 11/30/05 for details.
~~~~~~~~~~
California's Cunningham-Greed Beyond Comprehension
Guilty of accepting bribes in the many millions. Story under the 11/30/05 daily update.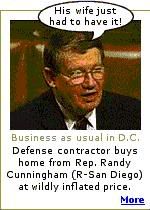 ~~~~~~~~~~
Those Iraqi Hostages
Something very strange going on with that crew. Details on daily updates dated 11/30/05 and 12/01/05.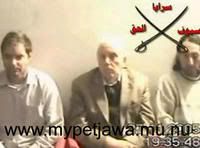 ~~~~~~~~~~
Bush Out Doing His Job
Details on his speech on 12/1/05
~~~~~~~~~~
We've Met the Enemy and It Is Our Own CIA
Dawn breaks over our marble heads as we collectively realize that a bureaucracy that was wrong about everything is trying to undermine our duly elected administration. Details on daily update dated 12/2/05.
~~~~~~~~~~
Tookie Williams Scheduled to Meet Maker 12/13/05
Although some bigwig Hollywood Moonbats seek to save this murderer's life.
Details on daily update dated 12/2/05.
~~~~~~~~~~
The Political Cartoon of the Week
~~~~~~~~~~
All details can be found on this link.
~~~~~~~~~~
Prior Weeks Just Passed HERE
===============

Bolton Speaks the Truth
Just remember, the Senate would simply
not
give this man a straight up or down vote, forcing Bush to make him a recess appointment.
Methinks some senatorial types are really scared of what Bolton might find behind that UN Oil-for-Palaces scam.
You mean the entire planet was in on this rape of the Iraqi people to provide palaces for Saddam and bonuses for Palestinian suicide bombers and NO ONE in America knew a thing?
~~~~~~~~~~
Bill Richardson
Clinton's darling, who got Monica a job at the U.N., now Governor of New Mexico and with presidential aspirations, re-visited that issue about once being drafted by the Kansas City A's. And, well, Rich Galen explains it in a most side-splitting manner.
You don't think ole Bill was lying to us, do you?

I CAME TO THE CONCLUSION...

"According to CNN: 'For nearly four decades, (New Mexico Democrat Gov. Bill) Richardson, often mentioned as a possible Democratic presidential candidate, has maintained he was drafted [in 1966] by the Kansas City Athletics.'

"One of the reasons a lie in one's resume is so damaging is simple: It is totally and completely in the control of the person about whom it is written - especially when it has been included, as in Richardson's case, since he first ran for Congress in 1982.

"Richardson's explanation was fabulous: 'After being notified of the situation and after researching the matter...I came to the conclusion that I was not drafted by the A's.'

"What? 'Came to the conclusion...?' Yeah, Right. Until recently, I had believed I was the Sultan of Brunei. I 'came to the conclusion' I was not."

- Rich Galen, Mullings, 11/28/05
~~~~~~~~~~
Hating Walmart
The sport du jour is Walmart bashing. Not that they aren't a perfectly legitimate business with plenty of American shoppers.
Can't have success. The Moonbats hate success. Success is a bad thing. In a perfect world nobody or no business would be successful. In a perfect world everyone would be mind-boggling mediocre.
But we'd all have wonderful self-esteem.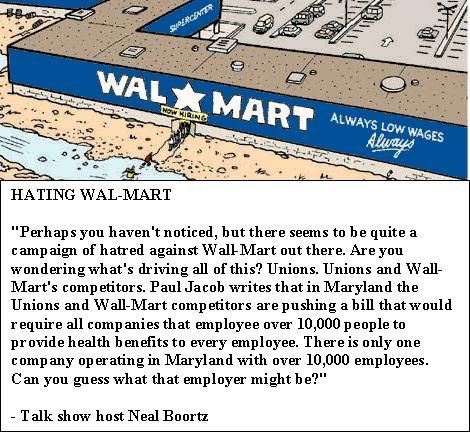 ~~~~~~~~~~
Coulter
Every evening after returning from work, husband begins a mantra about how wonderful John Murtha is, how he is the man who knows everything about the military, how every Republican and every Democrat what ever had a mother adores the man.
Of course he's being sarcastic. And he's right, of course. This Murtha person comes out and demands an immediate withdrawal from Iraq, forcing the House of Representatives to hold a midnight vote in which even he voted against his own nonsense.
So why is it that when someone spits nonsense they are heroes of the highest order?
Heh. So one of our sarcastic favorites, Annie Coulter,
sums it up nicely.
"I haven't heard Republicans issue this many encomiums to one man since Ronald Reagan died. By now, Murtha has been transformed into the greatest warrior since Alexander the Great and is probably dating Jennifer Aniston. "
~~~~~~~~~~
Christmas 2005 and the Christmas Haters Are At It Again
No matter their religion, they LOVE the Christmas money that pours in every year. Estimates are that some 30% of businesses would fail were it not for the Christmas holiday season.
So why on earth do they insist on bashing this Christian holiday? Below, a Jew puts it in perspective.

JEWISH CHRISTMAS

"As a practicing Jew, I don't celebrate Christmas. There is no Christmas tree in my home, my kids don't write letters to Santa Claus, and I don't attend church on Dec. 25 (or any other date). Does the knowledge that scores of millions of my fellow Americans do all those things make me feel excluded or offended? On the contrary: It makes me feel grateful -- to live in a land where freedom of religion shelters the Hanukkah menorah in my window no less than the Christmas tree in my neighbor's."

- Boston Globe columnist Jeff Jacoby
~~~~~~~~~~
More Notable/Quotables HERE
=================

Know Your Enemy
From what we read on
this Hate-America/Hate Bush
web site, there's big plans afoot for next year's State of the Union Address.
In the spirit of knowing yon enemy and keeping tabs on their plans, visit this Web Site of the Week and be warned.






The Bush Regime Must GO! Next Steps :

Bring the Noise! Drown Out Bush's Lies at the State of the Union Message
When? - TBA - probably late January
Where? - Everywhere in the US
State of the Union? - NO - State of Emergency!
~~~~~~~~~~
More Web Notables HERE
===========