Daily Update: Day- Friday Date-12/2/05
-The news does not blare out as a sudden bulletin
...instead dawn breaks over our marble heads that the CIA is our enemy
-Time for disgruntled conservatives to make their issues known
...a reporter wants your input
-Tookie Williams scheduled for the needle 12/13/05
...failure to follow through on his execution will only be significant IF Schwarzenegger does not stop the execution.



Today's Auxiliary Blog Post
...Because there's more to life than politics.


Auxiliary Blog Post
======================
Some skepticism in this Gossip post.

Why is William Shatner selling his kidney stones and why on earth is Jennifer this year's GQ "man of the year"?

I suspect it might be a case of following the money.

Oh, and the world's ugliest dog has died.
~~~~~~~~~~~~~~~~~~~~
Time for some Delaware news. We've got Beau Biden, son of Joe, being shoved down our throats here in the Swamp State.

And Mike Castle. I'm on a mission with this traitor.
~~~~~~~~~~~~~~~~~~~~
It's the Pic of the Week and no words or description required.

Except just how the hell this accident happened.
~~~~~~~~~~~~~~~~~~~~

CLICK HERE FOR "TODAY'S AUXILIARY BLOG POST
~~~~~~~~~~
Day- Friday Date-12/2/05
Tired of the RINOs? Here's Your Chance to Spout.
Received the following from Chuck Muth's daily email. He's got a conservative magazine interested in a story on whether conservative dissatisfaction with Republicans might affect the way we vote.
I immediately responded that unless the Delaware GOP gets another congressional candidate to replace traitor Mike Castle I WILL vote for the Democratic candidate.
Castle voted against ANWAR along with about 25 of his RINO buddies recently. Thereby betraying my and my progeny's future. All for a contribution from George Soros although the whole transaction is cloaked in something called a "Main Street Republicans" mystery.
Why I should I vote for him again? My vote is my only precious way to show my dissatisfaction. If the Delaware GOP insists on promoting Castle, I'll not only NOT vote for him, I will actively campaign for his Democratic opponent.
Read the missive and follow the instructions if you are a conservative and you too are tired of being taken advantage of by those who betrayed your previous precious vote.

ATTENTION: DISGRUNTLED CONSERVATIVES

A reporter for a major national conservative magazine is doing a story on whether or not conservative dissatisfaction with Republicans could result in GOP electoral losses next November. My response was: Absolutely.

Just look at the results in Virginia, New Jersey, New York, Colorado and California from earlier this month. It's obvious from those results, as well as various emails I receive on a regular basis, that an awful lot of conservatives who are unhappy with the direction this Congress and this White House have pursued on critical issues - such as illegal immigration and government spending - stayed home, voted third-party, refused to volunteer and closed up their checkbooks.





Not surprisingly, Republican Party and "establishment" pooh-bahs are spinning an entirely different tale. They're telling this reporter that there isn't any serious dissatisfaction in the grassroots ranks and that when push comes to shove next November, conservatives will do their duty, show up at the polls and pull the ol' GOP lever.

This reporter would like to hear from some actual grassroots conservatives. Folks who have volunteered for the GOP in the past, but won't now. Folks who have donated money in the past, but won't now. Folks who generally turn out and vote for the GOP, but now might very well stay home or vote for candidates from another party.

So I offered to put a call out to my readers asking any of you who fall into the above categories to send me a brief email expressing your frustration and why - and what actions you may or may not withhold from the GOP next year if they don't get their conservative act together.

Send any comments in this regard to me at Chuck Muth.

And if you wouldn't mind if the reporter wants to contact you directly if he has any questions or follow-up, please include your full name, city and state, daytime phone number and email address.

Here's a perfect opportunity for many of you to "get it off your chest," so let 'er rip.
~~~~~~~~~~
We've Met the Enemy and It Is the CIA
Fox news will, from time to time, ding,ding,ding across the air waves that "this is a Fox news update", or "this is breaking news from Fox news". We will never see such a bulletin over the realization that one of America's greatest enemies are the unelected denizens of our own bureaucracy known as the CIA.
It's the sort of realization that comes over time as opposed to being a breaking news item.
That jolly sport known as Plamegate did play across our cable TV screens enough that the fact that the CIA, for whatever reasons, sent Joe Wilson, not even a CIA employee, to Niger to investigate claims that Iraq tried to buy yellowcake uranium from that nation. Yellowcake uranium is a needed item to create nuclear bombs. We also know that the lovely Mr. Wilson didn't even hand in a written report to the CIA yet he was allowed to put an Op-Ed in the NY Times about how the administration lied. I always thought these things were sort of secret items.
Who sent Joe Wilson to Niger? Why was he allowed to lie publicly about his findings? Because the story ole Joe told the Senate Select Committee on the matter is waaaaay different than what he wrote in the NY Times.
So okay, first suspicion that the CIA isn't on the up and up begins to break over our marble heads begins with Natasha Plame and Joe Wilson. Add the drama of poor Scooter Libby heading to jail for daring to try and prevent Wilson's misinformation from hitting the mainstream media to only be saved at the last minute by, of all people, Bob Woodward, and we can see the ingredients of a massive propaganda exercise. Started by the CIA and abetted by the Mainstream Media.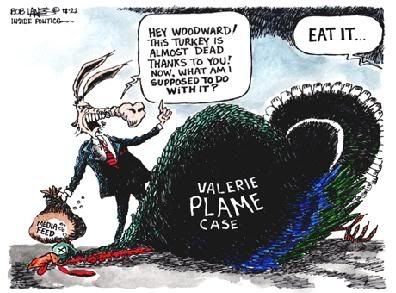 Now, based on this
analysis in the Weekly Standard,
we discover that the CIA was betraying this country for quite a while. Below, we see the difference on what the NY Times printed, based on unnamed CIA "sources" about the testimony of captured al Qaeda operative Abu Zubaydah versus the REAL testimony of this captured terrorist. The CIA version is in purple font, the truth is in green font.

On June 9, 2003 the New York Times published a piece by James Risen ("Threats and Responses: C.I.A.; Captives Deny Qaeda Worked With Baghdad") that suggested that the Bush administration was being duplicitous in linking Iraq and al Qaeda. The Times relied on anonymous intelligence officials who explained that the two top al Qaeda operatives in custody (Abu Zubaydah and Khalid Sheikh Mohammed) told their CIA interrogators that the terrorist group had rejected the idea of working with Saddam. The Times account began,



Two of the highest-ranking leaders of Al Qaeda in American custody have told the C.I.A. in separate interrogations that the terrorist organization did not work jointly with the Iraqi government of Saddam Hussein, according to several intelligence officials.



According to the Times's sources, Abu Zubaydah discounted the possibility of a relationship:



Abu Zubaydah, a Qaeda planner and recruiter until his capture in March 2002, told his questioners last year that the idea of working with Mr. Hussein's government had been discussed among Qaeda leaders, but that Osama bin Laden had rejected such proposals, according to an official who has read the Central Intelligence Agency's classified report on the interrogation.


==============
On July 7, 2004 the Senate Intelligence Committee published its "Report on the U.S. Intelligence Community's Prewar Intelligence Assessments on Iraq." Many of the report's passages, including those related to Abu Zubaydah's debriefings, were ignored. Here is the complete passage regarding Zubaydah's testimony:



The CIA provided four reports detailing the debriefings of Abu Zubaydah, a captured senior coordinator for al-Qaida responsible for training and recruiting. Abu Zubaydah said that he was not aware of a relationship between Iraq and al-Qaida. He also said, however, that any relationship would be highly compartmented and went on to name al-Qaida members who he thought had good contacts with the Iraqis. For instance, Abu Zubaydah indicated that he had heard that an important al-Qaida associate, Abu Mus'ab al-Zarqawi, and others had good relationships with Iraqi intelligence. [Redacted sentence(s)] During the debriefings, Abu Zubaydah offered his opinion that it would be extremely unlikely for bin Ladin to have agreed to ally with Iraq, due to his desire to keep the organization on track with its mission and maintain its operational independence. In Iraqi Support for Terrorism, Abu Zubaydah's information is reflected as:

[Redacted] Abu Zubaydah opined that it would have been "extremely unlikely" for bin Laden to have agreed to "ally" with Iraq, but he acknowledged it was possible there were al-Qaida-Iraq communications or emissaries to which he was not privy. [emphasis added]
Quite a bit of difference between the leak from the CIA to the NY Times and what was provided to the Senate Intelligence Committee. Then again the NY Times has a larger readership than the Senate Intelligence Committee.
The greater concern is that there are folks at the CIA who are working against the administration. And if they're working against an elected administration then they are working against the will of the people.
That's right. Citizens such as you and are disregarded and our votes do not count. It's what the bureaucrats and moles at the CIA want as well as the Mainstream media. Neither one of which has ever been lawfully elected.
=================
Now this from the Italians
An Italian newspaper released a report concerning Pakistan's infamous Khan, the seller of nuclear bomb making info to the highest bidder. It seems that this fellow was in Niger during the time of Wilson's trip. Now why on earth would Khan be in Niger along with a bunch of Iraqi officials? IF, as Plamegate would have us believe, Iraq under Saddam was making no effort to obtain yellowcake uranium, then why are all these people congregating in Niger? Vacationing?
A member of FreeRepublic graciously translated the Italian article. Below, an excerpt.

As was seen in Niger-gate the final report of the British Parliaments Commission, in July 2004, pointed out the passage in Niger of Iraqi officials in 1999 and mentions sellers of uranium who in 1999 and 2001 planned to sell uranium to Iran, Libya, China, North Korea and Iraq.

This information is in part similar to Ambassador Wilson's report. The information puts Khan in Niger in that period, detailing how his scientific court, installed in the hall of the Grand Hotel du Niger, gave appointments to local emissaries and clients from every imaginable country on a daily basis: appointments where information, money and encrypted documents exchanged hands.

Secret Investigative notes refer in detail to how Khan and his scientific council made a series of visits to Niger and to the Direction of the Pakistani nuclear site of Khauta, visits made in February.
The duplicity of our own country's CIA is being bandied about across the Blogosphere. The Lamestream media has their own agenda. I don't know what it is but it's not about reporting the truth.
As for the CIA's agenda, well they've had eight years of holiday under Bill Clinton. Who was too busy with Monica in the oval office to pay it all any mind. That agency's probably riddled with moles. Add to this the entrenched bureaucrats who had everything all wrong concerning 9-11 and the weapons of mass destruction in Iraq.
It's all about THEM.
It certainly isn't about victory or love of our country.
~~~~~~~~~~
But He's Reformed!
Studies show that the greatest percentage of "born-again" born-agains occurs amongst death row inmates on death rows in the many prisons across the country.
Such as salvation and seeing the light come easier when one is looking death in the eyeball.
Tookie Williams, founder of the "Crips" youth gang, is scheduled for execution on 12/13/05. He has been found guilty by a jury of his peers of the murder of four people.
Now Tookie is the darling of the Hollywood Moonbats, who never met a murderer they didn't adore.
Should California's Governor Arnold Schwarzenegger decide to commute Williams' death sentence to life in prison without parole, it won't mean a thing. It IS California after all.
The real significance of Ahnold's decision will come should he NOT commute Williams' death penalty. Then it will be noteworthy. Because if California refuses to relent to these last minute redemptions and sudden salvations of those sentenced to death, then the rest of the death row inmates in this country can bend over and kiss their behinds goodbye.
Ladies and gems, if the public votes to keep the death penalty, then by not carrying out the death penalty as legally dictated is, de facto, over-riding the will of the voters. Don't call it anything else.
"But what's wrong with life without parole?" the Liberals would whine. Well, nothing. Get it on the ballot or elect a representative who will vote to eliminate the death penalty and take a damn vote.
Heh. Americans are overwhelmingly in favor of the death penalty. The Moonbats hate it. So they, as they always have, figure out a way around the wishes of us idiots out here in la-la land who carry this country on our backs. This last minute backing out of an actual execution is another way to over-ride the will of the majority.
Because what do we know? We are not as compassionate and loving as Barbra Streisand.
We hear Ahnold's seriously considering his options and reviewing all the options. Interestingly, while we've heard from many forums and celebrities on the matter, the relatives of the VICTIMS of sweet Tookie's crime are the only ones out and about and asking that he not be spared.
Williams was convicted of the shootings of Albert Owens, who was killed in a robbery of a 7-Eleven store on Feb. 27, 1979, and of motel owners Yen-I Yang and Thsai-Shaic Yang and their daughter, Yee Chen Lin, at the Brookhaven Motel on South Vermont Avenue 12 days later.
~~~~~~~~~~
CLICK HERE FOR "TODAY'S AUXILIARY BLOG POST
Links to this month's Daily Updates
W/E 11/2005
W/E 11/27/05
~~~~~~~~~~
CLICK HERE FOR "TODAY'S AUXILIARY BLOG POST




TV Events of Note


Santa Claus Is Comin' to Town
ABC: Friday, December 2 8:00 PM
Holiday-children special, Animated Christmas

A mailman (the voice of Fred Astaire) explains why Santa has whiskers, lives at the North Pole and brings presents once a year. Animated.
~~~~~~~~~~~~~~~
Knots Landing Reunion: Together Again
CBS: Friday, December 2 9:00 PM
Special, Entertainment

Original cast members Michele Lee, Donna Mills, Joan Van Ark, William Devane, Kevin Dobson and Ted Shackelford reminisce; Alec Baldwin, Lisa Hartman-Black, Michelle Phillips, Nicollette Sheridan and Julie Harris also appear.

Director(s): Michael Dempsey Executive Producer(s): Michael Levitt, Henry Winkler

Original Air Date: Dec 02, 2005

~~~~~~~~~~
==================================
Daily Update: Day- Thursday Date-12/1/05
-Interesting update on those Iraqi Hostages
...say they're angry at America. I say leave them lose their heads.
-The President's speech yesterday had one intriguing element
...should stop the silly Dem criticism about "not having a plan"



Today's Auxiliary Blog Post
...Because there's more to life than politics.


Auxiliary Blog Post
======================
It's time to catch up on True Crime. We have some doozies this week, including stolen 250 lb lightpoles from the city of Baltimore and a weird tragedy that struck two multi-million dollar lottery winners.
~~~~~~~~~~~~~~~~~~~~
Gardens in December?

Well there is the promising garden catalogues. This year the choices have been ordered and planted.

Check out the flowers that will, God willing, grace next year's gardens of The Wise I.

And sexy pictures of the Thanksgiving cactus in full bloom.
~~~~~~~~~~~~~~~~~~~~
Did a review of this book "Stories of Strength", compiled by a writing group to which I belong.

Alas I had no personal story of strength. Then I read this excellent compilation and realized how much of our lives require a strength we don't realize we have.
~~~~~~~~~~~~~~~~~~~~
CLICK HERE FOR "TODAY'S AUXILIARY BLOG POST
~~~~~~~~~~
Day-Thursday Date-12/1/05
More About Those Hostages
Thanks to
Littlegreenfootballs
, came across
this information
on those Iraqi hostages. This story was covered in yesterday's Daily Update, scroll down.
Seems these people were not such nice guys and now blames the kidnapping of their "missionaries" on the coalition forces.
Heh.
They might need these coalition forces to keep their heads, literally. Read the sound below, the response of these people. Nerve and audacity.

In a statement, Christian Peacemaker Teams said it strongly opposed the U.S. invasion of Iraq and blamed the kidnapping on coalition forces.

"We are angry because what has happened to our teammates is the result of the actions of the U.S. and U.K. government due to the illegal attack on Iraq and the continuing occupation and oppression of its people," the group said.





Christian Peacemaker Teams does not consider itself a fundamentalist organization, a spokeswoman said.

"We are very strict about this: We do not do any evangelism, we are not missionaries," Jessica Phillips told The Associated Press in Chicago. "Our interest is to bring an end to the violence and destruction of civilian life in Iraq."
~~~~~~~~~~
The President's Speech-11/30/05
The most interesting development today is not so much the
President's Speech
, although it was a fine one and a continuation of the administration's new defense of its policies on Iraq. The more interesting news today is the declassification and release of a document called the "National Strategy for Victory in Iraq",
PDF file HERE.
This document outlines the plan for Iraq from initial entry to eventual withdrawal. Will this release shut up the Democrats who continue to lamely lie that there is "no plan". Well of course there's a plan. I do not believe that Donald Rumsfeld allowed our military to overthrow a dictator in a distant land without a plan. Said plan subject to changes as they occur, as they often do, during the war. For the opposition party to go baying and moonbatting that there is no plan is to think we are all stupid as lampposts out here in la-la land.
| | |
| --- | --- |
| | President Bush on Wednesday said, "To achieve victory over such enemies, we are pursuing a comprehensive strategy in Iraq. Americans should have a clear understanding of ... how we look at the war, how we see the enemy, how we define victory, and what we're doing to achieve it. So today, we're releasing a document called the "National Strategy for Victory in Iraq." This is an unclassified version of the strategy we've been pursuing in Iraq ... I urge all Americans to read it." |
==========
The Democratic Rebuttal
Before the President was even done giving his speech Reid was already doing what he does best. Which is to lie and blather on about nothing.
What a complete lack of class. If the Republicans had interrupted a Democratic President's speech before it was done the Dems would be howling all over the airwaves.
John Kerry too gave a rebuttal. I've searched the Internet and all the Blogs and cannot find one sound byte of Kerry's rebuttal. So I'll provide a pic and summarize Kerry's comments.

Blah Blah, Blahblahblah, Blah Blah. I served in Vietnam. Blah Blah, Blahblahblah, Blah Blah. I served in Vietnam. Blah Blah, Blahblahblah, Blah Blah. I served in Vietnam. Blahblahblahblahblahblah...blah, blah, blah. I served in Vietnam.

He went on to say:

Blah Blah, Blahblahblah, Blah Blah. I served in Vietnam. Blah Blah, Blahblahblah, Blah Blah. I served in Vietnam. Blah Blah, Blahblahblah, Blah Blah. I served in Vietnam. Blahblahblahblahblahblah...blah, blah, blah. I served in Vietnam.





~~~~~~~~~~



Tomorrow's Blog Post


....Come back tomorrow when "tomorrow" becomes "today"
Auxiliary Blog Post
======================
Some skepticism in this Gossip post.

Why is William Shatner selling his kidney stones and why on earth is Jennifer this year's GQ "man of the year"?

I suspect it might be a case of following the money.

Oh, and the world's ugliest dog has died.
~~~~~~~~~~~~~~~~~~~~
Time for some Delaware news. We've got Beau Biden, son of Joe, being shoved down our throats here in the Swamp State.

And Mike Castle. I'm on a mission with this traitor.
~~~~~~~~~~~~~~~~~~~~
It's the Pic of the Week and no words or description required.

Except just how the hell this accident happened.

~~~~~~~~~~
CLICK HERE FOR "TODAY'S AUXILIARY BLOG POST
Links to this month's Daily Updates
W/E 11/2005
W/E 11/27/05
~~~~~~~~~~
CLICK HERE FOR "TODAY'S AUXILIARY BLOG POST




TV Events of Note


Have No Fear: The Life of Pope John Paul II (2005)
ABC- Thursday, December 1 8:00 PM
2005, NR, 01:36, Color, English, United States, Made for TV

Born in Poland, Karol Wojtyla (Thomas Kretschmann) embraces religion and becomes pope, promoting faith and peace around the globe.

Cast: Thomas Kretschmann, Bruno Ganz, Jasper Harris, Ignas Survila, John Albasiny, Paulius Ignatavicius, Inga Sakalauskait , Petar Goranov, Roland Oliver, Richard Rees, Charles Kay, Joaquim de Almeida, Sabrina Javor Director(s): Jeff Bleckner
~~~~~~~~~~~~~~~
The Apprentice (New)
NBC Thursday, December 1 9:00 PM
Reality

To Lead or Not to Lead
The final four contestants must create a promotional video for one of the world's largest corporations, Microsoft.

Cast: Donald Trump, Carolyn Kepcher, George Ross Executive Producer(s): Mark

~~~~~~~~~~
==================================
Daily Update: Day-Wednesday Date-11/30/05
-California Congress Critter resigns; accused of stealing millions.
...I'll say. A House, a Rolls Royce.
-Cindy Sheehan held a book signing and no one came.
...including pics of nobody
-Four hostages held in Iraq
...identified with video released to Al-Jazeera



Today's Auxiliary Blog Post
...Because there's more to life than politics.


Auxiliary Blog Post
======================
It wasn't a busy news week this Thanksgiving Week Just Passed.

There was that CNN X flap over Cheney.

And of course Joe Biden weighs in.
~~~~~~~~~~~~~~~~~~~~
Here's some Notable/Quotables that features the congress critters' effort to cut pork. With some inside scoop on that Alaskan Bridge to Nowhere.

Also, Barone on Mideast Success and Dick Cheney, of course.
~~~~~~~~~~~~~~~~~~~~
Time for a Fishgiggle.

For men and women really do take showers differently.

Check it out.
~~~~~~~~~~~~~~~~~~~~
CLICK HERE FOR "TODAY'S AUXILIARY BLOG POST
Day- Wednesday Date-11/30/05
Sheehan-I Am Embarrassed for Her
I had a book signing once at a Borders Book store. I was so scared no one would show up that I feigned illness the day of the signing. I did show up for the book store, the signing of which was for a book that I was just one contributor for, and a few people showed up early. I chatted a bit then got nervous as the appointed hour approached. I went to the manager and told her I was ill and might have to leave. It was my handy excuse should no one show up.
Of course that book signing had been arranged by a publisher and was held at a location where people interested in buying books would, er, buy a book. It turned out a lot of people did show up as the store made a big announcement at the appointed hour and hey, people came.
Now if I held that book signing out in the middle of nowhere and cavalierly expected people to show up in droves, it might be me in that lonely picture below and not the
vaunted peacenik Cindy Sheehan.
Usually the big authors can get away with such an unusual book signing. It must have been a jolt to Mother Sheehan that she is not such an author.
While many are gleeful about Cindy's sad book signing, I suspect she'll recover. Whoever's doing her PR needs to get back in the saddle. Schedule a couple of book signings in the big metro book stores and folks will come. They'll come even if they never heard of Sheehan. Then Sheehan's PR folks can spin it that the adoring public showed up just to see this sad celebrity whose fifteen minutes are up.
| | |
| --- | --- |
| | The large tent where supporters had erected a stage hung with the banner "Speak Truth to Power" was only partially full. In the morning Sheehan signed copies of her new book, being published this week, for an even smaller crowd. |
~~~~~~~~~~
Al-Jazeera Releases Tape of Iraqi Hostages
Four Christian workers have been kidnapped in Iraq. Their fate is by now only a guess.
One fellow is almost 75 years old and he just wanted to go on an adventure.
I do not think one hair on any head of our soldiers should be risked to rescue these people.
Below, a little about Mr. Kember,
world traveler and hostage.

Mr Kember replied: "I don't know, I've done a lot of writing and talking about peacemaking.

"I've demonstrated, you name it I've been on it, but I feel that's what I'd call cheap peacemaking."

When asked if going to Iraq could be more costly than any UK-based demonstration, Mr Kember said: "It could be."

The retired medical physicist from Pinner in north London was kidnapped along with two Canadians and an American in Baghdad on Saturday.

==========
Below, the identities and nationalities of the hostages.

American Thomas Fox of Clear Brook Virginia, Canadian Harmeet Singh Sooden, who resides in Auckland, New Zealand, British citizen Norman Kember, and some one who appears to identify himself as James Loni (last name unclear) of Canada.

Previously only Norman Kember had been identified. The Christian Peacemaker Teams organization has confirmed to The Jawa Report in an e-mail that the four hostages were working for that group.
~~~~~~~~~~
Randy Cunningham-A Thief of the Highest Order
$2.4 million in bribes,
Mr. Cunningham? That's not even a small attempt to control yourself.
This guy, as part of his plea deal, will aid the prosecution to go after others. This should be interesting.
| | |
| --- | --- |
| | Representative Randy Cunningham told a federal judge that he had taken $2.4 million in bribes from a military contractor. |
~~~~~~~~~~
CLICK HERE FOR "TODAY'S AUXILIARY BLOG POST



Tomorrow's Blog Post


....Come back tomorrow when "tomorrow" becomes "today"
Auxiliary Blog Post
======================
It's time to catch up on True Crime. We have some doozies this week, including stolen 250 lb lightpoles from the city of Baltimore and a weird tragedy that struck two multi-million dollar lottery winners.
~~~~~~~~~~~~~~~~~~~~
Gardens in December?

Well there is the promising garden catalogues. This year the choices have been ordered and planted.

Check out the flowers that will, God willing, grace next year's gardens of The Wise I.

And sexy pictures of the Thanksgiving cactus in full bloom.
~~~~~~~~~~~~~~~~~~~~
Did a review of this book "Stories of Strength", compiled by a writing group to which I belong.

Alas I had no personal story of strength. Then I read this excellent compilation and realized how much of our lives require a strength we don't realize we have.
~~~~~~~~~~~~~~~~~~~~
~~~~~~~~~~
Links to this month's Daily Updates
W/E 11/2005
W/E 11/27/05
~~~~~~~~~~
CLICK HERE FOR "TODAY'S AUXILIARY BLOG POST



TV Events of Note


Christmas in Rockefeller Center
NBC Wednesday, November 30 8:00 PM
Holiday special Christmas

Rod Stewart, Sheryl Crow, Carrie Underwood, the Brian Setzer Orchestra, and Earth, Wind & Fire are scheduled to perform at the 73rd annual tree-lighting; Al Roker and Megan Mullally host.

Director(s): Steve Grymes Executive
~~~~~~~~~~~~~~
The Apprentice: Martha Stewart (New)
NBC Wednesday, November 30 9:00 PM
Reality

A Ridiculous Display
The six remaining candidates enter the automotive world and must create showroom launch displays for a new sedan.

Cast: Martha Stewart, Alexis Stewart, Charles Koppelman Executive Producer(s): Mark Burnett, Donald Trump, Jay Bienstock

~~~~~~~~~~