The Doe Network
This web site, the work of many volunteers across the nation, was featured on a recent CBS "48 Hours" episode. It's called "The Doe Network" and the site's goal is to aid in locating relatives or people who can help identify human remains found for which there is no identification. This is especially tragic if the remains are of a young child. In the "48 Hours" episode, one such body recovered was that of a young girl. I also covered the quest to identify the remains of a young boy
found in the Chicago area.
One can reach the site by clicking on the picture below. Below the picture is a summary of the site's purpose and goals.
This seemed a good place to hype the site a bit. Why not click in and see if you can identify those remains found that their murderer may be caught and their loved ones notified?

This is a place where you may be able to find missing or an unidentified person. Someone you know may need closure about a lost person. This is not a pretty site, but it could help someone.
---
Thou Shalt Not "Annoy" Anonymously Via Email
Slipped quietly into a bill to fund the Department of Justice, the congress critters last week quietly made it illegal to "annoy" someone via email unless proper identity is provided.
Whenever the congress critters go attaching major legislation via a budget bill, they've got nefarious reasons for doing so.
The law reads as follows:

"Whoever...utilizes any device or software that can be used to originate telecommunications or other types of communications that are transmitted, in whole or in part, by the Internet... without disclosing his identity and with intent to annoy, abuse, threaten, or harass any person...who receives the communications...shall be fined under title 18 or imprisoned not more than two years, or both." Buried deep in the new law is Sec. 113, an innocuously titled bit called "Preventing Cyberstalking." It rewrites existing telephone harassment law to prohibit anyone from using the Internet "without disclosing his identity and with intent to annoy."
Methinks maybe the congress critters were looking to clear out their own Email in-boxes which were, as one might expect, brimming with "annoying" emails.
Although it could be an attempt to prosecute spammers or go after those Nigerian nuts who always want to make a deal with me over lost bank funds.
Whatever the reason, noble or nefarious, this is not the way to pass legislation. Us idiots out here in la-la land were given no notification about this law, we were given no chance to debate it and, alas, unless the attempt is anti-American, the Mainstream Media pays it no mind.
The Internet is abuzz about this sneaky tactic. It's time we crack down on these Lords and Ladies in the House of Lords.
---
Susan Polk to Represent Herself at Trial
Seems the murder trial for Susan Polk has taken an interesting turn.
Polk, also the main feature of a recent "48 Hours" program, is accused of killing her husband. She claims it was self-defense and she also claims she'd suffered years of abuse by her spouse's hands. Polk has two sons. One declares her story of the night of the murder to be correct. The other son says Polk is not telling the truth. Another interesting factoid to come out in the trial is the verification that Susan Polk's husband had, at one time, been her adolescent Psychologist!
Now while this is interesting enough on its own, recently Polk's lawyer, the well-known TV legal pundit Dan Horowitz, was himself the victim of a heinous crime. His wife, Pam Vitale, was murdered in the couple's mobile home where they lived as their dream house was being constructed.
Now Susan Polk wants to drop Horowitz as her counsel and represent herself at trial.
More details on the Horowitz case covered
in this True Crime post.
Posted on Thu, Jan. 12, 2006
Horowitz says Polk wants to represent herself at trial
By Bruce Gerstman
CONTRA COSTA TIMES

Defense attorney Daniel Horowitz said Wednesday that his client, Susan Polk, no longer wants his services and prefers to represent herself when she goes on trial this month on charges she killed her husband in their Orinda home.

"It doesn't matter why she wants to represent herself," Horowitz said. "She doesn't have to have a reason."

Polk and her defense team are scheduled to meet with Contra Costa Superior Court Judge Laurel Brady on Friday, about three weeks before Polk's second trial is set to begin, Horowitz said. Polk will argue that she is competent and ready to represent herself.

Polk, 48, is accused of stabbing to death her husband, 70-year-old Felix Polk, in 2002 on their Orinda estate. She has said she killed him in self-defense.

Polk, in an interview Wednesday at West County Jail in Richmond, said that Horowitz has ignored her interests since the October slaying of his wife, Pamela Vitale.

"He has not been focusing on my case," she said. "He has not spent any substantial time with me since his wife's death."

Horowitz and his defense team have not pursued enough leads to prove her innocence and had portrayed her inaccurately to a defense expert.

"I would have liked to be represented by competent counsel," she said.

"I don't think Dan is competent."
---
Jonathan Luna-It Just Got Stranger
The mystery of how Baltimore federal prosecutor died continues. I created a detailed post including my own surprising conclusion as to how Luna died in a post
on my own Blog
in late 2004.
There were comments left by persons who seem to be knowledgeable that my theory was correct. Others vehemently, and not so eloquently, disagreed.
To quote the link below:
Luna's body was found Dec. 4, 2003, face down in a shallow stream in rural Lancaster County, Pa. He had suffered 36 stab wounds, most of them superficial, but an autopsy determined he died by drowning. His blood-spattered car was idling nearby.
I believed those 36 stab wounds were by Luna's own hand and Luna's death was a suicide.

Now we find out that there was strange goings-on by FBI investigators assigned to the case. Including the little known fact that there were rumors of an affair between Luna and the acting special agent in charge of the Baltimore FBI division.
Well this casts a pall over things. The
article details
the accusations over the FBI's mishandling of this case but it's a bit confusing.
Evidently the FBI acting agent in charge of the Baltimore bureau allowed two FBI agents to check her computer for allusions to any relationship she had to Luna. Only the agents who checked Love's computer were
not
the agents in charge of investigating the case!
I must wonder if the mystery surrounding Jonathan Luna's death will ever be solved.
The inspector general's report does not accuse the FBI of bungling the investigation to the point that the probe into Luna's death was compromised.

But it faults FBI agents for the way they questioned one of their own about rumors of an affair between the female agent and Luna.

The female agent later filed an internal complaint charging that the FBI's then-acting special agent in charge of the Baltimore division, Jennifer Smith Love, improperly ordered two agents to interrogate her and approved an illegal search of her computer, according to the report.
---
Kerry Workers' Tire-Slashing Trial Begins
Flying under the radar we have this. Seems some of Presidential contender John Kerry's supporters thought it would be all fair in a Democracy to slash the tires on vehicles intended to be used by Republicans to transport voters to the polls on election day. The damage pulled 25% of the vehicles planned for use on election day out of commission.
The state of Wisconsin was won narrowly by Kerry, thanks perhaps to a little help by Kerry's friends?
Note the names of this gang called "The Milwaukee Five". Imagine, if you will, if this were
Bush
partisans going on trial. Do you think the news coverage would be quite so, how shall we say, quiet?

Fourteen months after John Kerry narrowly carried Wisconsin in the 2004 presidential election amidst allegations of voter fraud, five campaign workers for the Kerry-Edwards campaign team are set for trial Tuesday in Milwaukee on felony charges of damage to property.

The "Milwaukee Five" is charged with slashing 40 tires on 25 separate Republican vehicles on the morning of the 2004 presidential election. The vehicles were rented by the Wisconsin Republican Party to transport less-mobile voters to the polls on Election Day. In total, the vandals disabled 25 percent of the Republican Party's "Get Out the Vote" fleet.

The defendants include Sowande Ajumoke Omokunde, the son of Rep. Gwen Moore (D-Wisc.) who also goes by the name Supreme Solar Allah; Michael Pratt, the son of former Milwaukee Mayor Marvin Pratt and leader of Kerry's campaign team in Milwaukee; Lewis Caldwell; Lavelle Mohammed, and Justin Howell.

According to the Milwaukee Journal-Sentinel, four of the defendants were paid operatives of the Wisconsin Democratic Party, including Omokunde and Pratt

---
Thomas Capano's Death Penalty Overturned by Delaware Supreme Court!
So why weren't the rules at the time that a death penalty verdict should be anonymous? Because it seems now that Thomas Capano, a fine gentleman who killed his girlfriend for the crime of breaking up with him, gets another chance. After Tom murdered his girlfriend, he and Capano's brother then sawed the lady's body in half, stuffed it into a cooler, and dumped Anne Marie Fahey into the ocean.
Here are two book reviews
I wrote, both on the subject of Capano's murder and his trial.
Here's what I don't understand. The BTK killer cannot get the death penalty because there was no death penalty in Kansas at the time of his murders. So okay, fine. But if the rule was that only a majority of the jury vote was required for a death penalty verdict at the time of Capano's trial, why are we changing this?
It's unclear to me whether Capano will undergo a completely new trial or if a new jury can be convened just to rule on the death penalty issue?
As an aside, the judge in the Capano trial, Bill Lee, ran for Governor of Delaware in 2004 and narrowly lost to Ruth Minner. If it wasn't for the great Wilmington dead vote, he may have won.
From Delawareonline:
Tom Capano's death sentence has been thrown out by the Delaware Supreme Court, which ordered a new penalty hearing and a resentencing for Capano. A former state deputy attorney general, Capano was convicted and initially sentenced to death for the 1996 murder of Anne Marie Fahey.

The justices overturned the death sentence based on new legal considerations of whether death sentences must be voted on unanimously. In Capano's case, the jury's 11-1 vote that the murder was premeditated meant it failed to find Capano eligible for the death penalty "beyond a reasonable doubt" - just as an 11-1 vote in a criminal trial fails to result in a conviction, Capano's attorney
Joseph Bernstein argued before the Delaware Supreme Court last October.

---
Illinois Woman Sells Her Paralyzed Daughter to Sex Pervert
Here's a story that has been reported on Greta's show and Court TV. It concerns a man who repeatedly raped a paralyzed girl until his arrest this past Christmas day.
While gasps of horror echo across the land, it is now discovered that this raped teen's mother took hush money for not reporting on the man. The paralyzed teen's mother evidently agreed and is now charged with three felonies with bail set at $250,000.
I'll even go one allegation further. According to the news article linked below, this fine mother met the rapist at a truck stop, struck up a relationship and the man ended up baby-sitting the teen. What mother would have a 68 year old man she met at a truck stop baby-sit her paralyzed teenager? I'm wondering if the mother knew about the rapes as they were ongoing but kept her mouth shut because the man was supporting her.
Prosecutor: Mom of raped teen took $10,000 hush money

January 13, 2006

BY JOE HOSEY

A Wilmington woman took $10,000 to cover up the crime of a man who repeatedly raped her disabled teenage daughter for months, Will County State's Attorney James Glasgow said Thursday.

"I've been doing this for 28 years, and I've never come across a case with allegations of this nature," Glasgow said after announcing the charges against Kimberly Riordan.

Riordan, 32, reportedly retained a twice-convicted sex offender to baby-sit her quadriplegic daughter, who suffers from cerebral palsy and is confined to a wheelchair.

The suspect, Larry Lee Southwood, 68, of Wilmington Township, raped the 14-year-old for the nine months leading up to his arrest Christmas Day, police said.

Southwood paid Riordan $10,000 to keep her from ratting him out to the cops, and she went along with the deal, lying to Detective Sgt. David Margliano, Glasgow said.
---
The Poisoned Handshake
Fellow says it was only olive oil.
I must ask who carries olive oil around with them to rub on their hands? Then immediately insists on shaking hands with those authorities who were causing him grief?
I must wonder if his revenge was worth the punishment surely to come.
From WFTV.com:

LANSING, Mich. -- A man has been jailed on assault charges after a prosecutor, police officer and courtroom bailiff became seriously ill after shaking hands with him.

During a Dec. 21 court appearance on a traffic charge, John Ridgeway pulled out a vial of an unknown liquid, rubbed his hands with the contents and insisted on shaking hands with the three people, authorities said.

All of them got sick within an hour, suffering from nausea, headaches, numbness and tingling that lasted about a day. Two sought treatment at a hospital.

The FBI was running tests on the substance to identify it.

Ridgeway, 41, told officials the vial contained olive oil, according to prosecutor Keith Kushion.

---
More True Crime Updates HERE

The Politicians in D.C. Are Entirely Too Smart To Be Caught
---
AT ABOUT 8 p.m. on the night of September 26, a homicide detective with the Ft. Lauderdale police department entered the home of Anthony Moscatiello in the Howard Beach section of Queens, New York. Once inside, he placed the 67-year-old "caterer," aka "Big Tony," under arrest. Around 11 p.m., a thousand miles away in North Miami Beach, police stormed the condominium where Anthony Ferrari lived with his wife and two children and took the 48-year-old "security consultant," aka "Little Tony," into custody. And the next morning, in Palm Coast, Florida, police arrested 28-year-old James Fiorillo. Fiorillo, aka "Pudgy," worked at the Builder's First hardware store in Bunnell. "Everybody loves him," Fiorillo's supervisor, Kurt Wright, told the Ft. Lauderdale Sun-Sentinel.
Matthew Continetti begins his piece titled
"Money, Mobsters and Murder"
with the surprising quote above. For the article is about the infamous Jack Abramoff and while it's generally acknowledged Abramoff is a bit of a sleaze bucket, could the man really have been involved in a murder?
After reading the detailed and long article, it would seem that the lobbyist might well have been involved, either as an accessory or outright participant, in the murder of Konstantinos "Gus" Boulis. Who was a partner in a "floating casino" purchased by Abramoff and his business partner, Adam Kiden. This story is rife with issues of illegal immigration, forged finance documents, violations of plea deals, questionable accounting practices, until, finally, the murder of Boulis.
Which all goes to illustrate the depths of the sleaze of this fine fellow, Mr. Jack Abramoff. While there seems to be little evidence Abramoff had anything to do with Boulis' murder, the whole thing has a bad smell.
It is known that Abramoff copped a ten year plea deal in exchange for his cooperation. It is alleged that the capitol is abuzz with this news and many congress critters are running for their lives.
Which remains to be seen. I don't believe it for a minute.
Although one congress critter, a Bob Ney, inexplicably felt the need to insert a bad reference into the congressional record regarding the floating casino then owned by Boulis. After Kaiden and Abramoff became owners of the casino, Ney then inserted glowing praises of the casino, then "under new management".
Now why would a congress critter from Ohio be getting all involved in what is Florida's business? And why did he bother to use taxpayer money and resources to essentially lambaste then praise a private business?
From the Opinion Journal.com:
The most culpable is Ohio's Bob Ney, who has been cited in a "criminal information" for receiving trips and other favors in return for statements entered into the Congressional Record. Mr. Ney says that he too was duped, but there's no question he was willing to tap dance on cue for Mr. Scanlon, and that alone is sleaze-by-willing-association. If the House Ethics Committee serves any useful purpose, sanctioning Mr. Ney ought to be it.
Beyond a slap on the wrist, if even that, by the House Ethics Committee for Mr. Ney, don't hold your breath expecting congress critters to be sent to hoosegow in droves, illustrated with handsome televised sight bytes across the news networks.
The congress critters in both the House of Representatives and the Senate (a.k.a. The House of Lords) are quite savvy in protecting their regal right to re-election and set the rules in such a manner that they can accept perks and money from the likes of Abramoff in a completely legal fashion as was their plan.
For contributing to a political action committee (PAC) is perfectly legal although there is no slimier way to insure incumbency re-election. Again, as was the plan. Without Hillary's political action committee, HILLPAC, that woman would be just one more political shrew.
There are few limits on contributions to political action committees. PAC's can receive far more money than currently allowed for individual contributions, now limited to $1,000 per person. Contributions to PAC's allow the PAC sponsor to keep power in that the money can be in turn contributed to other party candidates who need it most or used to promote PAC's causes in the public eye.
The act of lobbying congress critters is also perfectly legal. The ACLU lobbies congress. The AARP (American Association of Retired Persons) lobbies congress. Abortion and women's rights advocates lobby congress. There's strength in numbers and joining with those of like interests has long been a political strategy of this country.
Except Jack Abramoff duped and scammed his clients and I'll never believe that those congressional types who took that money knew nothing about it.
There's rules on political contributions. Of course the congress critters configured it so the rules fall in their favor. Especially in the favor of the incumbents who must keep their precious power. But such as "in-kind" contributions must be reported. "In-Kind" being the value of a service or product donated as opposed to an actual cash donation.
American Indians are allowed to operate casinos on tribal lands tax free. The location of tribal lands and the actual verification of Native American status itself being a political tool not handled fairly. For if husband and I declared ourselves Native Americans and our house to be tribal land, well it's a bit more complicated than that. Such designations require approval from the Dept. of the Interior and goodness knows what other politically entrenched procedures. It greatly helps to have a congress critter speak on a group's behalf.
What Abramoff did, he told Tribe A he could get them casino permission while telling Tribe B he could get them casino permission. This might be for the same land but Jack never told his clients that. He took from Peter to pay Paul. He put a bunch of the Indians' contributions directly into his pocket. He wined this congress critter and dined that congress critter. He fed them luxuriously in his swanky restaurant.
When the smoke cleared, there will have been many contributions to various PAC's. But so long as the contributions were disclosed, it's perfectly legal.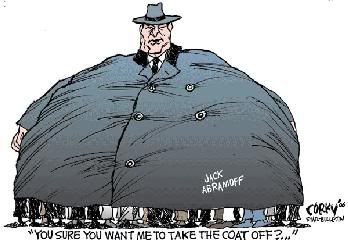 Unless, and here's the big if, a direct quid pro quo (favor for favor) can be proven. It's bribery for congress critter Joe to take money from a client of Abramoff then perform a direct congressional act in response to receiving the money.
These sorts of things can never be proven. As was the plan.
Here comes the warning not to believe the media and pundits' assertion that this is a
Republican
scandal. Indeed it might not be a scandal at all. Just because Jack Abramoff's a sleaze bucket of the highest order doesn't mean his PAC money's illegal. Abramoff is a Republican and was once a member of The Young Republicans. He also tends to hobnob around Republican staffers on the hill. The justice department is alleged to be looking closely at Abramoff's association with a Mike Scanlon, former staffer of Tom Delay. Emphasis on
former
. Although hey, who are we fooling. Congressional staffers often become lobbyists because of their association with the creatures of congress.
As reported by Newsmax:
In a little-noticed story in November, The Associated Press revealed that Reid had accepted tens of thousands of dollars from an Abramoff client, the Coushatta Indian tribe, after interceding with Secretary of the Interior Gail Norton over a casino dispute with a rival tribe.

Reid "sent a letter to Norton on March 5, 2002," reported the AP. "The next day, the Coushattas issued a $5,000 check to Reid's tax-exempt political group, the Searchlight Leadership Fund. A second tribe represented by Abramoff sent an additional $5,000 to Reid's group. Reid ultimately received more than $66,000 in Abramoff-related donations between 2001 and 2004."
The above quote might seem to illustrate a direct connection between Reid's letter and the immediate contribution by Abramoff's tribe represented. More important, Harry Reid is the Minority Speaker in the Senate, a.k.a. the House of Lords. He is, read my lips, a
Democrat
.
There's long rolls of Democrats who took money from Abramoff's clients, just as long as Republicans. Jack Abramoff had no problem tossing around his clients' swindled money on Capitol Hill to whatever congress critter might represent the state seeking status as tribal land. Abramoff was all over the place and he bandied about money like the big wheel he considers himself. The congress critters eagerly accepted money being given so free and loose and by me and by me only, likely repaid them with some political favor or two.
Proving this is no easy task and by me again, I don't think one single congress critter will suffer a bit except possibly in public opinion.
Which every one of those congress critters who took one dime of Abramoff's money should suffer. It's been known for almost a decade that Abramoff's been scamming his pitiful Indian clients. There've been a few lawsuits on behalf of these tribes seeking casino licenses via Abramoff and they've been well known. Yet the congress critters still held out their greedy little hands, not a single one having the ethics to refuse the money much less expose Abramoff and his ongoing scam. Hey, money, free wine, golf trips. Who's going to stop this?
If one should hear DNC Chair Howard Dean- which I did this past Sunday with my own lying ears- rant that Democrats had nothing to do with Jack Abramoff, that this is a Republican scandal, please turn on a tin ear. It's parsing words and nothing less. It wasn't Jack Abramoff, technically, who contributed that money to almost every member of congress. It was Abramoff's clients, Native American tribes promised God only knows what from opportunist Jack, who contributed money via Abramoff. Contributions to perfectly legitimate Political Action Committees never mind the morals of the matter.
They
all
did it. Every one of them who took a dime for their PAC's, and there's a bunch, they all knew that Abramoff was essentially stealing from a segment of the population the awarding of casinos was meant to be return for the white man's historic absconding of their land. They supposedly created this opportunity to reward and give hope to an often overlooked segment of our population. But they created the system in such a manner that
they
would have all the power.
Sadly this whole thing will be turned into a political football. The Democrats, notorious for never accepting blame for anything, will use the "it's a Republican scandal" sound byte ad nauseam. For now Republicans are all busy returning the money and I understand a few Democrats are returning the money as well. So if you rob a bank but return the money, does that make it all right?
Be on the lookout for presidential candidates to use the Abramoff matter to espouse even more complex legislation as they look all noble on the political stumps across the land. Political legislation that will be carved and crafted for the benefit of incumbents.
For
that
ladies and gems, is something they all, Democrat and Republican, have in common.
~~~~~~~~~~~
More Editorials HERE