All stories at this link. Scroll down to appropriate date.
Pope Takes Gibe at U.N.
Monday – 12/26/05

The thugs and thieves running Darfur should be stopped. And they should be stopped by a world body created just to stop such things.

The United Nations.

More at link
#####
All stories at this link. Scroll down to appropriate date.
~~~~~~~~~~
Strange Gas Released in Russian Stores
Tuesday – 12/27/05
| | |
| --- | --- |
| | What's really weird is that in the past week there were reports of this same gas released in Russian schools. |
More at link…
#####
All stories at this link. Scroll down to appropriate date.
~~~~~~~~~~
Dick Cheney Reveals Much to Reporters
Tuesday – 12/27/05
| | |
| --- | --- |
| | If not now, it soon will be. Because Dick Cheney revealed to reporters traveling with him to Iraq that soon the administration will be releasing documents obtained after the Iraqi invasion that will, well I say it will make the Democrats look stupid. |
More at link
#####
All stories at this link. Scroll down to appropriate date.
~~~~~~~~~~
Why Are They Protecting Iran?
Wednesday – 12/28/05

So Lord Wyden, a Democrat from Oregon, blocks the resolution introduced by Pennsylvania's Lord Santorum denouncing this head case. Lord Wyden's reason? Because his Democrat colleagues told him to!

Why?
More at link
#####
All stories at this link. Scroll down to appropriate date.
~~~~~~~~~~
Why Is the Washington Post Lying About a Blogger?
Thursday – 12/29/05
| | |
| --- | --- |
| | One really has to wonder how a grand newspaper like the Washington Post feels a need to lie, and there's no other word for it, about a little citizen Blogger. |
More at link
#####
2006 Predictions In a Cartoon
Heh.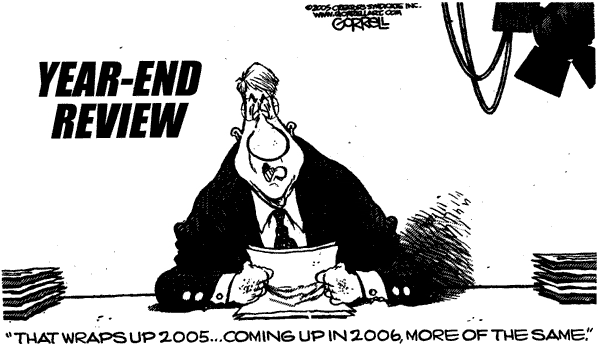 ~~~~~~~~~~~~
The Political Cartoon of the Week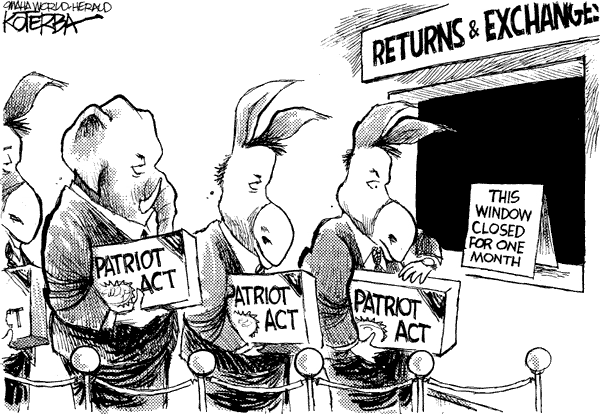 ~~~~~~~~~~~~
All stories at this link. Scroll down to appropriate date.
~~~~~~~~~~
Prior Weeks Just Passed HERE
===============

Has the Time Come?
Morgan Freeman is so right and it took the words of a successful black man to open the floodgate of discourse.
There are certain individuals in this country, ahem, who make their living from exploiting a notion of racism that simply does not exist. Or exists only in the fringes of our society.
It's time to stop silly accusations of racism almost immediately, as in the case of Hurricane Katrina. A storm that claimed the lives of more white than black citizens but oh no, the hysteria instantaneously turned to racism and a country that would allow black people to suffer and die.
It doesn't work that way anymore. And if the Jesse Jacksons of the world really wanted to eliminate racism they would stop making skin color an issue in everything that even remotely involves black people.
I see plenty of black soldiers in Iraq. I'd hate to see the day when those black soldier heroes are glorified in one month while the white soldier heroes are glorified at a different time. I'll go out on a limb here and suggest that any white American soldier would risk life and limb for any black American soldier-and visa-versa- without even thinking about skin color.

ACTOR OBJECTS TO BLACK HISTORY MONTH

"(Academy Award-winning actor) Morgan Freeman says the concept of a month dedicated to black history is 'ridiculous.' . . . Freeman notes there is no 'white history month,' and says the only way to get rid of racism is to 'stop talking about it.' The actor says he believes the labels 'black' and 'white' are an obstacle to beating racism. 'I am going to stop calling you a white man and I'm going to ask you to stop calling me a black man,' Freeman says."

- Associated Press, 12/15/05
~~~~~~~~~~
The Politicos Need Them to Keep Their Power
In the end, it's NEVER about the citizens. Except the citizens do get a vote every now and again. Bloomberg walked across the Brooklyn Bridge with the New York suffering citizenry for a great photo op. In the end the man caved to the mighty unions. The unions who contribute their members' dues to many political campaigns.
~~~~~~~~~~
Annie Says It All
Heh. No comment needed.

COULTERGEIST

"Which brings me to this week's scandal about No Such Agency spying on 'Americans.' I have difficulty ginning up much interest in this story inasmuch as I think the government should be spying on all Arabs, engaging in torture as a televised spectator sport, dropping daisy cutters wantonly throughout the Middle East, and sending liberals to Guantanamo. But if we must engage in a national debate on half-measures: After 9/11, any president who was not spying on people calling phone numbers associated with terrorists should be impeached for being an inept commander in chief."

- Columnist Ann Coulter
~~~~~~~~~~
Who Wants the Terrorists to Win?
Because those constant leaks surely are helping the enemy.
Four years ago congress passed a resolution to allow the President to do anything required for him to win the War on Terror.
Now someone is leaking, and I'd suggest the someone is a Lord in America's House of Lords but that's just my hunch.
Why do they desperately want the ENEMY to win?

White House spokesman Trent Duffy)

``The leaking of classified information is a serious issue,'' Duffy said. ``The fact is that al-Qaeda's playbook is not printed on Page One, and when America's is, it has serious ramifications.''
~~~~~~~~~~
The PR Campaign from Hell
I must wonder if Mexican President Fox is going to ask the U.N. for a resolution. Perhaps sanctions against the U.S.
What causes me mirth is just how this resolution would be worded.
Let me guess.
"For failing to allow citizens from another country to enter their country at will, we at the United Nations hereby condemn the United States for such selfishness.

We member countries of the U.N. always allow whoever wants to come into our country anytime and anywhere."
Heh.
It seems Fox is choosing to hire a PR firm to help with this immigration problem.
If paid enough money or inspired enough, The Wise I can convince, through the use of artful words, anyone of anything, insert wink here.
Fox's only chance is to hire me to somehow convince weary Americans- tired of being in vehicle accidents with illegal immigrants with no auto insurance, tired of having to underwrite health care for illegal immigrants via their tax dollars, tired of total lack of oversight on this too large segment of our population- that this is a good thing.
I don't think even I could do it.

MEXICANS PUT FOOT DOWN OVER WALL

"The Mexican government, angered by a U.S. proposal to extend a wall along the border to keep out migrants, pledged Tuesday to block the plan and organize an international campaign against it. Facing a growing tide of anti-immigrant sentiment north of the border, the Mexican government has taken out ads urging Mexican workers to denounce rights violations in the United States. It also is hiring an American public relations firm to improve its image and counter growing U.S. concerns about immigration.

"Mexican President Vicente Fox denounced the U.S. measures, passed by the House of Representatives on Friday, as 'shameful' and his foreign secretary, Luis Ernesto Derbez, echoed his complaints on Tuesday. 'Mexico is not going to bear, it is not going to permit, and it will not allow a stupid thing like this wall,' Derbez said."

- Associated Press, 12/20/05
~~~~~~~~~~
For a Smile…
…we have an American response to Mexico's President.
~~~~~~~~~~
Still True Today

Diplomacy has rarely been able to gain at the conference table what cannot be gained or held on the battlefield

- Gen. Walter Bedell Smith, Chief of Staff to Gen. D.D. Eisenhower

~~~~~~~~~~
More Notable/Quotables HERE
=================