Be On the Lookout For...this Coming Week
…Important Calendar change at week's end. Take note.
To Be Published on Monday 1/2/06-Tune In!
Day- Friday Date-12/30/05
-An appropriate political cartoon ends the year
The Picture Says It All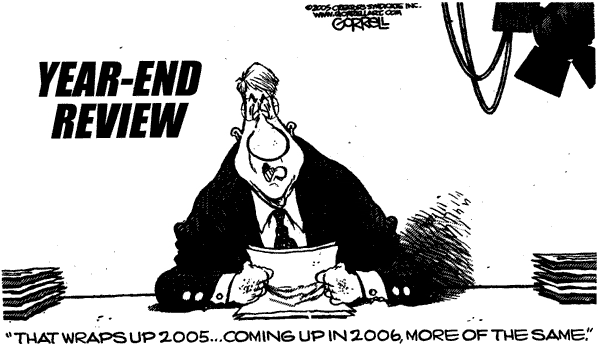 Links to this month's Daily Updates
W/E 12/04/05
W/E 12/11/05
W/E 12/18/05
W/E 12/25/05
~~~~~~~~~~
CLICK HERE FOR "TODAY'S AUXILIARY BLOG POST




TV Events of Note


Dateline NBC (New)
NBC: Friday, December 30 8:00 PM
Newsmagazine

A farmer is charged with killing another farmer with whom he had been feuding for years; a woman is charged with murdering her baby.
========
Rudolph's Shiny New Year
FAM: Friday, December 30 9:00 PM
Holiday-children special, Animated Christmas

The red-nosed reindeer sets out in a midnight fog to find Happy, the New Year baby. Voices: Red Skelton, Frank Gorshin. Animated.

~~~~~~~~~~
==================================
Daily Update: Day- Thursday Date- 12/29/05
-The mighty Washington Post takes on a Blogger
...and lie about everything. What are they scared of?



Today's Auxiliary Blog Post
...Because there's more to life than politics.


Auxiliary Blog Post
======================
Here's an Ad We'd Like to See.

For there's another politically incorrect word which desperately needs to be banished from the language.

The word? VICTORY.

One member of the House of Lords doesn't even know what the word means!
~~~~~~~~~~~~~~~~~~~~
Here's a pop culture Blast from the Past.

Remember the Runaway Bride? How about the smoking monkey?
~~~~~~~~~~~~~~~~~~~~
A frazzled woman writes of all the knowledge she's gleaned from the Internet in this Fishgiggles.

So why won't she lick a stamp or use a pay phone?
~~~~~~~~~~~~~~~~~~~~
CLICK HERE FOR "TODAY'S AUXILIARY BLOG POST
~~~~~~~~~~
Day- Thursday Date- 12/29/05
The Washington Post and the Blogger
One really has to wonder how a grand newspaper like the Washington Post feels a need to lie, and there's no other word for it, about a little citizen Blogger.
Said Blogger having been invited to embed with the troops in the military, said Blogger having raised all the money to travel to Iraq from his readers, said Blogger obtaining the necessary credentials required for embeds all on his own.
The Blogger is
Bill Roggio,
a citizen journalist who grew weary of the Lamestream media about what's going in Iraq and who jumped at the chance to Blog live directly from within the theater of war.
Yet the WAPO got every fact wrong as concerns Roggio. Facts that could have easily been checked. Then the WAPO went on to misrepresent everything about Roggio's story and to misrepresent it so egregiously that one can only conclude the WAPO set out to lie at the inception of its article.
Why?
Could this citizen journalist be a threat to the mighty WAPO?
Heh. Well Bloggers are a threat to the WAPO and all the lying elite media organs that hate America.
Mr. Roggio provided especially fine fodder for the first Lamestream direct attack on a Blogger.
Below is an excerpt from Mr. Roggio's correction of the deceitful WAPO article about him. It's a long excerpt because note how many things the WAPO got wrong!
In the interest of fair and balance, here's a link to the original
WAPO article on Roggio.


The "Facts"

There are several factual errors in this story, all of which could have been easily verified by direct questions to me, by reviewing my "About" pages at either ThreatsWatch.org or The Fourth Rail, or by asking some questions within their own organization.
I conducted an email interview with Mr. Finer from Iraq. This interview consisted of a single email exchange, and never once were the facts below addressed in any follow up questions.

I am not a "retired soldier", as that would have required me to serve in the military for twenty plus years. I spent four years on active duty and two years in the National Guard. The article also indicates that I am currently in Iraq and embedded with the Marines in Western Anbar. I am not. I returned home on December 20th.

I was not credentialed by the American Enterprise Institute. This would be impossible as the needed press credentials must be provided by a media organization. A friend suggested I approach the American Enterprise Magazine, which is a periodical published by the American Enterprise Institute. We were unable to work out an agreement, so I searched for an alternative.

Another friend suggested I contact The Weekly Standard. Richard Starr was happy to help and provided the necessary credentials to embed. Also, Rod Breakenridge of the Canadian talk radio show The World Tonight kindly provided documentation for credentials as well. The two letters allowed me to successfully embed, and there were no questions about my credentials in Baghdad or elsewhere.

The Weekly Standard or Mr. Breakenridge did not establish any preconditions for providing the credentials, nor did they fund my trip in any way. I wrote a single article for The Weekly Standard about Election Day in Barwana, and gave two phone interviews from Iraq to The World Tonight.

Finally, The Washington Post astonishingly misrepresents the entire embed process. Captain Jeffery Pool, the Public Affairs Officer for the 2nd Marine Division is quoted as saying "A thorough review of his work was taken into account before authorizing the embed." Perhaps my work was reviewed before extending the invite to embed, of this I have no knowledge. However, the military has absolutely no authority to "authorize the embed" that I am aware of.

~~~~~~~~~~
Links to this month's Daily Updates
W/E 12/04/05
W/E 12/11/05
W/E 12/18/05
W/E 12/25/05
~~~~~~~~~~
CLICK HERE FOR "TODAY'S AUXILIARY BLOG POST
~~~~~~~~~~
==================================
Daily Update: Day- Wednesday Date-12/28/05
-Why are the Democrats in the House of Lords blocking a resolution to denounce the head case who is the current President of Iran?
...Who asked Lord Wyden or Oregon to object to such a resolution?
...could this be a case of "follow the money?"



Today's Auxiliary Blog Post
...Because there's more to life than politics.


Auxiliary Blog Post
======================
In this Miscellany post we learn what's on America's dollar bill and what it all means.

Also, those soldiers guarding the tomb of the unknown soldier at Arlington cemetary. How do they get that job?
~~~~~~~~~~~~~~~~~~~~
Time for some New Year's Fiction.

She's sworn off men. Forever.

Then she meets two of them on a spooky ski lift of all places.

She must decide who's the good guy and who's the criminal.
~~~~~~~~~~~~~~~~~~~~
All across the land there will featured peeks at this past year. In this Blast from the Past we re-visit Bush's second term inauguration early in 2005.

This might be the last occasion the man was able to be happy.
~~~~~~~~~~~~~~~~~~~~
CLICK HERE FOR "TODAY'S AUXILIARY BLOG POST
~~~~~~~~~~
Day- Wednesday Date- 12/28/05
Why Are the Democrats Objecting to This?
We all know Iran is a problem. Their nutso President, formerly one of the fellows who held Americans hostage during the Carter presidency. Recently, Ahmadinejad came out with a bunch of anti-Israeli statements. Including his assertion that the Holocaust never happened.
So Lord Wyden, a Democrat from Oregon, blocks the resolution introduced by Pennsylvania's Lord Santorum denouncing this head case. Lord Wyden's reason? Because his Democrat colleagues told him to!
Why?
Why on earth are the Democrats in the House of Lords blocking a denunciation of Iran? And why is the flying below the radar.
Do the Democrats have some special love for Iran? Even though Iran was long ago declared part of the Axis of Evil by President Bush?
Follow the money. It doesn't matter if it comes from our enemy. The Democrats want to re-gain their power.
Follow the money.

The New York Sun reports that Democrats blocked the adoption of a resolution denouncing Iranian President Mahmoud Ahmadinejad for his anti-Semitic remarks and Holocaust denial until a demand for an Iranian plebescite and self-determination free of the Guardian Council had been removed. The objection officially came from Senator Wyden (D-OR), who then told the Senate that, uh, he didn't have a problem with the resolution, but that his colleagues did -- who displayed their intestinal fortitude by hiding behind Wyden's skirts:

When Mr. Santorum moved to introduce the resolution last Friday, Senator Wyden, a Democrat of Oregon, registered an unusual objection. According to the Congressional Record, Mr. Wyden told Mr. Santorum on the Senate floor that he was objecting to the resolution because his Democratic colleagues in the Senate had asked him too. Mr. Wyden did not say who asked him to issue the objection.

"While I personally am vehemently opposed to the statements that have been made by the president of Iran," Mr. Wyden said, "I have been asked by the members on this side of the aisle to object, and I do so object."
~~~~~~~~~~
Links to this month's Daily Updates
W/E 12/04/05
W/E 12/11/05
W/E 12/18/05
W/E 12/25/05
~~~~~~~~~~
CLICK HERE FOR "TODAY'S AUXILIARY BLOG POST
==================================
Daily Update: Day- Tuesday Date-12/27/05
-Shoppers poisoned in Russia
...same strange smell at Russian school last week. What is going on?
-Cheney gives reporters along on Iraq trip some scoop
...information obtained during Iraq invasion to be released
-Palestinian President in hospital
...one report says he's visiting friend, another says he's critical?



Today's Auxiliary Blog Post
...Because there's more to life than politics.


Auxiliary Blog Post
======================
It's a sad and tragic True Crime Post that includes a man who murdered his children by rat poison and a toddler is scalded.

It all ends with a funny mini-movie of a true crime gone terribly wrong
~~~~~~~~~~~~~~~~~~~~
It's the Holiday season and a 2 year old named Kaitlyn ponders the concept of Santa Claus.

In this Kaitlyn missive, Grandmother describes the little learning machines that are human babies and how Kaitlyn uses the "schlippers" to extend her bedtime.
~~~~~~~~~~~~~~~~~~~~
In this Comments post there's complaints about my reviews on The Apprentice and Surface.

Also lots of comments on Impeaching President Bush.
~~~~~~~~~~~~~~~~~~~~
CLICK HERE FOR "TODAY'S AUXILIARY BLOG POST
~~~~~~~~~~
Day- Tuesday Date- 12/27/05
Shoppers Poisoned in Russia
I understand the strange smell referred to in the report. Because there is an additive made in propane gas and if there is a leak you can smell it. Allegedly this is the gas used to scare or poison who knows, Russian shoppers.
What's really weird is that in the past week there were reports of this same gas released in Russian schools.

From Alertnet.org

ST PETERSBURG, Russia, Dec 26 (Reuters) - Dozens of shoppers in Russia's second city of St Petersburg were treated by doctors on Monday after breathing in a mystery gas in a trading centre, emergency workers said. A spokesman for the Emergencies Ministry said 70 people had appealed for help after smelling the gas. Unexplained canisters had been found in two other shops of the Maksidom chain, and the shops had been evacuated.

"Some of the them have been hospitalised. In one of the Maksidom shops, an unknown gas was dispersed," said Andrei Alyabyev, the ministry spokesman.

Merkantan Used in St. Petersburg Gas Attack

ST. PETERSBURG. Dec 26 (Interfax) - According to preliminary data, the substance merkantan was used in the mass poisoning in the Maksidom store in St. Petersburg, a source in the St. Petersburg Prosecutor's Office told Interfax.

~~~~~~~~~~
So What's the Truth?
The President of Palestine was reported as being rushed to the hospital in critical condition by the French press. Now his son reports that Abbas was only visiting a friend.
Now folks, there's a big difference between visiting someone in the hospital and being rushed there for a critical condition. Hardly anything someone would mistake.
When the lies fly in the Mideast it's time to get concerned.

From AFP:

RAMALLAH, West Bank : Palestinian Authority President Mahmud Abbas was hospitalised urgently in Ramallah, medical sources said.

The sources did not provide any additional information about his health condition or the reason for his hospitalisation.
~~~~~~~~~~
Blockbuster News
If not now, it soon will be. Because Dick Cheney revealed to reporters traveling with him to Iraq that soon the administration will be releasing documents obtained after the Iraqi invasion that will, well I say it will make the Democrats look stupid. Cheney says the release of this information will shore up how this administration is handling National Security.
Either way, this information dump will likely be bigger say, than the Natasha Plame/Joe Wilson nonsense.

From The Weekly Standard:

I]t appears the Bush administration will continue to make the case aggressively that Americans are better off because of its conduct of national security policy, including the Iraq war.

That effort will likely include the release of documents and other materials captured in postwar Iraq. In recent weeks, senior Bush administration and intelligence officials have been discussing several plans to expedite the public release of those materials. According to officials familiar with their contents, the documents provide an unfiltered look inside a criminal regime that brutalized its own citizens, bought off numerous European politicians, and provided significant support to transregional terrorists.

Per Dick Cheney:


"There's a temptation for people to sit around and say, well, gee, [9/11] was just a one-off affair, they didn't really mean it. Bottom line is, we've been very active and very aggressive defending the nation and using the tools at our disposal to do that. That ranges from everything to going into Afghanistan and closing down the terrorist camps, rounding up al Qaeda wherever we can find them in the world, to an active robust intelligence program, putting out rewards, the capture of bad guys, and the Patriot Act...Either we're serious about fighting the war on terror or we're not. Either we believe that there are individuals out there doing everything they can to try to launch more attacks, to try to get ever deadlier weapons to use against [us], or we don't. The president and I believe very deeply that there's a hell of a threat, that it's there for anybody who wants to look at it. And that our obligation and responsibility, given our job, is to do everything in our power to defeat the terrorists. And that's exactly what we're doing."
~~~~~~~~~~
Links to this month's Daily Updates
W/E 12/04/05
W/E 12/11/05
W/E 12/18/05
W/E 12/25/05
~~~~~~~~~~
CLICK HERE FOR "TODAY'S AUXILIARY BLOG POST
==================================
Daily Update: Day- Monday Date-12/26/05
-Merry Christmas, Hate Your President
...in Moonbatville Berkley, California
-Pope chastises the U.N. from the Papal pulpit
...is the U.N. listening?



Today's Auxiliary Blog Post
...Because there's more to life than politics.


Auxiliary Blog Post
======================
In this Week Just Passed we re-visit Bush's press conference. Also, the NY Times NSA Leak, the failure of the Patriot Act and ANWR drilling goes down.
~~~~~~~~~~~~~~~~~~~~
It's a Notable/Quotable and we've got some fine ones. Including Lord Reid of the House of Lords complaining about majority ruling.

Also, Chris Rock and a supreme truth about the morning coffee.
~~~~~~~~~~~~~~~~~~~~
Time to get ready for winter penguin batting practice.

In this Web Site of the Week we can do just that. An intriguing, captivating little game.
~~~~~~~~~~~~~~~~~~~~
CLICK HERE FOR "TODAY'S AUXILIARY BLOG POST
~~~~~~~~~~
Day- Monday Date-12/26/05
Merry Christmas, Hate Your President
The Moonbats in Berkley California sell Bush bashing items. The IN thing for holiday d cor this year.

From Yahoo.com
Bobble-head Jesus dolls and glow-in-the-dark Virgins de Guadalupe were available at Oddball novelty store in Berkeley as Christmas Eve neared, but the last Saddam Hussein and Bush action figures set was gone from the window.
"People seem to be grooving on it. They love to make fun of Bush. They love to hate him," [the store's owner said].

Bush is fashioned with cowboy boots, a leather jacket, jeans and a denim shirt. The doll comes with a toy Bible and bucket of oil.

Hussein is adorned with green military fatigues and comes with a container labeled weapons of mass destruction and a book titled "World Domination for Dummies."

"They are really cool," a store worker, who gave her name only as "Gina," said of the action figures. "It is funny, when you think about it, because both of them are so (screwed) up."

And, for masking odors in cars, Oddball sold hanging air fresheners bearing Bush's face and the words "dumbass head on a string".

~~~~~~~~~~
Pope Smacks UN in Christmas Message
The thugs and thieves running Darfur should be stopped. And they should be stopped by a world body created just to stop such things.
The United Nations.
Of course they won't do it. They haven't done one good thing since that august international body was taken over by the sons of camels.
Popes tend to get good reaction when they chastise from the pulpit. Because what is happening in Darfur is a crime only a slight bit smaller than the crime of the U.N. ignoring it.

From Breitbart.com

In the message in which the pope traditionally focuses on the world's trouble spots, Benedict called for protection of the rights of people "experiencing tragic humanitarian crises, such as those in Darfur and other regions of central Africa."

~~~~~~~~~~
Links to this month's Daily Updates
W/E 12/04/05
W/E 12/11/05
W/E 12/18/05
W/E 12/25/05
~~~~~~~~~~
CLICK HERE FOR "TODAY'S AUXILIARY BLOG POST
==================================