There's No Way You're Not Coming Back
by Diana Hartman

"This is absurd, this hero's welcome for a box, not for my love
There's no way you're not coming back, I know you'll be coming home

My knees are weak, my heart is heavy. The sun beats down my mood
When are you coming home my love? The shots rang out at half past noon"

---
Myth and Education

by John Spivey

I've read much commentary over the years about the state of education in our country, most of it voiced by politicians and citizens who've never taught and some of it voiced by frustrated teachers. I've never read an account, though, by someone who has taught at a highly successful school. I did, so I want to stop and tell you about Santa Barbara Middle School.

---



Britney Spears "It Is What It Is?"

A regular tradition in this neck of the woods is a monthly trip, involving myself and my granddaughter, from the swamps of Delaware to Maryland. Said granddaughter being only two years old and by law must be constrained in a car seat. Said car seat must be strapped into the back seat of my Jeep.

I am taking sweet granddaughter home during these trips and it's a two-hour drive. I really dislike having the child in the back like that while I'm in the front and ostensibly concentrating on driving.

Sweet granddaughter and I really enjoy those trips but it's not always easy. Should granddaughter lose her precious juice or a cherished French fry I must either stop the car to look or fumble around awkwardly from my front seat driver's perch.

So the arrogance of Britney Spears driving with her 4-month-old baby not only not in any sort of car seat, but also being held in her mother's arms while Britney was driving strikes me as especially careless.

Back many years ago when I had a child we didn't have mandatory child seats. Even so, driving with a baby in one's lap was illegal even then. I simply cannot imagine anything more irresponsible.

Now Britney's story is that she was being chased by paparazzi and that might be true. If nothing else she should have at least put the child in the passenger seat. Driving with a 4-month-old sitting on your lap?

From SFGATE:

Britney Spears has taken responsibility -- well, some of it -- for driving with her baby son, Sean Preston, sitting in her lap.

"I made a mistake and so it is what it is, I guess," Spears tells "Access Hollywood" in an interview that was to air Thursday.

Several photos published Tuesday showed Spears driving her sport utility vehicle in Malibu, Calif., with her 4-month-old son perched on her lap rather than strapped into a car seat in the back seat.

The 24-year-old pop star said she did it because of a "horrifying, frightful encounter with the paparazzi."

In response, X17, the agency that snapped the pictures, said they were snapped "in a very peaceful context, in which photographers exhibited no aggressive behavior."

As I understand it, because the police did not witness Britney with the baby in her lap and because of this she cannot be ticketed.

So it is what it is, eh Britney? It is what it is until even a miner fender bender would have killed that child while you held him in your arms.

You dolt.

From AOL.com:

No Charges Expected in Britney Incident
Pop Singer Blames 'Stalking' Photographers

LOS ANGELES (Feb. 8) - Authorities were investigating an incident in which Britney Spears was photographed driving with her infant son on her lap, but didn't intend to pursue charges against the pop star, officials said.


Reader Update on Penguins and Hybrid Vehicles

Yes, a recent Gossip post included tidbits on hybrid vehicles and the sad story of a kidnapped jackass penguin. I wondered why these penguins carried the appellation of "jackass penguins". Here's an answer and some personal hybrid vehicle experience.

Hi, Pat!

I have a Honda Civic Hybrid and love it. It's been no trouble tomaintain, and while it does indeed get a little less MPG than the sticker claimed, it still gets well about our Tundra truck! The Honda averages about 48 mpg and the Tundra gets 18 to 21. On a good day, on the freeway. LOL

Oh, and jackass penguins are named because the sound they make resembles a donkey's bray.

Brother Sells Sago Mine Survivor's Picture to National Enquirer

What some people won't do for money. What some people won't do to their own family for money. For Randal McCloy, sole survivor of the Sago mine disaster, was recovering in his hospital bed when his brother snapped his picture and sold it to a tabloid.

McCloy's wife is suing her brother-in-law as well as the National Enquirer and its parent company. I'm not sure there is any legal basis here to sue the Enquirer although hey, they printed a picture without the permission of the subject. Going after the ass of a brother-in-law is a good idea, however.

What a perfectly terrible thing to do.
From Yahoo.com:

GRAFTON, W.Va. - The wife of Sago Mine survivor Randal McCloy Jr. is suing her brother-in-law for taking pictures of her comatose husband and selling them to the National Enquirer.

Anna McCloy's lawsuit seeks unspecified damages from Matthew McCloy, the supermarket tabloid and its parent, American Media Inc.

The family has said Matthew McCloy was paid $800 for a photograph that appeared in the National Enquirer last month of Randal McCloy on life-support at a West Virginia hospital.

A Million Dollar Scam

Do you ever wonder if anyone ever responds to those emails from Nigeria? You know the ones where someone's cousin has a bunch of money stashed away in an offshore bank and with a little help from the email recipient, the money can be recovered?

I came across eight possible candidates for the Nigerian scam although these folks are now very poor, having forked over a million dollars in yen to purchase, what? Million dollar American bills?

You can't make it up folks.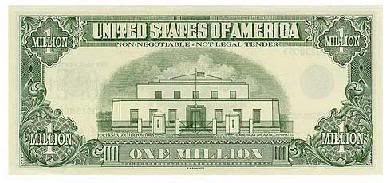 From Yahoo.com:
Eight people in southern Japan forked over 150 million yen ($1.27 million) to a man who promised huge returns involving fake American $1 million bills and then disappeared with their money, a news report said Thursday.

The United States Treasury does not make $1 million bills.

The eight, including three who have filed for personal bankruptcy because of the huge outlays in the scam, are considering filing a criminal complaint with police, the national daily Asahi Shimbun said.

Police in Kumamoto, 567 miles southwest of Tokyo, could not immediately comment on the report.

The unidentified investors first heard of the $1 million note from a 52-year-old construction material company president in early 2003, according to Asahi, citing several investors.

The president told them about a "rare" $1 million bill that was for sale in Chengdu, China, and invited them to pool money to buy several such notes promising a return 10 times of their investment, the report said.

How About American Idol Stomping Everybody in the Ratings?

First we hear that Fox's American Idol beat the Olympic coverage. Now we hear the series beat the Grammy Awards!

What's even more intriguing, the Idol has not even gotten close to the top ten contenders when all this ratings bashing was going on. I've been tuning into the show as, God Bless America and God Bless the Fox network, they've managed to make the competition interesting with just the tryouts. Which was the plan I'm supposing but give them credit, it worked.

Come the time for the top ten look for the 2006 American Idol competition to blast all the other televised challengers out of the water.

From LFPRESS:

NEW YORK -- There's humbling news for professional musicians such as Madonna and U2: By a wide margin, TV viewers prefer the amateurs.

Nearly twice as many people -- 28.3 million -- watched American Idol than watched the Grammy Awards -- 15.1 million -- when the two music programs went head-to-head in prime time Wednesday, according to Nielsen Media Research.


Is It Bird Flu or Are the Birds Drunk?

Actually in my bird watching travels I've learned that birds getting drunk on fermented berries is not all that odd. Robins, which eat mostly berries during the winter months, often become intoxicated from eating berries way beyond their prime. Spring is an especially dangerous season for robins as there are not yet any worms about and many of the berries available have quite a jolt to them as the weather warms and the berries rot.

The interesting thing here is how quickly Bird Flu was suspected.

From Apnews:

VIENNA, Austria (AP) - Experts who conducted tests on 40 songbirds found dead in Vienna say they didn't die of bird flu as initially feared, but slammed into windows after becoming intoxicated from eating fermented berries.

The birds - whose remains were carefully examined to ensure they were not victims of avian influenza - had livers so diseased "they looked like they were chronic alcoholics," Sonja Wehsely, a spokeswoman for Vienna's veterinary authority, told Austrian television Thursday.

All died of broken necks after slamming into windowpanes, apparently after gorging themselves on berries that had begun to rot, turning the juice inside to alcohol, Wehsely said. She said the juice probably continued to ferment as the birds digested the berries, causing them to become disoriented and fly into the panes.

Their discovery last month in a residential neighborhood of Vienna had triggered concerns that bird flu had reached the Austrian capital.

The World's Fattest Rabbit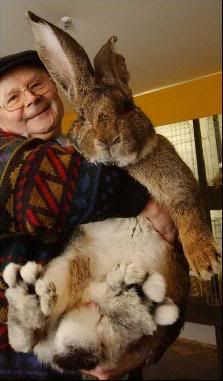 More Gossip/Speculation HERE

The Tortoise and the Rhino

Seen on CNN News:

NAIROBI (AFP) - A baby hippopotamus that survived the tsunami waves on the Kenyan coast has formed a strong bond with a giant male century-old tortoise, in an animal facility in the port city of Mombassa, officials said.

The hippopotamus, nicknamed Owen and weighing about 300 kilograms (650 pounds), was swept down Sabaki River into the Indian Ocean, then forced back to shore when tsunami waves struck the Kenyan coast on December 26, before wildlife rangers rescued him.

"It is incredible. A-less-than-a-year-old hippo has adopted a male tortoise, about a century old, and the tortoise seems to be very happy with being a 'mother'," ecologist Paula Kahumbu, who is in charge of Lafarge Park, told AFP.

"After it was swept and lost its mother, the hippo was traumatized. It had to look for something to be a surrogate mother. Fortunately, it landed on the tortoise and established a strong bond. They swim, eat and sleep together," the ecologist added. "The hippo follows the tortoise exactly the way it follows its mother. If somebody approaches the tortoise, the hippo becomes aggressive, as if protecting its biological mother," Kahumbu added.

"The hippo is a young baby, he was left at a very tender age and by nature, hippos are social animals that like to stay with their mothers for four years," he explained.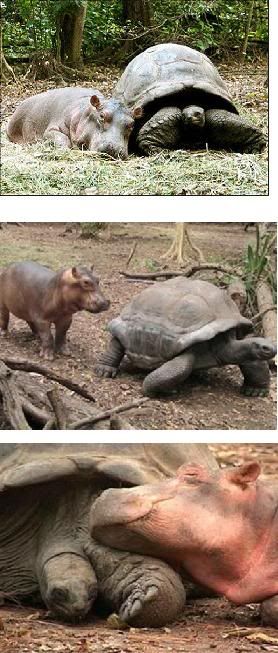 On Dogs

A newly discovered chapter in the Book of Genesis has provided the answer to "Where do pets come from?"
Adam and Eve said,
"Lord, when we were in the garden, you walked with us every day. Now we do not see you any more. We are lonesome here, and it is difficult for us to remember how much you love us."

And God said, "I will create a companion for you that will be with you and who will be a reflection of my love for you, so that you will love me even when you cannot see me. Regardless of how selfish or childish or unlovable you may be, this new companion will accept you as you are and will love you as I do, in spite of yourselves."
And God created a new animal to be a companion for Adam and Eve.
And it was a good animal.
And God was pleased.

And the new animal was pleased to be with Adam and Eve and he wagged his tail.
And Adam said, "Lord, I have already named all the animals in the kingdom and I cannot think of a name for this new animal."
And God said, " I have created this new animal to be a reflection of my love for you, his name will be a reflection of my own name, and you will call him
DOG."
And Dog lived with Adam and Eve and was a companion to them and loved them

And they were comforted.

And God was pleased.

And Dog was content and wagged his tail.

After a while, it came to pass that an angel came to the Lord and said, "Lord, Adam and Eve have become filled with pride. They strut and preen like peacocks and they believe they are worthy of adoration. Dog has indeed taught them that they are loved, but perhaps too well."

And God said, "I will create for them a companion who will be with them and who will see them as they are. The companion will remind them of their limitations, so they will know that they are not always worthy of adoration."

And God created CAT to be a companion to Adam and Eve.
And Cat would not obey them. And when Adam and Eve gazed into Cat's eyes, they were reminded that they were not the supreme beings.
And Adam and Eve learned humility.

And they were greatly improved.


And God was pleased.
And Dog was happy.
And Cat didn't give a shit one way or another!

Wow! An Albino Peacock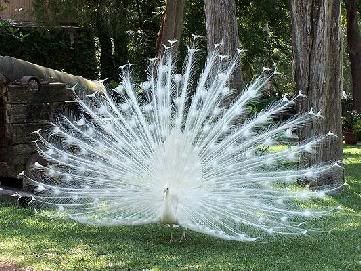 The Cat That Swallowed the Mouse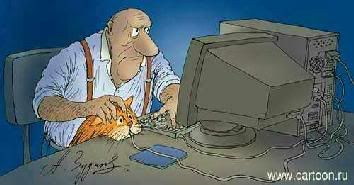 ---
More Pampered Pets HERE