Pop Cult Mind Wax - Brokeback Mountain, The Proposition, Same-Sex Obsession

Duke De Mondo
The trials and tribulations of a pretentious, self-obsessed, lust-stricken twentysomething, as glimpsed through the throb of pop culture.

---
World Baseball Classic: Clutch Hit or Wild Pitch?

Matthew T. Sussman
I admit it — I'm geeked for the World Baseball Classic. I snuck-watched a few Pool A games from Tokyo, which aired live on TV at the wee hours of the morning.

But I've also noticed that a lot of people have been critical of this inaugural tournament, probably for good reason. So I decided to strike a dialogue with one of these critics with a Blogcritic, sportswriter and Indians fan Zach Baker.

---

MARCH 17: ST. PATRICK'S DAY: THE WEARING OF THE GREEN.                
APRIL 15: INCOME TAX DAY: THE SHARIN' o' THE GREEN.





Pretty Pictures, Nasty Personality

Thomas Kinkade made a fortune painting and marketing charming pictures, mostly flowery affairs from days of yore. I've always thought it odd that the pretty houses of Kinkade's paintings always had every light in the house on and shining through handsome windowpanes. The unkind have pointed out that Kinkade's paintings are unrealistic; that the scenes and people he paints lived unsanitary lives with inadequate septic systems and no modern machines to keep things as neat and tidy as his pictures depict.

I say they're just jealous. For if Kinkade found a market for his product, even if his market's full of artless idiots without a clue, than more power to the man.

From a true crime newsgroup via the Los Angeles Times, we hear that Kinkade's personality and charm are nowhere near the quaint beauty of his paintings.

Although, ahem, from what I read Kinkade's exploits are not all that horrific to warrant such a dirt piece from the poobahs at the LA Times. So he drinks a bit too much at times. So he yelled out "codpiece" in a crowded theater. Whatever and whatever, the tidbits being revealed about Kinkade are the stuff of good gossip. And so we shall gossip.


It's not just Kinkade's business practices that have been called into question. In sworn testimony and interviews, former gallery owners, ex-employees and others say his personal behavior also belies the wholesome image on which he's built his empire...

Dandois, who left the company to become chief executive of a group of galleries owned by Kinkade's brother, Patrick, recounted that about six years ago the artist was so intoxicated during a performance by Siegfried & Roy in Las Vegas that people seated nearby moved away from him. "I think it was Roy or Siegfried or whatever had a codpiece in his leotards," Dandois testified. "And so when the show started, Thom just started yelling, 'Codpiece, codpiece,' and had to be quieted by his mother and Nanette."

At other times, Kinkade could be downright nasty, Dandois testified, recalling an incident in which Dandois' wife tried to help the allegedly inebriated artist to his feet in a bar. "He had been falling down, and he fell off the stool, and he was laying on the ground and just looked up at her and flipped her the bird and told her, you know, just to 'F you' several times," Dandois testified.


Oscar Tidbits

The awards have been given out, the fashion dissected, the personalities assessed and the Oscar show itself appropriately panned. It's often well after the hoopla and after ceremony parties that the real juice floats to the top. Below, some Oscar gossip.


Tom Hanks Was Mad?

Seems he didn't like the Forrest Gump theme they played during his introduction. I like the quote below with the yuk-yuk that perhaps the orchestra should have played the Bosom Buddies theme. Heh.
From Yahoo.com/Defamer:

A Defamer operative claims to know what set off Tom Hanks' mysterious, expletive-filled tirade at the Oscars ...

He was pissed off that they played him on stage with the Forrest Gump theme. There had been words about it beforehand and he was assured and promised that they'd use something else. Somehow, they used the Gump theme anyway and he was fucking livid. He thinks he's moved "beyond" it and it was so long ago that he doesn't want that to be what he is known for.

The producers are probably lucky that they didn't serenade him with an all-strings version of Billy Joel's "My Life," the theme to Hanks' early career masterpiece, Bosom Buddies, which might have resulted in the fatal stabbing of a cello player just following orders. And we're still not exactly sure what Hanks said, but one reader's best guess (after multiple viewings of the clip) is "douchebag...fuck you..." Yeah, that seems about right.
Academy Awards Viewer-ship Keeps Going Down

From Iol.com:

The US television audience for the 78th Academy Awards was down by 8% compared with last year.
Hillary Swank the Comforter

I'm not at all sure why Philip Hoffman should even have to thank his girlfriend for his Oscar but not to fear. Hilary Swank, who forgot to thank her husband during her Oscar acceptance speech, was there to assuage the guilt.

From IMDB.com:

Swank Comforted Mortified Hoffman

Hilary Swank felt qualified to comfort Philip Seymour Hoffman after he forgot to thank his girlfriend in his acceptance speech at Sunday's Academy Awards - because she mirrored his actions in 2000. Swank presented the Capote star with the Best Actor trophy at the glitzy Oscar ceremony and as the two were walking offstage, Hoffman realized he had forgotten to thank his girlfriend, Mimi O'Donnell. The actress empathized with Hoffman saying, "Oh, I know. No one forgot like I forgot. But people will understand, they really will. You can't kick yourself over it."

Swank forgot to thank her husband Chad Lowe, when she won her first Oscar for Boys Don't Cry, but made a point of thanking him last year, when she won her second Best Actress honor for Million Dollar Baby.
Dying and Paying Taxes

Yes indeed. The two things we all must do, even the celebrated and beautiful fortunate enough to receive goody bags at the Academy Awards. I must wonder what sort of underwear are worth $7,000 but that's just me. Though hey, if the gifts presented are really worth the 100K estimated below, well out here in la-la land if one of us peons are fortunate enough to win the lottery, the IRS is right there taking their share. All's fair in love, celebrity and peons.

From IMDB.com:

Oscar Guests May Be Hit with Taxes

Guests who took home gift-packed bags from Sunday's 78th Annual Academy Awards ceremony may have to pay $30,000 in taxes on their new acquisitions. The bags, which included a $7,000 Victoria's Secret underwear set and a coupon for Lasik surgery, are worth approximately $100,000 each. And unfortunately for the celebrities present, the Unites States Inland Revenue Service has declared that the bags given to Oscar attendees count as taxable income. IRS commissioner Mark Everson quips, "We want to make sure the stars 'walk the line' when it comes to these goody bags."
There's Always One Sore Loser

From Thestar.com:

David Cronenberg says his critically acclaimed A History of Violence was snubbed for major Oscar glory because Hollywood's "anti-Bush, anti-conservative" elements felt the film's message was too subtle.

He's also upset with fellow Canadian filmmaker Paul Haggis for using the title Crash for the movie that won Best Picture on Sunday night, since that was the title of Cronenberg's award-winning 1996 movie.

Opening up yesterday for the first time about his frustrations with the Oscar nominations and awards process, the veteran Toronto director said he believes politics were at play. Any film that didn't directly challenge the policies of President George W. Bush wasn't going to gain Academy favour this year.

"I have a feeling there is a lot of `anti-Bushness' in those nominations, for which I can blame nobody because I would be that way, too," Cronenberg told the Star.
Butterfly Ballots and Hanging Chads

Roger Ebert reports that there may have been some confusion by the Academy as the ballots were, em, confusing. Seems how the nominated movies were listed on the Academy's own version of the infamous "butterfly ballot" was a bit confusing. Brokeback Mountain was printed second on the ballot while the hole to punch it for winning was actually the third hole. Heh. Click on the link to see how confusing these Academy people might have become and who knows, maybe the wrong movie won this year.

Perhaps there was a bit of confusion at the Oscars -- particularly among the older voters -- about how to cast their butterfly ballots. This image is making its way around the Internet, and could explain everything. Forget about homophobia and racism and campaign tactics and the merits or flaws of the candidates themselves -- and remember it was an election!

Teri Hatcher's "Sudden" Revelation

It isn't that the Desperate Housewives star's painful decision to testify against an abusive uncle wasn't noble and the right thing to do. It's more that one wonders why do celebrities take advantage of these life's events that so many of us go through out here in la-la land to promote their own celebrated agenda.

Hatcher did testify against the abusive uncle after hearing that one of his victims took her own life. Well who amongst us wouldn't do the same thing?

Then she waits until her show is a success and her re-emergence into the world of acting and celebrity to tell her story. It's opportunistic and I'm supposing there's nothing wrong with that. Then she doesn't even tell this compelling story in her autobiography and what good is an autobiography that leaves out this important detail? Unless the autobiography is just fluff I'd assert.

It's so…jaded. We send kudos to Hatcher and hope her decision to finally "stop hiding" at this perfect time in her career serves her well.

From IMDB.com:

Teri Hatcher considered killing herself because of the sexual abuse she suffered at the hands of her depraved uncle from the ages of five to eight. The Desperate Housewives star revealed her ordeal after helping police jail pedophile Richard Hayes Stone when she heard his abuse had caused a 14-year-old girl to take her own life.

The actress, now 41, has been continually haunted by the horrific experiences, which only ended when she went "ballistic" because her mother had invited Stone for dinner. The actress tells Vanity Fair magazine, "I was just blown over by this girl's pain. I thought, 'Boy, that's really close to being me.' Any day of the week, I could feel that sort of pain. I haven't tried to kill myself, but I've certainly thought about it, and then I felt guilty about thinking about it, because what's so terrible about my life?"

Stone, who was married to Hatcher's mother's sister, pleaded guilty to four counts of child
molestation in December 2002 and was sentenced to 14 years in prison after Hatcher agreed to testify against him. In the Vanity Fair interview, Hatcher recalls in chilling detail how she was sexually molested when she and her parents lived in Sunnyvale, California. She says, "The most horrible thing, that has stuck with me all my life, is that he was touching me and doing things to me, and he said, 'Doesn't that feel good?' I said, 'No, it doesn't. He said, 'Well someday you'll know what I'm talking about.'"

The star said that before going to prosecutors four years ago, she had never told anyone of her own ordeal, not even her parents. Hatcher kept her involvement in the trial a closely guarded secret, and has not included the incident in her upcoming autobiography, Burned Toast, fearing the revelation
might harm her career. The actress recently decided to go public saying, "I'm-41-years-old, and it's time for me to stop hiding."

Iditarod

John, at Powerline.com,
calls it a great race and a great tradition. Alaska's Iditarod is an 1,100 mile dog sled race and that's a long way. Since this race is currently underway we thought we'd give it a mention.

The Bachelor and "Choice" On the Outs

We tuned into this reality series for one show and a half. Just out of curiosity you must understand. For this year the show took place in the city of lights, yes that's right, romantic Paris.

Of all the reality shows in the world, this one has to be the most totally unrealistic, if not an outright fake.

One fellow, a personable and likeable sort generally, is chosen to be the bachelor. A bevy of willing- read "desperate"- females are recruited for the chance to be the bachelor's "pick".

When I tuned in there had to be 25 females vying for a chance at this Dr. Stork. Yes, that's his real name. I don't know if he's an obstetrician. At any rate, a single rose delivered by the bachelor to an adoring female means that she is "safe" and will move on to the next round for the chance of a lifetime. Said chance being chosen by the bachelor to …well I don't know what.

For the lady of his choice this year, according to Yahoo.com, and Dr. Stork are, eh, no longer an item.

I'm not convinced this reality series was ever meant to be anywhere near "real". I cannot think of worse circumstances in which to pick a soul mate for a life of everlasting bliss. Here's this fellow being cooed and oohed over by a bunch of females and here's this tormented fellow worrying himself sick over having to hurt these adoring females one by agonizing one as he methodically, week after week, breaks their hearts by denying them a rose.

When I tuned in I was treated to "bitch" sessions by the ladies in waiting as they argued and fought over who does not deserve the bachelor and who overstepped the bounds. I cannot imagine such a thing.

Maybe that's why they placed this year's show in Paris. Because it's just not believable that American women would tolerate this. In "real" life I mean.

Perhaps it's just me but most women I know would walk away from this setup. I mean here's a guy whose head will be bigger than a hot air balloon after all this adulation. And to be the lady of his choice would have to be an excruciating exercise in torment as hey, one argument and this fellow's looking up some of those adoring females he rejected to salve his soul.

NASHVILLE, Tenn. - Humphrey Bogart said it to Ingrid Bergman in "Casablanca" and now Dr. Travis Stork can say it to Sarah Stone: "We'll always have Paris."

Stork, an emergency room physician, chose Stone, an elementary school teacher, in the finale of ABC's "The Bachelor: Paris" last week.

The couple told The Tennessean in a joint interview Monday they are no longer a couple.

Stork, 33, said the rules that prohibited them from dating or being together in public between the end of the show's taping in November and the Feb. 27 finale were hard on their relationship.

The France-set "Bachelor" deployed 25 women to vie for Stork's affections during a series of glamorous dates. The season began in January.

Martha and the Donald

Go with me here. Martha Stewart's version of Donald Trump's The Apprentice ran during the period from September 2005 for yea many weeks until Stewart chose her apprentice.

Just recently and coincidentally during the lead up into The Donald's 2006 The Apprentice series, Trump is out and about and complaining about Martha Stewart's version of his hit show. Let's see, that's almost six months before The Donald utters a word and just now he's complaining about Stewart's failure.

Here's the scoop as I see it. The Donald's The Apprentice is slowly losing ground as a reality series. Sure the show has its devotees and the series might last a few more years. I personally like the series and I enjoyed Martha's version of the series.

Certainly with one apprentice series on the wane, two versions taxed the viewing audience more than it could handle.

One thing Donald Trump has always known how to do well is to tweak publicity as if a model's svelte and enchanting body. What better way to rev up interest in your show to come than to manufacture an argument guaranteed to tweak an audience's interest in the new series to come? If nothing else, some may tune in just to see how The Donald does it better.

Heh.
From SHNS.com:

Then this week, she told Newsweek something she's said before, that she thought two "Apprentices" was one too many, and it "was as unfair to him as
it was unfair to me . . . but Donald really wanted to stay on."

Does anyone doubt the truth of that? But for Trump, those were fighting words. He shot back, writing an open letter to Stewart that said, in part, her "Apprentice" was "a mistake for everybody _ especially NBC."

He went on to carp about her performance, her daughter, Alexis, and, essentially, her way of life.

"Between your daughter, with her one-word statements, your letter writing and, most importantly, your totally unconvincing demeanor, it never had a chance _ much as your daytime show is not exactly setting records," Trump wrote. He likely intended to trash Stewart's pets and horses, too, but ran out of room.

More Gossip/Speculation HERE

TV Review American Inventor-2006

A reality show from Simon Cowell? With inventions by average Americans as the premise? How could I not tune in?

Although this first two hour premiere, aired on Thursday 3/16/06 on ABC, was boring, if not an outright disappointment. Which is not to say the series or its premise is a wash. At least not yet.

ABC hypes the show as follows:

American Inventor, an exciting series from Simon Cowell and the producers of American Idol about the biggest search ever for America's best new invention, premieres with a two-hour special, THURSDAY, MARCH 16, from 8:00-10:00 p.m., ET, and moves to 9:00 p.m., ET on Thursdays thereafter.

American Inventor, the embodiment of the ultimate American dream, will uncover the hottest new product and make one struggling inventor's dream come true. With one million dollars at stake, American Inventor will celebrate the best in homespun American ingenuity.

The winners of the greatest invention will received a million dollar prize. In addition they will receive marketing and promoting advice as well as have their invention mass produced.

I must say I was totally unimpressed with the inventions that made it through to the next round but I suppose a little tweak here, a little tweak there, a cute presentation, perhaps a Power Point display, will make the invention in question more appealing.

As a public service, I will offer some fine suggestions on inventions needed and an example of my own fine invention.

For now, let's talk about the show.

The series follows the pattern of Fox's mighty American Idol in that for now only the preliminary culling of the nutty to the possible is being aired. This could be the show's first big mistake.

American Idol didn't begin this practice until after the competition was well established. I can't imagine what an average viewer would think had they tuned in to those early AI editions to see singers with little talent serenading the world off-key and to the derision of the judges. This could have killed the competition before it gained a foothold with the public. American Inventor's decision to start their very first show with this rather stark beginning could turn off the public too soon.


Oh, and about those judges. What a weird bunch. The weirdest being Doug Hall, supposedly a major inventor in his own right. I'm thinking Hall is crafted after Simon Cowell, meant to be the curmudgeon of the quartet, expected to pan every invention before him.

The other judges include Ed Evangelista, Mary Lou Quinlan, and Peter Jones Co-Creator/Executive Producer/Judge. Their qualifications include marketing, advertising and in the case of Quinlan, vaunted arbiter of "what women want". Like American Idol, the judges will filter all through to the final round and eventually the American public will make their choice.

As for the "inventions" presented by hopeful inventors during this premier, of course some were crazy, meant more to amuse than be practical or anywhere near finalist material. We had a "bladder buddy" contraption that allows, I'm not making this up, one to pee in public. Along the same lines there was a waterless gel contraption that affixes to toilet paper holders that one may clean their hands while sitting on the toilet. Or clean other places as the inventor claims this thing is perfect for people with hemorrhoids.

Inventions moved on to the next round didn't greatly impress me either. One was a bicycle with a seat built right into the handlebars. Another was a completely edible snow globe. One that I thought had potential was a portable gym.

There's also the required angst for such shows as lifelong dreams are smashed and invented works of art are derided. A young boy invents and air conditioner for dogs and he's sent away amidst tears and heartbreak.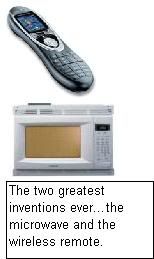 On to a public service for future inventors. Beginning with the two greatest inventions ever, the wireless TV remote and the microwave oven. Let these great wonders be your benchmark for future inventions.

We move on to a great invention of mine own. Sure, I avoided the prototype thing and the hassle of patents. Still I used ordinary household objects to solve a great domestic problem. One is the "cat feeding box" that sprung from having a passel of cats that were too old to jump. Which is important because their food had been placed in a communal bowl on top of a table. This kept the resident dogs out of the cat food until the elder cats couldn't make the jump then we had to put the food on the floor. At which point, as any dog-owner can imagine, the dogs handily finished off all food in the communal cat bowl leaving felines hungry.

I took a resin planter, a perfectly square thing with four sides and a bottom having solid "walls" but with an open top for placement of the plant within. I tipped this thing over sideways so that the hole for the plant was on the side and allowing for entry of hungry cats. The communal food bowl was placed inside this thing and the entire resin planter than shoved into a corner with only a small space on the side to allow entry. Cats have no problem squeezing into this thing to get at the food but the dogs, heh, can only sit alongside and lament the cat food bowl, so close but yet so far. As for the cats, since only one can fit inside at a time they all wait patiently for their turn inside the resin planter, until the time they can eat in privacy and quiet with no fighting with co-cats as when the communal bowl was left out and unprotected.

I freely give any would-be American inventor permission to fine-tune this thing. Cat lovers with pet dogs will love you to death.

Still not convinced? Okay, here's a list of things that need inventing, all provided as a public service.


Let's come up with something better than those paper bags that hold all-purpose flour, eh? How about something a little more sturdy, perhaps with a spout? Working with those flimsy bags is a guarantee to a flour-dusted surround with each use.


Nail polishing! Doing one's own nails is a real pain in that one hand will always look sloppy as the right-handed try to polish that same hand with the left hand not as agile as the one used all the time. How about some device that one can "dip" the nails in a polish and boom, the nail is perfect. Sure there would have to be a way to get excess polish off skin and such but that's part of the joy of inventing!


How about a decent tray to carry food? An affair large enough to carry plates on top, a recessed place for the drink. Under the tray-top, how about a drawer type of device that can be opened when food is removed from the tray top, then can be flipped open to access utensils, condiments and other food stuff to enjoy the meal being carried.


There's a world of potential in umbrellas. How about a flashlight built into an umbrella's handle for better travel during dark rain storms? And a sturdy latch on which to hang one's purse while the thing is opened. Go wild and build in a portable radio on the thing.


Packaged fondant easily purchased at the grocery. For I too would like to decorate cakes handily with but a gentle covering of the edible candy-like frosting but I am stuck with only the spreadable stuff while Food Network chefs create mighty dessert creations with the fondant they get from …where?


Finally, someone really needs to invent a combination mixer, food processor and blender that is in one package. This will take some time but for me, dragging out three heavy items depending on the preparation required is a pain. While I'm willing to have one big appliance item take up my precious counter space I don't wish to have the entire top filled with appliances that I might need.

So here I am doing my bit for great American inventors of the morrow. For while I might not be of a mind to actually invent these things, I know what is needed and will happily share.

For now, as a gadget lover and ever on the search for the one item that will boom, with the flick of a switch make my life ever simpler, I am intrigued by this new reality series and intend to tune in again.

Rating for this series below.


---
More TV Reviews HERE