Pop Cult Mind Wax - Brokeback Mountain, The Proposition, Same-Sex Obsession

Duke De Mondo
The trials and tribulations of a pretentious, self-obsessed, lust-stricken twentysomething, as glimpsed through the throb of pop culture.

---
World Baseball Classic: Clutch Hit or Wild Pitch?

Matthew T. Sussman
I admit it — I'm geeked for the World Baseball Classic. I snuck-watched a few Pool A games from Tokyo, which aired live on TV at the wee hours of the morning.

But I've also noticed that a lot of people have been critical of this inaugural tournament, probably for good reason. So I decided to strike a dialogue with one of these critics with a Blogcritic, sportswriter and Indians fan Zach Baker.

---

TV-Review-American Idol 2006-The Top 12 Perform
So the final 12 contenders in this year of our Lord 2006 performed for what has to be the top reality show ...ever. Which would be Fox's American Idol series and this year is the fifth competition. A quick span of the sponsors of this contest included Wendy's, Kohls, Ban deodorant and Ford. Of course there's plenty more sponsors and goodness knows AI has its share of commercials.

Fox has figured out how to milk this annual competition for every dime. Who would have thought of having the very tryouts as feature for the series? Yes Fox did and add in a few of the really bad who thought they could win but had not a chance, and you've got a human interest story with a bit of whimsy. Move on to the countdown to the final top 12 and again, milk it some more.

Add to the commercial airtime, the revenue from the albums, some tours across the country, American Idol toys, gadgetry and icons, and boom, money pours in. Yes it's undaunted American capitalism and may it reign until the public grows tired and spends no more. The way this competition grows in terms of public interest each and every year I believe that the American Idol competition will become part of the very fabric of American life. Soon, each and every song played across the air waves and on the podcasts will be sung by American Idol finalists or winners and before blinking an eye, this country will have an entire industry of musicians all "elected" by the American public. By me, this is way preferable to the nepotism and 'luck of the draw' method of our current singer recruitment methodology. If Liza Minelli weren't Judy Garland's daughter would she be anything beyond a receptionist at a used car dealership? How soon do you think a singer of Liza's ability would have been kicked off of American Idol?

Enough with the musings, we move on to the top twelve 2006 American Idol.

At this point in the competition the contestants do not have the luxury of choosing their own songs. Indeed, in keeping with the hype as flamed by Fox, another element is added to the entertainment by the introduction of famed singers as they coach the AI contestants with their songs and prepare would-be Idols to perform them live. On Tuesday evening, 3/14/06, the famed singer was Stevie Wonder and there's an irony in that so many of the contenders chose Wonder songs when they had a choice.

Three of last night's contenders caught my eye as they hadn't caught it before. At this stage of the competition, of course, the contestants get a bit more fashion help and vocal coaching. This fussiness adds a dimension to their performances not seen in the early elimination rounds.

The show began with contender Ace Young, a fellow I pegged early on as the possible winner of this year's competition. Now, with the singers fleshed out a bit, so to speak, and the requirement to sing songs chosen for them instead of by them, I must reconsider.

Ace sang "I Do, I Do" and he did sound, oddly I'd assert, a lot like Stevie Wonder himself. Which is not a good thing necessarily. And if Ace got any fashion help before this first show of the top 12 it didn't show. Ace insists on a very casual, hip, messy hair type of fashion and some might say it suits him. Well yes, it would suit him were he not in the most difficult competition he might endure in his pursuit of a singing career. Simon declared Ace's performance "manic". I was totally unimpressed by Ace's performance and indeed, others stepped up to the podium and did a much better job.

On to Kelly Pickler, the sweet country bumpkin of this year's competition. I thought "Blame It On the Sun" an odd song for Kelly but then her genre is country music and Wonder's music is anything but. Kelly did look absolutely gorgeous with a voluptuous black dress and red heels. Pickler needed to present an image other than a country hayseed and her song and fashion choice did just that. I don't see Kelly winning this thing but this contention is based on a hunch that last year's winner, Carrie Underwood, captured the country/western genre solidly and Underwood will be the benchmark for such winners in the future. I don't see Pickler as anywhere near Underwood. Randy termed her performance as a "non-event".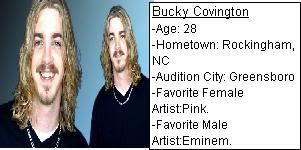 Bucky Covington caught my eyes and ears during this first show in the eliminations of the top 12. Of course Bucky's been around but he didn't resonate during those preliminaries. On the evening of 3/14/06, Bucky displayed the most angelic halo of curly hair and this took me aback. Simon remarked on Bucky's "Jessica Simpson" hairstyle and said it had to go. Perhaps. But it did make me stare in wonder and subsequently my interest was piqued. Covington sang "Superstition" and I was impressed by his performance of a song so obviously not his genre. Bucky would be considered a country/western/rocker sort of singer, another genre not in Stevie Wonder's repertoire.

I consider a winner in this song genre and I think the time might be ripe for a male country/western singer. Add in Bucky's rock flavor and I would not rule out this guy. I thought Bucky gave a stellar performance and all of the judges were impressed. Finally, I really liked Bucky's "necklace" and thought it added just the right hip accent.

Elliott Yamin sang "There's Something About Your Love". The song came off as a lounge song and I thought Elliott looked goofy. Okay, so that's not so kind but it's the first adjective that sprang to my head. Simon said that while Elliott's performance was not bad, that it was "not incredible".

I like Mandisa and think, if she should win, her one name shtick will really work. The very first thing notable about Mandisa's performance on the first night of the top 12 eliminations was her appearance. Wow. She looked great. I'm glad she took my advice to change her fashion. Although the host removed her shoes before Mandisa performed and I don't know what that was all about. Mandisa sang "Don't You Worry About a Thing" and I thought she did a fine job, performing fluidly as if in her element. Paula remarked that Mandisa can "sing anything".

We must whisper softly in that such comments are inappropriate. But Melissa McGhee has a nice set of mammary glands up top and I've noted many search queries on my blog to the effect of "Melissa McGhee's boobs". But boobs aren't going to win this contest although they can present an interesting diversion.

That being said, Melissa sang "Lately" and I thought she sounded like she was in pain. I did adore Melissa's dress, one of the few times she wears such a thing as she herself asserts. Early in a pre-song vignette, Melissa remarked that while working with Stevie Wonder she was ashamed that she forgot the lyrics. Then she goes onto sing and she forgets them again!

I think forgetting the lyrics, in performance, is an unforgivable error. Makes me think the singer was partying a bit much and didn't practice enough. Oddly, Simon thought McGhee did a nice job. I say Simon either is entranced with Melissa's boobs or he sees her as a winner. With this part of the missive being written before the first elimination round, I'd predict Melissa might be the first booted out of the top 12.

If Melissa McGhee is not the first booted off of the top 12, I'd have to go with Kevin Covais as my second choice as being outta there. Covais has a great voice totally incongruous with his appearance. I just don't see someone who looks so young and nerdy as Covais as winning this thing. The night of the first top 12 elimination round, Covais received a sign from two of his "fans". Hand to God one of them was but a 6 year old child with the other not much older. This is not a demographic that's going to carry this contest. Although these children's future music buying habits should not be dismissed. Perhaps Covais will move on to be a popular singer my young granddaughter will enjoy.


Chris Daughtry gave what I thought the best performance of the night. He sang "Higher Ground". Chris is another singer who I overlooked during the early rounds but last night, backed by an amazing setting, Chris wowed me. Randy declared he "worked it out". Indeed he did.

Lisa Tucker sang "Signed, Sealed and Delivered". Lisa wore hip casual clothes, not an unpleasant sight. As I listened my thought was that the song bored me. As soon as Lisa finished the first word from the judges was "bored". Tucker could be the female dark horse in this competition. She hasn't had her chance to shine yet. For now I've not been moved one way or the other regarding Lisa.

Katharine McPhee wore a granny type dress. It was pretty but a bit odd. I didn't know the song Katharine sang but something about her voice that evening irritated me. I don't know whether it didn't have enough range or variety to suit my taste but Katharine's performance left me glad when it was over. The judges, however, liked McPhee with Paula declaring it the "best performance".

Taylor Hicks came out in very tight pants which were fine except I can't shake the feeling that Hicks is really an accountant that was let lose for a trip to Hollywood and tries to act cool and hip once released from the world of numbers. And again, Hicks moves about the stage in some sort of ungodly gait that appears just plain weird. Taylor was asked if he would accept some stylist's assertion that he should dye his hair. Although Taylor's salt and pepper hair looks fine I do think it would go a long way to removing that accountant image. Randy declared Taylor a "hot performer" and indeed the crowd did seem to love him.


Paris Bennett keeps on intriguing me although I'd be the first to admit she's not a singer I'd give a second glance under most circumstances. She has the very cute black Barbie doll looks as another Blogcritic described it but the child has a voice and an urge to perform that can't be denied.

I understand that Paris comes from a musical background and has starred onstage before in her own right. So long as she's met the requirements for American Idol I'm satisfied to allow her to go as far as she can.

Paris sang "Thinking About You", wore a great outfit with a hairstyle that was gorgeous if a bit juvenile. The only down note about Paris is that she immersed herself so much in her song that she didn't smile enough while belting it out. In fact, she looked a bit angry during the song.

This is certainly not to say that the three highlighted singers in this missive in any way are my choices for the top three. If I've learned nothing else while watching these early American Idol rounds is each performances brings yet another talented singer to light. Get it down to the top six and then I'll do cautious predictions.

The Elimination Round-3/16/06

The bottom three this week out of a pool of 32.5 million votes were Ace Young, Lisa Tucker and Melissa McGhee of the forgotten lyrics. I was surprised at Ace being in the bottom three but he was safe and will move on.



---
More American Idol Reviews Here

POLITICALLY CORRECT GOSSIP

She is not a BLEACHED BLONDE - She is PEROXIDE DEPENDENT.

She is not a BAD COOK - She is MICROWAVE COMPATIBLE.

She does not wear TOO MUCH JEWELRY - She is METALLICALLY OVERBURDENED.

She is not CONCEITED - She is INTIMATELY AWARE OF HER BEST QUALITIES.

She does not want to be MARRIED - She wants to lock you in DOMESTIC INCARCERATION.

She does not GAIN WEIGHT - She is a METABOLIC UNDERACHIEVER.

She does not TEASE or FLIRT - She engages in ARTIFICIAL STIMULATION.

She is not DUMB - She is a DETOUR OFF THE INFORMATION SUPERHIGHWAY.

She is not TOO SKINNY - She is SKELETALLY PROMINENT.

She does not HAVE A MUSTACHE - She is IN TOUCH WITH HER MASCULINE SIDE.





She does not HATE TELEVISED SPORTS - She is ATHLETICALLY IGNORANT.

She has not BEEN AROUND - She is a PREVIOUSLY ENJOYED COMPANION.

She does not WEAR TOO MUCH PERFUME - She commits FRAGRANCE ABUSE.

She does not GO SHOPPING - She is MALL FLUENT.

She is not an AIR HEAD - She is REALITY IMPAIRED.

She does not get DRUNK or TIPSY - She gets CHEMICALLY INCONVENIENCED.

She does not get FAT or CHUBBY - She achieves MAXIMUM DENSITY.

She is not COLD or FRIGID - She is THERMALLY INACCESSIBLE.

She does not WEAR TOO MUCH MAKEUP - She has reached COSMETIC SATURATION.

She does not NAG YOU - She becomes VERBALLY REPETITIVE

---


Free Maid Service For a Year

Enter to win a year's free housecleaning from THE MAIDS Home Services

OMAHA, Neb. – March 1, 2006 — If you're tired of spending your free time scrubbing toilets and washing kitchen floors, take a break by entering the Nobody Outcleans The Maids Sweepstakes — and get a chance to win free residential cleaning for a year from The Maids Home Services.

Just enter the sweepstakes at www.maids.com from March 1, 2006 through May 31, 2006 by following the sweepstakes link on the homepage. Five grand prize winners will receive a year's free housecleaning from The Maids. Twenty-five first place winners will earn a free one-time clean by The Maids. Consumers can enter daily during the promotional period.

All cleanings will be performed by four-person teams utilizing The Maids' unique 22-Step Healthy Touch® Deep Cleaning System, which includes environmentally preferable products and a back pack vacuum with HEPA filtration that can capture up to 99 percent of all dust and allergens. Teams are highly trained, bonded and insured, and cleanings come with a 100 percent satisfaction guarantee.

For more information or to find your nearest office, visit The Maids Home Services' Web site at Maids.com
or call 1-866-88-MAIDS. Complete sweepstakes rules may be found at www.maids.com during the promotional period.
---
Too High Tech?

1. You accidentally enter your password on the microwave.

2. You haven't played solitaire with real cards in years.

3. You have a list of 15 phone numbers to reach your family of 3.

4. You e-mail the person who works at the desk next to you.

5. Your reason for not staying in touch with friends and family is that they don't have e-mail addresses.

6. You pull up in your own driveway and use your cell phone to see if anyone is home to help you carry in the groceries.



7. Every commercial on television has a web site at the bottom of the screen.

8. Leaving the house without your cell phone, which you didn't have the first 20 or 30, ( or 60 ), years of your life, is now a cause for panic and you turn around to go and get it.

10. You get up in the morning and go on line before getting your coffee.

11. You start tilting your head sideways to smile. : )

12. You're reading this and nodding and laughing.

13. Even worse, you know exactly to whom you are going to forward this message.

14. You are too busy to notice there was no #9 on this list.

15. You actually scrolled back up to check that there wasn't a #9 on this list.

---
More Miscellany posts HERE