DVD Review: Moonlighting - Season Three
El Bicho

For those unfamiliar with the series, Moonlighting was a detective show from the latter half of the '80s, but it had much more in common with the screwball comedies of the '30s and '40s, driven by the verbal fireworks and sexual tension between lead characters, Maddie Hayes and David Addison.
Whatever Happened to "Stage Fright" in the Men's Room?
Mark My Words

It's not very well known, but there has been an unwritten protocol for behavior in a men's room. At least there always has been for me. However, it seems recently, in the workplace, all those walls of isolation that my father and my father's father's generation have begun to be torn down.
---

Those Wacky TV Chefs
To a viewer trying to learn the subtleties of cooking as well as efficiency in preparation and nuance of seasoning, the plethora of TV Chefs can help as well as confuse. For several years now I've tuned into various cooking shows to regard how the "professionals" do it and adapt the lessons learned into my own humble kitchen.
Along the way I've noted that the TV chefs not only have different methods of cooking, they have personalities that can annoy or delight. Below, a slightly tongue-in-cheek summary of the more celebrated of the chefs who grace our televisions.
There is a mighty cable network totally devoted to food and its preparation. Thus the many chefs reviewed, by default, are featured mostly on the
Food Network.
Emeril Lagasse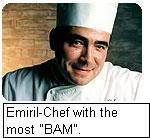 According to Emeril's bio, Lagasse is of Portuguese extraction, always dreamed of chefdom, studied in Paris and worked at several very ritzy restaurants until he finally opened his own. Emeril has a doctorate in the culinary arts so this is a fellow dedicated to his craft. Emeril also considered becoming a musician and this is an insightful tidbit.
I'm so tired of Emeril Lagasse my eyes glaze over just as soon as he comes on the air. Which is little wonder in that the Food Network has Emeril on seems like 24/7. If it isn't
Emeril Live
than it's
The Best of Emeril
. For the former, still aired on Food Network nightly in the coveted 8 p.m. time slot, Lagasse cooks in front of a live audience with an accompanying band. We are also regularly treated to many Emeril food specials, including such as cooking in a school cafeteria. It really is possible to overkill a TV personality and goodness here lately we see Emeril in commercials pimping toothpaste!
Emeril's claim to fame is his infamous "bam" as he clutches favored spices in the palm of his hand, holds his arm high in the air and with great fanfare, spreads the seasoning into the food while shouting a mighty "BAM". Often there is a drum riffle to add more drama.
Emeril has a fixation with garlic and pork fat. What's even odder, every time the man adds garlic to a dish in progress the audience claps joyfully as if garlic were the elixir of the gods and only Lagasse has enough sense to use the bulb and use it in abundance. It really
is
possible to use too much garlic folks.
Bobby Flay
Bobby Flay is a redhead with a temperament to match his hair.
To read Flay's bio one would think this was the god of the chef world. Bobby graduated from the French Culinary Institute and in May of 1993, was voted the James Beard Foundation's Rising Star Chef of the Year
All the plaudits mean nothing as they forget one thing. Bobby Flay has a notorious temper and has much difficulty keeping help. Now I've read this over the years on various and sundry gossip columns and foodie boards. This doesn't mean it's true, of course, but if one watches Flay a bit closely during any of his three Food Network shows, it's easy enough for the discernable to see a barely-veiled temper. Which has not much to do with the average food TV viewer and if grilling is your thing, Bobby Flay does it very well.
Rachel Ray
Either love Rachel Ray or hate her. It's as simple as that.
Indeed across the mighty Internet there are entire web sites devoting to hatred of Rachel Ray and filled with rants and raves against this perky hotter-than-hot Food Network star.
The "problem" with Rachel Ray, and I suggest it softly, is that the woman has a bit of a childish air about her and, indeed, in large doses, Rachel could torment.
Rachel also has several Food Network shows and her repertoire expands almost daily. I imagine that Ray appeals to middle-aged cooks much like myself who view Rachel's silly giggle good-naturedly as the child reminds us of our own children and grandchildren. But that's just me. This is enough to keep her popular even while large segments of the population view her with enraged eyes and ears.
I saw Rachel when she was not in that child-world to which she ascends when she cooks during her
30 Minute Meals
. It was during a recent showing in Food Network's series
The Next Food Network Chef
, a reality competition series sponsored by the network. Rachel was giving advice to the would-be chefs entered in the contest and hoping to avoid elimination.
"Small bites are your friend," she told a young contestant who was charged with eating a food concoction he had prepared.
"Never stop the action," she shouted to another chef-in-training when the fledgling chef threw her arms up while cooking on camera and said she could not finish the task.
I thought Rachel sounded right adult during this segment of the contest.
As for her cooking technique, well it is quite simple. Rachel doesn't possess impressive culinary degrees and has likely never been to France. She does spring from a family with extensive restaurant experience. Her set for the 30 minute series has about the oddest looking oven I've ever seen. I searched for a picture of it but none was available. There are many queries across the foodie boards about Ray's oven. Best I can describe it, the thing has levers instead of handles to open the compartments. And this oven thing has plenty of compartments, goodness knows what they're all for.
Rachel is perhaps most famous for her "EVOO". Which is a Rachel-invented acronym for "Extra Virgin Olive Oil". Well it does have fewer syllables but by reading the rants going on by the Rachel-bashers, "EVOO" is a very, very bad thing.
Alton Brown
Good Eats
is a cooking show that I never miss if at all possible. This show, starring Alton Brown, is anything but a boring exercise in culinary wisdom.
Brown had initially embarked on a career in acting, producing and directing films along the way before he realized he loved cooking more than films. Brown graduated from the New England Culinary Institute than moved on to a goal of making shows about cooking way more interesting than the dull shows of yore.
And Alton did just that. For if ever a cooking show combined offbeat entertainment, perfect demonstration of food preparation, wry but interesting tidbits about the food subject at hand, it would be Alton's
Good Eats
.
One never knows how Brown will begin an adventure into culinary excellence but it's sure to amuse. Once the entire show was based on a fictional tropical island where there was no electricity much less microwave ovens. Brown will carry the theme of cooking without gadgetry throughout the entire show, teaching the somewhat baffled audience just how stranded victims, far from the niceties of civilization, can prepare simple but elegant meals with banana fronds for plates and coconut for seasoning.
Alton peppers his show with tidbits on how to use everyday household items for food preparation and how to accomplish a food preparation task with the most efficiency towards the desired result. Brown teaches the viewer the physics of eggs and butter, at times summoning a mad scientist to illustrate what happens to sugar as heat hits it and how eggs are best used in a recipe and why they work.
According to Brown's bio, Alton strived to create a cooking show that was far from the dull fare of his era.
Good Eats
is truly the best, most-action packed and enlightened half hour of food knowledge now and the show is the benchmark for how to do it right.
Martha Stewart
Martha Stewart has experience ranging from life on Wall Street to lifestyle guru through to a stint as an actual jail inmate and a brief attempt to recruit an "apprentice".
Stewart also has a bad-tempered reputation that precedes her. Except with Martha, after a lifetime of public exposure, she manages to keep any temper flares well away from the cameras.
I always get the feeling I should put on white gloves when watching Martha Stewart. And frankly I've never seen the woman cook a single thing that I would ever want to make in my own kitchen.
Martha Stewart, seen on her syndicated series
Martha Stewart Living
on various channels across the spectrum, tends to concentrate on cooking items for entertainment, be it for a children's birthday party or an adult afternoon brunch. For viewers wanting a dashing way to cook a handy hamburger, best move on beyond Martha.
George Duran
One of the newer cooking shows as of this writing, and hence its featured chef, would be Food Network's
Ham on the Street
. This show's chef, George Duran, also has an extensive background in the film and TV industry and he too left it all to be trained in France and pursue his own cooking show.
Duran's show is certainly offbeat for at times the viewer might find Duran handing out burritos from a manhole in New York city or munching on an entire turkey while sitting on a park bench. Duran counts on the surprise of his settings and the challenge of cooking under different circumstances to entertain his audience.
Once Duran went to a campground, raided everyone's rustic pantries, and cooked everything he found over an open fire. The results were mixed, at least to my own viewing eyes. Somehow he managed to come up with a fairly accurate campground favorite, "S'mores". Other strange concoctions that ascended from Duran's fire pit included day-old vegetables and even a grilled peanut butter and jelly sandwich.
George Duran is more about entertainment than actual cooking. For few cooks would get involved with wrapping leftovers in aluminum foil to later pull a handsome culinary creation from within the ashy embers.
Giada De Laurentiis
Giada De Laurentiis has two things against her in terms of being a respected female chef. And neither of them has to do with cooking.
Yes that last name should ring bells as Giada is a granddaughter from deep within the bosom of the famous De Laurentiis family of film production fame. So she's rich. Or at the least, her upbringing was anything but middle class. Add to this handicap, the woman is absolutely gorgeous and regularly cooks with tops so low-cut that I often stare in amazement that anyone would ever cook in such a getup. Indeed half of Giada's chest is displayed during her cooking demonstrations and besides the perils of splattering bacon in such attire, it must be difficult for any male viewers to pay any attention to Giada's cooking skills.
Giada is featured on Food Network's
Everyday Italian
and also stars in such Food Network specials such as
Behind the Bash
. This beautiful chef received fine training in France and worked in several upscale restaurants before opening her own cooking business.
Everyday Italian
does attempt to teach us mere mortals how to prepare Italian inspired dishes allegedly enjoyed by the common man. Giada handles her subject well but I can't get beyond her beauty and how wasted it is behind a sweaty stove.
Beyond the Bash
is more in keeping with Giada's persona and background. This show features Giada, gowned and made up in tandem with the glamorous event that is featured for the program. This might include the preparation for the Oscar ceremonies or the behind-the-scenes catering efforts for a major charity fundraiser.
Giada, with her knowledge of cooking and her insider status to glamour, is perfect for this show. Although why any budding cook would watch this show for naught but entertainment value is beyond me. Very few of us middle-age cooks struggling with the timing of a most ordinary meal that it all come together timely and tasty would ever be involved with the preparation of small quiches for thousands of Hollywood celebrities.
The above are but a few of the famous chefs who try to woo us with promises of instant cooking knowledge accompanied by a few chuckles. I rate Alton Brown the best of the lot.
---
More TV Reviews HERE

TV Review-American Idol 2006-Down to Ten
Barry Manilow was the featured guest singer-celebrity on the night of 3/21/06. Eleven finalists performed songs from the 50's and this should have been right up my alley. Well, I am more a child of the protesting 60's but this decade will receive its time in due course and as the contest progresses.
At this point in the competition every
American Idol
finalist is a fine singer with the major differences being in genre, style and nuanced vocals. Now until the day of reckoning the singers will be judged on how well they perform their chosen songs plus whatever special something the voting viewers see in the performers that hits their vibe.
On the chilly March evening of 3/21/06, the guest singer of the evening made a surprising announcement. For it was sweet Kelly Pickler who sang Patsy Cline's "Walking After Midnight" and Manilow announced, across the airwaves and to my everlasting surprise, that he had never heard of this song!
"I'm from New York, what do I know from country music?" is how Barry phrased it. At which point I almost fell out of my chair. No matter how young looking Barry
appears
... the man is older than me even! And yes country music is hardly his genre but he
is
a singer, a singer with a major repertoire and extensive catalogue. Patsy Cline's famous song about a heart-broken woman walking the streets late at night as she nurses her broken heart is one of the all-time classic songs of the ages.
In fact, the announcement of Manilow's presence to aid these youngsters in preparing their song performances from the 50's was a surprise in yet another way. Manilow is a singer beloved by the females on the planet and almost as stridently disliked by the male contingent. Myself adores Manilow and his music while husband says he had to hold his nose to purchase a Manilow requested CD for this past Christmas. This demographic preference did show up later via one of the male finalists but more on this later.
For now, how did Miss Pickler do with Patsy Cline's famous song?
Attired in a simple tank and pants accented by a gorgeous in-your-face belt, Pickler sang what had to be the best song pick for her by a country mile. Simon declared she did it "absolutely right".
And yet Pickler doesn't stand out in my mind and I've yet to envision her as a finalist in this thing.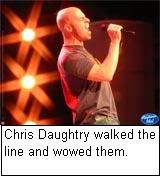 Chris Daughtry, on the other hand, continually shows up in my winning radar although at first I dismissed him as a very unlikely winner. Which is why
American Idol
has this long lead-up to a final contender because performances get better, quirks are detected, vocal laziness is discerned. The singers are fleshed-out and Chris Daughtry fleshed right into a superstar before my very eyes these past weeks.
Chris, dressed in a black shirt, sang "I Walk the Line", made famous by Johnny Cash. Daughtry embraced that song as if his own. There's something about Daughtry's performances that stand out. I considered Chris' performance one of the top three of that evening, if not the best.
Mandisa led off the festivities on Barry Manilow night. She looked magnificent with a form-fitting black dress with artful cut-out shoulders. Mandisa sang Dinah Washington's "I Don't Hurt Anymore" and this was her song to perform.
Simon dubbed it a "blossoming, sexy performance". Which it was and yet it wasn't a performance that flowed up to my top three picks for the evening. More evidence that these young artists, now being tutelaged by celebrated singers, dressed by experienced stylists and taught by the best vocal coaches, are now in a league of their own.
Next up, Bucky Covington. Last week I was very impressed by Bucky's performance, even with that ridiculous angelic hairstyle. Still I nurture a notion that a rocking country-western male singer could make 2006 his year for
American Idol
. Thus I tend to give Bucky some leeway but his performance on Manilow night was not one of his best.
Bucky sang "Oh Boy", a classic Buddy Holly tune. Covington did put his own twist on this 50's standby but his performance didn't do it for me. Simon termed it a "karaoke performance" and I agree.
Katharine McPhee sang the Ella Fitzgerald classic "Come Rain or Come Shine". Katharine is considered by many to be the most overlooked finalist in this season's
American Idol
and this might be true. McPhee looked enchanting in her flowing dress that so typified her song choice. She gave a smashing performance and yet ... still not ringing my bells.
McPhee told an interesting anecdote about Judge Simon. She said that when Simon's girlfriend was interviewing him about this year's
American Idol
that Simon completely forgot her name. Katharine's annoyance was very evident. After her performance, Simon declared Katharine had "turned into a star". Perhaps he wanted to make up to Katharine for forgetting her name.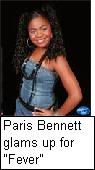 Ah, little Miss Paris Bennett. A singer I've mentally dismissed many times as being too young, as being too cute, as being anything but a singing icon of American Idoldom. Yet each and every week this small bundle of talent takes the stage and wows the world with the most magnificent of voices and the most joyous of performances. Paris sang "Fever" by Peggy Lee and even Manilow remarked he was shocked at the power of her voice.
This is not to mention the glorious fashion attire this miniature queen of song wore, a gold halter gown with a matching flower adorning carefully coiffed locks. The attempt, one assumes, was to give Paris an air of maturity. The attire and the song did just that. Randy said Paris "blew out the box".
Paris makes my list of the top three performances of the evening handily.
One must tread softly around any critique of Taylor Hicks. For while the singer looks for all the world like a serious accountant released for a wild weekend on the town, his fans are many and fiercely loyal.
I simply don't see this guy as winning this thing and his jerky robotic movements only reinforce that notion. "He's only doing his happy interpretation of the music," his legions of loyalists argue. Well sure, if dancing around with no rhyme, reason or rhythm could be considered an interpretation perhaps Hicks should take it to the Museum of Modern Art.
As for Taylor's performance on Manilow night, I thought the man sounded like he had a bad cold. That odd sharkskin suit only added to his accountant image. Judge Paula declared that watching Hicks was like watching an "exercise video". Paula meant this in the best possible manner as is her wont. I agree with Paula but it's not meant as a compliment on this end.
We'll move onto my first predicted ouster as a result of the Manilow evening of performances. Lisa Tucker finished ominously in the bottom three last week. She looked cute as a ladybug in a colorful ménage of cropped pants topped with a red shirt covered with a blue jacket, a cool hip look that captured the retro look with a current day ambience. Tucker sang "Why Do Fools Fall In Love" made famous by Frankie Lymon and the Teenagers. I thought Lisa's voice faded at times. Simon declared she looked as if participating in a "high school musical" and for once, I think Simon nailed it.
I predict Lisa will be booted on elimination night.
Elliott Yamin was the male performer who reinforced my contention that males of the species do not like Barry Manilow. Indeed Elliott told the host that before actually meeting songster Barry that he didn't like Manilow music and inferred that he had a bit of derision for the man. Of course a young singer like Elliott would likely not consider Manilow a singer to emulate. And of course Yamin declared lustily that after meeting Barry he adored the man with a newfound respect. Well we'll just assume this is the truth for now.
Yamin sang a song from the 50's I've never heard of: "Teach Me Tonight" by Al Jarreau. Dressed in casual jeans topped by an unusual combination of a dress shirt and tie, Yamin performed very well for a song outside of his genre.
A guest from "TV Guide" was on
Fox and Friends
this morning and said that Elliott wrestles daily with diabetes and wears a permanent insulin pump. She also said that Yamin does not practice before his performances.
On to Kevin Covais, the young crooner with a marvelous voice accompanied by a "Fearless Fly" appearance, I think this fellow surely is waiting for the hammer to drop on him any day. Perhaps in this week's elimination rounds if Lisa Tucker doesn't beat him to it.
It was evident that Covais was appealing directly to his audience of nine and ten year olds when he sat down for his song performance, dressed in a child-like T-shirt and casual jeans. In his pre-performance vignette, Covais appealed to his base of female youngster fans when he mentioned that he chose Nat King Cole's "When I Fall In Love" as his song for the evening because he too has yet to experience true love and this song is his benchmark mood-maker for when that gleeful day will finally arrive.
Of course every dewy-eyed pre-teen in America then will watch Covais croon the tune and dream that Kevin Covais is singing directly to them.
Finally we arrive at Ace Young, my first nomination for winner back when there were thirty finalists or so. Last week Ace was in the bottom three. This week Ace sang "In the Still of the Night" by the Five Satins and other than a strange facial sneer, his performance was unique and perfect.
So can Ace come back from bottom-three disgrace?
If nothing else, Ace's ending of a strong falsetto note certainly gave him some attention that could be the turning point.
Dressed in a less-casual fashion than his previous attire, Ace Young in an electric blue shirt and hip look could still go all the way.
The Eliminations 3/22/06
Quick give me the number of Barry Manilow's plastic surgeon. That medico is so good he should be cloned!
No matter his age, Barry sang a rendition of "Love Is a Many Splendid Thing" before the eliminations. I still love Barry Manilow. Husband left the room.
Onto the bottom three then the would-be superstar eliminated.
The bottom three included: Kevin Covais, Lisa Tucker, Bucky Covington. I am not at all surprised.
After the commercial we learn that Kevin Covais was eliminated. The time has come.
Congrats to the top ten. The contest heats up.
---
More American Idol Reviews Here