DVD Review: Moonlighting - Season Three
El Bicho

For those unfamiliar with the series, Moonlighting was a detective show from the latter half of the '80s, but it had much more in common with the screwball comedies of the '30s and '40s, driven by the verbal fireworks and sexual tension between lead characters, Maddie Hayes and David Addison.
Whatever Happened to "Stage Fright" in the Men's Room?
Mark My Words

It's not very well known, but there has been an unwritten protocol for behavior in a men's room. At least there always has been for me. However, it seems recently, in the workplace, all those walls of isolation that my father and my father's father's generation have begun to be torn down.
---

Archie Comics/Spider-Man Coming to the Middle East
Betty and Veronica in a burqua? Archie with a beard?
And Spider-Man will soon be climbing pyramids.
We can hope that such sharing of Americana can promote, on some level, an understanding of cultures.
From Teshkeel.com:
Teshkeel Media Group, KSC, and Archie Comic Publications, Inc., today announced a new publishing partnership to bring Arabic-language Archie comics, digests and magazines to the Middle East region. The announcement was made by Naif Al-Mutawa, CEO of Teshkeel, and Michael Silberkleit, Chairman of
Archie Comic Publications, Inc.

Teshkeel Comics releases the first Arabic title from Marvel Comics in the Middle East

After significant buzz surrounding Marvel Comics' expansion into the Middle East, Teshkeel Media Group has begun its licensed publishing program with the release of the first ever issue of Spectacular Spider-Man in Arabic.
Sheridan/Bolton Engaged
Rekindled romances, aren't they grand?
From CNN.com:
Desperate Housewives actress Nicollette Sheridan and singer Michael Bolton are engaged, Sheridan's publicist confirmed Wednesday.

Sheridan, 42, and Bolton, 53, dated for several years in the 1990s and rekindled their romance last year.
Smoking Sales Show Decrease in Smoking Throughout the Populace
Although I take exception that such decrease is because of that tobacco settlement. Try being a smoker and contacting your state for assistance in quitting the habit. Something that settlement was supposed to enable. The state people have no idea what you are talking about.
Be that as it may, I cannot imagine that the American populace hasn't cut down on smoking since 1951. If nothing else, it's hopeful that adolescents, the most vulnerable to beginning the habit, are veering away from a lifetime of derision, smoky homes and cigarette-dented pocketbooks.
From the WAPO:
Progress in the Smoking War

THE NUMBERS ARE dramatic -- and encouraging. Americans smoked fewer cigarettes last year than any time since 1951, when the population was half what it is today. Cigarette sales dropped 4.2 percent in 2005 alone and 20 percent since 1998, according to data based on cigarette sales tax figures and compiled by the National Association of Attorneys General.

The state attorneys general have an interest in proclaiming progress in the war on smoking -- they attribute much of the decline to the effects of the $246 billion settlement the states reached with the tobacco industry in 1998 -- and it's possible that the study didn't capture some cigarette sales, such as those conducted over the Internet or through the black market
Another Health Plus-Chocolate Good For Your Heart
If it tastes good, people will buy it.
Scotsman.com:
Mars is to start selling chocolate bars which, it claims, are actually good for you.

The confectionery giant is to begin large-scale distribution of a line of products under the name CocoaVia, which claim to tackle heart disease and cut the risk of cancer.

The sweets are made from a type of dark chocolate high in flavanols, an antioxidant found in cocoa beans that is thought to have a blood-thinning effect similar to aspirin and may even lower blood pressure.

The chocolate bars are also enriched with vitamins and injected with cholesterol-lowering plant extracts from soy.

Mars, the makers of Milky Way, Snickers and M&Ms, has spent ten years developing the products which will go on sale across the US next month.
Ritter's Family Settles Over Medical Malpractice Battle
John Ritter was a wonderful actor. His comedic skills were great and his young death was a tragedy. Now we are to understand the lawsuit started because of medical mistakes has been settled. For an undisclosed sum, naturally.
The inside talk is that Ritter died from the rupture of a coronary aneurysm. Which is ordinarily such a sudden a dire medical occurrence that medical personnel can do little if anything. Save if a person should actually be on the operating table when such a thing happens, these sudden breakages in the arteries are swift and deadly.
As I understand, Ritter was already at the hospital when his artery burst. Now there's questionable circumstances in that the argument would be that on-site medicos could have saved him.
From Hollywood.com:
By WENN| Thursday, March 16, 2006

HOLLYWOOD - Actor John Ritter's family has reached a settlement with officials at Providence St. Joseph Medical Center in California after suing the medics there for wrongful death and medical malpractice.

Ritter died in the hospital in 2003 after collapsing on the set of his sitcom Eight Simple Rules. His wife Amy Yasbeck and son Jason Ritter maintained the actor's life would have been saved had it not been for some costly mistakes.

A court hearing, which is expected to end the legal dispute, will take place
tomorrow.
Not That We're Surprised
Seems producers of consumer goods, in this case food, realized what a wealth of information can be obtained from surfing the net. I must wonder what a great job it would be to surf the net just to find food trends and such.
Hey, somebody's gotta do it.
From the WAPO:
ConAgra Foods Inc. got an early warning from chatter on the Internet that the low-carb craze was fading. The huge food company seized the chance to promote an alternative menu, its Healthy Choice soups, entrees and lunch meats.

"By utilizing online message boards you pick up nuances in the marketplace -- customer statements, thoughts -- that enable us to distinguish whether something is a trend that has long-term impact or a fad that will be short-lived," said Nick Mysore, director for strategy and insights at ConAgra, which also produces Butterball turkeys, Chef Boyardee ravioli, Rosarita refried beans and scores of other products.
Blauththors and Their Blooks
It's not
American Idol
but in it's own way, the "Blooker" contest by
Lulu.com
is a democratic pioneer of sorts. In that the bloggers who published "blooks" based on their blog postings are democratically elected by the populace. The winning blooks are not necessarily published by Lulu but the contest only allows entries based on books that sprang from blogs.
The Blooker Prize Finalists

"Eggs, Bacons, Chips And Beans", by Russell Davies, a US-based Brit, has outclassed an anthology of Iranian blog-postings and a sci-fi novel by a Canadian called Cheeseburger Brown.

LITERARY TRIBUTE TO GREASY SPOON DINERS IS NOMINATED FOR NEW GLOBAL LITERARY PRIZE

"The Blooker Prize", World's First Literary Prize For "Blooks" (Books Based On Blogs Or Websites), Announces Short-List

"Blooks" Are The Fastest-Growing New Kind Of Book; A New Hybrid Literary Form And The Hottest New Publishing And Online Trend

While a blog is narrowly defined as an online diary, blogs increasingly take diverse forms. With an estimated 60 million blogs already online and a reported 75,000 new ones launching every day, blogs are the fastest-growing kind of new media. Meanwhile, a growing number of bloggers are now publishing traditional, printed books or "blooks".

"Eggs, Bacon, Chips and Beans" is a guidebook to Britain's 50 top greasy spoon diners, by Russell Davies, a Brit now living in the States. "Belle de Jour: The Intimate Adventures of a London Call Girl"by Anonymous (Phoenix), is based on a blog read at one point by 15,000 a day.

The prize money is modest; some $4,000, of which $2,000 goes to the overall winner. But the judges are all well-known Internet figures and the real prize is that piece of blogosphere glory that goes to the winners of the inaugural contest.

THE SHORT-LIST IN FULL

Non-Fiction (Six finalists)

"Egg Bacon Chips and Beans" by Russell Davies (HarperCollins Entertainment)

"Julie and Julia" by Julie Powell (Penguin)

"All the President's Spin: George W. Bush, the Media, and the Truth" by Bryan Keefer, Ben Fritz and Brendan Nyhan (Simon &Schuster)

"Biodiesel Power" by Lyle Estill (New Society Publishers)

"Belle de Jour: The Intimate Adventures of a London Call Girl" by Anonymous (Phoenix)

"Stone Cold Guilty - The People v. Scott Lee Peterson" by Loretta Dillon, (Lulu.com)

Fiction (Five finalists)

"Action Poetry: Literary Tribes for the Internet Age" edited by Levi Asher, Jamelah Earle and Caryn Thurman (Authorhouse)

"Gus Openshaw's Whale-Killing Journal" by Keith Thompson (MacAdam/Cage)

"Four and Twenty Blackbirds" by Cherie Priest (Tor)

"Africa Fresh! New Voices From the First Continent" edited by Rod Amis (Lulu.com)

"hackoff.com" by Tom Evslin (dotHill Press)

Comics (Five finalists)

"Dinosaur Comics: Huge Eyes, Beaks, Intelligence, and Ambition" by Ryan North (Catprint)

"Ambidextrous: Collection 1" by Kevin Cornell (Lulu.com)

"The Dada Alphabet: An Absurdist's Illustrated Primer" by Stephanie Freese, David Milloway, and Matthew Wood (Lulu.com )

"Totally Boned: A Joe and Monkey Collection" by Zach Miller (Lulu.com)

"Comic Strip Volume 1: Scarybear &Friends" by Jason Pultz
That Flap About South Park
Whew, what a bang this tidbit is making in the pop culture across the fruited plains. Seems the satirical Comedy Central series,
South Park
, featured a show which poked fun at Scientology. Scientology is a "religion" of sorts embraced by celebrities so right there you have to know there's a kook factor.
Isaac Hayes is the voice of a chef on
South Park
and it's reported that Hayes quit the show because he didn't like this gratuitous poking at a religion. Not that
South Park
doesn't poke fun of everything, including other religions such as Judaism and Catholicism. Religions also targeted by the cartoon series but evidently derision of these faiths didn't offend him.
Then the rumor was flying about that Tom Cruise, one of the more ardent devotees of Scientology, used his clout to get a controversial show pulled from the air. The
South Park
creators vowed revenge.
At least this is where it all stands as of this writing. Until now it's certainly been an exercise of hoots, howls and hypocrisy.
From Breitbart.com:
South Park has declared war on Scientology. Matt Stone and Trey Parker, creators of the animated satire, are digging in against the celebrity-endorsed religion after a controversial episode mocking outspoken Scientologist Tom Cruise was yanked abruptly from the schedule Wednesday with an Internet report saying it was covert warfare by Cruise that led to its departure.
Oh, and goodness knows Tom Cruise would never use his clout and industry muscle to effectively run roughshod over free speech. Would he?
Blind Item Fun
UK the Mirror BLIND ITEM 3/15**
ASKED:
WHICH Hollywood actor is having furious rows with his wife after he held a series of swinging parties at their lavish home? He likes to get jiggy with other women but his other half is now terrified that the story will get out.
GUESSED:
Will Smith
NY Post Page 6 BLIND ITEMS 3/16**
ASKED:

WHICH married "Sopranos" actor has been having an affair with an actress who will appear in the series later this season?
GUESSED:
I think it's Michael Imperioli who plays Christopher and Julianne
Marguilies, who is scheduled to appear this season.
ASKED:
WHICH cute young Hollywood couple is kaput? The blond babe dumped her hunk after she found out he gave her herpes
GUESSED:
None. But we welcome one.
NY Daily News BLIND ITEM 3/12**
ASKED:
Which drunk X-Man was following Matthew McConaughey around like a puppy dog at Bungalow 8 in the wee hours of Thursday morning after the premiere of "Failure to Launch"? "It was very, very weird," says a witness.
GUESSED:
I think it might be James Marsden (Cyclops) who while generally keeping a low profile has been in several gay independent films.
Ending With a Bit of Humor
Although we're sure this little deer fellow didn't find the predicament of having his head wedged firmly inside a plastic pumpkin the least bit amusing.
Seems it was quite a trick to catch the deer as the animal control people chased and the little deer banged into trees as he ran.
All ended happily but someone did snap a picture of the unusual sight.
From Mercurynews.com
In 27 years of catching stray dogs and scooping up roadkill, a Palo Alto animal control officer had never seen anything like the deer in Chia Wu's Los Altos Hills yard.

It had a pumpkin head. A smiling, plastic pumpkin head. The juvenile Columbian black-tail had shoved its face into a child's Halloween pail, presumably to lick the sticky-sweet residue of trick-or-treats past, and there it stuck. The plastic bucket was wedged smartly on the deer's little antler nubs.

Homeowner Wu discovered the silly sight about two weeks ago as she walked up her driveway. There among the blackberry bushes, along a running creek was a deer statue.

She thought, ``that's a really weird place for a deer statue.'' Then it moved.

More Gossip/Speculation HERE

Burnt Cookies
"I would really like to give Tom an extra special anniversary present this year," Beth told her friend Fran as they sipped iced tea in Fran's kitchen.
"How many years?" Fran asked
"Twelve."
Fran contorted her face in confusion. "Making it through twelve years of marriage is nice and everything but it's not any kind of special anniversary, like silver or gold. So what's changed this year?"
Beth hesitated, shrugged then stared blankly out of Fran's window. After a minute, she took a deep breath indicating her thoughts had been gathered, then plunged in.
"Tom has always been so poetic, Fran. So …," Beth's voiced trailed off.
"Oh I know how well Tom can express himself, Beth. He is the head of the junior college's English department and my husband does work for him. Everyone's impressed by how well Tom can manipulate words. But I would think that's a nice thing, Beth. Lots of women would like a man with as much soul as Tom."
Beth took another deep breath and looked out the window again. "The other day he told me he gave me poetry, soul and deep thought while all I gave him was burnt cookies."
Fran couldn't stop the guffaw. "Burnt cookies? When do you give him burnt cookies?"
"He didn't mean to offend me, Fran. It was Tom's way of making a joke. You see, whenever I make cookies Tom and the kids are only allowed to eat the burnt ones. Or," Beth stopped and reached across the table for a cookie from the plate she had brought to Fran's just for this comfortable lunch, "I should say they have to eat the burnt and broken ones FIRST. I mean, I don't want to throw them away. Besides, there aren't THAT many burnt cookies. The problem is, or so Tom exaggerates, is that the perfect cookies always get eaten by somebody else before he can get through the burnt ones. It's just a joke, Fran, a joke that gives Tom great delight. But for some reason the joke hurt a little. Maybe I'm being too sensitive and there's been a lot going on in my life lately. But his remark made me feel really guilty. Add to the guilt that Tom always manages to say the right thing, to have such a poetic way about him. Even his exaggeration is sharp and to the point. It's like those "nothing" gifts he always gives me."
Fran's face showed more confusion. "Are these the same cookies from the batch that Tom and the kids could only eat the burnt ones?" She took a cookie from the plate, bit off a piece and chewed it thoughtfully. "They are good, Beth. You should let Tom have a perfect one once in a while," Fran teased her friend.
Fran giggled and Beth couldn't suppress a smile.
"Okay, tell me about the so-called "nothing" gifts," Fran said, gathering the luncheon dishes.
Beth joined her friend in the clean up. "He gives me, like empty containers, torn bags, a bowl with nothing in it," Beth said, pausing half way on her way to the kitchen as she conjured up the strange description. Shaking her head, Beth continued toward the kitchen with the leftovers.
"Okay," Fran said slowly. "So far, he gives you trash. There must be more."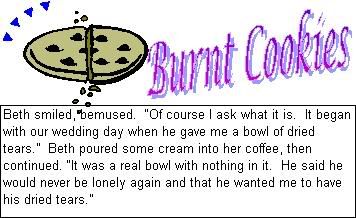 Beth smiled, bemused. "Of course I ask what it is. It began with our wedding day when he gave me a bowl of dried tears." Beth poured some cream into her coffee, then continued. "It was a real bowl with nothing in it. He said he would never be lonely again and that he wanted me to have his dried tears."
"Why that's sweet," Fran said. "Sounds just like Tom."
"The same day he gave me an empty baggie and said it was ugly brides," Beth smiled.
"When our kids were born he would me bring empty containers full of 'painless births', 'hopeless babies', and 'pride-less fathers'." Beth took a sip of her coffee, her mouth upturned slightly at the pleasant memory.
"He gives the kids nothing gifts, too. They might get an empty soup can of 'useless experience' or 'joyless victories' or 'unused education'. He'll pull an empty coffee cup out of the trash can and tell us it's filled with 'worthless passion' or 'happy slaves'. The kids think it's a hoot."
"It is clever, I'll say that," Fran agreed. "So what's the big deal with the twelfth anniversary?"
Beth shrugged. "It's just that it's our next anniversary. I wish I could give him something soulful, yet meaningful," Beth told her friend, paused, then looked at her pointedly, "and CHEAP, Fran. Tom and I are saving every extra dime for a larger house. We both agreed to not spend more than twenty bucks on anniversary and birthday gifts. Of course Tom gives me cute empty coffee mugs filled with 'lush winters' or 'stark springs' or 'soundless birds'. All I give him are burnt cookies," Beth finished wryly.
Beth rose and carried her coffee cup to the sink. "I don't know what I could give him for our anniversary that is under twenty bucks and maybe a bit poetic or soulful. I have little money to spend and no talent. Tom does need a new humidor that I think might fit the budget."
"Come on, Beth. I know EXACTLY what you should give Tom for your anniversary," Fran said excitedly. "But we're going to have to put our heads together. I'm sure we can come up with an oxymoron that describes your love for Tom."
~~~~~~~~~~
"Wow, Beth, a plate of perfect cookies," Tom said when he pulled the plate out of the gaily decorated box. "Though I have grown fond of the burnt ones," he said, a mischievous glint in his eye. She knew Tom was suspicious while she was baking up a batch of Tom's favorite chocolate chips and was taking such pains to make them perfectly round and brown. He even handed her an empty milk container and told her it was filled with bad tasting chocolate chip cookies.
Beth nudged Tom to pull the next gift out of the box.
"Hey, a nice humidor. The other one was getting rusty. Thanks, hon," Tom said. He rubbed the leather on the holder with masculine appreciation.
"The humidor is already full, Tom. Open it up."
Tom's eyebrow arched in surprise that his wife had already filled the humidor with tobacco.
Tom's eyes filled with a shimmering liquid that was definitely not dried tears as he read the note inside the empty humidor.
"I've already filled this up with the days I will stop loving you. Love, Beth."
More Smashing Fiction HERE