Mourning Gene Pitney, That Hooters Scandal and a Movie Featuring Gnomes? An Ebay reality show looms.
Pic of the Day
---
Quote of the Day
A happy person is not a person in a certain set of circumstances but rather a person with a certain set of attitudes.
- Hugh Downs

How to Look Great in Every Photo from Real Simple from From RealSimple.com:

With bridal showers, Mother's Day and school graduations around the corner, here's how to make sure you look your best in photos.


1)Problem: Looking Too Posed


Solution: "Engage the photographer in a conversation about some topic you both may find of interest," says photographer Michael Calas. If your mind is focused on something other than the photo, you'll appear less rigid. You can also lean against something, interact with a pet or a child or intertwine your arms with someone else's.
Also, never keep your hands right by your sides, says New York Institute of Photography dean Chuck DeLaney. Clasp them in the front or in the back, or hold on to a glass or your eyeglasses to help relax your body.




2) Problem: Visible Wrinkles, Shiny Skin from Real Simple


Solution: Foundation and translucent powder are quick fixes, but it's equally important to get as much light on the face as possible. If you're indoors, pose near the closest light source, like a window.
Also, use a flash inside and outside because "the light of the flash will bounce off the skin, illuminate it and conceal facial imperfections," says Walgreens photo specialist Jim Janis.
Finally, make the most of your scenery. "Photographs taken on a white sandy beach or a snow-covered surface tend to be more flattering because the reflective qualities of those surfaces help de-emphasize wrinkles and pockmarks," says wedding photographer Denis Reggie.




3) Problem: Double Chinfrom Real Simple


Solution: Pay attention to the camera position. "If the lens is at your eye level or above, you're in the right frame," says photographer Michael Calas. "If the lens is below your eye level, then you run the risk of looking like you have an extra chin."
Bend your knees so you're at least on an even plane with the photographer (assuming it's not a full-body photo). If you're significantly taller than the photographer, sit in a chair and look up toward the camera.
Finally, project your chin out an inch or so more than you normally would. You may feel a bit awkward, like a giraffe, but "you'll have a long, thin neck in the photo," says photography-gallery owner Suzy Drasnin Orduna.




4) Problem: Fake Smilefrom Real Simple


Solution: Don't say "cheese," which usually conjures an artificial smile. Instead, ask the photographer to throw out an unexpected word, like "money." This will usually elicit a genuine laugh, and your expression won't look forced.
"I always think of something funny, like my disastrous attempts at cooking, to achieve a natural smile," says Miss America runner-up Jennifer Dupont. "If you're self-conscious or critical of your smile, practicing before a photo shoot might be helpful, too."




5) Problem: Red Eye from Real Simple


Solution: Avoid appearing possessed in your next photo by affixing your eyes on a lamp or the nearest light source right before the photo is taken. (Red-eye usually occurs in a dim room when the irises have opened up so much that the retinas, which are red with blood vessels, light up when the flash hits them.) When the pupils fix on something bright, they shrink, reducing the potential for red-eye.
---

Gene Pitney Dies
"I can see
You're slipping away from me
Cause your pity now
Would be too much to bear ...
So I'm gonna be strong
And let you go your way"
One can almost feel the ache in those words as voiced in my favorite Pitney song "I'm Gonna Be Strong".
"The man who shot Liberty Valence
He shot Liberty Valence
He was the greatest of them all"
Ah, Pitney sings a movie title tune.
"I was only
24 hours from Tulsa
Only one day away
From your arms"
A man struggles and loses the battle of faithfulness.
Gene Pitney looked like everyman. He dressed like the rest of us and sported no ponytail to his waist. He was not a rocking singer but his songs spanned a wide breadth of emotions and love lost.
Pitney's death was evidently sudden and unexpected. He wasn't all that old when death claimed him-65- and he was still on tour and still singing.
There will never be another half-feminine, half-masculine voice like Gene Pitney. A hero of my musical era, may he rest in peace.
From Scotsman.com:
Pitney, 65, whose hits included Twenty Four Hours From Tulsa and Town Without Pity, was found dead in his hotel room in Cardiff last Wednesday following a sell-out performance at the city's St David's Hall the previous night.
Hooters-Serving More Than Food?
It would seem that every sexual harassment law ever enacted would apply to this Smoking Gun report on a lawsuit filed by a former Hooters' employee. The lawsuit complains of lewd comments made by a female employee who gives the Hooters' waitresses the green light to serve male customers more than hamburgers.
Of course since the President of the United States had a lowly intern service him in this country's own Oval office and THIS was not considered sexual harassment I'm not sure any such thing still exists.
Now I'm supposing there might be a burgeoning sub-service going on at the Hooters' restaurant chain. For sure there's always a bit of a giggle at the mere mention of the eatery. The chain's name doesn't help that image or does the outfits the waitresses wear.
While many of us might have suspected, with a nervous snort, that Hooters might well be a brothel disguised as a restaurant chain, if the allegations as filed and the document as provided on Smoking Gun are true, then there's much at issue here.
Americans tend to look the other way when it comes to prostitution so long as it is kept far away from neighborhoods and children. Or firmly in Sin City far away from happy families and middle America. But to have a restaurant chain fool us all with what they claim is good-natured sexual innuendo both in name and dress, well this is a whole different story.
What's next, Delis with special meat menus in the back room? Perhaps groceries that serve vegetables and nubile women in the raw?
We are NOT amused.
Please note, however, that the fellow filing the lawsuit claims he was fired after complaining about these supposed comments. The key to truth here would be the testimony of Hooters' waitresses in attendance at this alleged X-rated meeting.
From the Smoking Gun:
APRIL 13--We've carefully read the Hooters employee handbook and it does not address what a manager is supposed to do when a corporate trainer tells waitresses they could earn extra money by sexually servicing customers. In a federal lawsuit, Jarman Gray, a former assistant manager of an Alabama Hooters, charges that he was fired last year after complaining about comments made to employees by a female "visiting training manager." In his April 7 U.S. District Court complaint, a copy of which you'll find below, the 31-year-old Gray claims that a trainer named Cat told waitresses that they were "the ones with the (redacted) and you are in control because of that." Then she reportedly added, "If you need the extra money, go ahead and (redacted) customer if the money is right."
Hollywood Goes Literate
Although an avid reader, I've not read a single thing by W. Somerset Maugham. His works are considered good enough to be sought after by the Hollywood celebrated, spearheaded by Naomi Watts but including Halle Berry and Meg Ryan.
It's not clear why Maugham's works are suddenly all the rage by actresses looking for soulful roles. We do like that bit about Maugham donating his work to prevent a post-death fight between his daughter and his gay lover.
What a wild and wacky life Maugham must have led.
From the Australian News.com:
Watts leads charge for dead author
April 03, 2006

SHE tangled with King Kong, now Australian actor Naomi Watts wants to wrestle with the works of one of Britain's greatest novelists.

Watts, 37, is one of the actors behind a cinematic revival of work by W. Somerset Maugham, who was reputed to be the world's best paid novelist in the 1930s.

Halle Berry and Meg Ryan are also combing through his stories in search of future hits.

Maugham, who died in Nice in 1965, donated his estate to the Royal Literary
Fund, partly to avoid an ugly court battle between his daughter and his gay
lover.
Arthur Winston-Carried the Country on His Back for 70 Years
I've met a lot of people like Arthur Winston through the years, hard-working, dedicated average Americans who show up to work everyday with a smile on their face and a polite disposition towards the public around them.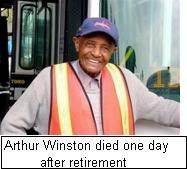 Every day I would go to mighty downtown Baltimore to earn my keep. All around me trash was gathered, bus drivers nudged along, pedestrians moved at a brisk place, receptionists greeted and life hummed on. Most law-abiding, earning their piece of the pie, holding their personal grief and turmoil inside, carrying the country on their backs just by existing and living and minding the common courtesy of daily life. This scene of life in downtown Baltimore was not unique. Every day in large cities and small towns, Americans work and smile and live orderly quiet lives.
Arthur Winston was one such American hero and when I read his story I was compelled to include a tribute to this man I'd never met.
In almost seventy years of employment the man missed only one day of work. This to attend his wife's funeral.
Now Arthur and his wife are together, smiling somewhere in the celestial realm as they watch Americans like them continue to carry this country on their backs.
He missed just one day of work in more than 70 years at the Metropolitan Transportation Authority, and that was to attend his wife's funeral in 1988. In 1996, he received an "Employee of the Century" citation from Clinton.

He was born in Oklahoma and said he began picking cotton at age 10. His family headed west when droughts and storms ruined several crop seasons. In 1924, Winston found work with the Pacific Electric Railway Co., a forerunner of the MTA.
Worth a Mention, Perhaps a Visit
Well hey, a blogger designs a blog that will teach us celebrity makeup secrets. Why not? Celebrities are people whose appearance means everything. Give it a click. Could be helpful.
Celebrity Makeup Blog
Michael Jackson Trying to Avert Bankruptcy
Michael Jackson, who has a strange fixation for young teenage boys, has been in financial trouble and this is no secret. Reports abound about non-payments to employees, even a veterinarian non-payment for Jackson's mini-zoo.
So the tidbit below about an impending deal with Jackson and Sony that would have him giving up 1/4 of his extensive catalogue which includes many Beatles' songs, does not surprise.
The latest sighting of Jackson has him not in the country. Last we heard he was hanging around with some sheikh in the United Arab Emirates. Once Jackson's welcome was worn out there, we hear that Jackson moved in with an old friend in Germany.
An old friend who has young teenage male children.
From Reuters.com:
Jackson near deal to avert bankruptcy: report
Thu Apr 13, 2006 04:05 AM ET

NEW YORK (Reuters) - Singer Michael Jackson is close to a deal that would help him to avert bankruptcy by refinancing hundreds of millions of dollars in loans, the New York Times said on Thursday.

The paper, citing people briefed on the plan, said the ongoing negotiations would also require him at some point in the future to offer Sony Corp. part of his interest in a song catalog that includes scores of hits from The Beatles.

Jackson would agree to provide Sony, which is co-owner of the Sony/ATV Music catalog, with an option to buy about 25 percent of the catalog, or half of his stake, at a set price, the Times said.
Gnomeo and Juliet, We're Not Making This Up
Being a gardener and lover of all things resin, I am intrigued by a proposed new movie featuring a garden gnome.
Garden gnomes, fanciful little men often fashioned from weather-proof resin and placed artfully amid the blooms as garden accent, are cute as buttons.
There's even an old story about an abducted garden gnome which was held for ransom. The gnome somehow traveled all over the world with pictures sent to the gnome's owners warning of impending doom if the ransom was not paid. It was a hoot of a joke and indeed one can see commercials featuring garden gnomes traveling the world to meet unexpected consequences.
So upon notice of a possible movie featuring those garden gnomes we were intrigued.
Miramax Films has inked a deal with Elton John's Rocket Pictures to develop Gnomeo and Juliet. The movie is exactly what it sounds like: a new take on the Shakespeare play "set in the world of tacky garden gnomes." Think it couldn't get any more bizarre? Kate Winslet is set to star, and John will be contributing music to the soundtrack.

This animated movie has been in the works for some time, and Ewan McGregor and Judi Dench have also been rumored to appear. A couple weeks ago, though, Disney dropped the film like a hot, um, gnome. It was originally slated for release in 2008, but now that date may change.
An Ebay Reality Show?
It's an intriguing concept. I can already see the melodrama unfolding as tends to happen with these reality shows.
I'm guessing that a family that has suffered a tragedy gets to tell their story and then offer an item for bid on Ebay. The question is, what will these families offer for bidding? Grandma's rocking chair? A cherished family heirloom?
We'll be watching.
From Blogcritics.com:
ABC and eBay have announced plans to team up for the creation of a new reality TV show. Currently dubbed Make It Happen, the show will help families realize their dreams by giving them a chance to place items on eBay where viewers of the show will then be able to bid on them.

The show is expected to have two installments per week. The first one will air on Mondays to allow the families and their aspirations to be announced to viewers. The second show will air on Fridays and will basically be a follow-up to the five days of bidding. The joint venture between ABC, eBay, and Madison Road Entertainment is expected to debut this summer.

More Gossip/Speculation HERE