The Axl Rose/Tommy Hilfiger Punchfest; Blind Item Fun; Spiderman's New Costume; Much More.
Pic of the Day
---
Quote of the Day
The fault, dear Brutus, is not in our stars,

But in ourselves, that we are underlings.

- William Shakespeare, Julius Caesar
Web Site Worth the Visit

Turn your sound on and sit back and enjoy. But don't get smug. Because while the music soothes, the prose is jarring. And very funny.

As I've Matured


TIDBITS

WHAT TREE BEST DESCRIBES YOU

Find your birthday and then find your tree.

Jan 01 to Jan 11 - Fir Tree
Jan 12 to Jan 24 - Elm Tree
Jan 25 to Feb 03 - Cypress Tree
Feb 04 to Feb 08 - Poplar Tree
Feb 09 to Feb 18 - Cedar Tree
Feb 19 to Feb 28 - Pine Tree
Mar 01 to Mar 10 - Weeping Willow Tree
Mar 11 to Mar 20 - Lime Tree
Mar 21 (only) - Oak Tree
Mar 22 to Mar 31 - Hazelnut Tree
Apr 01 to Apr 10 - Rowan Tree
Apr 11 to Apr 20 - Maple Tree
Apr 21 to Apr 30 - Walnut Tree
May 01 to May 14 - Poplar Tree
May 15 to May 24 - Chestnut Tree
May 25 to Jun 03 - Ash Tree
Jun 04 to Jun 13 - Hornbeam Tree
Jun 14 to Jun 23 - Fig Tree
Jun 24 (only) - Birch Tree
Jun 25 to Jul 04 - Apple Tree
Jul 05 to Jul 14 - Fir Tree
Jul 15 to Jul 25 - Elm Tree
Jul 26 to Aug 04 - Cypress Tree
Aug 05 to Aug 13 - Poplar Tree
Aug 14 to Aug 23 - Cedar Tree
Aug 24 to Sep 02 - Pine Tree
Sep 03 to Sep 12 - Weeping Willow Tree
Sep 13 to Sep 22 - Lime Tree
Sep 23 (only) - Olive Tree
Sep 24 to Oct 03 - Hazelnut Tree
Oct 04 to Oct 13 - Rowan Tree
Oct 14 to Oct 23 - Maple Tree
Oct 24 to Nov 11 - Walnut Tree
Nov 12 to Nov 21 - Chestnut Tree
Nov 22 to Dec 01 - Ash Tree
Dec 02 to Dec 11 - Hornbeam Tree
Dec 12 to Dec 21 - Fig Tree
Dec 22 (only) - Beech Tree
Dec 23 to Jan 01 - Apple Tree
~~~~~~~~~~~~~~~~~~~~~~~~~~~~~~~~~
---

Brittany's Underwear
This photo is probably doctored. For it's hard to believe that even Ms. Spears of vaunted motherhood fame can't keep her pants up.
We liked it anyway and thought it a fine way to start out a gossip fest.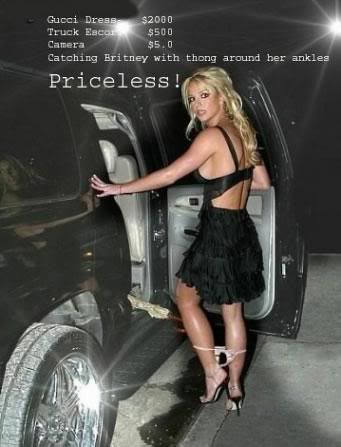 The McCartney Breakup
The gossip over the breakup of Heather and Paul has reached screeching proportions. Some of that gossip is simply unbelievable. Sir Paul had no pre-nuptial in place? That stretches the limits of my credulity.
Suddenly all sorts of information about Heather's past has come to the fore. Like pornographic pictures never before published now suddenly showing up in German newspapers.
Below is an article that I daresay was planted by one Heather McCartney. That bit about stress and a wheelchair is just so lame, so damn lame. It seems, and I'm going on a hunch here, that Heather and Paul are playing out their divorce woes for the public.
I am quite sure that the fine Ms. Heather knew that her marriage was in trouble long before the announcement. But it isn't until the public announcement that she gets so sick and has to be confined to a wheelchair?
We are supposed to sympathize with the poor one-legged bride. When actually, besides good juicy gossip, the majority of us peons out here in la-la land feel little sympathy for either Paul or Heather. Somehow I think they will make out fine.
From The Mirror:
By Fiona Cummins, Showbiz Reporter

HEATHER Mills is so devastated over her split from Sir Paul McCartney the stress has put her back in a wheelchair.

The 38-year-old suffered a relapse from leg surgery she had four weeks ago, brought on by the collapse of their marriage.

Friends said Heather has hardly slept since breaking up from Macca, right, two weeks ago and has been in floods of tears. One added: "She's in a very low place."

WORRIED friends of Heather Mills last night said they fear her devastating split from Sir Paul McCartney is damaging her health.

The 38-year-old is back in a wheelchair after a relapse following surgery on her amputated leg, brought on by stress from the break-up. She has hardly slept and has been in floods of tears since the couple's marriage collapsed.
Spider-man's New Costume
Come on. There's something to be said about that dashing blue and red outfit that superhero Spider-man sports as he fights the bad guys.
Scuttlebutt now has it that the new movie will have the arachnid hero donned in new duds. In fact, we even have a picture of the new costume. It appears to be a leather affair with raised ridges.
We like the old one better.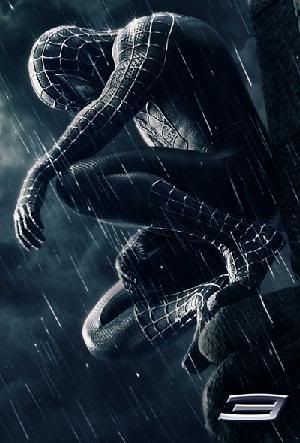 From Superherohype.com:
Spider-Man 3

Release Date: May 4, 2007
Studio: Columbia Pictures
Director: Sam Raimi
Screenwriter: Alvin Sargent
Starring: Tobey Maguire, Kirsten Dunst, James Franco, Rosemary Harris, J.K. Simmons, Thomas Haden Church, Topher Grace, Bryce Dallas Howard, Daniel Gillies, Ted Raimi, Adrian Lester, Theresa Russell, James Cromwell, Elizabeth Banks, Steve Valentine
BLIND ITEM FUN
From: **NY Daily News BLIND ITEM 5/21**BEN WIDDICOMBE'S GATECRASHER
ASKED
Which Hollywood comedian with a hit franchise under his belt seems to have changed teams since splitting with his wife? Insiders say the famous funnyman now has a boyfriend.
GUESSED
Too easy....Mike Meyers

How about Eddie Murphy?

From:**Pop Bitch BLIND ITEM 6/1**

ASKED


Which actor, who still appears on TV but is probably best known for a starring role in the first of a long-running movie franchise based on a much-loved TV show, is currently staying in a hip central London hotel?

The actor so enjoyed his in-room massage this week that he did a full Kevin Costner. Without any shame the actor looked up at the masseur, asked her for some tissues and gave himself a Happy Finish.
GUESSED
Oh, yech! William Shatner?

it's probably just Tom Cruise again!

From: Ted C's blind item...

ASKED

One Homo-Helper Blind Vice

Oh gosh, Wiggly Jiggle-Poof is too cute. America loves her. I mean, him.

Or do I?

Oh, let's back up, shall we? And that's an appropriate segue if there ever was one, because Wiggly--a desperate eager type from Blandsville, Anywhere--got more than just a foot in the door, know what I mean, my jaded jellybeans?

Let me be more clear (not exactly my strong suit, I know): Wiggly was helped enormously with his glitzy 'n' glam gig by a certain in-the-closet major Biz player by the name of Burp Behemoth. Yes, sexual favors were included in exchange for W.'s 9-to-5 rise. Just as long as W.J.P. remained available for Burp's pleasures, when he so chose, which actually turned out to be not that often.

So, was it all that bad, in the end?

Certainly not for Mr. Jiggle. That is, unless more and more boob-tube devotees discover the little deal J.P. made with the Tinseltown devil--with whom many of us are so often tempted to do bidness.
GUESSED
I'm guessing that "Burp Behemoth" is either Barry Diller or Michael Eisner

Well, Ryan Seacrest seems to fit Mr. Wiggly Jiggle-Poof, in particular for the "glitzy 'n' glam gig."

Merv Griffin (Burp Behemoth).

We Love This Story

Seems Tommy Hilfiger punched out "Guns & Roses" Axl Rose.

I'd never have thought Hilfiger had it in him.

What's great about this story is the sequence of events. It was first published in the NY Post's famous Page 6.

From Gawker.com:

In the early edition of today's Post, Page Six ran an item about an incident at Plumm on Wednesday night. Apparently, Guns & Roses was playing some sort of live show, and Tommy Hilfiger was in attendance. Somehow, Tommy Hilfiger and Axl Rose got into a scuffle, ending when Hilfiger clocked him across the jaw and was escorted out by security.

The story is not online, and it's not printed in the late edition Post we have here in the office. I'm kicking myself for leaving that shit on the subway.

The story gets better. We'll play out the sequence of events as delineated in the post linked above.

No scan, but the P6 item read as follows

Fashion designer Tommy Hilfiger better watch out the next time he runs into Guns N' Roses frontman Axl Rose. Hilfiger and Rose got into a heated argument last night at the trendy Chelsea nightspot Plum, sources told The Post. Rose, who was there to put on an acoustic guitar show, got into a heated row with Hilfiger for reasons that remain mysterious. Not happy with how the verbal exchange was going, Hilfiger punched Rose in the face, leaving a red mark under Rose's eye, witnesses said. Hilfiger was promptly escorted out of the club by security guards. Rose stayed and eventually performed for the crowd.
: A reader from LA writes:

Axl was on KROQ (a local mainstream pop/rock station) this morning doing an interview, appaearntly G&R is headlining a concert they throw every year in Septmember. Anyways what AXL HIMSELF said about the scuffle was that he was simply moving Tommy's girlfriends drink so it wouldn't get knocked over. Tommy flipped, yelling "What the fuck?!?!" at Axl and then told him not to "fucking touch her fucking drink" and things just went south from there. Axl also said that Kid Rock saw the whole thing and told him it was "totally Detroit."
After the jump, the beatdown is corroborated by a just-received press release*, courtesy, it seems, of Axl's PR people.

Tommy Hilfiger was carried away by his own security people kicking and screaming after attempting to pick a fight with Guns N' Roses main man Axl Rose at The Plumm on Thursday night.

According to The Plumm owner Noel Ashman, Hilfiger who took two swings at Rose, was fortunate that he found Rose in good spirits and a forgiving mood. Ashman said "Axl was a gentleman and had the good sense not to retaliate as he would have done some serious damage to Hilfiger."

Rose, who was at the club to play a surprise acoustic set with his band Guns N' Roses for actress Rosario Dawson's birthday party, filled out a police report and later dedicated the song "You're Crazy" to "My good friend Tommy Hilfiger" during the band's scorching performance, which left the way beyond capacity crowd screaming for more and gasping for air well into the wee hours of the morning. Said birthday girl Dawson of Rose: "They've never played all acoustic, this is history in the making, how much does this fucking man rock?!"

Heh.

Media Nuggets

Thanks to Freeper Anita at FreeRepublic.com.

- A NYTimes reporter who died 5 months ago, writes this week in NYTimes the obituary of Lloyd Bentsen.
Rupert Murdoch is set to acquire a stake in Saudi Prince's media conglomerate Rotana.

Tony Snow is "Trying To Master How To Give You A Karate Chop & Still Smile" - says Helen Thomas

Six people pleaded guilty in Newsday circulation scandal, inflated its circulation by nearly 100,000 copies. Will face upto 20 years in prison and pay $90 million for inflated circulation figures.

In this age when any fool with a laptop can call themselves a journalist, says NBC News boss Steve Capus.

Best Beer

Now here's a list that's in great demand. As quoted below, the blogger has a system for rating the beers. Beer drinkers, check it out.

From Fraterslibertas.com

'Round about seven, maybe eight years ago I received a gift twelve pack of "beers of the world." Included in the box was a sheet to rate the various beers on a scale of -11 to 19 based on criteria such as head, color, smell, taste, and aftertaste. Since then I have used this system to evaluate over 260 beers from twenty different countries and twenty-two US states, whose ratings appear here. It's a dirty job but someone had to do it.

Web Gossip…Heh

One of my favorite Blogs, Powerline, suffered a most unfair attack by a Blog for which The Wise I used to write, Blogcritics.org.

Regard the pic below. Notice the title of the article accuses Powerline of hawking dubious investments. Notice the arrows drawn on the pic.

There, right above the Blogcritics' article, are two advertisements for THE SAME INVESTMENTS!

Folks, I like to make fun of the Lamestream media for being hypocritical but darn if the Blogosphere isn't quite capable of the same thing.

Blogcritics, heh. Site is so full of liberals it gave me the willies. The site has some fantastic writers. "Some". So much of it was liberal nonsense that it would turn yon reader's stomach.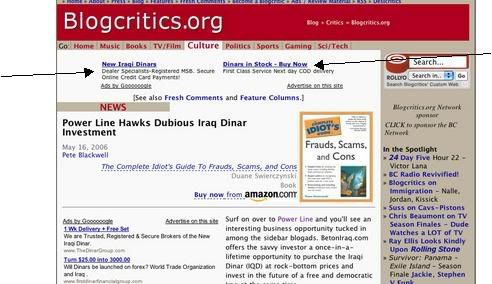 Playboy's Top 25 Sexiest Novels

Well here's a Top 25 list that was compiled by experts. For if Playboy can't name the top 25 sexiest novels then who can?

A few of Playboy's choices:

"The Story of O" (I read this one)

"Lolita"

"Candy"(I read this one too. It was all the rage when I was in high school. It was funny too.)

From Playboy.com

Our list is certainly subjective, but we're also experts on the subject. And while we know some of our choices and their order will be hotly debated, we hope the debate inspires people to seek out and enjoy this hot type.

Gossip Cartoon of the Week
More Gossip/Speculation HERE