Hizbullah; The Plame Game is Over-Taxpayers Lose; Massachusetts Gets What It Votes For.
Pic of the Day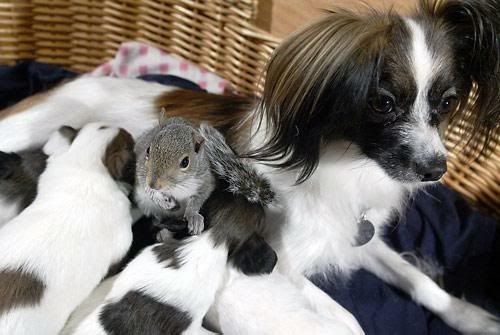 ---
Quote of the Day


I never drink water because of the disgusting things that fish do in it.
-- W.C. Fields

We could certainly slow the aging process down if it had to work its way through Congress.
-- Will Rogers

Don't worry about avoiding temptation; as you grow older, it will avoid you.
-- Winston Churchill

Maybe it's true that life begins at fifty ... but everything else starts to wear out, fall out, or spread out.
-- Phyllis Diller

By the time a man is wise enough to watch his step, he's too old to go anywhere.
-- Billy Crystal

The cardiologist's diet: If it tastes good, spit it out.



Web Site Worth the Visit
Need Music?

SURFIN' THE WEB - Assistive Media

Assistive Media provides audio access to reading materials for anyone with a reading access barrier. Assistive Media works to heighten the educational, cultural, and quality-of-living standards for people with disabilities by providing free,copyright-approved, high-caliber audio literary works to the world-wide disability
community.

I didn't see any restrictions against people without disabilities to listen to the files, which are available without registration. If you listen and don't have disabilities, I'm sure this non-profit organization would appreciate a donation via Paypal to help offset the costs of providing this service.

Talented volunteers record magazine articles and other short works which are then available for download in MP3 or Real audio format, or by podcast. There are over 800 recordings so far from magazines like The New Yorker, Smithsonian, and Wired.
Assistivemedia.org


TIDBITS
You may remember the old Jewish Catskill comics of Vaudeville days, viz., Shecky Green, Red Buttons, Totie Fields, Milton Berle, Henny Youngman, and others. Don't you miss their humor? Not one single swear word in their comedy Here are some examples:

There was a beautiful young woman knocking on my hotel room door all night! I finally had to let her out.

A car hit an elderly Jewish man. The paramedic says, "Are you comfortable?" The man says, "I make a good living."

I just got back from a pleasure trip. I took my mother-in-law to the airport.

I've been in love with the same woman for 49 years. If my wife ever finds out, she'll kill me!

What are three words a woman never wants to hear when she's making love? "Honey, I'm home!"

Someone stole all my credit cards, but I won't be reporting it. The thief spends less than my wife did.

We always hold hands. If I let go, she shops.

My wife and I went back to the hotel where we spent our wedding night, only this time I stayed in the bathroom and cried.

She was at the beauty shop for two hours. That was only for the estimate. She got a mudpack and looked great for two days. Then the mud fell off.

I was just in London - there is a 6-hour time difference. I'm still confused. When I go to dinner, I feel sexy. When I go to bed, I feel hungry.

The doctor gave a man six months to live. The man couldn't pay his bill, so the doctor gave him another six months.

The Doctor called Mrs. Cohen saying, "Mrs. Cohen, your check came back." Mrs. Cohen answered, "So did my arthritis!"

Doctor: "You'll live to be 60!" Patient: "I AM 60!" Doctor: "See! What did I tell you?"

A doctor held a stethoscope up to a man's chest. The man asks, "Doc, how do I stand?" The doctor answers "That's what puzzles me!"

Patient: "I have a ringing in my ears." Doctor: "Don't answer!"

A drunk was in front of a judge. The judge says, "You've been brought here for drinking." The drunk says "Okay, let's get started."

A bum asked a Jewish fellow, "Give me $10 till payday." The Jewish fellow responded, "When's payday?" The bum said, "I don't know! You're the one that's working!"

Why do Jewish divorces cost so much? They're worth it.

Why do Jewish men die before their wives? They want to.

I wish my brother would learn a trade, so I would know what kind of work he's out of.
Massachusetts' Lawmakers Pee on Voters' Feet
...then tell them it's raining.
Well I've had no respect for the people of Massachusetts for quite some time and yes, there are plenty of Massachusetts people who read this Blog. Mine own fine husband is from Massachusetts and he defends the poor beleaguered citizens regularly. I respond that how the hell hard is it to pull that voting lever for someone OTHER than the murderer Ted Kennedy? Now that "Big Dig" is killing Massachusetts' citizens for the horrible corruption throughout that project. I tell the people of Palestine who elected terrorist group Hamas that you GET WHAT YOU VOTE FOR! Yea, now I say the same thing to the people of Massachusetts.
So get this. The Massachusetts' legislature is too chickenshit to put the issue of gay marriage on the ballot. Indeed ladies and gems out there in la-la land who carry this country on your backs, wherever gay marriage is put on the ballot, it loses EVERY TIME.
And you know why?
Because we are the people and we have the common sense. We know that gay marriage is an abomination and given the privacy of the voting booth, boom, we vote it down again and again, in hefty numbers.
Which is not to say that homosexuality is an abomination although some people feel that way too. But the keepers of the common sense know that marriage is about two people able to have CHILDREN. It's for the protection of the CHILDREN. Americans are nice people and most have no problem with our homosexual citizens living happy and productive lives to pursue their happiness like every other citizen. We do not think they should tread all over the institute of marriage by making a mockery of it is all.
So the Mass. Legislators know full well that even the rather obtuse citizens of Massachusetts will vote AGAINST gay marriage. But the legislators get lots of money from homosexual lobbyists and hey, it gets them elected.
That little trick those legislators pulled the other day is just so damn obvious. In Massachusetts a referendum has to be passed by the state legislature two years in a row before it is put to the public for passage. So the Mass. Legislators want to wait until two days AFTER the next elections before voting on the proposal because hey, they need the homosexual money to get elected. It's not rocket science here.
Hey, good citizens of Massachusetts, how about voting these creeps out? Think you can handle it?
We shall see.
From Mensnewsdaily.com:
On July 12th, our enlightened "lawmakers" on Beacon Hill were supposed to debate whether or not to place that constitutional amendment on the ballot to outlaw same-sex marriage in the only state where it's now legal, and that, thanks to a well-placed judge. Well, as luck would have it, our legislature decided to delay dealing with the issue until November 9th, two days after the upcoming election.

But then again, we the people in Massachusetts are too dumb to figure out what they're up to, right?

According to the Boston Herald, "State Rep. Thomas Sannicandro (D-Ashland), who supports same-sex marriage, said he voted for the delay so fellow lawmakers could vote without the pressure of having to face voters soon thereafter."
Hizbullah, Heh.
I've been desperately trying to follow all the recent Mideast action this past week and I do, as expected, have some thoughts.
First, what the hell is Hizbullah doing going into a sovereign nation and abducting and/or killing that nation's soldiers? Obviously, go with me here ladies and gems, this will cause a war. A war which the fine folks at Hizbullah simply cannot win.
I must also thank Hizbullah because hey, now we have Israel joining our fight against terrorism and that's refreshing. Not that the good Japanese soldiers helping to train Iraqi soldiers aren't great allies and all that but go on, if America could have one wish it would be to have Israel join us in the fight. Not to mention that Israel has plenty of American provided weaponry. Heh.
The whole things seems to be some sort of quasi-war between Syria and Iran, the Sunnis versus the Shia. Obviously Israel is going to blast southern Lebanon off the map and hey, Assad of Syria should have gotten out of there long ago. Lord, even the vaunted (NOT!) U.N. passed a resolution demanding that Syria get out of Lebanon. Way I figure it, and I'm just speculating based on all the information pouring out of the region, Iran's behind all this. Iran figures, as I see it, that it will have Israel blast Syria back a few centuries and boom, it doesn't have to fight Hizbullah and when its nuclear program is up to snuff, Iran will be the King Poobah of the Mideast.
Which does not matter for now in that Israel is going to do what it has to do. For God's sake, no one thinks for a minute that Israel is going to let those hoodlums kidnap its soldiers on its own soil. Any country with some pride will not stand for that.
I came across the following article and I was paused. Hizbullah is the same terrorist group that bombed our marine barracks back in 1983 and killed 241 of our own American soldiers. Seems to be a modus operandi of that terror group.
From Israelnn.com:
Thus far, strategic military and infrastructure sites in Lebanon have been hit, as have Hizbullah offices located in Beirut.

Media reports have also shown plumes of smoke and fire rising from the fuel storage containers at Beirut's international airport.

Watching those scenes immediately brought to mind the following photo, which shows a cloud of smoke rising over the US Marine barracks in Beirut after it was blown up by Hizbullah terrorists back in October 1983.
The Plame Game
Heh.
Well The Wise I has followed the Wilson/Plame case closely. Below some links to my posts about it.
Plame Post
Plame Post
And this Blog post which includes a famous "Fly on the Wall Scenario" that even now, looking back at all that has transpired since this joke of an investigation began, seems to be right on the money.
The Fly on the Wall and Joe Wilson.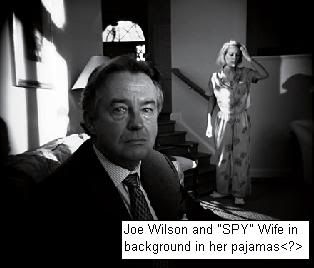 I'm not sure what Patrick Fitzgerald's story is but it's time for him to stick a fork in it and stop wasting taxpayer dollars. Joe Wilson and his sidekick Natasha Plame are a couple of liars. Period. Sure the Old Media hoped this thing would blow up into the Watergate of the Old Media's hay-day. Folks, there is no THERE there.
First, Natasha Plame was NOT an undercover agent and right there is no violation of the law. This was established before Fitzgerald even began that investigation.
Now Bob Novak has been released from his secrecy as regards his Grand Jury testimony and guess where the guy got his information that Natasha Plame was Joe Wilson's wife and worked at the CIA? Heh. From Joe Wilson's entry his own self into the "Who's Who in America?" Now Fitzgerald has known this all along but he continued to spend millions on this nothing of an investigation because, well I've serious suspicions about Fitzgerald but we won't go there.
In response, that famed lying duo, Joe Scuzzbucket Wilson and Natasha Plame, have filed a lawsuit against the administration. And they have created a web site, ladies and gems, that thy fine citizens can contribute to their legal costs.
Byron York has some excellent observations about why Wilson and Plame are filing the lawsuit and, to no one's surprise, there's a reason. And it's not about truth, justice and the American way. It is all about the betterment of Joe Wilson and Valerie Plame.
I did not know that Natasha Plame was planning to publish a book her own self. To better accompany ole Joe's lying tome I imagine. Well with Fitzgerald finally being forced to clear Karl Rove and now Novak out and about and telling his story, it seems that Natasha's book doesn't have the "allure" it once had.
Thus this scheming couple of nothings file a lawsuit to add some oomph to Natasha's book proposal.
It's all about THEM, ladies and gems. And they're lying and conniving on OUR TAX DOLLARS.
From National Review.com:
The first has to do with the Plame book deal. Remember that her deal with Crown, for a reported $2.5 million, fell apart a few weeks ago. No one has publicly said what happened, but it appears that the deal had been finished and then, for some reason, both sides announced that they were releasing the other from their obligations. Neither side would comment on what took place.

The Wilsons then began talking to Simon and Schuster, but in the interim, Patrick Fitzgerald sent out word that he did not intend to indict Karl Rove. Even with New York publishers who are avidly on the side of anyone willing to attack the Bush administration, that news did some damage to the Plame proposal. The value of her book, such as it was, was that it would tell the story of the human costs of a conspiracy that went straight to the top of the U.S. government. A Rove indictment would have been a great blessing for her book proposal; the absence of such an indictment was a great loss.
Below their self-serving press release.
From FreeRepublic.com:
Valerie Plame Wilson, Ambassador Joseph Wilson and Their Counsel to Hold News Conference Announcing Lawsuit against I. Lewis ''Scooter'' Libby, Vice-President Cheney and Karl Rove Thursday July 13, 2:22 pm ET

WASHINGTON--(BUSINESS WIRE)--July 13, 2006--Valerie Plame Wilson, Ambassador Joseph Wilson and their counsel, Christopher Wolf of Proskauer Rose LLP, will hold a news conference at 10 AM EDT on Friday, July 14 at 10:00 AM at the National Press Club, 529 14th St. NW, 13th Floor, Washington, DC 20045, to announce the filing of a civil lawsuit against I. Lewis "Scooter" Libby, Vice-President Richard Cheney and Karl Rove.

WHO: Valerie Plame Wilson Ambassador Joseph C. Wilson IV Christopher Wolf, Esq.

WHAT: News conference to announce filing of civil lawsuit

WHEN: Friday, July 14, 2006 10:00 AM

WHERE: National Press Club 529 14th St. NW, 13th Floor Washington, DC 20045

ADDITIONAL CONTACT FOR INTERVIEW FOLLOWING PRESS CONFERENCE:

Constitutional law scholar Erwin Chemerinsky, who is Of Counsel in the Wilson lawsuit, will be available for interviews following the news conference at (323) 931-8612 or by leaving a message at (919) 613-7173.

For any technical or logistical questions about the news conference, contact George Arfken at the National Press Club, (202) 662-7597.
The Corrupt "Big Dig" Now Killing Massachusetts' Citizens
It gets better. For the good citizens of Massachusetts get what they vote for. So that state got billions for the so-called "Big Dig" and even at that it went over budget in the BILLIONS, folks.
Hey, somebody gotta pay the corrupt contractors their bribe money to keep Ted Kennedy, who is a murderer by the way, in power. Only the corrupt contractors didn't do such a good job and now, hey, tiles are falling down and killing citizens. You get what you vote for, folks.
Already there's been indictments of those contractors,
covered here on a recent Blog post on Boston's BIG DIG
From Boston.com:
Engineers find 240 more "suspect bolts" in tunnel
By Andrew Ryan, Globe Correspondent

Engineers investigating the collapse of the Interstate 90 connector tunnel said this afternoon that they have found about 240 more "suspect bolts" securing concrete ceiling tiles similar to those that fell Monday night and crushed a woman to death.

In some areas, inspectors have found a gap of at least 1/16 of an inch between the steel hangers and concrete, according to Michael P. Lewis, the state's Big Dig project director.

"It may not be a failure," Lewis said, speaking at an afternoon press conference. "It may just be a natural gap."

Massachusetts Turnpike Authority Chairman Matthew J. Amorello said workers have already removed 12 sections of the concrete tiles and plan to remove tiles from another 20 areas in the eastbound and high occupancy lanes.
The U.N.-Gotta Love These Losers
If the U.N.'s failure during the great Christmas tsunami doesn't cause pause, then perhaps it's their failure at peacekeeping operations in Sudan that should illustrate how pathetic they are.
If all the above fails, consider the U.N.'s silly resolution calling for an end to Israeli attacks against a terrorist group that kidnapped their soldiers on their own sovereign soil.
America vetoed the stupid bill but let posterity show how inept, how impossibly inept these people are. Of course it could be all that Mideast oil money financing Kofi's luxury cars that is influencing matters. Just throwing it out there.
From Yahoo.com:

UNITED NATIONS (AFP) - The United States vetoed a UN draft resolution that would have called for an end to Israeli attacks and "disproportionate use of force" in the Gaza Strip as well as for the release of a kidnapped Israeli soldier.

The Security Council resolution received 10 votes, one against from the United States with four abstentions, French Ambassador Jean-Marc de la Sabliere, the council president for July, announced.
A Glimpse At President Bush
Just read it.
He can't be all bad !
Here is an excellent piece --worth every minute it takes to read it. This story is from Bruce Vincent of Libby, Montana who had gone to the White House with others to receive an award from the President. He writes:

I've written the following narrative to chronicle the day of the award ceremony in DC. I'm still working on a press release but the White House press corps has yet to provide a photo to go with it. When the photo comes I'll ship it out. When you get done reading this you'll understand the dilemma I face in telling this story beyond my circle of close friends.

Stepping into the Oval Office, each of us was introduced to the President and Mrs. Bush. We shook hands and participated in small talk. When the President was told that we were from Libby, Montana, I reminded him that Marc Racicot is our native son and the President offered his warm thoughts about Governor Racicot. I have to tell you, I was blown away by two things upon entering the office.

First, the Oval Office sense of 'place' is unreal. The President later shared a story of Russian President Putin entering the room prepared to tackle the President in a tough negotiation and upon entering, the atheist muttered his first words to the President and they were "Oh, my God."

I concurred. I could feel the history in my bones. Second, the man that inhabits the office engaged me with a firm handshake and a look that can only be described as penetrating. Warm, alive, fully engaged, disarmingly penetrating. I was admittedly concerned about meeting the man. I think all of us have an inner hope that the most powerful man in our country is worthy of the responsibility and authority that we bestow upon them through our vote.

I admit that part of me was afraid that I would be let down by the moment -- that the person and the place could not meet the lofty expectations of my fantasy world. This says nothing about my esteem for President Bush but just my practical realization that reality may not match my 'dream.'

Once inside the office, President Bush got right down to business and, standing in front of his desk, handed out the awards one at a time while posing for photos with the winners and Mrs. Bush. With the mission accomplished, the President and Mrs. Bush relaxed and initiated a lengthy, informal conversation about a number of things with our entire small group. He and the First Lady talked about such things as the rug in the office. It is traditionally designed by the First Lady to make a statement about the President, and Mrs. Bush chose a brilliant yellow sunburst pattern to reflect 'hope.' President Bush talked about the absolute need to believe that with hard work and faith in God there is every reason to start each day in the Oval Office with hope. He and the First Lady were a! s ked about the impact of the Presidency on their marriage and, with an arm casually wrapped around Laura, he said that he thought the place may be hard on weak marriages but that it had the ability to make strong marriages even stronger and that he was blessed with a strong one.

After about 30 or 35 minutes, it was time to go. By then we were all relaxed and I felt as if I had just had an excellent visit with a friend. The President and First Lady made one more pass down the line of awardees, shaking hands and offering congratulations. When the President shook my hand I said, "Thank you Mr. President and God bless you and your family." He was already in motion to the next person in line, but he stopped abruptly turned fully back to me, gave me a piercing look, renewed the vigor of his handshake and said, "Thank you -- and God bless you and yours as well."

On our way out of the office we were to leave by the glass doors on the west side of the office. I was the last person in the exit line. As I shook his hand one final time, President Bush said, "I'll be sure to tell Marc hello and give him your regards."

I then did something that surprised even me. I said to him, "Mr. President, I know you are a busy man and your time is precious. I also know you to be a man of strong faith and I have a favor to ask of you."

As he shook my hand he looked me in the eye and said, "Just name it." I told him that my step-Mom was at that moment in a hospital in Kalispell, Montana, having a tumor removed from her skull and it would mean a great deal to me if he would consider adding her to his prayers that day. He grabbed me by the arm and took me back toward his desk as he said, "So that's it. I could tell that something is weighing heavy on your heart today. I could see it in your eyes. This explains it."

From the top drawer of his desk he retrieved a pen and a note card with his seal on it and asked, "How do you spell her name?" He then jotted a note to her while discussing the importance of family and the strength of prayer. When he handed me the card, he asked about the surgery and the prognosis. I told him we were hoping that it is not a recurrence of an earlier cancer and that, if it is, they can get it all with this surgery.

He said, "If it's okay with you, we'll take care of the prayer right now. Would you pray with me?" I told him yes and he turned to the staff that remained in the office and hand motioned the folks to step back or leave.He said, "Bruce and I would like some private time for a prayer."

As they left he turned back to me and took my hands in his. I was prepared to do a traditional prayer stance -- standing with each other with heads bowed. Instead, he reached for my head with his right hand and pulling gently forward, he placed my head on his shoulder. With his left arm on my mid-back, he pulled me to him in a prayerful embrace.

He started to pray softly. I started to cry. He continued his prayer for Loretta and for God's perfect will to be done. I cried some more. My body shook a bit as I cried and he just held tighter. He closed by asking God's blessing on Loretta and the family during the coming months. I stepped away from our embrace, wiped my eyes, swiped at the tears I'd left on his shoulder, and looked into the eyes of our president. I thanked him as best I could and told him that me and my family would continue praying for him and his.

As I write this account down and reflect upon what it means, I have to tell you that all I really know is that his simple act left me humbled and believing. I so hoped that the man I thought him to be was the man that he is. I know that our nation needs a man such as this in the Oval Office. George W. Bush is the real deal. I've read Internet stories about the President praying with troops in hospitals and other such uplifting accounts. Each time I read them I hoped them to be true and not an Internet perpetuated myth. This one, I know to be true. I was there. He is real. He has a pile of incredible stuff on his plate each day -- and yet he is tuned in so well to the here and now that he 'sensed' something heavy on my heart He took time out of his life to care, to share, and to seek God's blessing for my family in a simple man-to-man, father-to-father, son-to-son, husband-to-husband, Christian-to-Christian prayerful embrace. He's not what I had hoped he would be. He is, in fact, so very, very much more.
Political Cartoon of the Week
More Political Tidbits HERE