Latest Foley Updates HERE…So why did that congressional Page, discovered by a Blogger, feel the need to hire a DEFENSE Attorney?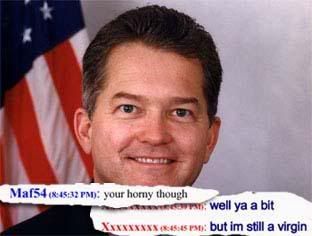 Turns out the congressional Page that Foley shared those Instant Messages with was 18 at the time of the messages. Either 18 is the age of consent or it's not. Monica was of age, or so we were told, and it didn't matter.
READ THE WHOLE STORY HERE
This man is working as deputy campaign manager for Istook's campaign in Oklahoma.
Here is a picture of the perp:
PAGE's Web Site
PAGE's Picture
And his email address:
lolakana223@aol.com
UPDATE 10/05/06
Lawyer Hired by Page Also Defended Timothy McVeigh
From The Oklahomian:
A former U.S. House page working on the gubernatorial campaign of Republican Rep. Ernest Istook may be a part of the scandal involving former Congressman Mark Foley, The Oklahoman has learned.

The former page, a Californian named Jordan Edmund, on Wednesday hired Enid attorney Stephen Jones to represent him, the attorney confirmed.

Jones would not say exactly why he was hired, but did say, "I understand the FBI and the House Ethics committee have an interest in the matter ... the allegations concerning Congressman Foley which have surfaced."
UPDATE 10/6/06
From the Drudge Report
HERE:
CLAIM: FILTHY FOLEY ONLINE MESSAGES WERE PAGE PRANK GONE AWRY
**World Exclusive**
**Must Credit the DRUDGE REPORT**

According to two people close to former congressional page Jordan Edmund, the now famous lurid AOL Instant Message exchanges that led to the resignation of Mark Foley were part of an online prank that by mistake got into the hands of enemy political operatives, the DRUDGE REPORT can reveal.
About That Obscure Web Site
From RadarOnline
ABCNews.com brought Mark Foley's boy-chasing to national attention, but it wasn't the first website to flog the story. That dubious honor belongs to StopSexPredators, a pseudo-vigilante blog filled with plagiarized, hastily-assembled posts, which no one seems to have heard of, visited, or linked to before last week—and whose operator has a suspiciously savvy grasp of the news cycle.