Getting close to those November elections and the political arena is heating up.

Beginning with Florida's Foley, those emails and damning instant messages.

On to the NIE report that has the Dems shaking their cowardly fingers although the thing says essentially nothing.

Oh, and the complete transcript of the ABSCAM Murtha video is released and tune in for a blessed rant on this creep.

Finally, UN worker falls into nuclear tank, that Arizona 911 memorial from hell and how John McCain blabbed security secrets on national TV.
Pic of the Day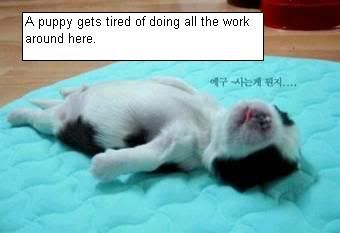 ---
Quote of the Day

INSULTS:



"He is a self-made man and worships his creator."
-- John Bright

"I've just learned about his illness. Let's hope it's nothing trivial."
-- Irvin S. Cobb

"He is not only dull himself, he is the cause of dullness in others."
-- Samuel Johnson

"He is simply a shiver looking for a spine to run up."
-- Paul Keating

"He had delusions of adequacy."
-- Walter Kerr

"There's nothing wrong with you that reincarnation won't cure."
-- Jack E. Leonard
Web Site Worth the Visit
Lift Off!

Provided by NASA, here's a short video of an actual space rocket lift off.
HERE



TIDBITS

ISRAEL AND JERUSALEM FACTS

1. ISRAEL BECAME A STATE IN 1312 B.C., TWO MILLENNIA BEFORE ISLAM;

2. ARAB REFUGEES FROM ISRAEL BEGAN CALLING THEMSELVES "PALESTINIANS" IN 1967, TWO DECADES AFTER (MODERN) ISRAELI STATEHOOD;

3. AFTER CONQUERING THE LAND IN 1272 B.C., JEWS RULED IT FOR A THOUSAND YEARS AND MAINTAINED A CONTINUOUS PRESENCE THERE FOR 3,300 YEARS;

4. FOR OVER 3,300 YEARS, JERUSALEM WAS THE JEWISH CAPITAL. IT WAS NEVER THE CAPITAL OF ANY ARAB OR MUSLIM ENTITY. EVEN UNDER JORDANIAN RULE, (EAST) JERUSALEM WAS NOT MADE THE CAPITAL, AND NO ARAB LEADER CAME TO VISIT IT;

5. JERUSALEM IS MENTIONED OVER 700 TIMES IN THE BIBLE, BUT NOT ONCE IS IT MENTIONED IN THE QUR'AN;

6. KING DAVID FOUNDED JERUSALEM; MOHAMMED NEVER SET FOOT IN IT;

7. JEWS PRAY FACING JERUSALEM; MUSLIMS FACE MECCA. IF THEY ARE BETWEEN THE TWO CITIES, MUSLIMS PRAY FACING MECCA, WITH THEIR BACKS TO JERUSALEM;

8. IN 1948, ARAB LEADERS URGED THEIR PEOPLE TO LEAVE, PROMISING TO CLEANSE THE LAND OF JEWISH PRESENCE. 68% OF THEM FLED WITHOUT EVER SETTING EYES ON AN ISRAELI SOLDIER;

9. VIRTUALLY THE ENTIRE JEWISH POPULATION OF MUSLIM COUNTRIES HAD TO FLEE AS THE RESULT OF VIOLENCE AND POGROMS;

10. SOME 630,000 ARABS LEFT ISRAEL IN 1948, WHILE CLOSE TO A MILLION JEWS WERE FORCED TO LEAVE THE MUSLIM COUNTRIES;

11. IN SPITE OF THE VAST TERRITORIES AT THEIR DISPOSAL, ARAB REFUGEES WERE DELIBERATELY PREVENTED FROM ASSIMILATING INTO THEIR HOST COUNTRIES. OF 100 MILLION REFUGEES FOLLOWING WORLD WAR 2, THEY ARE THE ONLY GROUP TO HAVE NEVER INTEGRATED WITH THEIR CORELIGIONISTS. MOST OF THE JEWISH REFUGEES FROM EUROPE AND ARAB LANDS WERE SETTLED IN ISRAEL, A COUNTRY NO LARGER THAN NEW JERSEY;

12. THERE ARE 22 ARAB COUNTRIES, NOT COUNTING PALESTINE. THERE IS ONLY ONE JEWISH STATE. ARABS STARTED ALL FIVE WARS AGAINST ISRAEL, AND LOST EVERY ONE OF THEM;

13. FATAH AND HAMAS CONSTITUTIONS STILL CALL FOR THE DESTRUCTION OF ISRAEL. ISRAEL CEDED MOST OF THE WEST BANK AND ALL OF GAZA TO THE PALESTINIAN AUTHORITY, AND EVEN PROVIDED IT WITH ARMS;

14. DURING THE JORDANIAN OCCUPATION, JEWISH HOLY SITES WERE VANDALIZED AND WERE OFF LIMITS TO JEWS. UNDER ISRAELI RULE, ALL MUSLIM AND CHRISTIAN HOLY SITES ARE ACCESSIBLE TO ALL FAITHS;

15. OUT OF 175 UNITED NATIONS SECURITY COUNCIL RESOLUTIONS UP TO 1990, 97 WERE AGAINST ISRAEL; OUT OF 690 GENERAL ASSEMBLY RESOLUTIONS, 429 WERE AGAINST ISRAEL;

16. THE U.N. WAS SILENT WHEN THE JORDANIANS DESTROYED 58 SYNAGOGUES IN THE OLD CITY OF JERUSALEM. IT REMAINED SILENT WHILE JORDAN SYSTEMATICALLY DESECRATED THE ANCIENT JEWISH CEMETERY ON THE MOUNT OF OLIVES, AND IT REMAINED SILENT WHEN JORDAN ENFORCED APARTHEID LAWS PREVENTING JEWS FROM ACCESSING THE TEMPLE MOUNT AND WESTERN WALL.

THESE ARE TRYING TIMES. WE MUST ASK OURSELVES WHAT WE SHOULD BE DOING, AND WHAT WE WILL TELL OUR GRANDCHILDREN ABOUT OUR ACTIONS DURING THIS CRISIS, WHEN WE HAD THE CHANCE TO MAKE A DIFFERENCE.

Mark Foley-Sheesh, He's Gone Already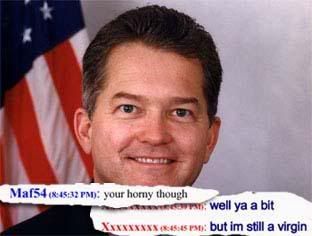 Florida congress critter and alleged child predator has resigned over charges of untoward emails to congressional Pages then later, sexually explicit instant messages. He's gone for God's sake. As he should be.
Which brings up a whole bunch of thoughts I have on homosexuality and predation on young boys. But we'll forget that for a moment. For now, what the hell do the sainted Democrats want? How about we get a great big cross and nail Foley to it, in full public view? Not enough? Okay, how about we flog him first?
No wait! The Dems want Speaker of the House Denny Hastert to resign. The opposition party has this very unique way of attempting to get people fired and it's not on the merits, or lack of same, of those they want destroyed. I am reminded of that Natasha Plame and Joe Wilson fiasco and that orchestrated attempt to get political advisor Karl Rove fired. Oh, and they all seem to want Donald Rumsfeld to get the boot. Now they want Denny Hastert gone and with the help of the media they look like demented imbeciles to us common sense folk out here in la-la land.
From Current Wire.com:
Rep. Thomas Reynolds, head of the House Republican election effort, said he told Speaker Dennis Hastert after learning a fellow GOP lawmaker sent inappropriate messages to a teenage boy.

The boy who received the e-mails was 16 in summer 2005 when he worked in Congress as a page. After the boy returned to his Louisiana home, the congressman e-mailed him, and the teenager thought the messages were inappropriate, particularly one in which Foley asked the teen to send a picture of himself.

The teen's family contacted their congressman, Rep. Rodney Alexander, R-La., who then discussed it with Reynolds sometime this spring.
If the Democrats think the American public is going to sigh loudly and look to THEM as the party of chastity, heh.
After Bill Clinton?
Hastert is fighting desperately to save his job, having been out and about and defending his actions as regards Mark Foley's indiscretion.
Well I believe Hastert. I suspect that he knew there was a problem with Foley, based on the EMAILS only. One email from Foley asked the teenaged Page to send him a picture. The adolescent in question complained but his parents simply wanted Foley to leave their son alone. What else could Hastert do? Fire Foley because he was a homosexual? Not that Foley wasn't legally elected by his constituents, many of whom knew of Foley's sexual orientation. If Hastert had reprimanded Foley or punished him in any way for that innocuous email the Dems would be howling at him for mistreating a sexual minority.
The damning instant messages were unknown to Hastert, at least as he asserts. Those damning instant messages were unknown to most everybody it seems although that email from Foley requesting a picture of a Page was known by many media outlets and they too thought it was much ado about nothing. All of a sudden these IM's come out of nowhere and that whole story is still cloaked in mystery. SOMEBODY was sitting on those IM's and chose not to mention them until close to the midterm elections, right when Foley's name cannot be replaced on the ballot.
Hey, if you can't win elections fair, or so the opposition party figures, then CHEAT!
From CNSNEWS.com:
Hastert told Limbaugh that Republican leaders knew only about one set of e-mails Foley sent to a former page from Louisiana. The e-mails were not sexually explicit, but Foley suggested that the page send him pictures of himself.

Hastert said Republican leaders were informed of the e-mails and resolved the situation.

"We went to Foley, told him to stand down, don't do this," Hastert said. "We asked him if there was any sexually explicit language in this message, and there was not."

"We went to Foley, confronted him," Hastert said, adding that Foley said "he wouldn't do it anymore."

"We thought we had this thing resolved," Hastert told Limbaugh.
The Foley thing allows the opposition party to howl like coyotes and come on, some of it is really over the top.
From the Huffington Post:
What's illuminating here is not that a pedophile held Congressional office. That's just sad and awful, especially for the children he took advantage of and exploited. What's illuminating is the Congressman's behavior. Sending text messages and emails? As if he could never be caught; as if he was invulnerable. And it's exactly the kind of arrogance and poor judgement that has come to dominate the Republican Party. Like Bob Ney and Duke Cunningham who brazenly accepted bribes and illegal campaign contributions. Same with Tom DeLay. Worse, like George Bush and Dick Cheney and Donald Rumsfeld, tirelessly insisting we're winning, things are getting better in Iraq, when anybody can see they're getting worse. As if the truth won't come out. It's a culture of corruption that believes it can never get caught.

Damn, that poster above wants to fire everybody, up to and including the President and Vice-President!
Adding to the fueled-fire, some Republicans are jumping aboard the band wagon and insisting that Hastert be fired. In yesterday's Washington Times, Tony Blankly had an editorial urging Hastert's resignation.
Not that, heh, the normally conservative Washington Time's might be pursuing their own agenda. Found the following at The American Thinker Web Site. Turns out the Washington Times has some sexual predators of their own.
Netscape Search:
Metropolitan Police today charged the director of human resources at The Washington Times with one count of attempting to entice a minor on the Internet.

Randall Casseday, 53, was arrested at 9:45 p.m. yesterday in the 1300 block of Brentwood Road NE, where police said he had arranged to meet who he thought was a 13-year-old girl. He had actually exchanged Internet messages and photographs with a male police officer posing as a girl.
As for Tony Blankly, well I'm betting he has a friend who wants Hastert's job and is carrying water for a beloved source. Of course I have no proof of this but this is how these things go a lot of times.
Politics is about agendas and to enact their agendas the politicos and their minions posture themselves for us, the idiots out here in la-la land, to effect their own personal gain.
We understand that Mark Foley overstepped the bounds with his sexual instant messages. We understand that the height of hypocrisy is for this same guy to be the head of the congressional child sexual predator committee. We understand that Foley IS GONE.
The identity of the recipients of Foley's suggestive instant messages is not yet known but be aware, the age of consent in Washington D.C. is sixteen years of age. Perhaps that too young and bright minds might see it that way. But it's the law and somebody passed it as legislation. Was a law actually broken in the case of Mark Foley's instant messages?
Sure we don't want our sons or daughters preyed upon by creepy congress critters OR the President of the United States in our taxpayer paid oval office I might remind. Don't tell me Monica was the age of consent. We don't want creeps, even elected creeps, preying on our children, using their power to abuse them and break their hearts. Does anyone think Monica came out of that Clinton mess a happier and more fulfilled woman?
For all we know about the recipients of Foley's emails, they too could have been the age of consent. As I understand it, Pages have to be 16 years old to even be a congressional Page.
Foley's gone for God's sake. What, the Republicans are supposed to fire everyone else? Hey, we have a lot of common sense out here in la-la land. No thinking American is going to suddenly regard the chaste Democrats of the Clintons are the congress critters we can trust. The very thought makes me laugh.
Look for the identity of these adolescents who released these instant messages to come out soon. I suspect there's waaaaay more to this story than meets the eyes.
And let's not forget how the Democrats treat their sexual predators. The Democratic president PARDONED HIM!
From World Net Daily:
But all of this vicious hate couldn't help Reynolds when he helped himself to regular illegal sexual relations with a 16-year-old "campaign worker," Beverly T. Heard. A tape of an explicit June 6, 1994, phone conversation between Heard and Reynolds was exhibit number TR-1 in People v. Melvin Reynolds, a trial that ended in Reynolds' conviction. Reynolds was sentenced to several years in federal prison for this and fraud and corruption convictions; his wife and three children went on welfare in Boston.

A sampling of Reynolds' phone conversation rivals the lurid detail of Clinton's lewd behavior in the Starr Report. Various underwear choices and sex acts are graphically described by Reynolds to his youthful female target. This includes a planned threesome with a 15-year-old Catholic schoolgirl named Theresa. Awestruck with the prospect, Reynolds rhetorically asks, "Did I win the Lotto?" It's enough to make Reynolds' pardoner, Monica's boyfriend, blush.

And not only was Reynolds pardoned by Clinton, but he was hired by Rev. Jesse Jackson's Operation PUSH to decrease the number of young blacks going to prison. Given its new employee -- teen "romance" king Reynolds -- it's ironic that Jackson founded PUSH to persuade minority students to avoid, among other things, teen-age pregnancy. Until Clinton's pardon, Reynolds, like any other convicted child molester, was required to register as a sex offender in each place he lived.
Actual Text Messages on ABC Site
Meanwhile, Moderate Repub Arnold Schwarzenegger Vetoes California Gay Agenda Bills
The Democrats need to make up my mind. Out in California, the legislature adopted three bills that would have effectively opened up schools for a dialogue on "gender identity" and other such matters that, go with me here, DO NOT BELONG IN PUBLIC SCHOOLS.
Teach reading, writing and arithmetic. We can handle our kids' sexual questions out here in la-la land. In view of Clinton and Foley and Condit and that fellow Reynolds above, why on earth should we trust the bureaucracy to get all involved in this?
Besides, out of this side of their mouth the Dems are passing bills to promote gender fluidity and understanding of same. Out of the other side of their mouth they are nailing a Republican to a cross for being a homosexual.
Critics say the bill would have forced schools to promote transsexuality, bisexuality, and homosexuality on school campuses. Supporters called it the "Safe School Act," and they said AB 606 -- in addition to creating a "model anti-discrimination and harassment policy for school districts" -- would have required schools to track and document all bias-related complaints brought by students.

AB 1056, also vetoed on Thursday, would have allocated special funds for a Tolerance Education Pilot Program to teach kids about "tolerance and intergroup relations," including "actual or perceived gender."

"We thank God that children in California public schools will be protected from this direct assault for one more year," said Randy Thomasson, president of the Campaign for Children and Families (CCF), a conservative, pro-family organization.

"The Democrat politicians and teacher unions are relentlessly pushing to sexually indoctrinate kids. Schwarzenegger has delayed them for now."

McCain's Big Mouth
Came upon this tidbit on the Captain's Quarters site and thought it interesting. Of course McCain was running on his tired old record as a prisoner of war although go with me here, it was naught but a TV moment to keep this RINO (Republican in Name Only) in our faces.
McCain said, during a recent "Face the Nation" interview:
From the WAPO:
Sen. John McCain (R-Ariz.) named three measures that he said would no longer be allowed under a provision barring techniques that cause serious mental or physical suffering by U.S. detainees: extreme sleep deprivation, forced hypothermia and "waterboarding," which simulates drowning. He also said other "extreme measures" would be banned.
Damn, can't this guy keep his mouth shut? Is this the sort of thing a congress critter should be spouting off on national TV? And we are to trust this man with the highest office in the land? Why doesn't he just tell the terrorists what to expect?
It's About Time Democrat Interest Groups Stop Flaunting Their Lawbreaking
There's a very good reason that certain public interest groups and charities are given tax-exempt status by the IRS. Such organizations benefit the public good and as such, should not have to pay taxes on funds raised.
But like everything else, the Dems insist on pushing the standard. Hey, I have to pay taxes on my house but hey again, I am not a public interest group or a charity. So why do organizations so obviously biased and hawking for a political group keep getting away with paying no taxes?
THIS particular group, about to lose its tax-exempt status by the IRS, was started by Bill Clinton of all people, in 1985.
Now how about going after Soros' Move-on.org and Jesse Jackson's various extortion groups?
From Newsmax.com:
The Internal Revenue Service has revoked the tax-exempt status of the Democratic Leadership Council on the grounds it mainly benefited a private group – Democrats running for office – rather than the community at large.

The DLC has countered with a lawsuit in federal court, and the outcome could affect the increasing use of tax-exempt organizations by politicians and lobbyists, according to a Forbes magazine article headlined "The Democrats' Little Tax Secret."
That "Damning" National Intelligence Estimate
I know the Old Media is having orgasms over this Foley thing but then the Old Media has a short attention span, don't it? For just last week the Lamestream was all atwitter over an April NIE report that supposedly stated that the war in IRAQ was creating MORE terrorists.
In the interest of citizen journalism I actually sat and read this silly thing. Besides my questions as to why a report issued in April all of a sudden became so damn important at the start of this midterm election season, I thought this report to be a total waste of time.
Yes, there was an allusion to the inevitable result of America finally taking a stand against those nutzoid Islamofacists. Duh.
There was also references to the benefits to be gained from the spread of democracy in that region.
From the Director of National Intelligence:
• If this trend continues, threats to US interests at home and abroad will become more diverse, leading to increasing attacks worldwide.

• Greater pluralism and more responsive political systems in Muslim majority nations would alleviate some of the grievances jihadists exploit. Over time, such progress, together with sustained, multifaceted programs targeting the vulnerabilities of the jihadist movement and continued pressure on al-Qa'ida, could erode support for the jihadists. We assess that the global jihadist movement is decentralized, lacks a coherent global strategy, and is becoming more diffuse. New jihadist networks and cells, with anti- American agendas, are increasingly likely to emerge. The confluence of shared purpose and dispersed actors will make it harder to find and undermine jihadist groups.
Just reading two key points from this NIE above one wonders if the various groups that compiled this thing shouldn't be making up my mind.
Talk about taking both sides of an issue.
Foley pushed this midterm election joke off the front pages. Who knows what they'll go on to after they get done with Foley.
ABSCAM and Murtha
One of the bigger pities of this Foley nonsense is
The American Spectator's
coup of obtaining the FULL tape of John Murtha and the ABSCAM scandal.
This particular scandal was before I paid attention to politics although I recall that term floating around. Turns out that this whole thing was so sleazy I am almost embarrassed. Yes I watched the entire 53 minute tape and dear Lord John Murtha comes off as about one of the sleaziest of politicians on the planet.
The sting started as an investigation into some two-bit players who figured out how to scam some idiots out of their money. Nothing new about that. Only somewhere along the line some congress critters got involved, including John Murtha.
The FBI guy posed as a fellow representing some Arab sheiks who wanted to come to America. Of course the Arabs wanted to get their millions out of Arab banks. Enter the congress critters and their hands were held out just as wide as could be. Sure they'd arrange for these illegal aliens to come to America and for $50,000 they'd get the process started.
Murtha was not indicted for ABSCAM although he was an un-indicted co-conspirator. This is because this younger version of this cut-and-run Democrat was wily as the coyote of the same name. Murtha just wanted the millions put in Pennsylvania banks to benefit his district. Or so he said. The FBI sting guy kept offering $50K in cool cash but Murtha demurred. Murtha said he wanted to wait until he did more business with these guys. Heh. Murtha didn't want to take the bribe until he knew they weren't part of a sting operation. Which they were.
Now Murtha wasn't sure if this was a sting operation and it's obvious that he didn't want to walk away from that money. Just in case.
The tape is full of John Murtha puffing himself to be a very important guy who can get things done. It's also very obvious that Murtha wanted that money but he made it clear that he didn't want to share it with his other corrupt congress critters.
If you don't want to watch the tape, click on the link and read the excellent analysis of Murtha's actions.
The Arizona 9-11 Memorial
What the hell is going on in this country that various and sundry states and locales can't erect a simple memorial to the victims of the 9-11 attacks without it being an attack on America?
Sheesh. It seems Arizona wants a memorial to the victims of the 9-11 attacks but get a load of some of the lasered inscriptions on the thing.
From Little Green Footballs:
The memorial includes quotations like: "You don't win battles of terrorism with more battles" and highlights chronological events such as "Congress questions why CIA and FBI didn't prevent attacks" and "Erroneous US air strike kills 46 Uruzgan (Afghanistan) civilians." Among the other inscriptions: "FBI agent issued July 2001 warning in `Phoenix Memo,'" "Steve of Scottsdale wrote songs for brother, Robby" and "Violent acts leading U.S. to war, 05-07-1915, 12-07-41, 08-04-64 and 09-11-01." ...
I mean really, is the phrase "You don't win battles of terrorism with more battles" really appropriate in a 9-11 memorial? It seems like somebody is always trying to slip in a pro-Islamofacism quote in these memorials. Why?
Arizona Governor Janet Napolitano said she didn't pre-approve the wording or did former Senator Tom Smith, head poobahs in charge of this mess. Go on. This memorial is being erected on behalf of the state of Arizona. Don't you think checking the inscription on the thing would have been prudent.
Now everyone's rushing around trying to remove the words. If I was an Arizonian I sure wouldn't want my state's tribute to 9-11 inscribed with such fiery and irrelevant wording.
Mahmoud and Me
I thought the article linked below to be fascinating. It's written by Hooman Majd, an American-Iranian who was chosen by Mahmoud Ahmadinejad's advance staff to be his translator during this little guy's recent visit to the U.S.
From the NY Observer.com:
His speech used the simple "man of the people," anti-intellectual language that Mr. Ahmadinejad is known for, and was translated expertly. Any nuance would be in Mr. Ahmadinejad's tone or body language, neither of which I would be able to reproduce from my booth overlooking the General Assembly.
There's been a lot of criticism across the Blogosphere that this is a puff piece and I suppose that someone trusted enough to be a translator by Arminasling's staff has to go soft on the guy.
The article's full of the many activities of Mahmoud as he wooed the American press corps and a whole bunch of Iranian-Americans whose loyalty to the U.S. I now must seriously question.
This is a guy blessed by the powerful Iranian Mullahs to represent Iran and a possible former hostage taker of Americans during the siege of the American embassy in Iran during the Carter years. He's also the nut who insists the Mullahs and Islamofacists should have a nuke and go with me here, nuts shouldn't have nuclear bombs.
With all that, the article is still a cool insight into how Arminasling operates.
Damn I Hate When That Happens
Can't make this up, folks. A U.N. International Atomic Energy Agency trainee actually fell into a water tank in the Czech Dukovany nuclear energy plant.
Go with me here, nuclear inspectors shouldn't be falling into water tanks at nuclear power plants. This is a sure sign that said trainee might not be quite the right person for this job.
Supposedly the water was NOT radioactive. If this fellow has suddenly has two-headed kids it might be that this assessment was wrong.
From the Prague Monitor:
Jihlava, South Moravia, Sept 23 (CTK) - A US commissioner from the Vienna-based International Atomic Energy Agency (IAEA) emerged unharmed after falling into a water tank at the Dukovany nuclear power plant on Friday.

Ending With a Smile
More Political Tidbits HERE
=============