Here's some TV Tidbits and anyone who remembers the old "What's My Line" quiz show will be familiar with the premise of this quasi-newer version of the game. It's called "IDENTITY" and, well it's not so great.

Also, a review of last week's Kennedy Center honors with a pic of the deepest cleavage displayed anywhere in the year 2006.
Pic of the Day
---
| | |
| --- | --- |
| | Quote of the Day |
Web Site Worth the Visit
My Beautiful America

The title says it all. Click in for a clear and nostalgic look at all this country is, was and will be.

CLICK HERE



TIDBITS

Finkelstein and Jesus

Jesus was wandering around Jerusalem when He decided that He really needed a new robe.

After looking around for a while, he saw a sign for Finkelstein, the Tailor. So, He went in and made the necessary arrangements to have Finkelstein prepare a new robe for Him.

A few days later, when the robe was finished, Jesus tried it on and it was a perfect fit!

He asked how much He owed. Finkelstein brushed him off: "No, no; for the Son of God ? There's no charge! However, may I ask for a small favor? Whenever you give a sermon, perhaps you could just mention that your nice new robe was made by Finkelstein, the Tailor ? "

Jesus readily agreed and as promised, extolled the virtues of his Finkelstein robe whenever He spoke to the masses.

A few months later, while Jesus was again walking through Jerusalem, He happened to walk past Finkelstein's shop and noted a huge line of people waiting for Finkelstein's robes.

He pushed his way through the crowd to speak to Him and as soon as Finkelstein spotted Him he said: "Jesus, Jesus, look what you've done for my business! Would you consider a partnership ? "

"Certainly," replied Jesus. "Jesus & Finkelstein it is."

"Oh, no, no," said Finkelstein. "Finkelstein & Jesus. After all, I am the craftsman." The two of them debated this for some time.

Their discussion was long and spirited, but ultimately fruitful, and they finally came up with a mutually acceptable compromise.

A few days later, the new sign went up over Finkelstein's shop.

Can you guess what it read ?
(Scroll down.........)






























From the Ebox
We'll keep an eye out for this new reality series.
"MY GRAMMY MOMENT" Debuts as Unsigned Artists Vie for Performance Slot with Justin Timberlake on THE 49th ANNUAL GRAMMY AWARDS

The 2006 Kennedy Center Awards
On Tuesday 12/26/06 I watched the Kennedy Center Awards and was pleasantly entertained. I clicked into their
web site
and found nothing about this recent broadcast but I watched it and saw it with mine own fine eyeballs.
The honorees were:
Stephen Spielberg
Dolly Parton
Smokey Robinson
Zubin Mehta
Andrew Lloyd Weber
Dolly and Smokey are singers; Weber is a Broadway producer; Spielberg is a director of such hit movies as "E.T."; and Mehta is an Israeli symphony conductor.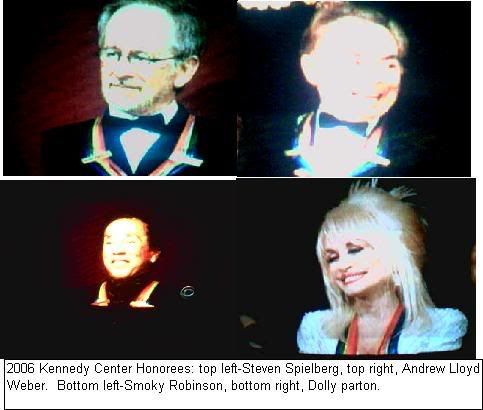 The presentations were done with style. Various country singers saluted Dolly via song and prose. Smokey Robinson is a Motown icon and what could be more enjoyable than some songs of Smokey's, performed with respect and verve by Motown-type singers? For Spielberg clips of his movies were shown to a reminiscing audience. Andrew Lloyd Weber has a wealth of Broadway musicals from which to draw clips and "Jesus Christ, Superstar" will always be my favorite musical of all time. I've seen it around ten times at various musical theater venues.
President Bush and the First Lady were in attendance and the camera spanned constantly to the First Couple. Andrew Lloyd Weber had this really odd habit of moving his teeth much like an afflicted night-time tooth grinder. Dolly mouthed the words to her songs as they were performed.
And below, the most remarkable display of cleavage I've come across in ages. Don't know who they belong to and don't much care. All part of the pop culture I must suppose.

"IDENTITY"-a "What's My Line" Rip Off
The week between Christmas and New Years is notoriously lax in terms of television shows. Thus I must suppose that the new game show series-"IDENTITY" was on some sort of trial run to test the waters for a possible series.
The host of the series is PENN, of Penn and Teller fame. Penn is the guy who actually talks.
First, this game show is a glamorized version of the old "What's My Line" show featuring Kitty Carlisle, the only panelist I can remember on the show.
"What's My Line" featured a candidate to be presented to the panel. The panel was allowed to ask questions of the candidate and from the answers the panel was charged with correctly guessing the "line" of work of the presented candidate.
"Identity" is a greatly guzzied up version of the same premise. In "Identity", about a dozen candidates are presented to one contestant. The game is based on the "pyramid" scheme of award…ie, the more candidates as presented that the show's contestant guesses, the more money he/she wins.
On the evening I watched the show, the contestant charged with guessing the identities of the various candidates was an exuberant Philippino fellow. Some of the identities that he had to guess included a preacher's son, a football player and, I'm not making this up, a belly dancer.
The "unidentified" candidates stand on a stage at various levels, in various sorts of apparel-all designed to give small hint as to their different occupations or status in life. The preacher's son could have been a football player and one must suppose the actual football player could have been a preacher's son.The belly-dancer didn't look much different than the Sunday school teacher, on the same note.
The exuberant Philippino managed to guess all identities correctly and won beaucoup bucks.
Frankly I don't think I'll watch this show again but consider I've done my duty in presenting the series on this Blog for yon readers to decide.
I'm not that much of a fan of these suspense-building game shows. Variations of the suspense can include a build-up of monetary prizes as the contestant advances or may also have the contestant losing all should he/she continue on instead of staying firm on money already solidly won.
Also, for some reason, game shows of today almost always include a group of "helpers" that are called on at various times to assist the contestant with his/her choices. This is an odd development as I see it. I suppose it's an attempt to include more "contestants" in on the game instead of one solitary individual. "Identity" has the same concept, the help-group on the night of my viewing being relatives of the Philippino fellow.
A video of the show is included below.
More TV Reviews HERE
===============