This freshly in.

We've got pics of ALL the contenders in this year's "Dancing With the Stars", including a female boxer, a 6'7" former basketball player and a legless Paul McCartney ex-Heather Mills.

Also, Guest Writer Michelle works over her issues with God's sense of humor.
Pic of the Day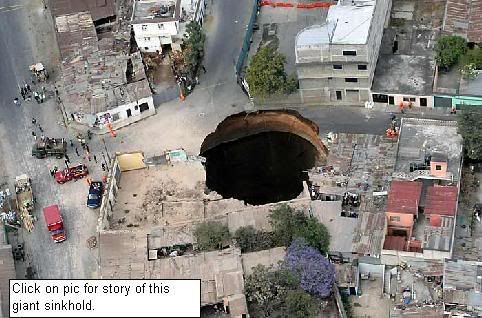 ---
Quote of the Day


The reason a dog has so many friends is that he wags his tail instead of his tongue.
-Anonymous

Don't accept your dog's admiration as conclusive evidence that you are wonderful.
-Ann Landers

TIDBITS

+--------------------- BIZARRE TRIVIA ---------------------+

It was the custom among men in Rome, when swearing to tell the truth, to place one's right hand on one's testicles. The English word "testimony" is related to this custom.

Coffee is the world's second largest item of international commerce. Petroleum is the first.

Percentage of Americans that want to change their bodies in some way: 75% Percentage of Americans that would want to change their intelligence: 13%

Americans eat almost one million tons of potato chips each year.

The can opener was invented forty-four years after canned food.

A female salamander inseminates herself. At mating time, the male deposits a jellylike substance containing the sperm. The female draws the jelly into herself, and in doing so fertilizes her eggs.

"Dancing With the Stars" 2007 Premieres
Bookmark this site
for it is ABC's official web site for this reality series.
I did, on the evening of 3/19/07, tune in to see the eleven contenders for the dance title. I would also see the female contestants dance the Fox Trot and the male contestants dance the Cha-Cha.
I must say, yon ladies and gems, that this year's almost-a-dozen list of contenders is very interesting. We've got female boxers, dancers with one leg, Olympic athletes and beauty contest winners. Let's move on with a first time review of the contenders, peppered with, as always, my amusing and insightful commentary. Insert wink here.

Ian Ziering is an actor. He starred in "90210" or so the quick sound byte informs. I'd never heard of him but it's no matter. The question is...CAN HE DANCE? Ian danced the cha-cha to the weirdest song I'd ever pick for a cha-cha. The tune was "Boney Maroney" and I've no idea how to spell that. For sure I wouldn't call Ian a natural. The judges declared he needed more hips for the dance. I say he needs more talent and a better song. Ian and his partner scored 21 points out of a possible 30, which was one of the highest scores of the evening. Which shows what I know.
Paulina Porizkova is a super model of some sort and the lady is beautiful. Paulina definitely wore the prettiest dress of the night by my own judgment. Paulina and her partner danced the Fox Trot to a tune titled "It's Too Darn Hot" and Paulina seemed to float across the dance floor. The judges declared Paulina "classy" and she scored 19 points for her dance performance.
Billy Ray Cyrus is a country singer and someone should softly suggest to the man that he stick to country singing. Billy and his partner scored 13 points out of a possible 30. I predict he won't last long.
Leeza Gibbons calls herself a talk show hostess and proudly declared that she is the oldest woman in the contest. Leeza danced to "Strangers in the Night" and I thought she did well. She and her partner scored a mere 15 out of 30 possible points, however.
Joey Fatone, a member of the music group Nsync, suffered a wardrobe malfunction as he cha-cha'd to a Beegees disco tune. Fatone's microphone battery pack evidently became loose as he and his partner danced around the floor in a very rollicking cha-cha. I thought he danced very well for a rather large fellow and he handled that swinging battery pack like a pro. Joey got 24 points, the highest score of the evening.
She's a professional boxer and yes I do mean SHE. Laila Ali is the daughter of professional boxer, Mohammad Ali and she's very pretty and very talented. Ali and her partner danced to the tune "How Sweet It Is" and I thought she did a helluva job. The judges declared her "fantastic" and Laila scored 23 points out of a possible 30. She's definitely a contender to win this.
John Ratzenberger is most well known as Norm's postman drinking buddy on the hit show "Cheers". Ratzenberger also narrates a series called "Made in America" which I watch often on the Travel channel. John informed us he was the oldest dancer of all contenders this year. I was surprised at how chubby this fellow has become after his Cheers' stint.
John and his partner danced to the tune "Chain of Fools". He wasn't bad but I don't think he'll last long. The judges were surprised he was so good. Ratzenberger received 17 points.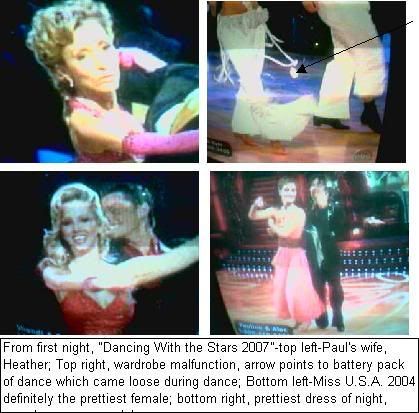 Miss USA 2004 was next up and I declare Shandi Finnessey as definitely the prettiest of all the female contenders. Shandi Fox-Trotted to "Power of Love". The judges said she needs to work on her footwork. Shandi and her partner were awarded 19 out of 30 points.
Clyde Drexler is a member of the NBA Hall of Fame and is very, very tall. Indeed Clyde walks this planet encased in a 6'7" frame and I was ready as all get out to watch someone this tall cut the rug. I thought Clyde showed absolutely amazing footwork, the choreography was top notch and I have an odd detail in my notes: I declare Clyde to be a "good interviewer". Goes to personality I assert, and can win the fellow plenty of votes, so affable he was. Clyde received 16 points for his and his partner's dance performance.
Heh. So okay, Heather Mills is prime and ready for all sorts of jokes. First, she's Paul McCartney's estranged spouse. Second, she has an artificial leg and come on....she's entering a dance contest! The jokes are all lined up for the telling.
But okay, we'll be serious. I imagine that dancing with an artificial leg has to be difficult. Oddly, the judges complained about Heather's use of her HANDS of all things. Heather received 18 out of 30 possible votes and I think she'll be around a while but she'll never win this thing.
He's beloved by young females across the planet. I remember Olympic athlete Apolo Anton Ohno well from having watched some Olympic competition or another. Ohno is coupled with an 18-year -old professional partner and this factoid intrigues. This makes Ohno and his partner and impossibly cute couple and this fact is bound to bring Apolo audience votes. Ohno and his partner danced to the tune "Let's Hear It For the Boys" and Apolo received an impressive 21 points for his and his partner's performance. I think Ohno is a real contender for winning this thing.
Thus we have the beginning 11 for the 2007 dancing contest "Dancing With the Stars". For now I'm watching Apolo Ohno and Laila Ali closely.
Ian Ziering
Paulina Porizkova
Billy Ray Cyrus
Leeza Gibbons
Joey Fatone
Laila Ali
John Ratzenberger
Shandi Finnessey
Clyde Drexler
Heather Mills
Apolo Anton Ohno
More TV Reviews HERE
===============

Sense of Humor
Sometimes it's my own sense of humor that tickles my fancy and sometimes it's someone else's.
All week, it's been the Powers-That-Be's sense of humor: One morning I left the house to find a clear road and went my merry way. When I returned, those dreaded orange and white hurdles were in the roadway. "Road closed," the sign said. I slowed and stopped, confused. The rule-follower in me wanted to turn around, but my house was beyond those hurdles. While I pondered on the side of the road, another car went around them. Ah! I followed, and made it home. The closure was at the intersection, fifty feet from my house.
Now the road is closed every day, but only in the daytime. Each occasion to venture out of the house is now rather like being a rat in a maze, where they keep moving the cheese. Is it this way? Nope, dead end. How about this way? Nope, another dead end.
Thursday night, it was God's sense of humor: The days have been sunny here and Thursday decided to cloud over. Gray skies and grumbling clouds covered our area, and I watched eagerly for signs of rain. I wanted a thunderstorm, so I could sit in my window seat and watch.
By late afternoon, the sky was incredibly dark and it looked like I could touch the clouds if I just stood on tiptoe. Surely it would rain!
I did household chores and some computer gaming while I waited. And waited. And waited. (Here's where God's sense of humor comes in.)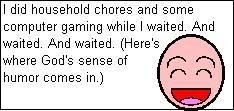 At last, the first raindrops splattered on the dusty pavement outside. I ran to the Fox Room to sit in my new window seat... And realized the sun had set. It was dark outside!
I sat in my window anyway, and did see some lightning, but though I heard the drops hit the window, I never did see it rain.
And I remember a Friday night when it was my sense of humor: I needed to call Harry because the guy with him needed to call his wife for a personal crisis. So I got out the hotel list and looked up the number. (They were in Germany.) Holiday Inn. Cool. I dialed the very-long number and heard the odd buzz of the European phone ringing.
"Gluten Morgan," she said, along with a lot of other stuff I couldn't come close to pronouncing. (I'm sure these two aren't right, either, but that's what my American ears heard.)
"Hi," I wisely offered. "I need to speak with my husband. Do you speak English?"
"Yes?" she said, clearly, with an accent, and with the question mark. Still, I was overjoyed to understand the word.
"Oh, good. My husband's name is Harry Hakala H A K A L A. Can I speak with him?"
There followed a very long silence which probably cost me more than a gallon of gas. Then, hesitantly, "Is he not in your room?"
Michelle
The Desk Drawer writer's exercise list
~~~~~~~~~~
More Guest Writer HERE
Add POST to Technorati Favorites
=======================