A rant or two about current events.

How about those Clintons complaining about presidential pardons? Nerve? Audacity? Chutzpah?

I'm sick of all this "save the earth" nonsense and I've got stories from the 60's plus sensible ways to protect our precious environment without need of rock bands or Madonna.

Finally, a review of my new VuPoint camera and some video of Kaitlyn Mae laffing and with an ugly face.
Pic of the Day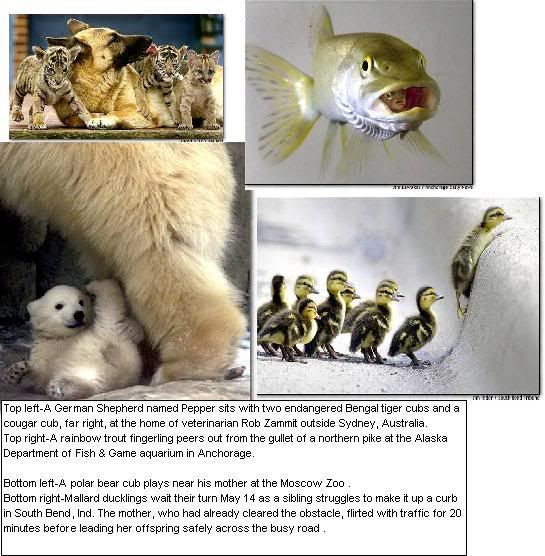 ---
Quote of the Day



Congressmen who willfully take actions during wartime that damage morale, and undermine the military are saboteurs and should be arrested, exiled or hanged."
~ President Abraham Lincoln



Web Site Worth the Visit
THE FUNNY NAME SERVER

Have you ever been looking in the phone book when you noticed a funny listing that made you chuckle? Well, that is what the Funny Name Server is all about. Their team of researchers has spent countless hours thousands of funny, interesting, strange, and offensive names in phone books from all over the New York tri-state area.

ABOVE SITE HERE


TIDBITS

Favorite Christian Pick-up Lines

Did it hurt when you fell from Heaven?

The word says "Give drink to those who are thirsty, and feed the hungry. How about dinner?

You don't have an accountability partner? Me neither.

Is it a sin that you stole my heart?

Yeah I predicted David over Goliath.I didn't believe in predestination till I met you.

What do YOU think? Will it be the flood or the fire next time?

Am I the only one who sees the sign of the beast in the Volkswagon logo?

Could you come and pull this mote out of my eye?

Hi. Your name must be Grace because you are AMAZING!


Those Amazing, Audacious Clintons
I was surprised when the White House responded so quickly to the Clintons and their criticism of the recent pardon of Scooter Libby. Via Tony Snow, the White House accused the Clintons of having an astounding amount of chutzpuh, a Yiddish word meaning ownership of an incredible amount of self-esteem accompanied by a lot of nerve.
George Dubya has not been known to respond in any way to criticism, not even to defend himself. It's part of the reasons his approval ratings are in the toilet.
Of course, so far as The Wise I is concerned, the White House did not respond loudly or often enough to what is the Clinton equivalent of the criminal who killed his parents than begged the court for mercy due to his status as an orphan.
This leaves it up to me to go on a wild and wooly rant about Hillary and Willie and their total lack of morals.
Let us begin with a review of the pardons granted by the Clintons, shall we?
This is the official DOJ
listing of all pardons granted by ole Willie J. Over the eight years of his presidency they numbered in the many hundreds.
And, of course, let's zero in on the most famous pardon granted by Willie J...that of Marc Rich.
Wire fraud, mail fraud, racketeering, racketeering conspiracy, criminal forfeiture, income tax evasion, and trading with Iran in violation of trade embargo, 18 U.S.C. §§ 1343, 1341, 1962(c), 1962(d), 1963, and 2; 26 U.S.C. § 7201, 50 U.S.C. § 1705, and 31 C.F.R. §§ 535.206(a)(4), 535.208 and 535.701
Note that bit about "trading with Iran in violation of trade embargo". Folks, this guy was hip deep in trading with the dictators and despots on this planet, including Saddam Hussein no doubt. Marc Rich didn't care if these were enemies of the U.S. and he didn't give one whit about his country's sanctions against these enemy and dangerous regimes. He sure didn't care about his country or you or me. In fact, this coward deserted the United States such was the evidence against him.
The President of the United States of America, ladies and gems, gave this man a presidential pardon. Does anyone consider it a coincidence that Denise Rich contributed almost half a million to the Clinton trailer-park library and "raised" another million to that ediface dedicated to the deceit and treachery known as Bill Clinton?
AND LET US NOT FORGET HILLARY'S BROTHERS!
Indeed Tony and Hugh Rodham had a handsome little sideline selling presidential pardons but, naturally, Hillary Rodham knew nothing about either of her brothers and their pardon sideline when asked about it.
For a woman who's supposed to be so damn smart, Hillary sure has a short memory.
From Yahoo.com:
Tony Rodham is accused of failing to repay $107,000 plus interest to the bankrupt estate of Edgar Allen Gregory Jr. and his wife, Vonna Jo, both of whom received a presidential pardon in 2000.
Another brother, Hugh Rodham, was paid more than $400,000 for his successful efforts to win pardons for a businessman under investigation for money laundering and a commutation for a convicted drug trafficker. He eventually returned the money at his sister's request.
Some might call the endless parsing of the English language as engaged in by Bonnie and Clyde....oops...I mean Hillary and Bill, but I'd argue it is prime example of this duo's treachery.
See, Scooter Libby was indicted for allegedly lying to a grand jury. Patrick Fitzgerald was charged with investigating a leak of a supposed undercover CIA agent known by Rush Limbaugh as the "BABE"-Valerie Plame. Except the babe Plame was NOT an undercover agent and her husband, Joseph Wilson, is a lying sack of shit, excuse my bluntness.
Fitzgerald and the rabid Democrats really wanted Dick Cheney and, if not him, than at the least the mad man and serial killer known as Karl Rove. All they could get was second-rate Scooter Libby who wasn't even the one who leaked the babe Val Plame's name! Then Fitz kept interviewing Libby until the man finally slipped up and got a date and a time wrong of a phone call made over a year prior.
Well hey, if you keep grilling someone over and over surely they'll trip up eventually.
In summary, there is simply NO comparison of the pardon of Scooter Libby compared to the pardons bought and paid for fairly and squarely by the criminals via contributions to the Clinton library.
EXCEPT....Libby, you understand, WAS indicted. Marc Rich, on the other hand, was NOT indicted because hey, the feds couldn't find the guy.
Ah, those clever Clintons latched onto this parsing of words and sure enough there was slick Willie out and about and saying that in the case of Marc Rich, no one had been indicted.
This factoid, meant to be heard by busy Moms transporting for the morning car pool and Dads hastening to catch the subway, was uttered dutifully by slick Willie for the purpose of deceit. These ordinary Moms and Dads who carry this country on their backs were supposed to hear that Bush Dubya pardoned an INDICTED felon while the sweet and kind Marc Rich had never been indicted.
Ladies and gems, those horrid Clintons, who are a stain upon everything that is decent about this country, actually sit up late at night and figure this crap out. Their entire intent, go with me here, is to CONFUSE thee and me.
The way I see it, the White House should have put out that long list of Clinton pardons. Via an address from the Oval Office, Bush should have referred the American public to that web page listing all those Clinton pardons AND he definitely should have expounded on this Marc Rich who, so far as anyone knows, is STILL involved with the sale of arms and other weapons of destruction with the despots and dictators behind the killing of our troops.
But Dubya won't.
So I will.
Dead Earth
Dear Lord did anybody on this planet chance to watch that crap known as "Live Earth"? I tuned in during Madonna's canned and unoriginal performance and my eyes kept rolling around in my head.
"Welcome, sulphur dioxide,
Hello, carbon monoxide,
the air the air
is everywhere"
Above are the lyrics to a song from the rock musical "Hair", a protest play from my youth during the 60's.
Folks, the liberals love to use the planet and it's eventual destruction as a way to scare the hell out of you and me. They like to use it because the earth, hey, it's big and vast and no one can really prove that whatever disaster those losers-Al Gore is one big loser who comes to mind-allege is forthcoming.
And yet every day, myself, a conservative of the highest order, does more to save this planet than Madonna or Al Gore combined.
I am a member of the National Wildlife Federation and regularly visit homes or man the booths to teach the public how to make their back yards into a Backyard Wildlife Habitat. The notion being, ladies and gems, that HUMANS have a right to live on this planet and if we really want to make our world more hospitable to the wildlife that are also creatures of the almighty, then why not just invite them to come live with you?
Children are better off growing up with an outside environment that has butterflies and birds regularly visiting their backyards for the food and water provided for them by knowledgable parents.
I toss my beloved compost pile weekly and come the fall all my vegetable scraps mixed with the prior year's fallen leaves are turned into a sweet-smelling pile of black dirt that feeds my gardens in the spring to come.
But it's not about me, folks. Plenty of us idiots out here in la-la land are busy beautifying our yards, highways and byways to encourage the plants that we know instinctively should be part of our surround. The plants than tempt the creatures of the world and so it goes.
We don't need Madonna to tell us how to do this and most important, ladies and gems....THERE IS NO SUCH THING AS GLOBAL WARMING!
If mankind could control the weather, use that good common sense God gave you. If humans could control the weather damn we'd be steering thunderstorms out of the way on Memorial Day and the Fourth of July that our celebrations go on in clear weather. For sure we'd send those hurricanes that cause us such havoc off into the Atlantic. And goodness no one wants blizzards and nasty snow storms so we'd send that climate nonsense on its way....perhaps we should steer those blizzards off to our enemies...maybe Iran?
We don't control the weather and we never will. If this planet is warming up or cooling off, it's meant to be and not because of anything we did.
Product Review
For my recent birthday I was gifted with a most amazing product and below, some of the details.
Digital Video Camcorder
==============VuPoint Solutions===========
5.0 mega pixels, CMOS sensor
8X digital zoom
PMP-Portable Media Player
2.5" LTPS LCD Color Display Monitor
Motion Stabilization
Still Image Size-1600 X 1200,2592 X 1944, 3856X2892
Movie Mode-640 X 480 VGA; 320X240, 30 fps (QVGA)
Lens Aperture-F3.0 (f=8.5 mm)
1/15-1/5000 sec.
Focus Range-4.9 ft-infinity, Portrait: 2 Ft.
-3.3ft., Macro:1.3 ft.
Flash mode-Automatic, on, off, red-eye reduction
Flash distance-2.0 ft-4.0 ft
Self-timer-10 sec
White Balance-Automatic, sunny, cloudy, tungsten, fluorescent
Internal Memory-32 MB flash memory
SD memory card supports up to 2GB(NOT INCLUDED)
Image file format-JPEG,MPEG4, WAV
Transmission interface-USB 2.0
Video output-NTSC, PAL
Battery Type-NP 60 Rechargeable Li-ion battery
Weight-5.3 oz without battery
System Requirement-Windows 98SE, 2000, ME and XP
Assessories-User's manual, software CD, AV cable, USB cable, Earphone, Remote control, Charger, Strap, Pouch and battery included
Folks I love this thing. I'm not much of a photographer goodness knows but everyone should have a digital device handy for we live in the world of Youtube. I don't have a price on this thing as it was a gift but I'd guess it costs no more than $300 or so.
Below I've included a couple of videos of beloved Kaitlyn Mae, namesake of this Blog. In one video Kaitlyn laughs about the frog she's just caught and in the other video she shows her ugly face at the loss of that same frog which did, thank God, escape.
Heh.

More Editorials HERE
Add POST to Technorati Favorites
=======================