ABC's "Dancing With the Stars" 2008 continues on and in this weekly review we go over the dancers, the songs, the partners.

As always there will be acerbic commentary, fashion wisdom and brickbats or compliments as required.

All with pics and video you'll find nowhere else on the Internet.

Also we'll drop in on "The Bachelor...London Calling" to see how Brit Matt Grant is making out and what members of his cadre of groupies are still left or were thrown over the bow.

Again, all with pics and video you'll find nowhere else on the Internet.
Pic of the Day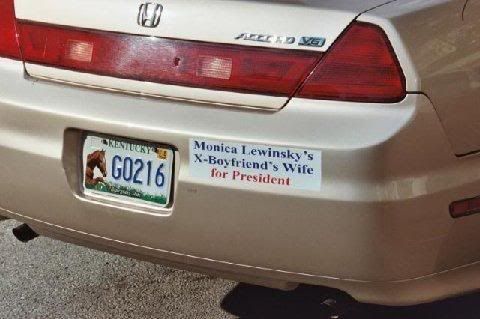 ---
On Mambo and Quickstep Week, Penn Jillette, Monica Seles Sent Home
Top 12 Contenders Pic Montages "Dancing With the Stars" 2008
ABC's "Dancing With the Stars" 2008 continues on and on the evening of 3/25/08 two contenders were sent home to bring the total left to an even ten.
On the episode aired 3/24/08, all twelve contenders danced either the Mambo or the Quickstep.
It began with actor Steve Guttenberg, a klutzy but very personable fellow who will not likely last long. Steve and his partner danced the Mambo. Come time for judges commentary there was some sort of argument amongst the judges and Steve, ever the diplomat, responded to the judges' collective rather unkind criticism of his performance with "I like you and respect you". Steve received 16 points for his performance.
Next year Guttenberg should maybe sign up for a contest of the nicest people.
Christian de la Fuente gets my prize for being the handsomest male contender this year. He danced the quickstep with his partner and the guy looked good to me. Christian ended with a cute somersault and while this move might have looked silly if done by, say, a Penn Jillette, the handsome Chilean pulled it off to resounding audience applause.
The judges complained about Christian's posture and told him he needed to work on his footwork. Christian received 20 points.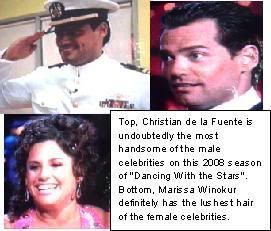 Monica Seles seems to be the exact opposite of Steve Guttenberg. She comes across as moody and recalcitrant. Which is no matter in that Monica, never liked much by the judges at any rate, was sent home on elimination night 3/25/08. Monica and her partner performed a Mambo and she does come across as a woman with little grace and elegance. Which surprises me as I think tennis, Monica's sport of fame, would require both of these traits.
Monica and her partner received 15 points.
Next up Penn Jillette and hey, here's a funny guy. Penn too got voted off this reality dance show although Penn was upbeat about the rejection and claimed that he would not give up, that he and his partner would continue on in the contest out on the parking lot.
Goodness Jillette does have mighty big feet as he illustrated with a close up of his shoed-foot. Jillette and his partner performed a Quickstep and even Penn's addition of a "magic tie" which jumped up and down at the beginning of his performance did not persuade either the judges or the audience to let him move on. Penn received a score of 17.
I liken Penn Jillette's dancing to, oh…maybe Frankenstein.
Priscilla Presley and her partner performed a Mambo to what has to be the only "rap" Mambo song on the planet.
Presley continues to do well on this series although the most accurate adjective to describe her performances in conjunction with the younger and livelier with whom she must compete would be "mediocre".
Presley received a score of 21.
Shannon Elizabeth, she with two first names, a terrific bod and a renowned poker player, came up next and performed a Quickstep.
This lady looked fine on that dance floor and at the end the couple did a cute little jump using the judges' table for leverage and it was a nice effect.
Shannon received 24 points for her performance and this contender looks to be one to watch in this ongoing contest.
Jason Taylor and his partner too are a dancing couple to watch. Jason and his partner performed a Mambo and this fellow has a fluid body and his hip action was to die for.
Jason and his partner received 27 points from the impressed judges and this is the guy to beat this year.
Of course I am partial to Marissa Winokur in that I look like her and she is not, ahem, a size two. Marissa performed a Quickstep with her partner and I considered her a joy to watch.
Marissa has a bubbly personality that spills over into her dance. The judges pronounced this week's performance as a great improvement over last week's and awarded Marissa 21 points.
Adam Corolla, he of the many teeth, came up next and he and his partner performed a Mambo.
My impression of Corolla's dancing is that he reminds one of an earnest young man enrolled in dancing school. One can almost see Adam mouthing "One, Two, Three, Four…RIGHT…" as he moved along with his partner Julianne.
After their dance, judging by the lack of applause, it was obvious that Adam and his partner are not all that well liked by the audience.
The judges said that Corolla made them laugh, a bit cruel perhaps although I don't think Adam takes himself very seriously. Len Goodman, however, called Adam's performance "brilliant".
Adam and his partner received 19 points from the judges.
Up next Marlee Matlin and I must insert note here that Marlee is deaf.
Last season "Dancing With the Stars" had a contender with only one leg, the now much-hated ex-wife of Paul McCartney. So why not a deaf person? Both handicaps that one might consider too severe a handicap for a serious dance show and yet Marlee does just fine, thank you.
Marlee and her partner performed a Quickstep and the judges love her. Marlee and her partner received 24 points for the performance and that's impressive as hell. I think Marlee looks great on that dance floor and one would never know she was deaf.
The contender to beat this year, Kristi Yamaguchi, came up next and she and her partner performed a Mambo.
Kristi is a gold-medal winning Olympic skater and I've no doubt that a fine ability to navigate around ice on shoes with thin slivers of metal on the bottom would be a fine precursor for transition to a good dancer.
Last week Kristi wowed the judges and she did this week as well. I closely watched Kristi's footwork during her dance and this lady has it all in control.
Kristi and her partner received 27 points for their performance.
Mario, the youngest contender this year and probably Jason Taylor's only male competition, come up next and performed a Quickstep that contained great, complicated footwork.
The judges thought Mario needed a bit more finesse and I think that's a valid critique. Jason Taylor has finesse down pat.
Mario and his partner received 26 points for their performance.
Below is a video remix of performance snippets from the evening of 3/24/08. Featured are Marlee Matlin, Kristi Y, Jason Taylor and Steve G.
Scores on Night of 3/24/08-from lowest to highest
Celeb Dancer Dance Score- 3/24/08
==============================================
Seles Monica Mambo 15
Guttenberg Steve Mambo 16
Jillette Penn Quickstep 17
Carolla Adam Mambo 19
la Fuente Christian Quickstep 20
Winokur Marissa Quickstep 21
Presley Priscilla Mambo 21
Elizabeth Shannon Quickstep 24
Matlin Marlee Quickstep 24
Mario Quickstep 26
Taylor Jason Mambo 27
Yamaguchi Kristi Mambo 27
Total combined scores to date-from lowest to highest
Celeb Dancer Combined Dance Score through-3/24/08
==============================================
Seles Monica 30 eliminated 3/25/08
Jillette Penn 33 eliminated 3/25/08
Guttenberg Steve 34
Carolla Adam 34
Winokur Marissa 39
la Fuente Christian 41
Presley Priscilla 45
Elizabeth Shannon 45
Matlin Marlee 46
Mario 47
Taylor Jason 49
Yamaguchi Kristi 54
Top Twelve Contenders "Dancing With the Stars" 2008
Marlee Matlin (Fabian Sanchez)
Penn Jillette (Kym Johnson)
Sent home 3/25/08
Marissa Winokur (Tony Dovolani)
Adam Carolla (Julianne Hough)
Kristi Yamaguchi (Mark Ballis Jr)
Christian De la Fuente (Cheryl Burke)
Monica Seles (Jonathan Roberts)
Sent home 3/25/08
Mario (Karina Smirnoff)
Steve Guttenberg (Anna Trebunskaya)
Jason Taylor (Edyta Sliwinski)
Shannon Elizabeth (Derek Hough)
Priscilla Presley (Louis Van Amstel)
Prior Links to Posts for "Dancing With the Stars" 2008
======================
Premiere Review 3/17/08
Penn Jillette and Monica Seles Sent Home
=============
To See the Top 15 Chosen by The Bachelor Matthew Grant
Brit Matthew Grant Begins Quest to Find American Wife
On the evening of 3/24/08 this year's bachelor Matt Grant went on two group dates with 15 ladies who would be his wife if all goes well.
Eight of the contenders participated in a fashion show and the other seven went on a date to Las Vegas.
Two "first impression" roses were awarded by Matt, one to Ashlee and the other to Chelsea.
The fashion show was intriguing to watch although I'm not at all sure what purpose it served. The Las Vegas date had Matt issuing a challenge to all of his ladies that whoever won the most money within an hour would get a half an hour of private time with Matthew. The ladies were all given seed money of a thousand dollars to begin the hour of gambling.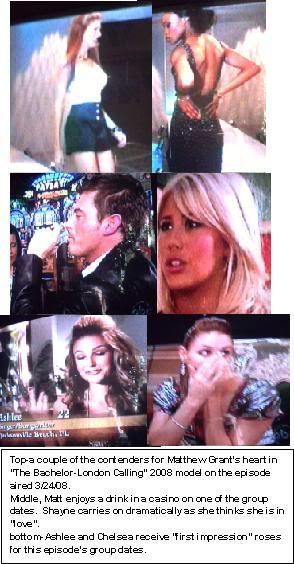 The Bachelor series always features two kinds of contenders and this year's show, the so-called "London Calling" series, is no different.
First, there's the would-be Bachelor's lady who can't hold her liquor. We already had this one in the very first show and whoever she was she stuffed a pair of her underwear in Matt's pocket while she was in her cups.
Then there's the female contender who falls crazy, and illogically frankly, in complete love with the Bachelor and there is always great histrionics from this emotional basket case.
Last year that basket case was nurse Hillary who broke down so much when she was sent home she couldn't breathe such was her disappointed sobbing. All this for asshole Brad Womack who I figure is a homosexual in that he couldn't find one woman out of 25 hot babes who wanted him.
Anyway, this year's there's actress Shayne and on the 3/24/08 episode Shayne carried on with Matthew, in the bathroom with other contenders, in a room all by herself.
Sheesh. That girl needs to get a grip.
How on earth can a female get so involved with a guy she hardly knows? In Shayne's case she did comment that SHE was the one always in control and true, Shayne is a very pretty young woman and I've no doubt she's broken many a male heart.
I wonder if her tears are because of her total inability to control who Matt chooses and who he doesn't.
At any rate, even Matt thought Shayne's histrionics to be a bit much and accused her of being the actress of her profession.
Matt did, however, give Shayne a rose during the ensuing rose ceremony while I would have sent that nut case packing.
But wait. I'm a woman. I tend to use my brains about this kind of thing.
Matt did send home three woman on that episode: Erin H, Michelle P and Carri.
Top 15 Females Vying for Matthew Grant-The Bachelor London Calling 2008
======================
Amanda R, 27-Account Executive-
Kristine, 32, Person Trainer-
Chelsea, 24, pharmaceutical sales, -
Erin H, 25, event planner-
Sent home 3/24/08
Erin S, 30, hot dog vendor-
Robin, 22, Advertising coordinator-
Ashlee, 22-singer/songwriter-
Shayne, 22, actress-
Marshanna, 27, fashion designer-
Holly, 25, children's book author-
Carri, 25, church marketing-
Sent home 3/24/08
Michelle P, 28, Administrative Assistant-
Sent Home 3/24/08
Noelle, 26-photographer-
Amy, 22, nanny-
Kelly, 24, medical sales-
Links to prior reviews "The Bachelor-London Calling" 2008
==================
Premiere Review 3/17/08
First Three Bachelor Groupies Sent Home