The Latest Cult Film
To the drum beat of Kudos from the mainstream critics and pop pundits, a new no-budget movie about a man's quest to get a date with Drew Barrymore is tickling some fancies.
The cult film is alleged to be a paean to chasing a dream and sticking to a goal.
Which is all noble and such but only in Hollywood would the notion of getting a date with someone be ballyhooed as the definitive battle against good and evil.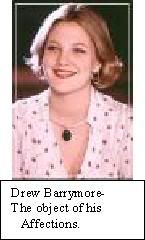 From the Toronto Sun:
Brian Herzlinger is this adorable guy who has made an adorable movie about the woman he's had a crush on since he was six years old: Drew Barrymore.

Opening here Friday, My Date With Drew is a can-do documentary about taking a chance and trying to make a dream come true. The no-budget feature follows Herzlinger and his buddies as they figure out ways to get close to Barrymore so he can ask her for a date

~~~~~~~~~~
Nipple Twisting-the Latest Craze
Every generation has a fad.
Some of them are a bit physical, even vicious.
The latest, "nipple twisting", is bringing the perpetrators to court and giving punishment.
I've been seeing accounts of this nipple twisting taking place all across the fruited plains, including staid business environments to groups of yukking teens.
Myself considers inflicting pain on another human to not be such a great spectator sport. Yet it is, isn't it, so easy to reach out to a man's shirt and with little effort, twist his nipple.
Which hurts.
In my era the brave amongst us would run naked through the crowds. We called it "streaking" and it was mostly a hoot.
The "Three Stooges" were all the rage during the Ozzie and Harriet era of the 50's. The twisted nipple routine is a play off of the Three Stooges. Who regularly twisted the nose of a hapless stooge or another in the same manner as nipples are being twisted today.
There's something especially heinous about this nipple twisting craze but I can't quite put my finger on it.
A reflection of the nonchalant regard for human pain during our time perhaps?
From the Mail Tribune:

GOLD HILL - A Gold Hill boy ended up with a juvenile court record after engaging in what he said was a simple display of youthful horseplay.

David Thumler, 15, said pinching and twisting the nipple of 13-year-old Matthew Cox cost him a trip to juvenile court July 20, where he was sentenced to three days of community service, a $67 fine and a misdemeanor record for harassment.

"I was messing around with someone I thought I knew," David said. "But I guess I should have known him better."

That's exactly right, said Ken Chapman, a Jackson County juvenile probation supervisor.

~~~~~~~~~~
Matt LeBlanc-Still With No Talent, Still Bitching About It.
I love Matt LeBlanc stories. For here is a fellow that is the epitome of a no-talent struggling mightily to prove to the world that he has some.
His cute little spin-off series-"Joey"- is doing really bad.
LeBlanc was fine as a character in the "Friends" series. Which was an entertainment vehicle designed around the existence of such inane characters as Joey.
Below, we find out LeBlanc, God love him, was the "victim" of a stripper who crossed the line "strippers shouldn't normally cross".
Doesn't this explanation from LeBlanc sound exactly like something Joey would say?
From IMDB.com:
LeBlanc was with 10 friends who were all eyeing a succession of naked lovelies when one girl approached the celebrity and suggested they drink some shots together. The stripper, who charges $54 for a private dance, then "lured" LeBlanc into an adjoining room where she removed her black spandex clothing and sat on his lap. LeBlanc, who has an 18-month-old girl, Marina, with his wife Melissa, tells British newspaper The Sun, "She was all over me. I was drinking and she was crossing the line strippers shouldn't normally cross. She was in my face, pushing her breasts into me, grabbing my hands to go all over her body. If I had been sober perhaps I'd have acted quicker. I realized I was being careless and had to get the hell out of there. I acted like a fool in allowing myself to be led astray and placed in such a horrible situation. I feel ashamed."
And below we are disheartened to discover that LeBlanc "resents" Joey's stupidity.
Just as soon as LeBlanc gets finished depositing his residual check from "Friends'" re-runs and his salary from the hapless "Joey" series, LeBlanc's going to REALLY get mad.
This sentiment is also something Joey would express.
From IOL:
Le Blanc resents Joey's stupidity

Former Friends star Matt LeBlanc is increasingly infuriated he cannot shake off his character Joey Tribbiani's stupid reputation.

The 38-year-old is fed up with fans who think he is like Joey and can't stand fans using Joey catchphrases on him.

And Friends spin-off Joey is doing nothing to stem the tide of comments.

He says: "Slowly, I speak slowly! I always have the upper hand in those conversations. People expect me to be just like Joey. I've lost count of how many people have said: 'How you doing?'"

~~~~~~~~~~
No guarantee if the guesses I found across the Internet are correct. Readers' guesses are welcome.
ASKED
WHICH famed fashionista went back on heroin after his top design assistant defected to a rival rag house? . . .
GUESSED
calvin klein
~~~~~~~~~~
ASKED
WHICH '80s heartthrob actor had a jarring sexual experience while on a recent overseas jaunt? He awoke to find the woman he'd brought back to his hotel room urinating on him . . .
GUESSED
david hasselhoff, judd nelson or rob lowe.
~~~~~~~~~~
ASKED
WHICH hot young actress isn't as virginally pure as she'd like everyone to think? The fashionable young lady used to live in New York in an
apartment with nine male models - and shagged them all.
GUESSED
lindsay lohan
~~~~~~~~~~
More Gossip/Speculation HERE

The News You've All Been Waiting For
The winners of the Howard Dean Scream Contest have been announced!
The contest was held at the Delaware State Fair. It was sponsored, ahem, by the Delaware Republican party.
The winners of the Howard Dean Scream Contest! (l-r) Nathan Robinson of Newark won in the "Lack of Poise" category, Mary Ellen Landry of Dover delivered the "Loudest Scream" and Grant Russell of Hockessin won in the "Highest Quality of Insane, Angry Ranting" category. Each winner received a copy of Newt Gingrich's latest book and a DVD of the Pete du Pont Individual Freedom Award dinner. All contestants were also given a watermelon compliments of Sussex County Councilman Vance Phillips!


~~~~~~~~~~
Wacky New Castle County
It's the bluest part of Delaware. It's definitely the most corrupt.
Or do I repeat myself?
Seems a former New Castle County executive, Tom Gordon, and the object of his affection, one Sherry Freebery, Gordon's top Aid, have both been helping themselves to goods and services at taxpayer expense.
In one instance, a search warrant was stalled in service so that the police could help this Freebery woman move! Stalled for SIX DAYS!
Although a Delaware judge is busy throwing out indictments against these two, there's tape recordings of this dynamic duo as they plot and scheme how to use taxpayer paid employees and goods for their own personal use. That delay in the service of a search warrant resulted in the death of a teenager.
From DelawareGOP.com
Most of the recordings will detail how Gordon and Freebery used county government for personal and political purposes, having county employees spend thousands of hours -- at taxpayer expense -- working against political foes and performing personal tasks that included helping Freebery move, court papers indicate.
~~~~~~~~~~
Welcome to the Sussex County Representative for the Delaware Nature Society
Who would be The Wise I.
Indeed. The Delaware Nature Society is affiliated with the National Wildlife Federation. I am a Backyard Wildlife Habitat Steward.
If you have an organization interested in having me speak on how to develop a backyard eco- system friendly to both humans and the critters, or need help setting up your own backyard wildlife habitat, contact me.
Delaware Nature Society HERE
More Delaware Posts HERE

What is a Cat?
1) Cats do what they want.
2) They rarely listen to you.
3) They're totally unpredictable.
4) They whine when they are not happy.
5) When you want to play, they want to be alone.
6) When you want to be alone, they want to play.
7) They expect you to cater to their every whim.
8) They're moody.
9) They leave hair everywhere.
10) They drive you nuts and cost an arm and a leg.
Conclusion: Cats are tiny women in little fur coats.

What is a Dog?
1) Dogs lie around all day, sprawled on the most comfortable piece
of furniture in the house.
2) They can hear a package of food opening half a block away, but
they don't hear you when you're in the same room.
3) They can look dumb and lovable all at the same time.
4) They growl when they are not happy.
5) When you want to play, they want to play.
6) When you want to be alone, they want to play.
7) They are great at begging.
8) They will love you forever if you rub their tummies.
9) They leave their toys everywhere.
10) They do disgusting things with their mouths and then try to give
you a kiss.
Conclusion: Dogs are tiny men in little fur coats.
<<<<<<<<<<<<<<<<>>>>>>>>>>>>>>>>>>
More Fish Giggles HERE