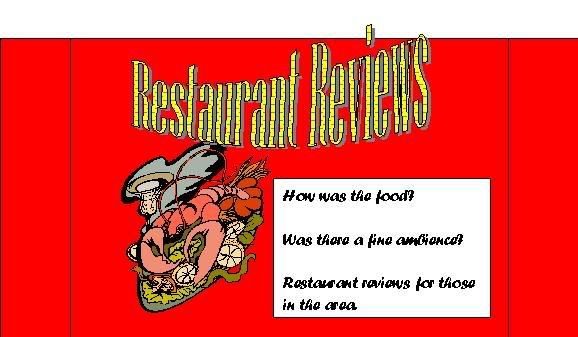 "The Prime Rib" …a fine Baltimore restaurant
The Prime Rib is located in the most innocuous of places, the "basement" of a Baltimore apartment building. Still, the restaurant has been consistently voted one of Baltimore's best restaurants. And rightfully so.
For a sizzling total of 30 years service with his employer, husband was gifted with a gift certificate to his favorite restaurant. He chose The Prime Rib. The gift certificate was for $50.00. It was not nearly enough. Husband ended up paying an additional $100 beyond the gift certificate.
So conclude that a visit to this esteemed eatery will not be, ahem, cheap. Still, it's not the sort of place one visits on a weekly basis. For there is no better prime rib on the planet. Not that I've been to all of the prime rib joints in the world but there's no need.
I began my meal with a bowl of Lobster Bisque. Wow. They must whip the cream that is the basis of this absolutely delicious soup. I'm a fan of cream-based soups and have yet to create such a heavenly concoction as this. While there wasn't oodles of lobster within, every single bite contained that delicious taste of the sea.
For an entrée I chose, of course, the prime rib. Husband chose a well-aged steak which the restaurant handily butterflied and prepared well-done to his specifications.
What can I say about a slab of meat fully over a pound in weight, well-marbled and prepared perfectly medium rare? Then again, I just said it, didn't I? The flavor of the meat is deep and throaty, with the fat adding to its tenderness. My pup did quite enjoy chewing on the bone later and for a moment must have thought he died and went to dog heaven.
Everything is a la carte in this restaurant, so tack on another fifteen bucks for soup or potato beyond the whopping $32.00 cost for the prime rib entrée. I chose a side of au gratin potatoes and cannot recall having a dish so cheesy and in harmony with its potato accompaniment.
Husband had two drinks while I had one cocktail before dinner with a great cup of coffee and a side of kahlua at meal's end. So the $150 price tag does include the entrees, drinks and side orders.
If ever in Baltimore way, do yourself a favor and visit our premiere restaurant.
Make sure your credit card is not maxed out first.

From Joan Kay-Resident Ancestory Expert
Joan's book "God's Mountain, McLaughlin's Valley" is on the sidebar.
Below a short snippet about Joan's recent vacation in West Virginia. Where she is doing researching her next book.
======================
The Greenbrier River, Pocahontas County, West Virginia. North and south views from the bridge on Sitlington Road, in Sitlington/Dunmore.

Here we rented a cottage for the week. Sitting outside, listening to the water rushing and rippling over stones in the Greenbrier on a 50 degree night in July was heaven to this girl from Maryland, where the average July night brings only mosquitoes on its soggy 80 degree air. Don't get me wrong, I love Maryland... just not so much these sticky summer nights. Come on October.
After a cool rain, we traveled along Back Mountain Road, Pocahontas County, looking for my great-grandparents graveyard.
This winding road traverses one of the most naturally beautiful little valleys I've ever seen. Never did find the cemetery...
More Guest Writer HERE

"I Want to Be a Hilton"
Ever since Latricia was eliminated I've lost interest in this reality series.
As I understand the show is now down to the final two although my picture shows three finalists.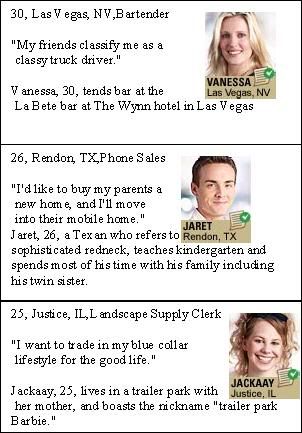 I did watch the most recent show when the contestants were charged with hyping up a nightclub event.
It was a silly effort and it's a silly show.
~~~~~~~~
The Law Firm
I was intrigued by this show despite its rather dry subject matter.
Roy Black is the host of this show. The same Roy Black who represented Rush Limbaugh and William Kennedy Smith.
There are 12 practicing lawyers competing for a $250,000 prize.
The contest revolves around real court cases that the contenders actually try in a court of law.
This is a show hyped as the antidote to hatred of attorneys in this country. It's doing very poorly in the ratings.
From what I watched, I can understand.
First, The Wise I could do a better job than these alleged "practicing attorneys".
This past week two cases were tried. One involved a man who designed and displayed a poster portraying his friend as a terrorist. The poster described his friend's locale to generally be around a coffee machine.
The other case involved a web site designer who did work for a dominatrix. The dominatrix wanted the web site designer files.
In the first case, one of the "lawyers" actually asked the victim of the terrorist hoax if he owned a knife. The questioning along this line made no sense. Later, Anika I believe her name was, justified this questioning as an attempt to prove that while her client was a little "dangerous", he wasn't as dangerous as a terrorist.
Whatever.
It made no sense to me and it made no sense to Roy Black either.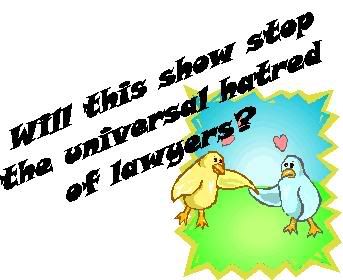 What was more interesting in this case was the judge's ruling. The poster was obviously a joke as one does not normally find terrorists hanging around a coffee machine. The judge, however, declared he was offended by the poster and awarded damages BEYOND what was asked.
We need a reality show for judges.
The defendant was at worst guilty of bad taste.
As for the dominatrix case, this judge ruled wisely that there was absolutely nothing in writing between the web site designer and the dominatrix. Thus whatever was happening would continue to happen.
One contender actually cussed the judge's decision. In front of the judge!
"The Law Firm" can be seen on NBC, Thursdays @ 9 pm.
~~~~~~~~~~
"Hell's Kitchen"
The chef from hell has chosen the winner and it was Michael. The other finalist was Ralph.
The winner of this reality series was supposed to win an actual restaurant.
In a twist, Chef Ramsey offered Michael the chance to go overseas with him and study under him. This rather than accept the restaurant.

I must wonder if this was all a setup.
Because Michael, for whatever bizarre reason, took Ramsey up on the offer.
Who would willing choose to spend more than five minutes with this nasty man?
More TV Reviews HERE