The Heroes of Flight 93 Deserve Better
"Let's Roll" was their battle cry as ordinary American citizens crashed a plane causing their own deaths.
They will always be heroes to me, part of my people, the ones who carry this country on their backs.
So the U.S. U.S. Chamber of Commerce Hall of Flags finally releases the design for the heroes of Flight 93, which crashed into a reclaimed strip mine near Shanksville, Pa.
They used a crescent.
How dumb is this?
Of all the geometric symbols in the universe, they had to use a crescent? Recall that the people who caused the deaths of these heroes hails from countries which use the crescent as a national symbol.
Would they have used a swastika to memorialize the soldiers of WWII? A rising sun in memory of those who died in Pearl Harbor.
No, it's not a coincidence I don't believe that for a minute.
This is some feel-good, do-good, love-your-enemy-they-are-oppressed liberal mish-mash.
Though the designers will tell you it was not intentional.
So okay. Go back and change it.
Check the picture below and envision the red crescent, symbol of the sons of camels across the planet.
As described by the designers below:
"Crescent of Embrace" will feature a Tower of Voices, containing 40 wind chimes -- one for each passenger and crew member who died -- and two stands of red maple trees that will line a walkway caressing the natural bowl shape of the land.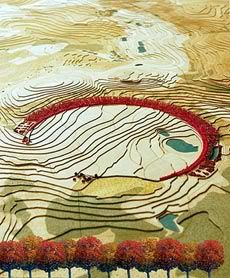 ~~~~~~~~~~
ANSWER Communists Going to End Iraqi War
FreeRepublic founder Jim Robinson posted this message on his site:
The left is massing for their huge anti-war protest in Washington, DC, on September the 24th. This isn't about Cindy Sheehan. Led by the communist supported International A.N.S.W.E.R. group, the left believes this one massive protest will deliver a Vietnam style knockout blow to our president and the war effort.

This is their big "Vietnam war" protest of the current generation. Do not allow this group of America-hating hippies and misfits win the day for the terrorists. Do not allow them to destroy public support for the war as they did in the 60's. Do not allow them to demoralize our troops with their lies and anti-America communist propaganda!!

Seems the moonbats think they're going to change the direction of our country. Communist moonbats at that.
If you can't join in on the counter demonstration, please consider a donation to help those that can.
Donate to the Counter-Demonstration
Below, the Communist Moonbats Goals
==========================================
From Iraq to New Orleans, Fund People's Needs - Not the War Machine

Stop the War in Iraq

End Colonial Occupation from Iraq to Palestine to Haiti

Support the Palestinian People's Right of Return

Stop the Threats Against Venezuela, Cuba, Iran & North Korea

U.S. out of the Philippines U.S. out of Puerto Rico

Bring all the troops home now

Stop the Racist, anti-Immigrant and anti-Labor Offensive at Home, Defend Civil Rights

Military Recruiters out of our schools & communities
Communist ANSWER Web Page
~~~~~~~~~~~
History Test
A learning experience.
===================
HISTORY TEST. Please pause a moment, reflect back, and take the following multiple choice test. The events are actual cuts from past history. They actually happened!!! Do you remember?
1. In 1968 Bobby Kennedy was shot and killed by:
a. Superman
b. Jay Leno
c. Harry Potter
d. Muslim male extremist between the ages of 17 and 40
2. In 1972 at the Munich Olympics, athletes were kidnapped and massacred by:
a. Olga Corbett
b. Sitting Bull
c. Arnold Schwarzenegger
d. Muslim male extremists mostly between the ages of 17 and 40
3. In 1979, the US embassy in Iran was taken over by:
a. Lost Norwegians
b. Elvis
c. A tour bus full of 80-year-old women
d. Muslim male extremists mostly between the ages of 17 and 40
4. During the 1980's a number of Americans were kidnapped in Lebanon by:
a. John Dillinger
b. The King of Sweden
c. The Boy Scouts
d. Muslim male extremists mostly between the ages of 17 and 40
5. In 1983, the US Marine barracks in Beirut was blown up by:
a. A pizza delivery boy
b. Pee Wee Herman
c. Geraldo Rivera
d. Muslim male extremists mostly between the ages of 17 and 40
6. In 1985 the cruise ship Achille Lauro was hijacked and a 70 year old American passenger was murdered and thrown overboard in his wheelchair by:
a. The Smurfs
b. Davy Jones
c. The Little Mermaid
d. Muslim male extremists mostly between the ages of 17 and 40
7. In 1985 TWA flight 847 was hijacked at Athens, and a US Navy diver trying to rescue passengers was murdered by:
a. Captain Kidd
b. Charles Lindberg
c. Mother Teresa
d. Muslim male extremists mostly between the ages of 17 and 40
8. In 1988, Pan Am Flight 103 was bombed by:
a. Scooby Doo
b. The Tooth Fairy
c. Butch Cassidy and The Sundance Kid
d. Muslim male extremists mostly between the ages of 17 and 40
9. In 1993 the World Trade Center was bombed the first time by:
a. Richard Simmons
b. Grandma Moses
c. Michael Jordan
d. Muslim male extremists mostly between the ages of 17 and 40
10. In 1998, the US embassies in Kenya and Tanzania were bombed by:
a. Mr. Rogers
b. Hillary Clinton, to distract attention from Wild Bill' s women
problems
c. The World Wrestling Federation
d. Muslim male extremists mostly between the ages of 17 and 40
11. On 9/11/01, four airliners were hijacked; two were used as missiles to take out the! World Trade Centers and of the remaining two, one crashed into the US Pentagon and the other was diverted and crashed by the passengers.
Thousands of people were killed by:
a. Bugs Bunny, Wiley E. Coyote, Daffy Duck and Elmer Fudd
b. The Supreme Court of Florida
c. Mr. Bean
d. Muslim male extremists mostly between the ages of 17 and 40
12. In 2002 the United States fought a war in Afghanistan against:
a. Enron
b. The Lutheran Church
c. The NFL
d. Muslim male extremists mostly between the ages of 17 and 40
13. In 2002 reporter Daniel Pearl was kidnapped and murdered by:
a. Bonnie and Clyde
b. Captain Kangaroo
c. Billy Graham
d. Muslim male extremists mostly between the ages of 17 and 40
Answer Key; "d." is the correct answer to all questions and Nope,
.....I really don't see a pattern here to justify profiling, do you?
~~~~~~~~
On a Lighter Note
Another cartoon caption contest.
The winner will receive a 7 x 10 color reprint, signed by me, with their in the cartoon. After the contest ends, I'll send you the cartoon with my line in it. I won't accept a submission if it has MY line in it. It has to be their own line.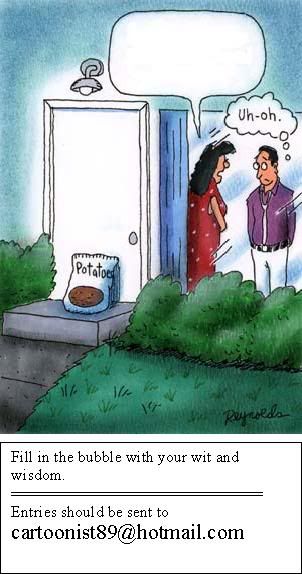 ~~~~~~~~
More Miscellany posts HERE

Another Reader Successfully Raises a Cardinal!
Though the reader gives me credit for it, I must blush.
I did direct her to the web site of a Hawaiian reader who had raised a baby cardinal.
What a beauty….pic below.
More Gardens and Bird posts HERE

Fox's "So You Think You Can Dance?"
One could easily take what I know about dancing and place it firmly up the behind of a flea. It would then still rattle around like a Bee bee in a box car.
For instance, the dances featured on Fox's "So You Think You Can Dance?" are foreign to me.
On the episode aired on Wednesday 9/14/05, dances such as "lyrical", "fox trot". "disco" and some really weird Spanish thing called the "Pase Doble" were featured.
I do know pretty syncopation, fluidity of movement and just plain pleasant watching when I see it. Indeed myself often dances handily with the dogs of the household and has, I say proudly, taught such canines to also dance. I've got a dachshund that can do a spectacular Cha Cha. Although his fat sausage body looks nothing like the Cha-cha done by Artem and Ashle in this past episode.
Let's take a look at the final eight contestants in this contest that Fox would love to be the next "American Idol".
The ages of the final eight range from 20 to 27. Mine own birth city of Baltimore is represented by finalist Jamile.
Three contestants hail from California. The rest are closer to the east coast. One finalist hails from Russia.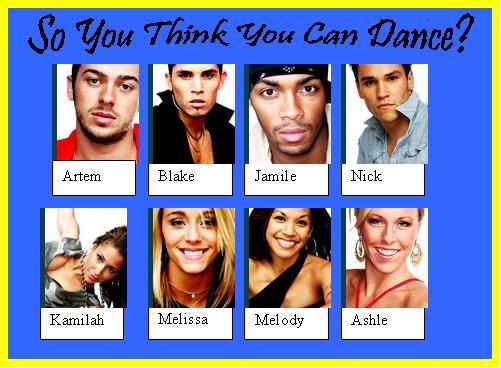 Up for elimination per the judges in this past week's episode are Jamile, Artem, Melissa and Ashle.
I loved Blake and Melody's disco dance. The judges too liked this couple's performance of both the disco and lyrical dances. They were both called "hot and sexy" by one judge. If I were a betting woman I'd go with this couple with what little I know now.
Kamilah and Nick did a mambo deemed by the judges as "not even close". Their contemporary dance featured intriguing black and white costumes and had a very cool ending that hey, I liked. Per the judges, their contemporary rendition was perfect.
Artem and Ashle did a Foxtrot and a Cha Cha. Both dances that I would imagine not in Artem's area of dance expertise. The judges gave thumbs down on Artem's fox trot as well as the Cha Cha. Ashle is a beautiful woman and look gorgeous during that Cha Cha.
Melissa and Jamile did a hop-hop and that Spanish thing. The judges pronounced Jamile as no matador. I noticed during the hop-hop Melissa's legs were not in sync with her partner's. Both received praise for their hip-hop performance.
For now, remembering that flea and the behind, I'd choose Blake and Melody. By me Ashle's got a great chance as well.
Next week two more contestants will be eliminated.
I hope Ashle's not one of them.
More HERE at Fox's Dancers' Photo Page
~~~~~~~~~~
More TV Reviews HERE