The Spring garden
Finally, finally it's spring. A visit to my early spring garden with more promise than flowers.
HERE
~~~~~~~~~~~
Tthe Fall 2006 Gardens Finale
And the Fall gardens. The frost came and went and the final pictures are in.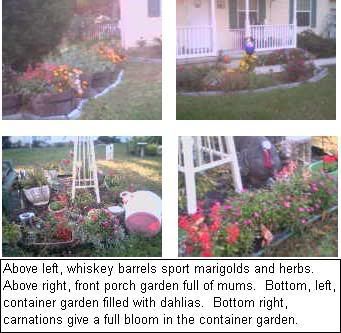 HERE
Fall 2006 and the Mums
Got a Fall 2006 garden update here and yes, he have mums.
HERE
~~~~~~~~~~~
Pumpkins in the Flowers
Guest Writer Michelle continues her story of hybrid vehicles and the dangers of driving over rocks. With an adorable pic of her dog and new calico.
Also, some garden musings, including the REAL reason I am growing pumpkins in my flower gardens.
A mystery plant update.
HERE
~~~~~~~~~~~
The July 2006 Gardens
Since summer rages across the fruited plains, time for a Garden update.
Here in mid-July 2006 we have the success of the gladiolas and a mystery plant that appears to be a tree only it really is supposed to be a plant.
Lots of pics.
HERE
~~~~~~~~~~~
June 2006 Garden Update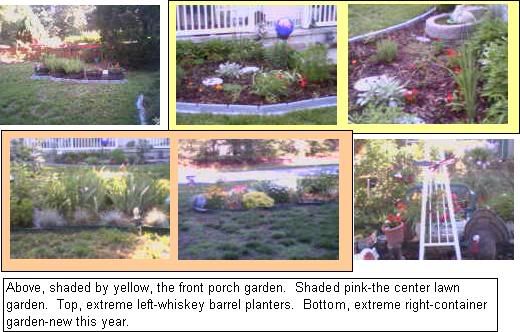 Time for a Garden update. With some pics of the gardens growing and a new flower that promises glory of "funeral" proportions. Heh.
HERE
~~~~~~~~~~~
Weeds or Flowers?
It's Spring 2006 and the new plantings are growing!
Except…well..maybe they're weeds?
The azaleas bloom and garden plans are ablaze.
Guest Writer Michelle teaches us about spiders. The Black Widow Kind.
Oh, and what does the name of your state mean?
HERE
~~~~~~~~~~~
The New Container Garden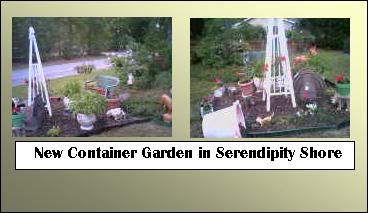 Here's a Garden post with some pics of the new container garden and garden evolution.
It's been a beautiful spring here in Delmarva. So why was I so worried?
HERE
~~~~~~~~~~~
Blooms in Winter
A Gradening post in the middle of winter?
Well it has been a very warm January. The hedge roses want to bloom.
Pictures of a beautiful and intriguing garden, plus, yes, it's a gardening cartoon.
HERE
~~~~~~~~~~~
Homage to Indoor Plants
They are there when we need them most.
INDOOR PLANTS HERE
The Garden Catalogues
Raise your hand yon gardeners who have never perused the mid-winter gardenings magazines and gone bezerk with the ordering?
In this gardening missive, one gardening Grandmother, now choosing plantings for her new gardens, must choose the new perrenials that will solidify the garden structure.
It's fun, there's gardening gossip, and pictures of the plants finally chosen.
THE GARDEN CATALOGUES HERE
The Cement Garden
To any gardener who thinks one cannot grow a garden successfully in the middle of a cement plot, I say pshaw!
Indeed The Cement Garden did grow wonderfully except there was big changes from the original plan.
With pictures of new garden plantings already in my gardens and waiting for spring.
CEMENT GARDEN HERE
Garden Book Excerpt
It's getting to be spring and in anticipation, this excerpt from my book will get gardeners in the mood.
It's a tale about REAL gardeners, the ones with sloped lots and squirrel horticultural help.
These gardeners are never featured in Better Home and Gardens.
But there's waaaaay more of us than them.
GARDEN BOOK EXCERPT HERE
Where are the Tomato Cages
Where are my tomato cages?
It's a garden post as, hey, it's spring, a season that soothes a gardeners soul.
Only the peonies need to be staked and hey, I can't find my tomato cages.
Reward for any yon reader who can tell me where they are at.
TOMATO CAGES AND PEONYS HERE

A Gardener's Gotta Believe
It's spring and here's a gardening post.
Now's the time to buy those annuals and yes I did. Petunias, Red AND White, gotta love it.
With pics of all the gardens such as they are.
SPRING 2005 GARDEN POST HERE
Flopping Peonies; Climbing Roses>
It's a short and simple gardening post with a pic that might cause a smile.
For the peonies flop and the climbing rose begins its climb.
HERE
Where are the Hollyhocks.
This and other daunting questions on this gardening posts.
Click in to check Grandmother's hedge roses. Which defy biology with their bloom.
Still, no hollyhocks.
HERE
Reconfiguring the Gardens
Time to reconfigure the gardens.
This Garden post has some pics and narrative on the travails of moving "landscaped" plants where they would be much happier.
HERE
~~~~~~~~~~~
Trees
Here's a Garden Entry.
It's an homage to the trees.
Including the one with a "face".
HERE
~~~~~~~~~~~
Bugs in the Gardens
In this Garden missive we take a look at some garden bugs.
Including a spider that wants to catch himself a human!
HERE
~~~~~~~~~~~
The Thanksgiving Cactus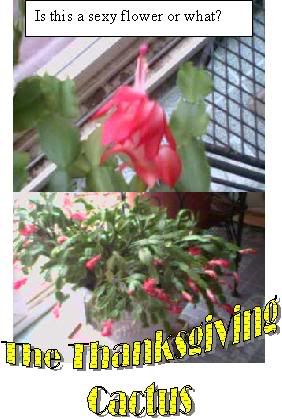 Gardens in December?
Well there is the promising garden catalogues. This year the choices have been ordered and planted.
Check out the flowers that will, God willing, grace next year's gardens of The Wise I.
And sexy pictures of the Thanksgiving cactus in full bloom.
HERE
~~~~~~~~~~~
The Great Indoor Plant Show
It happens on once a year.
Yet the indoor plants have been moved inside.
In this Garden post we have pics detailing their origins and progress.
Oh, and there's the story of the mouse in the ivy.
HERE
~~~~~~~~~~~
Sweet Potatoes and Turnips?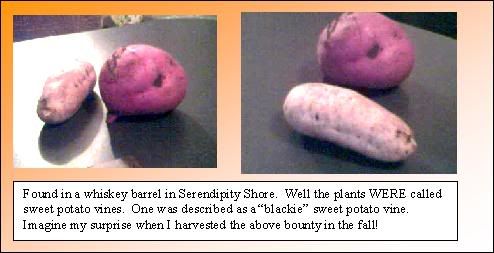 HERE
It -was- called a sweet potato vine. We thought it was just an idle term.
In this Garden post we have a pic of this fine vegetable harvest from mine "ornamental" plants.
And a return visit to Critter Cove yields amazement at the plantings left behind.
~~~~~~~~~~~

Amazing Bird Photography
And another Guest, this one a guest photographer, allows us to glimpse her amazing avian photography.
HERE
~~~~~~~~~~~
The Robin and the Redtailed Hawk
Here's a short and simple Bird post.
For a redtailed hawk decided to attack a robin's nest.
What happened next is all about truth, justice and the American way.
Also, some excellent bird pics from an amateur photographer that could rival the best.
HERE
~~~~~~~~~~~
Wrens and Snakes
It's deep in the heart of spring and the wren's nest in the pig planter is coming along fine. With a little help from a very protective robin.
Oh, a baby blue jay is saved and a snake story that will make your skin crawl.
HERE
~~~~~~~~~~~
Wrens, Mockers and Baby Grackles
It's been a busy bird spring and we catch up in this Bird post.
A baby grackles refuses to leave the nest, house wrens eye up a pig planter and collect dog hair. A mockingbird takes on a crow.
Oh, and don't forget the baby bunny.
HERE
~~~~~~~~~~~
A Heron in Delaware
There are still birds in the world.
Sure, they're not the beautiful shore birds of Critter Cove but in this Bird post we discover a Great Blue Heron flying around our Delaware lot.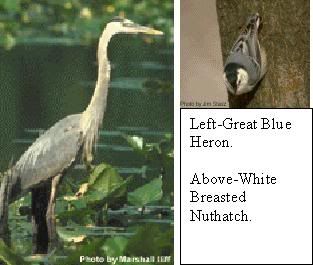 And another old bird friend comes to Delaware.
HERE
~~~~~~~~~~~
Ten Minutes of Life
This story was a prize winner last year. It was, to my intrigue and delight, published in a British newspaper, taking up two full pages with the tale.
But it's all true, this story of my vacation from life. Only to be confronted by life in the form of a snake, two nesting robins and two dogs determined to embark on their own snake hunt.
THE DOGS AND SNAKE STORY HERE
The Birds of Winter
Soon the holiday festivities will be a fait accompli. Then we will realize that which has eluded us.
It's winter!
Thus the Birds of Winter become all important for cold weather bird watchers.
In this missive, written in the winter of 2002, yon bird appreciating reader will understand the antics and behaviors of those birds that visit us during the cold months only.
BIRDS OF WINTER HERE
Book Excerpt on Cardinals
On Weds, Feb. 23, An Excerpt about baby cardinals from my book. For what becomes the most beautiful of birds looks a bit pitiful in its ascendency into full and glorious adult cardinal plumage.l
ON CARDINALS HERE
The Bird Singers
In this bird post I not it's spring and the birds are singing.
As I cock an ear I ponder what bird would sing what sort of human tune in this blatent attempt at anthropomorphism.
Both the cardinals and the whiporwills would be Broadway singers but with a distinct difference.
BIRDS AND THEIR SONGS HERE
Raising a Baby Cardinal
A reader rescued an abandoned cardinal and shares the experience and pics.
RAISING A BABY CARDINAL HERE
Raising a Baby Cardinal
The young bird is growing but he's getting uglier? Why? With pics.
CARDINAL UPDATE HERE
Baby Bird Season
How does painting the deck give an insight into bird parenting skills?
It's a Bird Watching post chock full of observations about this season of the baby birds.
HERE
~~~~~~~~~~~
Love is for the Birds
Here's a bird story about avian love.
Yes the male starling really does LOVE his family. Yes that chickadee was a hero. Yes that Mama Duck was very angry at her errant ducklings.
HERE
~~~~~~~~~~~~
The Hummingbird Wars
It happens every year and every year I must document the phenominum. In this Bird post we discuss those thumb-sized warriors, the hummingbirds, and their insane quest to dominate every feeder on the eco-system.
HERE
~~~~~~~~~~~
Baby Cardinal
Another reader raises a baby cardinal!
Details in this Bird post and some beautiful pics.
HERE
~~~~~~~~~~~
The Robins and the Mountain Ash
A hoard of robins strip my Mountain Ash in this Birding post.
And a new bird comes to Delaware's Serendipity Shore.
HERE
~~~~~~~~~~~