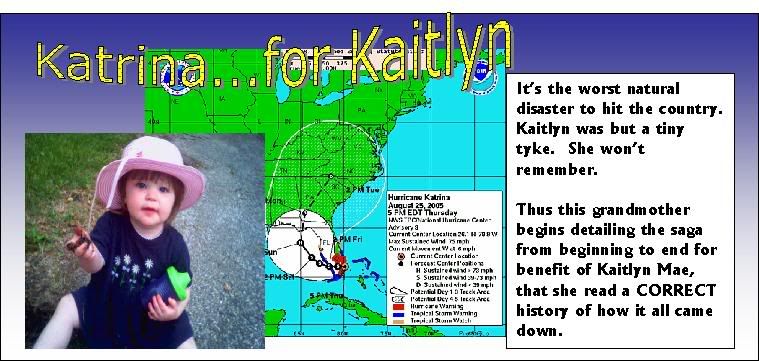 Where We At Now
Dear Kaitlyn Mae,
Thus it begins this missive to you regarding Hurricane Katrina, the worst natural disaster to hit the United States. I write it because I fear that the history books you may read someday will be full of lies. Much like that "9-11 Omission-Commission" report which covered the guilty behinds of faulty politicians' failure to act, if not outright treason.
As a resident of a part of the country susceptible to hurricanes (assuming you still live in the Merryland/DC area when attending school) I hope the information provided helps you make wise decisions should you or your family be faced with such a killer storm.
Hurricane Katrina bore down on America's Gulf coast early on Monday morning, 8/29/05. It was a category 4 hurricane when it hit land, having been downgraded from a category 5 right before it hit land.
It was a huge storm.
Today is September 6,2005.
Below is a review of what has happened since Katrina hit through the above date. Below this is a short review of Grandmother's experience with hurricanes that you know what to expect.
Hurricane Katrina had been hyped endlessly as a killer hurricane since the Friday before it actually hit land. The storm at first glanced off the coast of Florida as a category 1 and still it left seven people dead in its wake.
Like much of the country, I paid close attention to the path of Hurricane Katrina. Hurricanes and thunderstorms have always been a source of fascination for me, Kaitlyn, an oddity some would suggest. Beyond that, at the time of this writing, Grandmother lives only ten miles from the Atlantic Ocean. What happened to the coast of Mississippi could happen just as easily along the coast of Delaware. In a future missive I will detail Grandmother's plans for evacuation should a killer storm like Katrina head my way.
Grandmother knows very little about the Gulf coast of the United States. I've never visited any state even remotely near there. The somber pronouncements that any hurricane above a category 3 would obliterate the levees protecting New Orleans fascinated me. I had no idea that the city of New Orleans is essentially a "bowl", a dip in the landscape that is BELOW sea level.
Baltimore city has often been compared to New Orleans in terms of temperature, shellfish preferences and the ever-present humidity. Baltimore is NOT below sea level, however, although Baltimore did suffer a killer hurricane that had much of the Chesapeake Bay inundating the city.
It was so very odd to be sitting in front of my television and hear those pronouncements about busted levees and the devastation predicted for a hurricane over a category 3. Katrina was a high hurricane 4 and yet no one seemed overly concerned about the levees.
Something I also know little about, these levees, although I've learned quite a bit about them of late. As I listened to the weather forecasters and heard about the floods to come should the levees break, it seemed that the world should have been screaming and shouting. Yet the world continued to revolve, the handsome news anchors kept informing us about the danger of the levees and I watched it all from the comfort of an easy chair on cable news.
Various news personnel made their way to New Orleans during the storm. We were treated, as we always are, to sight bites of reporters bending backwards from the blowing winds and web cam shots of hurricane stricken areas even as the winds blew. It's a form of fascination for the American public and we had a bit of a ho-hum attitude about it.
Florida had taken quite a few hits with hurricanes this year and the last. Florida managed to get through them with the storms' devastation in most cases being a much smaller area than Katrina's.
It was the Tuesday after the hurricane that the realization of the horror visited by Katrina became apparent. Beginning with the rather casual announcement that some of the levees protecting New Orleans from the ocean waters had been "breeched". I imagined a massive cement wall with small cracks that would seep water, more an annoyance than a catastrophe.
The city of New Orleans, over the course of that Tuesday, was completely flooded. Before my fascinated eyes it would seem that what I deemed to be not much more than cable news background, exactly what was predicted to happen, actually HAPPENED.
Then all hell broke loose.
Before the hurricane, the Friday and Saturday proceeding, unbeknownst to me at the time but known now, Louisiana officials were debating whether to order a mandatory evacuation of the city. As I understand it, President George W. Bush finally phoned up Louisiana's Governor, a doltish Governor Blanco, and begged her to order a mandatory evacuation of the city.
As of this writing, Kaitlyn, there is still an ongoing debate over who said what to whom. Whatever was said, a mandatory evacuation of New Orleans was made.
Only one problem. New Orleans is populated by approximately 480,000 people. Many of whom are poor and without transportation. Those people had no way to get out.
New Orleans opened up the Superdome for such residents and this also turned out to be a boondoggle. At some point the New Orleans convention center was also opened for the city's residents. Why, and how, that came about is still unclear.
The Federal Emergency Management Agency were the first to come on the scene.
This was about Wednesday of the week of the storm. The cable news networks were broadcasting conflicting and confusing information. Beginning with the news that snipers were shooting at the rescue vehicles.
There were also tales that New Orleans' cops left their jobs, that the people in the Superdome were trapped without food and water. The situation at the New Orleans' convention center was so horrific it defies documentation.
Those people, Kaitlyn, did not have the luxury of simply riding out the storm in those city structures. Or the ability to simply leave when the storm passed by.
Those people were TRAPPED, Kaitlyn, in that with the broken levee the city had flooded. There was no way out of New Orleans and no way in.
Alabama and Mississippi too were hit horribly by the storm. Bridges and interstates were busted apart as if they were simply pieces of a jigsaw puzzle. Entire houses were completely flattened.
Hurricane Katrina had effortlessly picked up houses and moved them a few miles down the road.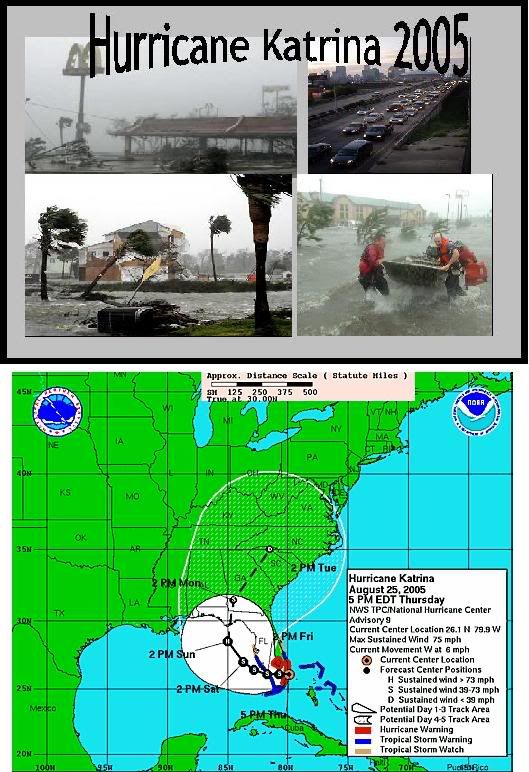 As of now, the two breaks in the levees have been temporarily repaired by the Army corps of engineers. All people at the Superdome and Convention Center have been evacuated to nearby states, most in Texas.
It goes on, Kaitlyn. Alabama, Mississippi, Louisiana. Three states. All hit so hard by this storm they may never recover.
The spin has begun. New Orleans blames it all on the federal government, specifically President Bush. The Feds, for now, are trying not to cast aspersions but it comes out.
For some reason, New Orleans did not even want to do a mandatory evacuation. The Governor demanded 24 hours to "think" about her options. This only 48 hours before the storm was due to hit. 24 precious hours for someone who should never be in charge of anything much less a state, so she could "think" about it.
New Orleans cops left their jobs in droves, many participating in a little free shopping courtesy of abandoned stores then flooded.
FEMA responded to help evacuate those people left behind. FEMA stopped due to alleged sniping of the rescue vehicles.
Grandmother suspects that some of those corrupt Democrats running Louisiana needed time to decide how to best spin it all politically but we'll get more into this later. For now they're all happy to cast blame on the freaking President of the United States for God's sake!
Kaitlyn, should Delaware's coast ever be swamped by flood waters, first, Grandmother would get out of Dodge as even the inept authorities in Louisiana demanded. The last person I would expect to be on the scene to get me out had my good sense not prevailed and I ignored the evacuation order, is the President!
I would expect my Sussex county officials, the Governor of Delaware, hey, maybe even that creep of a Senator Biden, to be handling things. I would definitely be looking to the local police for help. Maybe after a few days I would look to the national government for some assistance in terms of money or rescue should I still need same. Such things are for the LOCALs to handle. Everybody knows that. Common sense dictates it.
Ah. There lies the rub. For the New Orleans police were nowhere to be found.
Yet the Democrats are out and about, boo-hooing and blaming the President for what THEY didn't handle.
Ah, more on this will come out, Kaitlyn. Lest they alter history, Grandmother will provide you with the truth.
Written as it actually happened.
Grandmother's Hurricane Experience
As of this writing, Kaitlyn, Grandmother is a hefty and experienced 55 years of age. Having lived in Merryland and now Delaware, all of those years, I've experienced a hurricane or two.
The very first hurricane of my memory is Hurricane Hazel. Which plowed its way right up the Chesapeake Bay when I was six years old. The storm bought such a huge storm surge that much of Baltimore was under water.
Of course I was very young and the memory is vague. I recall having to hide under my bed at the command of my father. Before diving under the bed I recall seeing trees and playground equipment fly past the window of our second floor apartment. Thus began Grandmother's lifelong fascination with the storms called hurricanes.
Hurricane Hazel took out huge chunks of Ocean City, Merryland, which I live near now.
Another hurricane of my memory was Hurricane Floyd. It was during this hurricane that I got the bright idea of watching the entire hurricane from my front porch.
I had to be out of my mind.
The two dogs did join me for the adventure but were mighty weary as we kept moving back and back from the driving rain. Eventually some birds decided to join me, hand to God. The entire ledge under the porch became filled with birds of all kinds. They were perfectly safe there and didn't seem to mind my human presence. Soon all sorts of objects were flying by and Grandmother, to the relief of the dogs, decided to go inside the house.
Just two years ago, Grandmother and husband were faced with Hurricane Isabella. We had just moved here to Delaware and husband and I debated what to do in the event of a mandatory evacuation.
"I'm not leaving for anybody," husband said stubbornly. I chewed my fingernails and wondered where we could go and how on earth to tend to our many pets.
We did fill the tub with water and prepare for Isabella fairly well. Fortunately, or perhaps unfortunately from your mother's perspective, Isabella didn't hit Delaware near as bad as it slammed into Baltimore. Your mother was without electricity for a week and Baltimore had flooded areas for weeks afterward. Here we only lost our cable for a few days.
No doubt by the time you read this Kaitlyn you will have experienced a hurricane or two. Comes from living on the coast of the United States.
"If I've learned one thing from Katrina," husband said to me last week, "is that if the government tells me to evacuate, I'm going."
Quite a change from his stubbornness during Hurricane Isabella.
We do have a plan, Kaitlyn.
We'll discuss next session.

Three Little Graves
It seems small somehow to grieve over the loss of pets when so many have lost everything they own due to Hurricane Katrina.
Yet the loss of three beloved feline friends over the period of a month is a bit devastating.
Not to mention the story of Lucy Eightclaws. More on this later.
Their names were Josephine, Liberty and Jimmy.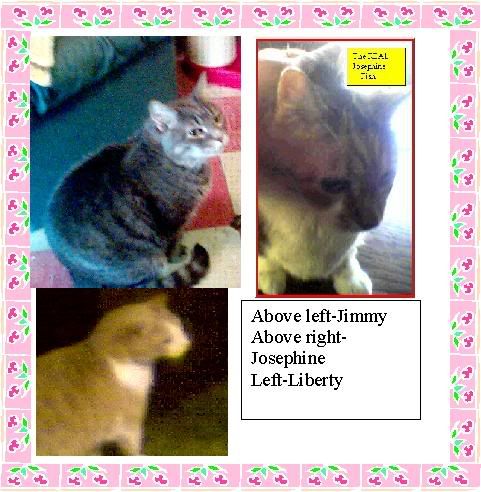 Yes they were elderly, the youngest, Jimmy, being 13, the eldest, Josephine, being a good 15. Liberty was somewhere in between.
All acquired within the same period time. Josephine and Jimmy had been abandoned. Liberty was an urban cat that hung around my former employer in Baltimore city, Liberty Medical Center. Hence his name.
They didn't die painful deaths. Extraordinary measures might have kept them alive for a bit longer. Unfortunately a life span is a life span and to continue beyond a life span is a folly of sorts. Especially for animals that don't appreciate the pain and turmoil of extending their life.
Here's to you guys, our buddies for so many delightful years.
Three little graves.
Here in Serendipity Shore.
Above is a picture of Lucy Eightclaws.
She wants to hunt mice in Iraq. This is because she wears her desert camouflage at all times. Even on her face!
As young as she is, even Lucy Eightclaws has a story.
For in the midst of all the feline death action around here, we take Lucy in to get spayed and be administered all necessary feline shots, whatever they are.
The day this cutie gets spayed, the Vet phones me up.
"Mrs. Fish, I've made a terrible mistake."
I heard the words over the telephone line and my stomach dropped as if in an elevator. Please, I thought, don't tell me he performed euthanasia on Lucy in error. She is one of the few healthy cats around here.
"I thought Lucy was in to be declawed," the Vet continued to my telephonic silence. "And I removed two of her claws before I realized my mistake."
Still I remained silent over the phone line. My mind is racing.
I personally have no issues with declawing a cat. All of our cats (now 4) are indoor cats. But husband certainly has issues and these cats are all his beloved. Lucy, obtained during a time of great grief, was especially precious to him.
Our house is set up in such a manner that there's plenty of climbing and scratching posts for the cats. For so long the elder cats didn't use our fine setup in that they could not climb due to advanced age. The two younger cats used the various shelves and cat spots but not all that much. Lucy Eightclaws, feline of the desert, immediately took to all the climbing spots like a spider monkey.
She's such a delight to watch and hey, it's nice to see all this purchased cat stuff put to appropriate use for a change.
"She won't be able to climb anymore," husband responded sadly when I told him the news.
Which turned out to be definitely not true but at the time the removal of two of Lucy's claws was a shock. The Vet did not charge us a dime (as well he shouldn't have) for any of the procedures performed on Lucy, which included spaying, administration of her first feline shots, a feline leukemia test and other assorted this and that.
For her part, just as soon as I let Lucy Eightclaws out of her carrier upon return home from her surgery, she climbed right to the top of her favored climbing pole with no mind to her missing claws.
More Pampered Pets HERE

On Hummingbirds
A commenter has a suggestion to avoid my "hummingbird wars".
Hummer Post HERE
I wandered over here from a mutually used/familiar site (intentionally a little vague here, but I think you'll figure it out).

I was reading another issue you're covering here but was sidetracked by your Hummingbird Wars issue, being someone who is also quite fond and often bemused and sometimes puzzled by them (but it's all good).

Something that's disappointing to Hummingbird fans to learn is that we should not provide feeders -- what it does make them within one generation reliant on the feeders as food supply and they often either or both stop migrating and fail to instruct the next generation/s on where and how to find food and what migrations to follow and when (a constant, artificial food supply exists, no need to look elsewhere and the supply doesn't disappear with season changes, so again, no need to go elsewhere to find food).

It also makes for larger populations in only one or two generations, who all remain where they shouldn't with season changes and who know nothing about finding natural food sources, and so they perish in greater numbers when/if the human-food supply in those feeders is withdrawn, otherwise disappears (humans move away, whatever).

The fighting IS territorial protection but it's a bad sign, indicates that populations in your area are stressed among the Hummingbirds...who have grown to larger numbers (either reproduction or more attracted to one area) and this sort of activity is really bad for the species.

I'd suggest that you stop feeding them, just remove all feeders for a while, like a year or two. It's tough, I know, and the birds in your area are going to get "angry" and buzz you when you appear outside (for a while) but they'll quickly be forced to find food sources elsewhere and that'll solve the "wars" with your feeders.

If and when you reintroduce the feeders, just put out one. Don't increase it to many, but just limit the feeder to one only and leave it at that. What will happen is that you'll encourage just one bird family to rely on the unnatural food source, you'll get to enjoy them in their visits, but it won't pose a bigger problem to many numbers (as many feeders do).

Just think of the birds, is my point, because the feeders aren't so much helping them as teaching them bad habits...and the migrations they follow to find food naturally are learned behaviors, so if the parent group doesn't instruct the new ones, they don't learn and they easily perish with season changes and feeder changes, etc.

--
Posted by suzyrice to The Kaitlyn Mae Book Blog at 8/28/2005 08:26:53 AM
~~~~~~~~~~
On Lyme Disease
On a recent post I wrote about my daughter's episode of Lyme disease.
Lyme Disease Post HERE
My neighbor always went hunting in Colorado each year. Thought he had a cold / flu (because he wasn't getting any younger) but continued to worsen. He had to retire; his wife had to do all the driving because they thought he had some form of dementia. By the time they finally diagnosed it as Lyme Disease, he could no longer even walk around the block for mental and physical reasons.
~~~~~~~~~~
On the Gaza Pullout
Lots of comments on the Gaza pullout. Including a commenter-"Amad" who thinks I should obtain DNA evidence before calling the thugs and thieves of the mideast "sons of camels".
Snork,snork.
Gaza Pullout Post HERE
A new comment has been posted on your blog entry: The Incredibly Sad Gaza Withdrawal
Published at: http://blogcritics.org/archives/2005/08/18/071142.php
From Name: Dave Nalle
Email Address: dave@elitistpig.com
Comments: Give it a break. Nothing wrong with a bit of good Clinton bashing. Really, how can anyone resist? I love the way you're all outraged when Patfish mentions things Clinton actually did wrong in passing but you never speak up when people try to pin ridiculous accusations on Bush. Nice double standard.

As for the article, the part which caught my eye the most is the insane bit from the newspaper article that UN funds paid for Palestinian anti-Israeli propaganda. It's mostly our money. This is why we sent Bolton to the UN. Whose nuts is he going to kick for us over this?

Dave
=============
I read two of your post tonight and they were well written. I learned a lot that I haven't never understood about the mess between Israil and Palestians.
I just can't understand why there is so much hatred toward the Jewish people.
I believe that every person must look within himself and decide if it's worth all the years of losing loveones, their homes, and being in total chaos and say to themselves "It's now time to stop this and get on with our lives"
The United Nations has failed terribly in trying to change the tide. The US has funded and helped so many nations and done so much for the people and they don't appreciate a thing we do thruout the world. Our contry suffers as a result. It's not fair to use our tax money on these kinds of projects that yield no peace or appreciation toward the US.

--
Posted by maple to The Kaitlyn Mae Book Blog at 8/19/2005 12:30:48 AM
===================
A new comment has been posted on your blog entry: The Incredibly Sad Gaza Withdrawal

Comments: a) You do your books a possible disservice by advertising them below a pile of drivel

b) You possibly raise libelous concerns by terming real people 'sons of camels', etc. without any actual DNA proof

c) One would need a lasso the size of the moon to pull this post back to a rational readable one, thus it's insights are lost
~~~~~~~~~~
More on the Red States vs the Blue States
Sheesh. Get a load of the commenter below. Who wants to know if my "dick is really that small" and dear Lord, actually asserting that only urban areas educate people well enough.
Should ask urban dwellers with children if they feel that well.
Definitely two blue state posters below, notice the wonderful spelling and composition of the well-educated "urban dwellers".
RED VS BLUE STATE PIC HERE
well, considering the blue areas have denser populations, being cities and urban environments where people are actually educated enough to decipher right wing fascism from nationalism, America is about equally blue and red.

And shouldn't the people elect the president, not the electoral college? I don't see how a majority of people voting for Gore, and Bush winning, is democratic. The electoral college is supposedly anyother check and balance, but when the members of the electoral college blindly follow the party line, it is merely a brain-washed monarchy.

You may have a "blog", and access to the internet, but you're just another ignorant, dirty, murderous hick, who thinks that national pride requires international slaughter. Is your dick really that small?

--
Posted by Allison Reeves to The Kaitlyn Mae Book Blog at 8/16/2005 01:59:16 PM
================
now where did you get that map cause i could contridict that several thousand times. But i guess i know what you mean when i was vary little I had "My World" where everything was perfect... I guess you kinda went the opposite way there.

--
Posted by Anonymous to The Kaitlyn Mae Book Blog at 8/18/2005 04:53:42 AM
~~~~~~~~~~
A Rant Even I Couldn't Match
Received this comment on my Fly-on-the-Wall about the 9-11 Omission-Commission report posted here and on Blogcritics.
9-11 Commission Coverup HERE
A new comment has been posted on your blog entry: The Fly on the Wall and the 9-11 Commission Cover Up
Published at: http://blogcritics.org/archives/2005/08/24/065033.php
From Name: eric
Email Address: eric@popgoeslethal.com
Comments: anopenlettertothemainstreammedia.com

there you will find....

An Open Letter To The Mainstream Media

At this juncture, to be discussing Beltway politics at all is disgusting. It implies business as usual. And we are not amidst a time of business as usual; we're surging full throttle towards catastrophe. The underhanded, amoral, slash and burn politics of Rove, Bush et al warrants nothing short of sustained outrage - torches and pitchforks - blazing headlines filled with extreme verbiage. And you, Mainstream Media, are responsible for these monsters. We citizens, unfortunately, mostly accept the status quo that you sell us. And the status quo you've been selling the last few years, is a steaming platter of horseshit.

This administration passes out big brown bags filled with the stuff, and all you can think to do with it is heat and serve.

For a minute there, recently, it looked like you might be interested in throwing it back at them. But now it appears that you are too whipped even to sustain meaningful coverage of this most minor of a mountain of horrific crimes - the Rove leak scandal.

This administration lied, cheated and bullied it's way into an idiotic and wicked killing spree against the only secular arab country in the middle east! Even the most conservative undercount conceeds 30,000 lives lost. That's 30,000 mothers, sons, fathers, daughters, friends, wives and husbands violently killed on the orders of these men. And realistically, the number's probably at least twice that.

The men behind this nightmare are the most vile of monsters. But somehow you, mainstream media, with few exceptions, can't or won't talk about this very concrete truth in concrete terms. Perhaps, MSM, you are afraid to look at what your horseshit suppliers have wrought? Perhaps you can't stand the guilt?

Each big news outlet - TV, newspapers - even NPR! - spends most of its time dissembling. Instead of captions beneath photos of the dead, we read rhetoric about the respective merits of the various rationales employed to justify the slaughter. Instead of the video footage of mothers wailing over lifeless, mangled flesh - voice-ing inconsoloable despair for their forever-gone beloved children, the tv news desks show us footage of the men responsible for the carnage smiling, slimy and smug, giving speeches, making jokes and making money.

It is you, MSM, that affords them their puffed up legitimacy. Everytime you give "balanced coverage" to killers, you help them to kill again. The only speeches that should be afforded legitimacy in this administration are the ones these bloodthirsty cretins make just before the gas is released into the chamber. Decency asks simply that you show things as they are. Don't make excuses for cruel thugs.

But you are nowhere close to decency. No where close to objective. And now, as blithely as a muddy hog trompsing through a white-carpeted penthouse, you begin to casually walk away from the one bit of criminality you HAVE been willing to notice - the Rove leak scandal.

Why? This story is far from dead. Rove is not only not incarcerated, awaiting trial for war crimes - he still has his fucking job! He's still weilding power! As are Bush, and Cheney and Libby, and Rice of course, but on this issue, with one of your own rotting in prison, it looked as though you were showing signs of life. And now you just sort of shrug. Oh well, I guess if Rove's convicted he'll be fired.

Find a spine, you worthless tools. Quit shining the shoes of murderous vermin. The nation is a woman. These rapists have her on a dirty table in some dank alley. And you, MSM? You're fetching them rope to tie her down! "Yes, sir Mr Bush, I know where there's some mighty fine tyin' rope, just down the road a piece."

Every inch of copy in the so-called objective newspapers should scream for the heads of these war pigs. The evening news ought to be a procession of journalists decrying our nation's descent into despotism. Had any of you slugs a whit of journalistic integrety, a smidge of will, an ounce of autonomy, or a hint of respect for your craft, perhaps the country would stand a chance.

Anything short of unrelenting outrage and defiance is capitulation. Open your eyes, you sheep. These men mean to bring Armegeddon. Dismiss this as bombastic hyperbole if you must. But I entreat you to take off the blinders. Look at the data. Don't allow yourselves the comfort of numbness. You think that this is simply a rough bit soon to pass? Hope may spring eternal, but believing in that tempting whimsy is the most woolheaded of folly.

This is no normal swing to the right of the pendulum. These demons will stop at nothing. They love power. The very best of them, maybe, is horribly, shockingly misguided. The rest are either openly malevolent and/or mentally ill.

So, for God's sake, don't let the Rove thing drop. You've displayed the first hint of courage we've seen in six years. Don't fall back into docility. Hound them mercilessly.

In this battle, the insulting, reductive rhetoric of George Bush is actually appropriate: This really is nothing less than a battle for the soul and the mind and the future of humanity; a battle between good and evil.

Do the moral thing. Meet evil with ferocity and brook no doublespeak or lawyerisms. Never succumb to the hypnotic lies of these obfuscating dissemblers.

It is because I love my country - because I pray for the victory of patriots over tyranny - that I entreat of you, the mainstream media:

Ride whatever point you can muster the courage to ride - if that point is the Rove leak, tip-of-the-criminal-iceberg, then so be it. Ride that. But ride it till it breaks. Then ride it till it dies. Then ride it till it stops twitching. Ride it until we see these maniacs convicted of treason and mass murder. Ride it until we witness righteous justice served.

Pursue truth until each honest citizen knows the grim satisfaction of seeing Bush, Cheney, Rove, and each of their henchmen swinging dead - each at the end of a sturdy rope, tied to a high bough of an old cherry tree, on an otherwise peaceful day in Washington DC, as the sun, at long last, sets upon a free and just Pennsylvania Ave.

Steadfastly,

Mr. Eric Strauss
~~~~~~~~~~