Day-Monday Date-10/24/05



Today's Auxiliary Blog Post
...Because there's more to life than politics.


Daily Update:

How about Syria murdering another country's leader? And the Moonbats bitch about us being in Iraq.

Tom Delay foils them with this infamous "perp pic". Hint-it stopped the Democrats in their tracks.

Who are the fifteen brave senators who voted to cut the pork in the federal budget? We got them listed.
~~~~~~~~~~~~~~~~~~~~
It's the Week Just Passed.

Iraq and True Crime grabbed the headlines this week.

In Iraq, Saddam's trial began, the constitutional referendum was voted on, and some Saddam trial characters are in trouble.

Also, click in for major announcement by Maryland's Lt. Governor Steele.

Oh, and the political cartoon of the week.
~~~~~~~~~~~~~~~~~~~~
In this Quotable.Notables we have Louis Freeh on Bill Clinton, a Canadian on Katrina, Some Moonbat Al Gore quotes and to keep us sane, a quote from Patrick Henry.
~~~~~~~~~~~~~~~~~~~~
This Web Site of the Week is fighting back at those who would malign Fox News.

Great Site-check it out.
~~~~~~~~~~~~~~~~~~~~

CLICK HERE FOR TODAY'S AUXILIARY BLOG POST
~~~~~~~~~~
Syria Caught by the UN!
Who would have thunk?
Of course, John Bolton, now ambassador to the UN no thanks to all the Democrats who refused to vote for him one way or the other, might have helped the UN do it right.
No wait. Read on. The UN DID screw up. Heh.
From CNN.com:

AP) -- President George W. Bush on Friday called on the United Nations to convene a session as soon as possible to deal with a U.N. investigative report implicating Syrian officials in the assassination of former Lebanese Prime Minister Rafik Hariri.

"The report strongly suggests that the politically motivated assassination could not have taken place without Syrian involvement," Bush said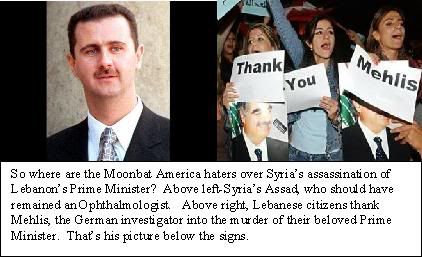 ~~~~~~~~~~
Dan Rather Working at the UN?
Seems the UN's final report on the Syrian implication in the assassination of the Lebanese prime minister included, heh, a BIG gaffe.
They distributed the electronic version of the report, an MS Word document, with the "track changes" enabled. Heh.
Said changes being the redaction of key members of the Syrian government involved with the assassination. Said key members being Assad his own pathetic self, some of his relatives, and members of his inner circle.
Mayhaps the UN got editing advice from CBS?
Heh.
From Timesonline.com:

THE United Nations withheld some of the most damaging allegations against Syria in its report on the murder of Rafik Hariri, the former Lebanese Prime Minister, it emerged yesterday.

The names of the brother of Bashar al-Assad, President of Syria, and other members of his inner circle, were dropped from the report that was sent to the Security Council.

The confidential changes were revealed by an extraordinary computer gaffe because an electronic version distributed by UN officials on Thursday night allowed recipients to track editing changes.
~~~~~~~~~~
Let's Give Them a Standing Ovation
Only fifteen out of a hundred senators voted to cut the pork in the budget to allow for funds to be delivered to Katrina victims and to help rebuild New Orleans.
One such egregious mis-use of federal funds is that infamous bridge in Alaska, costing over two hundred, count 'em, MILLION bucks, to allow approximately fifty people access to the mainland. Wouldn't it make more sense to use these funds to fix the bridge over Lake Pontchartrain in Louisiana?
Only fifteen. Maybe because the other 85 got their own pork budget money they're desperately trying to protect.
Can't have politicians, Repub or Dem, reign in their spending that they get re-elected, eh?

Allard (R-CO)
Allen (R-VA)
Bayh (D-IN)
Burr (R-NC)
Coburn (R-OK)
Conrad (D-ND)
DeMint (R-SC)
DeWine (R-OH)



Feingold (D-WI)
Graham (R-SC)
Kyl (R-AZ)
Landrieu (D-LA)
Sessions (R-AL)
Sununu (R-NH)
Vitter (R-LA)
~~~~~~~~~~
Tom Delay Foils Them Again
~~~~~~~~~~



Tomorrow's Blog Post


....Come back tomorrow when "tomorrow" becomes "today"
Auxiliary Blog Post
======================
Here's a True Crime Update for the week.

The Horowitz murder percolates strangely on. A Taylor Behl update, the stabbed groom, update on the caged children and the crazy lady who killed her children..

And who is the poor toddler found dead and buried with no identity?
~~~~~~~~~~~~~~~~~~~~
It's a Katrina for Kaitlyn update as we're still documenting it all that history not be changed.

More Naginhead nonsense and a happening pic of those school buses that won't leave him alone.

Also, prisoners left to drown in this most wonderful corrupt poor excuse of a city.
~~~~~~~~~~~~~~~~~~~~
Just some Comments from this past week.

Comments on New Orleans' cops, Hurricanes and ABC's "Commander in Chief"
~~~~~~~~~~~~~~~~~~~~

~~~~~~~~~~
Links to this week's Daily Updates
Friday's 10/21/05 Daily Update HERE
~~~~~~~~~~



TV Events of Note


ABC: Monday, October 24 9:00 PM
Sports event, Football
New York Jets at Atlanta Falcons
----------------
NBC Monday, October 24 8:00 PM
Drama, Science fiction

Episode 6
Cirko discerns the origin of the creatures while studying a sea orchid; when Laura returns home, she finds that her house has been ransacked by the government.

Cast: Lake Bell, Rade Serbedzija, Jay R. Ferguson, Carter Jenkins Executive Producer(s): Joshua Pate, Jonas Pate

~~~~~~~~~~