This Is for the Upcoming Week
We think he's going to announce his candidacy for U.S. Senate.
SSSShhhhhh!

A VERY SPECIAL ANNOUNCEMENT

The time has come for Lieutenant Governor Michael Steele to make a special announcement regarding the future of his public service.

Please join your fellow Marylanders for live music and refreshments on Tuesday, October 25th at the Novak Field House at Prince George's Community College at 11:15 AM. Please RSVP to (443) 603-1288.

Your support is very important, so make sure you're on hand for this very special announcement as we celebrate a stronger, more prosperous tomorrow for the great state of Maryland. See you there!

WHAT: A MAJOR ANNOUNCEMENT BY MICHAEL STEELE

WHERE: PRINCE GEORGE'S COMMUNITY COLLEGE

NOVAK FIELD HOUSE

301 Largo Road

LARGO, MD, 20774

WHEN: TUESDAY, OCTOBER 25, 2005

11:15 AM
Week Just Passed-Iraq/True Crime Major Events
The Iraqi constitution appears to have passed although the final results are not in yet. It was a victorious, heady day.
The strange situation in Toledo, Ohio, gets more attention.
A camera loving attorney's wife is murdered; a suspect is arrested.
Hurricane Wilma begins her path of destruction.
Saddam's trial begins; the NY Times disappointed.
Schizophrenic mother throws toddlers off pier.
And in Iraq, Saddam's half-brother turned over by Syria while a lawyer involved in Saddam's trial is abducted.
~~~~~~~~~~
Results and Info on Iraqi Constitution Referendum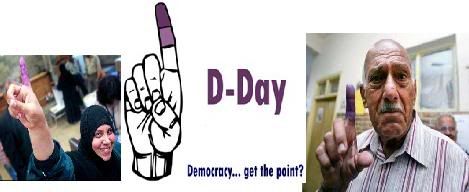 HERE
~~~~~~~~~~
What the Hell Went on in Toledo?
HERE
~~~~~~~~~~
That Strange, Strange Horowitz Murder
HERE
~~~~~~~~~~
Hurricane Wilma Begins the Showdown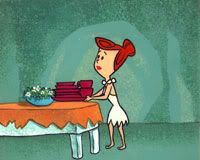 HERE
~~~~~~~~~~
The Trial of Saddam Begins
Also, Saddam's half brother arrested, trial attorney abducted.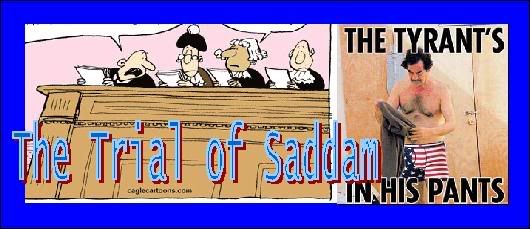 HERE
Saddam's half-brother arrested; trial attorney abducted HERE
~~~~~~~~~~
Another Andrea Yates?
Toddlers tossed into San Francisco bay by nutzoid mother.
HERE
~~~~~~~~~~
Political Cartoon of the Week
Prior Weeks Just Passed HERE

Moonbat Al Gore Loses It
This guy ran for President of my country oncit. Now he's out and about on foreign soil saying the following nonsense.
Some questions for Mr. Gore…about not invading countries that didn't attack us, this means you wouldn't have gone into Afghanistan where Al-Queda lived, flourished and was free to practice more attacks on America?
What's this about taking money from working families? I am a working family. My taxes did not increase and, indeed, went down. I am paying for no wealthy people. What the hell are you talking about?
That bit about "routinely torturing people", come on Al. You think this is a classy thing to do, go out trotting about and spreading this rotgut?
I read this and know that God does truly bless America that this man did not get elected.
His picture should be under "low-class" in the dictionary.

"We would not have invaded a country that didn't attack us."

"We would not have taken money from the working families and given it to the most wealthy families."

"We would not be routinely torturing people."

~~~~~~~~~~
~~~~~~~~~~
Truth and Prospective from a Canadian Citizen

"If something happened up here (in Canada) on the scale of Hurricane Katrina, we wouldn't even have the recourses to arrive late. We would be waiting for the Americans to come save us, the same way the government in Louisiana just waved and pointed at Washington, DC. The theory being that, when you're in real trouble, that's where the adults live."

- Columnist David Warren in the Ottawa Citizen
~~~~~~~~~~
By This Standard America Can't Be Too Bad
Tony Blair of Great Britain once said:
| | |
| --- | --- |
| | "… the best way to gauge the quality of life in a country is by how many people are trying to get in vs. how many people are trying to get out." |
~~~~~~~~~~

~~~~~~~~~~
I'M with You Patrick
"An appeal to arms and the God of hosts is all that is left us. But we shall not fight our battle alone. There is a just God that presides over the destinies of nations. The battle, sir, is not to the strong alone. Is life so dear or peace so sweet as to be purchased at the price of chains and slavery? Forbid it Almighty God. I know not what course others may take, but as for me, give me liberty, or give me death."

…Patrick Henry

~~~~~~~~~~
More Notable/Quotables HERE

Click on Picture to Visit Web Site of Week
It's a propaganda war out there, folks. And Fox news is center target because, well we can't have the truth getting out, can we?
Here's a web site that counters all lies and scams on the liberal web sites about Fox News.

About johnnydollar.us
We are the premier independent website for the truth about the Fox News Channel: exclusive instant transcripts and media clips, plus we debunk hundreds of anti-Fox slanders and lies.
"You guys are great!" --David AsmanM
~~~~~~~~~~
More Web Notables HERE