Stealing the Unborn
Pregnant women must walk softly and carry a big stick of late. If their husband's aren't killing them (Peterson) then another woman desirous of a newborn might do the deed (Montgomery/Stinnett).
I covered the Lisa Montgomery murder on my Blog extensively. A few links to those posts included below. Now we have another nutzoid on the loose. This time the mother-to-be survived the attack on her and her unborn fetus. Thanks to the happenstance of a young teenager who chanced upon the attack in progress.
From the AP:

Pregnant Victim Recovers From Pa. Attack

By RAMESH SANTANAM

PITTSBURGH (AP) - A mother whose belly was slashed with a knife in an attempt to steal her baby was improving in the hospital Friday, and her baby - born by emergency Caesarean - was fine, state police said.

Valerie Oskin, 30, was believed to have been eight months pregnant when she was attacked Wednesday. A teenager who came across the scene told his father, and they called police.

State police said Friday that doctors were expected to remove Oskin's breathing tube. ``She's coming around,'' Lt. Thomas Dubovi said. The hospital has declined to release information on the woman and her baby at the family's request.

The neighbor charged with attacking Oskin had a bassinet and a baby swing waiting at her home, but there was no indication she was pregnant, authorities said. Peggy Jo Conner, 38, is jailed without bail on charges of attempted homicide and aggravated assault.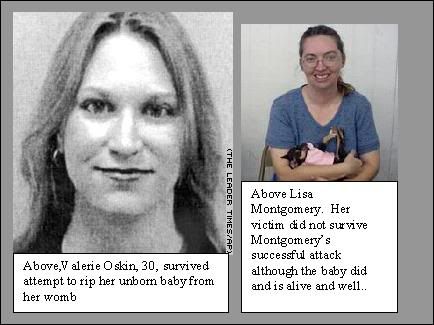 Original Post
Comme nts on Stinnett/Montgomery post
Text of Larry King Comments on Stinnett/Montgomery case
~~~~~~~~~~
You Heard of the Runaway Bride?
Here's a groom so desperate to avoid impending nuptials the fellow actually stabbed himself!
My first post on this hapless fellow,
on Blogcritics
, was posted before it was absolutely ascertained that Sadler's knife attack was self-induced.
Although I speculated that it was, insert wink here.
The truth is out, more below.
On the day of the wedding this fellow stabs himself!
From KSL.com:

KSL News Services) -- The Sandy man who was stabbed on his wedding day inflicted the wounds himself.

Kent Sadler was found by relatives Saturday evening after he was late for his wedding. He had six stab wounds in the neck and chest areas.

He told police he had been attacked, but the investigators said there were discrepancies in his story. Yesterday police say Sadler asked to speak with investigators and confessed.

Sgt. Michelle Burnette, Sandy City Police Dept.: "Just saying that there were a lot of things going on in his life and it just came to a breaking point on that afternoon."
~~~~~~~~~~
Taylor Behl Laid to Rest; Murderer Reportedly Confessed
There's still many unknown details about the murder of Taylor Behl. It is alleged that the main suspect, Ben Fawley, has confessed.
Turns out Fawley knew the area where he buried Behl in a shallow grave. He also, the morning of the murder, purchased a "small amount of gas". That same morning Fawley, in a lame bid to plant himself an alibi, alleged he was kidnapped.
Still unknown, Fawley's motive for the murder and whether or not he acted totally alone.
From the Post Chronicle.com:
However, new evidence emerged yesterday in connection with Benjamin Fawley, the only named suspect in the case and one of the last known people to see her the night she disappeared.

According to published reports, bank records retrieved in connection with the investigation show that on the morning after Behl disappeared, Fawley used a credit card to purchase a small amount of gas and other items at a convenience store between Richmond and Mathews County. Behl's remains were discovered on a farm last week near the Mathews community of Diggs.





The farm, which is located roughly 70 miles east of the capital, adjoins property owned by the family of an ex-girl- friend of Fawley's. Investigators said the ex-girlfriend helped VCU detectives locate the body after identifying pictures of her family's farm that Fawley had reportedly taken earlier in the year.
~~~~~~~~~~
Most Intriguing True Crime This Year
Daniel Horowitz, celebrated lawyer and legal pundit, never met a camera he didn't like. All through the announcement of his wife, Pamela Vitale's, murder, Daniel was out and about and making statements. Or he used proxies such as another legal pundit, Massey, to do it for him.
Horowitz alleged he was CERTAIN who the murderer of his wife was.
Only a troubled adolescent who fancied Goth gear was arrested this past week. NOT the bothersome neighbor that Horowitz spread about was the perp.
Supposedly this Goth kid was involved in some sort of credit card scam and was part of a conspiracy to start his own marijuana farm. Somehow this activity was the impetus that caused him to bludgeon Vitale with a piece of crown molding. Although the connection is not at all clear to me. I must assume, however, that the fellow left some DNA at the crime scene as he has been arrested and will be tried as an adult in the murder.
Some interesting tidbits about this case bandied about this past week:
The property on which Horowitz and Vitale were building their dream house was in Horowitz' sister's name. Horowitz allegedly borrowed $300,000 from a neighbor to continue the building project. There were many hints of money problems in the Horowitz household.
The victim had some sort of gothic cross carved in her back.
Horowitz, through a proxy, said he didn't think it was the Goth kid that did the deed. A troubled neighbor was hinted as being the perp. So much for Horowitz' legal punditry, eh?
The killer took himself a long shower, in the Horowitz trailer, after the attack.
Horowitz was representing Susan Polk, accused of murdering her husband in a killer scenario so strange it was subject of a recent Dateline episode. The Judge declared a mistrial in the Polk trial because of the murder of Horowitz' wife.
Previous Blog post 1 on Horowitz murder.
Previous Blog post 2 on Horowitz murder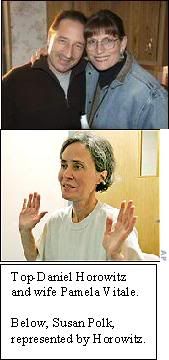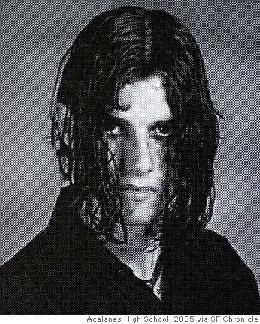 ~~~~~~~~~~
Another Andrea Yates?
Lashaun Harris nonchalantly dropped her three toddlers, one by one, off of a pier into the San Francisco Bay. All three children have been found dead.
They say she's crazy. Indeed Harris reportedly had two severe schizophrenic episodes in the past year.
So why were her children left in her care?
Will mothers who keep murdering their children continue to get a free pass?
From Canada.com:
SAN FRANCISCO -- A woman has been arrested following the discovery of a child's body by rescuers who had received a report that a woman had dropped three children off a pier into San Francisco Bay.

Lashaun Harris, 23, of Oakland, was booked on three counts of murder, the San Francisco Chronicle reported in Thursday's editions. Her children were identified as Trayshaun Harris, 6, Travante Greely, 3, and Joshua Harris, 1.

A child's body was found about four hours after a witness reported seeing a woman drop the children into the bay near Pier 7 Wednesday, said Jonathan Guerra of the U.S. Coast Guard.

The other two children were feared dead.
~~~~~~~~~~
Caged Children
We first reported on the incident of the caged children
HERE.
A strange, strange case. Almost a dozen children were discovered kept in unkempt cages in the home of their foster parents. All of the children were removed from that home. The couple allege they did not harm the children and the cages were necessary to keep them from harming themselves.
The children had various physical deformities.
It seems that the children's new parents could not handle them either, especially without the cages.
Could the original parents have been right with their cage mentality?
No charges have been filed against the adoptive parents.
Attorney: Children Once Caged Now Struggle

By JOE MILICIA

CLEVELAND (AP) - An attorney for a couple who kept some of their 11 adopted children in cages at night said Wednesday the youngsters have been placed with foster parents unequipped to take care of their special needs.

Attorney David Sherman said one child found a razor blade in his foster home and shaved patches of his head, and a set of twins has been separated because their foster family couldn't handle them.

The children, ages 1 to 14, suffer from ailments such as autism, fetal alcohol syndrome, HIV and pica, an eating disorder in which children compulsively eat nonfood items such as dirt and rocks.

They were taken from Michael and Sharen Gravelle last month and placed in foster homes while authorities investigate why the couple put some of the children in homemade wooden cages to sleep and as punishment during the day.

The couple have denied harming the children, and no charges have been filed.

~~~~~~~~~~
Who Is the Little Dead Boy?
A little boy's body is found in a shallow grave. Nobody has reported a missing child. Investigators are struggling to determine his identity.
How did he get there? Did his family murder him then throw him away like so much trash?
Somewhere in the world there are parents missing a child.
Why didn't they report his disappearance?
From the Chicago Tribune:
Dead boy in DuPage gets national attention

By James Kimberly and Angela Rozas, Tribune staff reporters. Tribune staff reporter John Biemer contributed to this report Published October 12, 2005

In a suburban Washington, D.C., office, Jerry Nance pores over the case files of missing 3-year-old boys from around the country, hoping one holds the identity of the child whose body was dumped in a field near Naperville.

As a senior case manager for the National Center for Missing and Exploited Children, Nance is working with DuPage County sheriff's police investigators. Since Saturday, he and an assistant have read files of 714 boys of that age culled from the center's database. The task is difficult, but not without hope, Nance says.

"I can pretty much safely say, if the child has been reported missing, he will be identified," Nance said.

The first priority, Birkett said, is to find out who he is.

The boy was roughly 38 1/2 inches tall and weighed between 25 and 30 pounds. He wore a navy blue shirt with three buttons and no collar and navy blue pants. The brand name of the clothing is Faded Glory, which is commonly sold in Wal-Mart stores. The size was 2T.

Nance said the National Center for Missing and Exploited Children is asked to help law enforcement identify a child's body about 115 times a year. Usually, the body is that of a teen.

"When you're talking about child deaths and child homicides, those [younger victims] are really quite rare," Nance said. "It's every parent's worst nightmare. It's the type of crime if it happens once, that's one too many."

~~~~~~~~~~
More True Crime Updates HERE
Kaitlyn,
It's now two full months after Hurricane Katrina exposed the smarmy underbelly of New Orleans and how a city run by corrupt politicians can't take care of itself.
STILL, Kaitlyn, they lie and try to change history.
This past week, Louisiana Senator Landreau, herself a nepotistic politician, daughter of former politicos and hip deep in the cesspool of New Orleans, denied that there was any corruption in New Orleans.
Here's hoping, Kaitlyn Mae, that in your day there is still a city called New Orleans. If so, here's also hoping that the folks running it are decent and dedicated to maintaining the vibrancy of New Orleans as opposed to the cowards and Moonbats responsible for all the hurt and heartbreak caused by Hurricane Katrina.
As of now there's an inquiry into whether or not certain patients at hospitals were euthanized. If so, well what a tragedy is this.
There were a few hospitals desperate for rescue during the flooding of the city. It is alleged that patients were suffering, some so much that there may have been some God playing going on. More on this when info is available.
As it is, what with ghost cops and cops absconding with Cadillacs, that New Orleans' prisoners were also left to die in the rising flood waters in this country that prohibits cruel and unusual punishment.
Below, a letter sent by such a prisoner to his family.
Prisoners Left to Die
From an Email to Fishtalk, thanks to SlickRich:
It is dated 9/3/05 and post marked from Angola Prison in Louisiana on Sept 9, 2005. I have omitted some personal comments for obvious reasons. I've also made some comments written in […].

Mom,

How are you doing? hope O.K. I'm just writing to let you know I'm O.K. from the hurricane Katrina. I'm in Angola right now, I don't know about Jesse, [Jesse already called his mother and he is ok), but I know there is no more St Bernard Parish to go back to. No more Chalmette.

I was supposed to get out this month [actually last month] on the 27th or a couple of weeks after, but the storm messed that up. All court dates and release dates were moved back. The good news is I have a law suit out of this.

They moved us from St Bernard to Orleans and left us in jail with shit and piss water up to our necks, without nothing to eat for 4 days. And all the guards left for higher ground and left us to die.

Katrina almost got me, that bitch. Ha, ha!!! I don't have anything to get out to, again. I learned my lesson this time. The bitch almost killed me, and I'm not ready to go yet.

Well, if you could, would you let Dad know I'm ok. Mom, I know you and dad are on fixed income, but if you can send anything to me, I need it really bad. If you talk to dad, let him know. Ok (over)

Well, I'm going to go. I have to talk to a lawyer about our class action suit, They are talking 10 to 20 thousand apiece. Well, I could get back on my feet with that. buy me a trailer, a nice truck and some tools, to get back to work. Maybe the outskirts of Las Vegas. I don't know. I'm getting my teeth fixed while I'm here too. If you write, and send money, send it to:

Jimmie Key
Louisiana State Penitentiary
Camp-D-Visiting Shed Angola, La, 70712.

The prison Rodeo is next month. Starts on the 2nd. I might get to go.

Well, I'm gonna go for now. Tell Paris I said hi and to write, send pictures. If you write, send pictures of me please. Even if with Darlene. OK

Love you, your son, Jimbo.


Here's a few links of related stories.

Prisoners in New Orleans city jail were 'abandoned'

New Orleans: Prisoners Abandoned to Floodwaters

New Orleans prisoners left to drown after Katrina

~~~~~~~~~~
Naginhead In a Twit
New Orleans' Mayor Ray Nagin continues to be sidelined in this day of our Lord, Kaitlyn, 10/25/05. He did a most deplorable job in protecting his citizens but hey, he's out and about and demanding money and advocating big schemes for his wreck of a city.
Why should this loser be given tons of taxpayer dollars? What, so he can put more police ghosts on the payroll? So he can leave citizens to suffer and die due to his poor planning? So he can orchestrate another disaster and destroy the city yet again.
It's not as if Naginhead doesn't have a track record here.
Nagin was elected, although much of his constituency is long gone from the 9th ward hellhole that kept them locked forever in a welfare morass. Nobody can fire him. He must resign or another be elected in his place.
Naginhead will be forever remembered for the school buses, Kaitlyn. Images of flooded buses seared forever in the national psyche. Below a lament by the lamentable Nagin. And, heh, another picture depicting the school bus debacle.
That Kaitlyn Mae know the truth. That they do not change history.
From The Advocate.com:

A frustrated New Orleans Mayor Ray Nagin warned Thursday that it would be in the state's best interest to help the Crescent City jump-start its Hurricane Katrina-riddled economy, saying the impact on the state -- if nothing is done -- will pale in comparison to the layoffs the city recently announced.




"You think 3,000 layoffs in New Orleans is a big deal. Just wait,'' Nagin, his sleeves rolled up, said during an evening meeting with The Advocate's editorial board. "I see a state in crisis.''
The mayor pointed out during the Baton Rouge meeting that New Orleans accounts for 35 percent of the state budget.
~~~~~~~~~~
A Canadian Comment
Interesting, Kaitlyn. Because Canada is also a hapless socialistic state where citizens have totally lost their individuality and industriousness.
The commenter alleges that in Canada, they'd have been waiting for the AMERICANS to rescue them.
No mind the late arrival of FEMA, etc.
It's probably true, Kaitlyn. Canada is in worse shape than Louisiana.
WE AIN'T SO BAD

"If something happened up here (in Canada) on the scale of Hurricane Katrina, we wouldn't even have the recourses to arrive late. We would be waiting for the Americans to come save us, the same way the government in Louisiana just waved and pointed at Washington, DC. The theory being that, when you're in real trouble, that's where the adults live."

- Columnist David Warren in the Ottawa Citizen
~~~~~~~~~~
Katrina Political Cartoon of the Week
~~~~~~~~~~
WILMA!
We end this week's entry with a notation that Hurricane Wilma, this late in October, 10/25/05, is beating the hell out of Cancun and the lower Mexican peninsula. It's been a bitch of a hurricane season, Kaitlyn, in this year of our Lord, 2005. Just remember this when you are say, 40 or so, and the Moonbats come out with silly global warming scenarios that are blamed should another horrific hurricane season come upon in your adult life.
Hurricanes happen, Kaitlyn. We have no control over them. And for sure, read my lips, humans do NOT cause them.
~~~~~~~~~~
First Katrina/Kaitlyn post-the Beginning-9/6/05
9/7/05-H urricane Folklore/Wisdom and Nastiness
9/12/05-Hillary's "Katrina Kommission" and the Debacle of the Debit cards
9/14/05-FEMA Email; Dumb, blond Louisiana Senators
9/15/05-Ophelia and Grandmother
9/16/05-Katrina and the Helpless Pets
Stop Blaming FEMA-a pictorial explanation
What Will Become of New Orleans?
Katrina Gossip
Katrina Folklore
Nagin,the refinery bill,Character
Cops and Cadillacs

On ABC's Commander in Chief
Review-Commander in ChiefHERE:
| | |
| --- | --- |
| | I am in complete agreement with your statements on Actor's and Actresses being granted the public forums to state their political opinions. And although I am no fan of Donald Southerland, I will continue to watch it as long as the teenagers on the show don't turn into the next O.C. Although the plot is a bit far fetched, I find it no more far fetched than Alan Alda playing a Republican candidate, and I am very impressed by the fictional account of a woman dealing with both necessary power (decisions that affect the entire country) and unnecessary politics (the garbage that she has to deal with from the others in DC). |
=====================================
| | |
| --- | --- |
| | donald sutherland isn't actually an american citizen. canadian. |
=====================================
holy cow, it's only a TV show! You go right ahead and boycott it girl. I'm sure Hollywood will be crushed. Besides it's science fiction - an academic, an intellectual - and a woman - as president of the US - yeah, a likely scenario.

It is like railing against Buffy the Vampire Slayer because her watcher was British - and you don't need no stinking Brits to pulverize vampires in California?

But the show's producers should have a chat with Geena Davis' make-up artist about toning down that lipstick. Getting it off her teeth would be good.

Sci-Fi shows are about wishful thinking, and it will be interesting to see what size of an audience this show garners. Meanwhile you can watch it with your framed photo of G.W. and point out all of its faults on those dateless evenings.

=====================================
whoops. Hit return too early.

I'm having trouble picturing this into a second season. After all the angles of the "woman as president" point are turned and examined, you don't have anything new.

But new issues in the real world come up every day and West Wing always played off that well.
~~~~~~~~~~~~~~~~~~~~~~~~~~~
On Las Vegas Hurricanes HERE:
That would explain all of the hurricanes in Las Vegas.


ROTFLMAO
~~~~~~~~~~~~~~~~~~~~~~~~~~~
On Those New Orleans' Cops That Weren't
Ghost Cops on NO payroll HERE
| | |
| --- | --- |
| | Perhaps Katrina will be the best thing that ever happened to Louisiana. The decades of corruption can be exposed and brought to an end. The Gulf Coast can be rebuilt to specifications that take public safety into account. This is a time of great opportunity for Louisianans even with the loss of life and property. The rebuilding and political cleanup would be a befitting legacy to those who lost their lives. However, as with all things American these days, the opportunity will be overlooked and business will proceed as it always has. Keep up the fight, DrPat. With any luck your voice and the voices of thousands will be heard for a change. |
=====================================
The Commenter Below is asking for a link to this information. I PROVIDED the link in the original post but…
Here it is again.
Audio of Tony Snow's Scoop HERE
| | |
| --- | --- |
| | Can someone please send a link to a reputable news source? I see a lot of talk about Fox and CNN, but I cannont find anything on their websites about Ghost Employees. |
~~~~~~~~~~~~~~~~~~~~~~~~~~~