Today
Daily Update:
It's Ramadan. Celebrations begin by bombing and killing innocent people.
It started out as a pleasant Sunday cruise. It ended with over 20 senior citizens dead on NY's Lake George.
~~~~~~~~~~~~~~~~~~~~
It was a busy Week Just Passed.
Hurricane Rita came and went. John Roberts was confirmed Chief Justice. Tom Delay was indicted.
And Judy Miller, remember her, finally got out of jail.
~~~~~~~~~~~~~~~~~~~~
IT's this week's Quotable/Notables. There's an exercise on political correct speak as regards the poor amongst us.
There's Honore, Sheehan and the shocking quote of the week that left Chris Matthews sputtering.
~~~~~~~~~~~~~~~~~~~~
Visit this Web Site of the Week which gain more notoriety on yesterday's talk shows.
"Porkbusters" is a blogosphere project, a compilation of congress critters, their budget pork and what they intend to do about it.
~~~~~~~~~~~~~~~~~~~~
Daily Update Below.

Celebrating Ramadan With a Blast
The sons of camels can't even enjoy a quiet Muslim holiday without blowing somebody up. Late Saturday, bomb blasts rocked Bali, a tourist resort rocked a few years ago by the sons of camels.
Below a picture of a Bali restaurant after the blast.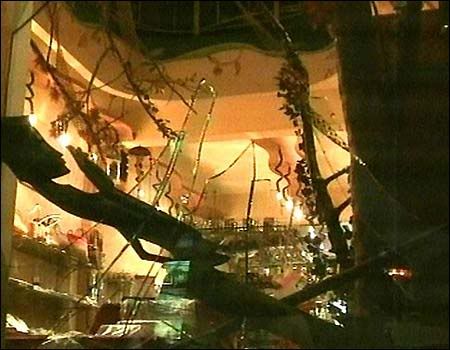 From CNN.com
JAKARTA, Indonesia (AP) -- Several near-simultaneous explosions occurred Saturday in tourist areas of Bali island, injuring at least three Westerners, a private Indonesian radio station said.

At least three blasts occurred along Jimbaran beach, which is lined with seafood restaurants commonly frequented by tourists, El Shinta radio reported. Witnesses saw at least three bloodied Westerners leaving the scene, the station said.

Another explosion hit downtown Kuta, about 18 miles away, the radio said.

Police confirmed the blasts but could not say whether they were caused by bombs.

~~~~~~~~~~~
Tragedy on a Beautiful Day
There's still confusion about how many were killed, where were the life vests, how the boat came to capsize.
But a tour boat overturned yesterday on NY's Lake George. Per the AP, 19 were killed.
Below a picture of the boat, known as The Ethan Allen.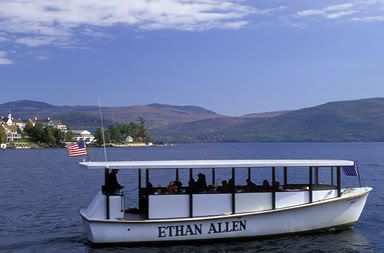 From the AP:
LAKE GEORGE, N.Y. (AP) - A tour boat carrying about 50 people overturned Sunday on a lake in upstate New York, killing 19 people on a senior citizens' cruise, according to a newspaper report.

The boat capsized when another tour boat passed near it, swamping the first vessel and sinking it, Warren County Sheriff Larry Cleveland told the Glens Falls Post Star.

The 40-foot, glass-enclosed Ethan Allen capsized shortly before 4 p.m. on Lake George about 50 miles north of Albany in the Adirondack Mountains.

~~~~~~~~~~~

Tomorrow
~~~~~~~~~~~~~~~~~~~~
Here's a true crime update. Update on Taylor Behl, Ashley Smith's real "medicine" that calmed Brian Nichols.

And Mark Geragos, hand to God, trying to get hands on Laci Peterson's life insurance money.
~~~~~~~~~~~~~~~~~~~~
Continuing on with the Katrina for Kaitlyn stories, in this episode we document the Katrina folklore and the New Orleans' missing police force.
~~~~~~~~~~~~~~~~~~~~
Here's a bevy of comments on such various subjects as the Pledge, Amber Frey, missing American tourists and comparisons to Hitler.
~~~~~~~~~~~~~~~~~~~~

~~~~~~
TV Events of NoteNFL Football
ABC Monday, October 3 9:00 PM
Sports event, Football
Green Bay Packers at Carolina Panthers
CLICK HERE FOR "TODAY"POST ABOVE