Taylor Behl-New Clues
Taylor Behl is a 17 year old coed who has been missing for over three weeks. In a recent true crime post,
HERE
I posted about one "person of interest" in this case.
This suspect, a Ben Fawley, is 38 years old, a creepy collector of child porn and has been hinted as being involved with Taylor in a "romantic" relationship.
Now there is another suspect, a Jesse Schultz, a skateboarder who became involved in this case along with Fawley. Allegedly Taylor went to Fawley's place to borrow a skateboard. Like Fawley, Schultz was arrested on another non-related crime, possession of cocaine.
Scent dogs allegedly led searchers from Taylor's car to the home of Schultz' Aunt. This "person of interest" allegedly failed two key questions on a lie detector test about Taylor Behl.
Now police are asking for information about a license plate that was stolen around the time of Taylor's disappearance.
So it would seem there might be TWO people involved in the disappearance of Taylor Behl. Fawley and Schultz do live close to each other and both potential suspects were arrested and taken into custody on unrelated charges.
It's possible that both of these men were involved in Taylor's disappearance. It's possible that Fawley, whose attorney was all over TV hinting at a romantic relationship between his client and Behl, is guilty only of directing his "girlfriend" Taylor to his friend's home so she could borrow a skateboard.
Fawley, by the way, was "kidnapped" on the same day Behl went missing. Although there is no information on who kidnapped him and the "crime" was not reported until many hours after it allegedly happened.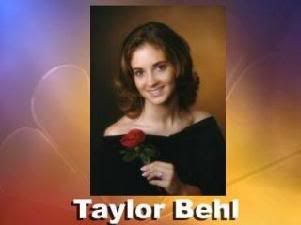 As for this skateboarder, there's been little reporting about him. That detail about Schultz failing the lie detector test has been widely reported. I heard it on Greta myself.
It would seem there's a lot of smoke surrounding Taylor's disappearance. By me, Fawley has gone to great lengths to cover for any eventuality that would have him connected to Behl around the time she disappeared.
Fawley does allege he took Behl to his friend's to borrow a skateboard and claims that he didn't see her after this. Fawley's friend does have the specter of the scent dogs and the failed lie detector test.
Yet for an "innocent" bystander, Fawley has gone to great lengths to obfuscate his relationship with Taylor and his whereabouts when she disappeared. Taylor's mother alleges that Richmond police are looking closely at "several" potential suspects.
Could this be another Aruba situation with multiple suspects pointing the finger at each other? Could both of these fellows have been involved in the disappearance of Taylor Behl?
From the Post Chronicle:
Possible New Clue Develops In Case Of Missing Taylor Behl
by Mike Baron
Sep 28, 2005
There appears to be a new clue in the disappearance of Virginia college student Taylor Behl. Richmond Police are asking anyone who can shed some light about a stolen Virginia license plate -- that could be connected to Behl's disappearance -- to contact the authorities. The plate is "GRN ERTH."

The personalized plate was stolen in Richmond around the same time the 17-year-old Virginia Commonwealth University freshman disappeared, and "preliminary information" indicates that the two events may be connected, police said, according to published reports.
~~~~~~~~~~
Lyndie England-A Fool For Her Man
This past week she was sentenced to three years in prison for abuse of prisoners at Abu Gharab prison in Iraq.
The man her life, Ed Grainer, has been sentenced to ten years in an earlier trial. Lyndie is carrying Grainer's baby.
Lyndie, in several interviews, alleges that she did anything Grainer told her. She was, as she indicates, madly in love with the man.
Two lives greatly interrupted by the craziness that they not only participated in but by their insane need to capture their depravity in pictures. Not to mention the damage done to their country's image. And soon, an innocent baby will be born to a prison Mom.
~~~~~~~~~~
Mark Geragos Going After Laci's Life Insurance Money?
Okay, he says he is holding off until all of Scott Peterson's appeals are exhausted. Although I would think a murder conviction would eliminate someone (Scott) from collecting on such a policy.
The report from the local paper states that Geragos won't give up his client's "claim to the money". The argument is, I surmise, that until Scott Peterson goes through all the appeal processes available to him, he is not technically guilty of murder of the name on the insurance policy. Which would be Laci Peterson in this case.
I'm strongly suspicious, what with Geragos being such a fine shark of a lawyer, that he wants some of that insurance money. And he's holding out for a settlement with Laci's family that would at least let him get some of that dough.
For services rendered, of course.
From the Modesto Bee:
Laci Peterson Life Insurance Hearing Set

MODESTO, Calif. (AP) - A judge on Tuesday set an Oct. 21 court date to decide who will collect Laci Peterson's $250,000 life insurance policy.

Sharon Rocha, the mother of the slain pregnant teacher, has petitioned the court for the money. But Scott Peterson's attorney, Mark Geragos, won't give up his client's claim to the money until he has exhausted appeals of his conviction in her murder.

Rocha's attorney, Adam Stewart, said Tuesday after a brief court hearing that it could take ``a quarter of a century to find out whether he's exonerated or put to death.''
~~~~~~~~~~
Ashley Smith's New Book
The country was riveted last March as Brian Nichols killed a Judge and court clerk in cold blood and managed to escape his captors, leaving him on the loose.
Ashley Smith was going out for a pack of smokes when Brian took her captive.
We all heard about the book "The Purpose-Driven Life" that she read to her captor and which inspired Ashley to remain calm and escape with her life.
What we didn't hear about was that crystal meth Ashley gave to Nichols.
I've seen several interviews with Smith and she swears she's given up drugs as a result of the incident and has developed a new faith in God and zeal for life.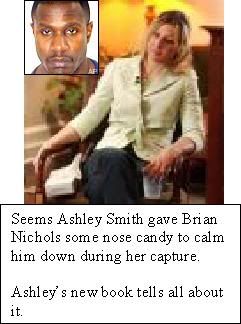 Not difficult to imagine such a change in life's vision and purpose after undergoing such a trauma.
We can only hope it's true. For Ashley's daughter if no one else.
New York Times
September 28, 2005
Celebrated Hostage Gave Crystal Meth to Captor
By EDWARD WYATT

Ashley Smith, who was held hostage in her apartment in March by the man now charged with murder in the Atlanta courthouse shootings, was hailed as a hero after she disclosed how she had persuaded her captor to surrender, partly by reading to him from the spiritual best seller "The Purpose-Driven Life."

But in a memoir released yesterday, Ms. Smith also recounts that she gave the kidnapper some of her supply of crystal methamphetamine during her captivity and that she did not tell the police for some time afterward.
~~~~~~~~~~
More True Crime Updates HERE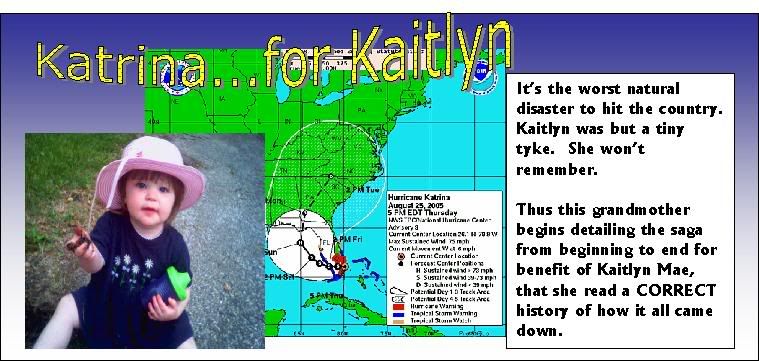 Thievery and Lies
Kaitlyn,
With the march of time and as these things usually go, truth keeps coming out. Including the blatant theft of monies allocated for levee repair and flood management by Louisiana officials.
And the squashing of rumors.
Indeed Kaitlyn, there were so rumors swirling around after Hurricane Katrina, all reported dutifully by the Lamestream media as if written in stone.
There's a couple of examples below. As a final entry to this Katrina post, there's a whole list of fact and fiction about the Katrina aftermath. All compiled, dated, fact-checked and organized by a Blogger. Of course.
Do not let your history books tell you any different, Kaitlyn. Take your Grandmother's Blog entries to school if you must.
The Liberals love to change history. They are great at inventing the truth.
I am hoping that during your era there is still a city known as New Orleans but I also hope it is much smaller, a bustling port and home to the historic French Quarter.
Read the documentation of so much fraud pre-Katrina in that state and pray that the idiots in charge do not let these people handle our hard earned tax dollars to yet more thievery.
From OpinionJournal.com:
Louisiana ranks third in the nation in the number of elected officials per capita convicted of crimes (Mississippi takes top prize). In just the past generation, the Pelican State has had a governor, an attorney general, three successive insurance commissioners, a congressman, a federal judge, a state Senate president and a swarm of local officials convicted. Last year, three top officials at Louisiana's Office of Emergency Preparedness were indicted on charges they obstructed a probe into how federal money bought out flood-prone homes. Last March the Federal Emergency Management Agency ordered Louisiana to repay $30 million in flood-control grants it had awarded to 23 parishes.
~~~~~~~~~~~
How Many Dead Bodies Were There at the Superdome?
Again, Kaitlyn, check your history books. No more than people died at the Superdome. They might well have died in their own home were it not for the hurricane.
From the WashingtonPost:
"I've got a report of 200 bodies in the Dome," Beron recalls the doctor saying.

The real total was six, Beron said.

Of those, four died of natural causes, one overdosed and another jumped to his death in an apparent suicide, said Beron, who personally oversaw the turning over of bodies from a Dome freezer, where they lay atop melting bags of ice. State health department officials in charge of body recovery put the official death count at the Dome at 10, but Beron said the other four bodies were found in the street near the Dome, not inside it. Both sources said no one had been killed inside.....
~~~~~~~~~~~
More Thievery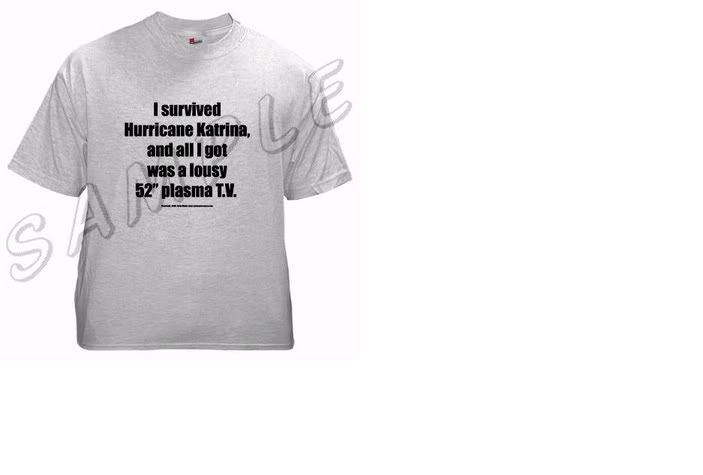 From the WAPO:
Like looters who seize six televisions when their homes have room for only two, the Louisiana legislators are out to grab more federal cash than they could possibly spend usefully. . . . The Louisiana delegation has apparently devoted little thought to the root causes of the Hurricane Katrina disaster. New Orleans was flooded not because the Army Corps of Engineers had insufficient money to build flood protections, but because its money was allocated by a system of political patronage.
~~~~~~~~~~~
Farrakhan Insanity
I don't know if your history books will mention that sad soul named Louis Farrakhan, Kaitlyn. Let's hope not.
Because he's adopted a son of a camel mindset and is, of course, a hater of America.
THIS guy, Kaitlyn, says that someone blew up the levees.
Of course no one blew up the levees and besides, why on earth would someone wait until a hurricane to blow up the damn levees? It would be way more effective to blow up the levees suddenly and with full force of surprise. Not to mention killing a whole bunch of poor people not holed up, safely if miserable, in the Superdome.
From WMCSTATIONS.com:
Farrakhan says that divers working on the levees have found explosives from the government. Louie said with great fanfare that if these allegations are true, "somebody is guilty, then not only of mass destruction of property, but of mass murder." My, my...you never knew Louis Farrakhan could be so concerned about private property, did you? Perhaps there is hope.

~~~~~~~~~~~
Finally…
For you Kaitlyn Mae, a listing of the folklore versus the fact about Hurricane Katrina.
Don't let them change history, Kaitlyn.
Many thanks to Gatewaypundit for helping me document history for my Granddaughter:

More Hurricane Katrina: Folklore vs. Fact
Folklore: Hurricane Katrina was the worst natural disaster in the country's history

Fact: Hurricane Katrina is the seventh worst natural disaster in US history.

Folklore: Ray Nagin said on September 5th on the Oprah Show, "They're murdering people in there (the Superdome)." (VIDEO HERE)

Fact: Both sources (Louisiana National Guard and State health department officials) said no one had been murdered inside the stadium.

One victim was found in the Superdome but was believed to have been brought there, and one was found at the Convention Center, he added.

Folklore: Ray Nagin said on September 5th on the Oprah Show, "They're raping people in there (the Superdome)." (see above Oprah-Nagin video clip)

Fact: The vast majority of reported atrocities committed by evacuees - mass murders, rapes and beatings - have turned out to be false, or at least unsupported by any evidence.

Folklore: "There are Babies dying!" cried Nagin... "The children!" screamed Oprah. (see above Oprah-Nagin video clip)

Fact: There are no known babies that died in the Superdome.

Folklore: Babies stuffed in freezers.

Fact: Nope.





Folklore: Katrina cannibalism. "Black hurricane victims in New Orleans have begun eating corpses to survive."

Fact: Nope.

Folklore: 30-40 Bodies stuffed inside a freezer at Convention Center. (Hat Tip Donny Baseball)

Fact: Nope. (Hat Tip Acassa)

Folklore: I've got a report there are bodies stacked in the basement of the Superdome. (FEMA doctor)

Fact: National Guard officials put the body count at the Superdome at six, saying the other four bodies came from the area around the stadium.

Six... Of those, four died of natural causes, one overdosed and another jumped to his death in an apparent suicide.

Of the 841 (885 9-27) recorded hurricane-related deaths in Louisiana, four are identified as gunshot victims, Johannessen said.

Folklore: Mayor Nagin on the Today Show, "It wouldn't be unreasonable to have 10,000..."

Facts: There have been 885 deaths in Louisiana attributed to Hurricane Katrina:

701 are at the makeshift morgue in St. Gabriel

Parish Coroners:

Ascension -- 5
Assumption -- 2
East Baton Rouge - 72
Iberia - 6
Jefferson - 30
Lafourche -- 2
Livingston -- 5
Plaquemines -- 3
St. Charles - 8
St. Tammany - 7
Tangipahoa -- 26
Terrebonne -- 15
West Baton Rouge - 3

Most of the dead from Katrina have been sent to the makeshift morgue in St. Gabriel, Louisiana a town of 5,500, 15 miles south of Baton Rouge.

Folklore: They all drowned!

Fact: Any death that is determined to have been caused as a result of Hurricane Katrina will be counted as a hurricane-related death. For example, this applies to people who drowned as well as people who required life-support but had it cut off and died as a result when power was lost during the storm.

Folklore: Many foreigners perished (96 British citizens are unaccounted for!)

Fact: Only one foreigner was killed in the hurricane, a British woman.
posted by Gateway Pundit at 9/28/2005 05:40:00 AM
~~~~~~~~~~~
First Katrina/Kaitlyn post-the Beginning-9/6/05
9/7/05-H urricane Folklore/Wisdom and Nastiness
9/12/05-Hillary's "Katrina Kommission" and the Debacle of the Debit cards
9/14/05-FEMA Email; Dumb, blond Louisiana Senators
9/15/05-Ophelia and Grandmother
9/16/05-Katrina and the Helpless Pets
Stop Blaming FEMA-a pictorial explanation
What Will Become of New Orleans?
Katrina Gossip

More Pledge Commentary
The Roberts Confirmation Hearings and the Pledge of Allegiance
Comments: I don't think the founders specified any religion simply because it wouldn't have occurred to them that anything other than christianity - except humanism/secularism/deism - would have obtained in a western cultured, european-descended nation. I'm sure if they could see the numbers of jews, muslims, etc. here in the US of A now, they'd be astounded. Being of european education/descent, of course they used some of the current christian phraseologies such as "year of our lord", etc., but remember in the late 18th century, the ascendant religion, if one could call it that, was belief in Reason - not religion. The whole French revolution was strongly flavored with it, to the extent that religion (christianity) never regained the importance it lost after 1797, and even today is considered in France to be a dead issue with no moral force. Shoot, the vatican couldn't even get the european union to acknowledge christian history or affiliation recently, it's so dead with them.

===============
Comments: Bhuddists and Hindus do believe in God.

None of those reasons are why we need to keep it. The reason why we need to keep it is because the far far far far far majority is proud to say it. The atheists aren't forced to say it. So why should something I say with my hand over my heart hurt the feeliings of someone else???

~~~~~~~~~~
On Fox's Dance Show
Love the way this commenter pokes fun at my command of "english"-no cap, and compares my lamentable language skills to "you" knowledge of dance.
Everyone's entitled to an opinion but not one example of my awful English does the commenter support.
Methinks the fella didn't like my choice for the winner.
It's how very small, mean people do when an opinion is expressed contrary to theirs. They attack with no basis or backup.
Smirk.
So You Think You Can Dance - Final Eight
Comments: Unfortunately your command of english is comparable to you knowledge of dance. Take a tip from some of the better contestants on the show and learn your craft before you display it for the world to judge. That said, Blake and Nick clearly are the best male dancers while Melody has a slight edge over Melissa and Ashley. Sorry all but Kamilah and Jamile are out of their league. Both good, but out of their league.
~~~~~~~~~~
On Bush's Admission of FEMA Culpability
Clever way to give an opinion.
Bush Accepts Blame for Feds, State Strangely Silent
Comments: heres somen to ponder:

you are a new hot photographer. you are sent ovet to new orlines, where kitrina hit and still is hiting.the storm becomes fearce. floods are coming. bits of houses and cars and ppls lives are swurling up and around you but you are safe. suddenly, there, in the flowing river made by the storm, is george bush calling out for help. this could be your big break. you could stand and take the multi-million pound/dollor picture of one of the worlds most powerful leaders or you could risk your life and save him. heres the big questions: do you use high qulity colour film or just the ordinary blak and white?

~~~~~~~~~~
The Invoking Hitler Rule
What's that rule? When one has to compare a debater to Hitler than one has lost the debate.
The commenter below evidently thinks Hitler was more moderate than my Grandmother Blogger self.
And how does nationalism spread hate?
Sweet Jesus, you're slightly to the right of Hitler! Word of advice - nationalism and racism spread hate.

--
Posted by Anonymous to The Kaitlyn Mae Book Blog at 9/27/2005 12:03:31 PM

~~~~~~~~~~
A Liberal Has Been Lied To
All I can say is I feel the commenter's pain. Although in my review I am angered at my discovery that this entire book was a big LIE.
But I cried too. It was a powerful book. The commenter hates how people actually think it's fiction.
To the commenter I say, this is how liberals turn into conservatives. Just as soon as they realize they've been lied to for lo many years.
Sleepers by Lorenzo Carcaterra
Comments: Sleepers was an amazing book and I cried at the end. That book was so powerful that whenever I think of those four friends I cry. I can't help it because what happened to them was so horrible. They were so young and I don't care what anyone says but that book is a true story. It may be hard to believe but it is definitely a true story. I don't know Lorenzo personally but I would love to meet him and tell him how much his story affected me. And I hate how people actually think it's fiction. Maybe the NY legal system tried to cover up what happened because that's what people love to do: make others look bad. I have a lot of respect for Lorenzo and I can't believe people have the nerve to accuse him of lying. Lorenzo and his friends went through such a horrible experience, be a little more considerate. How would you like it if you got raped but nobody believed you?

~~~~~~~~~~
Some True Crime Comments
The comment below is in response to my true crime post on George Smith, the American who came up missing from a cruise ship on his honeymoon.
I've no idea why the Russians being from New York means anything and further, turns me into a man and makes me retarded.
True Crime Update: Missing Cruise Ship Passenger, Gricar and That Wacky Jackson Jury
Comments: Your tales of "Another American Tourist Goes Missing" are very interesting. It seems you already know he was murdered and that the Russians were involved. Get a clue!

The Russians were from New York, the cop next door never heard any screams and the interviews happened the very same day.

You sir, are retarded!

=======================
On Taylor Behl
True Crime Update 9/27/05
Comments: I think Ben Fawley is definitely guilty

=======================
This Comment Too Good To Ignore
This comment in response to my true crime post on Amber Frey and her paternity woes. I left the commenter's name and email address in for laughs. The commenter tells an interesting tale about Amber Frey.
True Crime Update 9/27/05
From Name: JoeBlow
Email Address: fuckyou@aol.com
Comments: I spent time with Amber about a year before the Peterson problem and she tried to nail me for child support. I had a vasectomy and she knew it but obviously forgot when she went to court to collect dollars from me. We don't talk much anymore

~~~~~~~~~~