Tumeric and Cancer
Yon readers will never see The Wise I poo-pooing the health effects of natural herbs. Around here we use freshly grown herbs on a regular basis.
The following came to me via email and here it is.
One thing fresh herbs have over the finest of man-made medicine: THEY WILL NEVER HURT YOU.
From the Scotsman.com:

Spice helps to stop the spread of breast cancer

IAN JOHNSTON
SCIENCE CORRESPONDENT

A MAJOR ingredient of curry powder helps stop the spread of breast cancer, scientists have discovered, in research that could lead to a new way of treating people in the advanced stages of the disease.

Texas-based researchers found that curcumin, the main ingredient of turmeric, inhibits the spread of breast cancer into the lungs and improves the effectiveness of current remedies.

While they stressed that their research - which was carried out in mice - was at an early stage, the lead scientist said he was "excited" about the implications.

Other experts said the "potentially very important" study had led to a significant advance in understanding of the effects of curcumin.

The singer Kylie Minogue, who is being treated for breast cancer, has been drinking smoothies made from a range of fruits, vegetables and spices, including turmeric, in the hope it will help her.

Bharat Aggarwal, professor of cancer medicine at Texas University, said: "We are excited about the study results and the possible implications for taking the findings into the clinic in the next few years.

"At this time, advanced breast cancer is a difficult foe to fight with few proven treatments available after surgery, chemotherapy and radiation therapy."





The study, which was due to be published in today's issue of the journal Clinical Cancer Research, reports that the spice appears to shut down a protein active in the spread of breast cancer.

The non-toxic, natural curcumin repelled progression of the disease to the lungs and also appeared to reverse a "side-effect" of a commonly prescribed chemotherapy whose prolonged use may actually help to spread the disease.

Curcumin breaks down the dose, making the therapy less toxic, but the drug stays just as powerful in fighting cancer.

Researchers studied 60 mice with breast cancer. Among a control group who were not treated, 96 per cent went on to develop visible signs of lung cancer, while treatment with the chemotherapy drug Taxol "modestly reduced" the incidence.

But those given curcumin alone or curcumin plus Taxol had far fewer signs of the disease. Microscopic evidence of lung cancer was found in just 28 per cent of mice given both and there were no visible signs of the disease at all.

Dr Mark Matfield, scientific consultant for the St Andrews-based Association for International Cancer Research, said: "We have known for some time that curcumin has anti-cancer effects, but this study has really advanced our understanding of exactly how this works. The finding that curcumin can decrease the spread of cancer when it is treated with Taxol is really interesting and potentially very important.

"However, as the authors of this study pointed out, these are only preliminary findings. The crucial next stage is to confirm these findings in patients suffering from lung cancer."

Dr Julie Sharp, senior cancer information officer at Cancer Research UK, said: "A number of laboratory studies have suggested that curcumin could be used to treat and even prevent some types of cancer. But, as yet there is no evidence confirming this in humans. These findings will need to be followed up with clinical trials in humans."

Hotly tipped as healthy

CURRIES and other kinds of Indian food have long been suspected of having anti-cancer properties.

The main reason is that, in many parts of the sub-continent, there are much lower rates of several types of cancers affecting the gut.

Curcumin is a member of the ginger family and is extracted from the root of the curcuma longa plant.

It is widely prescribed in Indian medicine for liver disorders, rheumatism, diabetic wounds, a runny nose, coughs and sinusitis.

Traditional Chinese medicine also uses it for abdominal pain.

~~~~~~~~~~
Google Trick
The Moonbats, who have no sort of life, have jimmied around with the Google search engines in such a manner as…well try the following:
| | |
| --- | --- |
| | Type "failure" into Google's search form and hit the "I'm feeling lucky" button. |
~~~~~~~~~~
Couldn't Resist
Came across this and couldn't resist inclusion here for yon fine readers.
For smiles and snorts.
~~~~~~~~~~
More Miscellany posts HERE

Fate
You just can't take either of us anywhere.
No, really. You can't.
We did it once before... in 1982. We thought, "Oh, we'll just look."
We looked. We bought. We learned.
That was our 4x4 tan truck; the 1981 at 22.75% interest. We were young and foolish; in love with each other and in love with that little truck. It's still with us and we've tortured the thing for over twenty years.
Today, we went to "just look" again. We didn't intend to buy.
Honestly.
Both of us had places to be in a relatively short time, and buying takes awhile. So of course we couldn't buy today. There were reasons. Excuses. And buying takes awhile.
About three hours.
We were older and foolish; in love with each other and in love with that truck.
And now we own (us and the bank) our first brand-new vehicle. Our first! With a whopping 59 miles on it... at time of purchase. (There's a few more now.)
Our new baby is a big baby. It's Toyota's full-size truck. The Tundra. Yes, Toyota, and yes, full-size. Comparable to a half-ton in other brands. And oh, is she sweet.
Bells and whistles? She's a concert in motion. Air conditioning, 4 wheel drive, CD player (and cassette!), cruise control, extended cab, and bedliner, just to name a few. We added a couple of things, too, like the bug guard and the "keep it looking good" care package.
Old truck? Still have it. The blue book is past its prime and they wouldn't give us enough to be worth losing it. Used to be, I could say "the car" and mean the Camry, and "the truck" and mean the little 4x4. Guess now I'll have to be a little more specific.
Specs? Gotta ask Harry for those; that type of truck talk isn't my forte. The only part I know is color: A light grey, she changes with the light. Sometimes she looks kinda blue, and sometimes she looks kinda silver. And she always, always looks big.
Michelle, winebird@inreach.com
The Desk Drawer, writer's exercise email list
~~~~~~~~~~
More Guest Writer HERE

How to Impress a Woman:
Wine her,
Dine her,
Call her,
Hug her,
Support her,
Hold her,
Surprise her,
Compliment her,
Smile at her,
Listen to her,
Laugh with her,
Cry with her,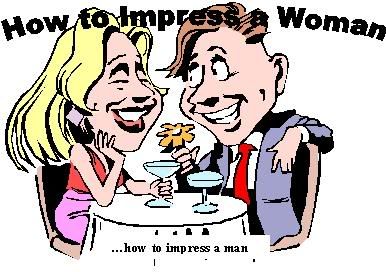 Romance her,
Encourage her,
Believe in her,
Pray with her,
Pray for her,
Cuddle with her,
Shop with her,
Give her jewellery,
Buy her flowers,
Hold her hand,
Write love notes to her,
Tell her that you love her,
Help her around the house,
Go to the end of the Earth and back again for her.
How to Impress a Man:
Show up naked... Bring food... Don't block the TV...
~~~~~~~~~~
More Fish Giggles HERE