USA Today's Big Gaffe
Maybe the night shift booted up Photoshop and altered Condoleeza Rice's eyeballs for a recent picture of her in that McPaper.
Because somebody sure went out of their way to make sure Condi looked like she was a demon possessed. The BEFORE and AFTER pictures are below.
A Powerline reader,Russ Vaughn, was so inspired that he re-wrote the Kim Carnes' song
Bette Davis Eyes
in honor of the USA TODAY Pic.
Heh.
Sing Along!

Carnes's Bette Davis Eyes.

Her hair is so not right,
Her lips just dripping lies,
Her heart is cold as ice,
She's got Condoleezza eyes.
She turns the neocons on,
They think she's white as Rice,
She's pure as Afghan snow,
She's got Condoleezza eyes.

Her eyes'll freeze you,
They'll unease you,
All the better to displease you.
She's ferocious,
And she knows just what it
Takes to make a pol blush.
She loves to hear the liberals cry;
She's got Condoleezza eyes.

She'll let you take her pic;
It whets her appetite.
She'll flay you to the bone,
If you screw up her eyes.
She'll sic the bloggers on you,
Be like white on rice,
Until your rep's in rags,
She's got Condoleezza eyes.

She'll expose you,
When she throws you,
Off your feet like the bum she knows you;
She's ferocious,
And she knows what it takes to make a pol blush;
All the libs think she's a spy,
She's got Condoleezza eyes.
~~~~~~~~~~
What's Going on With Michael Jackson?
Below, Reuters informs us of a couple of strange things. First, Jackson is STILL working on his song to benefit the victims of Hurricane Katrina. Hey Michael, by the time you get this song done it will be NEXT hurricane season.
Next, I must wonder about this bit that Jackson "didn't need as many artists as he originally had planned for". Such wonderings mostly at the notion that not so many artists WANTED to participate in a project with this man who sleeps with little boys.
Finally, the guy's making a record involving many other artists yet he's not even in this country? Why is Michael Jackson staying the hell away from America so much of late?
From Reuters:

Although the song was originally titled "From the Bottom of My Heart," Jackson spokesperson Raymone Bain says the artist will unveil a new name for the track in the coming days.

Bain says that since early this month, Jackson "was in London tweaking the music as well as putting the finishing touches on it before sending it out to various artists" who he wanted to contribute. However, Jackson wound up rewriting the song, and as such, "he didn't need as many artists as he originally had planned for" when it came time to record.

Since a number of the acts were planning on being in Los Angeles this week for BET's 25th anniversary celebration, which took place Wednesday, "he thought it was a good time to do the vocals," Bain says. Although she declined to name specific contributors, sources confirm R&B ingenue Ciara, rapper Snoop Dogg and gospel veteran Shirley Caesar have been on hand at Conway Studios.

Jackson himself is not in Los Angeles and is understood to have participated in the sessions via satellite and phone.
===========
Then I Come Upon This…
Seems Michael's having some problems with the bill collectors.
From Reuters:

The Mayfair Gallery claimed that Jackson took home nearly $380,000 in merchandise in May 2004 -- including a 13-branch candelabra, a French silver bread holder and a silver tea and coffee set -- but paid the store only $200,000.






"We resolved the lawsuit over the weekend. We settled it," Jackson attorney Brent Ayscough said, adding that no money was exchanged, but Jackson returned some of the furniture. An attorney for the gallery confirmed to reporters that the lawsuit had been settled.
~~~~~~~~~~
Ted Nugent Blasts the Osbournes
We rather like Ted Nugent. Mostly because of his public dedication to conservative values. Although I'll allow that he could be doing so for the publicity much the same as Bono and the third-word loans or Madonna's ex-husband saving hurricane victims in a dinghy.
Ted went after Sharon Osbourne and by me, there's one dysfunctional family that has no business on TV. Although hey, to each his own on what they view upon the televisions across the land. But I'd never allow my granddaughter to watch those silly people as if they were somehow normal. Ozzy himself is a mess from a lifetime of substance abuse.
From Femailfirst:
===============
Then We Come Upon This
From the very strange Osbourne daughter. Seems she considers Muppet Miss Piggy one of her role models.
From Femalefirst:
| | |
| --- | --- |
| | She enthuses, "I just adore her. We grew up with The Muppets, and it's always been my ambition to record a song with Miss Piggy. And I love her sense of style." |
~~~~~~~~~~
Omar, Say It Ain't So
I always thought Omar Sharif one of the more handsome men in the movies. He starred in
Doctor Zhivago
, such a romantic and adventurous tale. Now, the guy is in his mid-seventies and still he drinks a little too much.
At such times he tends to punch our parking valets who cross his path. Add to the semi-humor of his run in with the parking valet in California described below, Sharif can be charged with California's silly "hate crime" law as the victim of his anger was a Hispanic.
From IMDB:
| | |
| --- | --- |
| | According to the complaint filed in Los Angeles Superior Court, Sharif had been drinking heavily during his lavish dinner with friends. Speaking yesterday , Anderson's lawyer John Carpenter said, "Today I filed a lawsuit against Omar Sharif, the actor, who violated the California hate crimes statute by assaulting and battering my client and calling him a 'stupid Mexican'." The car park employee is seeking $50,000 in civil penalties as well as damages for his injuries. In 2001 the Doctor Zhivago actor was given a one-month suspended prison sentence for head-butting a police officer in a casino near Paris. |
~~~~~~~~~~
We Forgive the Lawyers, But the Dog?
Courtney Love pretty much has nothing to offer in terms of entertainment. She can't sing. Heck she's so strung out on drugs she can't do much of anything. Her only questionable claim to fame is her marriage to rocker Curt Cobain, who died under mysterious circumstances.
So she stiffs her lawyers and by me this is fine.
But to abandon the dog who has loved her for thirteen years?

Bosses at Seattle, Wash., law firm Hendricks & Lewis claim they helped Love win $7 million in advances on Cobain material in a battle with the Nirvana star's former bandmates Dave Grohl and Krist Novoselic, but haven't been paid.

The lawyers who represented her to obtain the publishing rights claim Love still owes them more than $340,000.

In other Love news, the singer reportedly has failed to collect her pet dog
Lloyd from the vet -- after dropping him off in March.





According to sources, Love took the 13-year-old German Shepherd mix to California's Beverly Hills Small Animal Hospital after he suffered a stroke, and he's still there.

A pal tells Star magazine, "Initially, after the stroke, Lloyd couldn't walk. But now he's able to scamper around with the cutest cocked head. He's absolutely loveable.

"Sadly though, Lloyd's now living in a concrete cage. It's tragic."

~~~~~~~~~~
More Gossip/Speculation HERE

A Liberal Moonbat Idea Headed for Corruption and Disaster
Delaware, DON'T GO THERE.
The Moonbat liberal notion is that nurses, teachers, and police cannot afford to purchase a home in Delaware.
Pshaw!
Although the unionized nurses, teachers, and police vote mainly Democratic so hey, allow developers to build low-priced homes just for those targeted voters.
The article referenced laments that so many middle-class folks cannot afford Delaware homes as so many retirees are moving here and effectively raising the price of houses.
So suppose I am a teacher and manage to get me on of those lost cost houses priced at $100,000? Perhaps a nice little three bedroom rancher, modest but still a fine abode?
What happens when I sell it? Can I sell it for the $300,000 that same house might be worth a year after my initial purchase so cheap due to Delaware politicos mucking around in the capitalistic process where they have no business?
But oh no, the politicos say to these concerns! We will monitor it so that those who purchased one of these lower priced homes cannot make a huge profit on re-sale.
Yeah right.
Everyone out here in la-la land who thinks this program won't be abused and left unmonitored by the bureaucrats who are mediocre at best please raise their hand?
Write it down yon ladies and gems. If Delaware gets involved in this Moonbat idea, based on a silly premise that the elderly are causing the rise in house prices, five years from now I will be doing a Blogging expose on how Nanny Minner and Joe Biden's friends all managed to make huge profits on this boondoggle financed by taxpayer funds and/or inconvenience.
And bullshit a Delaware teacher can't afford a modest home here in Delaware. I am not even gainfully employed and my husband is an associate in a small plumbing business. We are not rich! Yet we can afford, even on only one steady income, our modest but perfectly fine house we purchased for $167,000.
Are we the rich retirees the Moonbat politicians refer to stealing from the gainfully employed in Delaware? Teachers bring in almost $20,000 more a year than husband and I together!
No indeed. This is a recipe for disaster. Biden, Minner and all ye other liberals elected by the Wilmington dead vote, forget this nonsense. Government should stay the hell out of the free market system.
From Delmarvanow.com:

County Council last week conducted what may have been the next-to-last public hearing on its proposal to encourage development of homes that nurses, teachers, police officers and other workers could afford to buy. And while the hearing elicited a number of suggestions for strengthening the proposal, it featured little opposition to one key provision: Developers would be allowed to build more homes than usual if some of their dwellings were offered at steeply discounted prices to middle-income families.

The lower-priced dwellings would help fill a void that has arisen as out-of-state retirees and second-home buyers dominate the county's real estate market. Current prices are so high that many residents can't qualify for mortgage loans.

~~~~~~~~~~
Intriguing Delaware True Crime
I urge yon readers to click on the link below and read the entirety of this true crime taking place right here in the Mildew State.
She allegedly dropped her newborn off at its biological father's house. Boom, just left the baby on the steps. But the child has never been found.
No body was ever found. But Julie Bailey was found guilty of murder, indeed, the kook.
You just don't do this stuff and get away with it.
From Delawareonline.com:

GEORGETOWN -- Julie Bailey, the Seaford woman charged with killing her newborn son by abandoning him on a doorstep in January 2003, was found guilty of murder Friday afternoon.

A Sussex County Superior Court jury reached its verdict shortly before 3 p.m., after deliberating for about seven hours.

It concluded that Bailey had caused the death of the baby by abuse and neglect.


~~~~~~~~~~
DelMarVa Alert-Those Baltimore Harbors
The saga of the Baltimore harbors was widely televised a few weeks ago.
HEH, Moonbat Baltimore Mayor O'Malley had to go and attack Maryland's Governor Ehrlich.
They just can't stand that Maryland is, slowly and surely, turning conservative. As often happens when the liberals run a state into the ground, fill the state bureaucracies with mediocre political hacks, and run businesses and genuine taxpayers out of the state.
Ehrlich is Governor. Look for next GOP senator Michael Steels to hail from Maryland.
From a Maryland GOP email:

Baltimore's tunnels received a potential terrorist threat this week, after an overseas source provided authorities with information of a possible strike on the city. Federal, state and local authorities acted to secure the public's safety, including closing both the Harbor and Fort McHenry tunnels.

But, Mayor Martin O'Malley was more concerned with shamelessly using the opportunity to play his brand of petty politics. Initially he complained he and his staff were unaware of the decision to close the tunnels, yet his police staff was represented throughout the incident, along with federal and state officials. According to a published report in the Baltimore Sun, "Members from various law enforcement agencies, from Baltimore City and Baltimore County and the Maryland State Police, would staff the [Maryland Transportation Authority's tactical operations] center through the night" (Gus G. Sentementes, Josh Mitchell and Lynn Anderson, State, local officials prepared for shutdown, October 19, 2005.)

O'Malley backpeddled the next day: "Mayor Martin O'Malley toned down his statements and suggested yesterday that there had been no major breakdown in communications between state and local officials" (Matthew Dolan, Queries rise on tunnel tipster, Baltimore Sun, October 20, 2005.) Baltimore 's mayor continues to distinguish himself by his whining. His actions suggest he's more concerned with his own image rather than the public's safety. Can he really call himself, as he so likes to do, a national expert on homeland security? Clearly not if he doesn't even know his people were in the room.

~~~~~~~~~~
More Delaware posts HERE
=============================

Come on, This IS Hilarious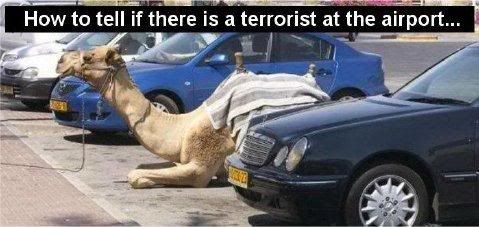 ~~~~~~~~~~
More pics of week HERE