The Moonbat Death Parties
This week the American military death toll reached the magical 2000th mark. Thus the death-loving Moonbats must celebrate.
Ah but the Blogosphere has been exposing these liars for what they are. They say they support the military. They say they love America.
Who can say they support the military when they celebrate their deaths? Who can say they love this country when they revel in the sacrifice of those who made this country great?
They are ashamed, yon ladies and gems. All across the Blogosphere as well as the Moonbat liberal commentators are all defending their actions, alleging they are not "celebrations", that we are mean-spirited for pointing out their glee at the magic 2000 number of deaths in Iraq.
We GOT EYEBALLS, ladies and gems.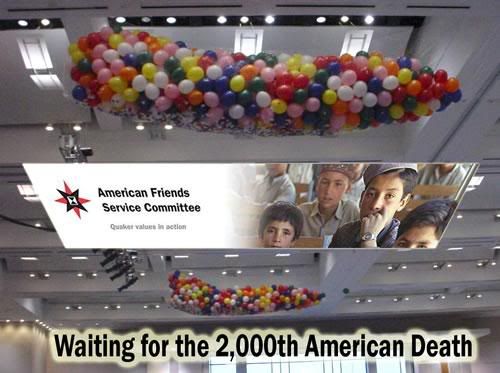 Below, just one example of a scheduled celebration. Below this, links to a few more Moonbat web sites. Just in case yon readers want to join in on the partying.
From Yahoo.com:
| | |
| --- | --- |
| | SILVER SPRING, Md., Oct. 22 /U.S. Newswire/ — Peace Action joins with other anti-war groups in a nationwide day of action around the 2,000th unnecessary death of an American soldier in Iraq. Peace Action affiliates, along with allied anti-war groups and coalition partners, are planning an array of events around this grim milestone. |
American Friends Service Celebrate Death Site
Locations of Death Celebrations
Below, a death celebrator who does protest too much.
No really this blog sucks the big one. Liberals celebrate US war dead?
You have no shame. If we didn't scream about it you cretins wouldnt even pay attention. You sent them there they are dying for your mistakes. They certainly arent dying defending the US. No war but class war, I would never fight and die to line the pockets of you disgusting subhumans. However I would fight and die in a war against you. To paraphrase your pathetic leader: bring it on.

~~~~~~~~~~
Top Ten Colleges for American Values
Came across this list from a Newsmax email. Thought I'd post it here that Kaitlyn Mae's Mom may one day consider the list. I've also provided a closer look to one of the colleges on the list.

1. University of Chicago - With its reputation for academic excellence, the University of Chicago has long been one of America's foremost universities. We're ranking it first because of its emphasis on its core curriculum, which it calls the "Common Core," its rigorous academic standards and its diverse political atmosphere.

Chicago's "Common Core" was designed in the 1930s. Undergraduates spend their first two years taking broad general courses in the humanities, physical sciences, biological sciences and social sciences.

"It's the best school for students who want to spend four years reading serious books and talking to serious people," says John Zmirak, senior editor of "Choosing the Right College." That's because Chicago students are very serious about their studies. "Academics come first ¯ and second, and third," the guide notes.

The political climate at Chicago is diverse and remarkably tolerant, with the op-ed pages of the main student newspaper, the Maroon, open to all points of view. Conservative professors can be found in many departments, and political considerations play less of a role in deciding who gets tenure and who doesn't.

2. Hillsdale College, Hillsdale, Michigan - Hillsdale's motto proclaims that it is "educating for liberty," and its history proves that motto. It was founded in 1844 on principles of nondiscrimination against blacks and women. During World War I, it defied an order from the federal government to racially segregate its Army ROTC unit. Since 1985, Hillsdale has refused federal funding and federally funded loans for its students.

This conservative hotbed offers excellent teachers and a great curriculum. It spawns many of the conservative activists and scholars who wind up on the Beltway thanks to a core curriculum that stresses a "commitment to the Western heritage and to a rigorous liberal arts education."

3. Christendom College, Front Royal, Virginia - This solidly Catholic, profoundly thoughtful liberal arts college was founded in 1977 by laymen who were troubled by the abandonment of classical liberal arts education. The core curriculum goes beyond what many liberal arts colleges require, with six semesters of philosophy in order "to assist the student in using reason to understand the nature of reality and to illumine further the truth of revelation."

Christendom College is highly re­commended for students who are serious about their Catholic faith. Daily mass is an integral, but not mandatory, part of college life. Most faculty members and students would be considered conservative, but there is no lockstep conformity at Christendom. The college, however, does enforce a dress code.

4. Wheaton College, Wheaton, Illinois - The leading Evangelical school in the United States, Wheaton College is a solid bastion of reflective Christian formation and excellent scholarship. Students take courses in each of four learning clusters: faith and reason, society, nature, and literature and the arts. As a result, students graduate with a foundation in the fundamentals of Western culture and history.

Wheaton is no hotbed of political activity, but with an active College Republican club but no College Democrats on campus, the atmosphere is definitely conservative.

5. Thomas Aquinas College, Santa Paula, California - Located at the edge of the Los Padres National forest, this Catholic liberal arts college "is the perfect escape from the outside word ¯ ideal for undertaking the gravitas of Thomas Aquinas," say the editors of "Choosing the Right College."

"It's like being on an intellectual retreat," says one student. There are no majors; students graduate with a bachelor's degree in liberal arts. They study the Great Books, a rigorous curriculum that consists of the writings of some of the greatest thinkers ever. The 146 credit hours required for graduation must include mathematics, philosophy, foreign language, theology, science and music, as well as a senior thesis and seminars on St. Thomas. Many of the 330 men and women who are enrolled are passionate anti-abortion activists, but most students are apolitical.





6. Baylor University, Waco, Texas - This Baptist school, with a solid teaching tradition and a newly beefed-up faculty, is a place where conservative students can get a solid liberal arts education. It has one of the best core curricula of any school. Students are required to follow a structured curriculum and to demonstrate a proficiency in a foreign language. General education requirements make up more than half of a student's course load.

College Democrats and Republicans coexist on the Baylor campus, along with a flourishing chapter of the Young Conservatives of Texas, a popular political group that has chapters on campuses throughout the state.

7. Catholic University of America, Washington, D.C. - Chartered by Pope Leo XIII in 1887, CUA is the foremost Catholic university in the United States, with first-rate minds, excellent resources, a sincere student body and a sense of mission. Students are required to take courses to satisfy requirements in literature, foreign language, math, the natural sciences, and the social and behavioral sciences.

Politics at CUA definitely lean to the right. The College Republicans have hosted, among others, Oliver North, Robert Novak, Ed Meese and Ben Stein. Former Republican National Committee Chairman Ed Gillespie is an alumnus, and former Attorney General John Ashcroft delivered the commencement address in 2002.

8. Grove City College, Grove City, Pennsylvania - Like Hillsdale College, Grove City refuses to accept federal funds and federally funded student loans. Founded in 1876, this excellent, small liberal arts school is loosely affiliated with the Presbyterian Church (USA). Its mission statement declares that the school "seeks to provide liberal and professional education of the highest quality that is within the reach of families with modest means who desire a college that will strengthen their children's spiritual and moral character."

With dedicated teachers, Grove City focuses on undergraduate education, low tuition and small classes ¯ "an overall excellent choice, particularly for Evangelical students," says Zmirak. Students are required to take six courses in the humanities, two in social sciences/international studies, two in quantitative/logical reasoning and two in natural sciences, as well as four semesters of foreign language, which may be satisfied by demonstrating a proficiency in a foreign language.

Most students are apolitical. "Political conflicts at Grove City tend to reflect differences among conservatives, rather than between conservatives and liberals," observes "Choosing the Right College."

9. University of Dallas, Irving, Texas - Founded in 1956 by the Sisters of St. Mary of Namur, UD is full of devoted scholars who are dedicated to teaching. Known for its focus on a rigorous core curriculum ¯ it was the first university to be accredited by the American Academy for Liberal Education, a group that recognizes schools having solid core curricula ¯ UD attracts a serious student body. Many courses use the Great Books, and the university offers a Rome program that immerses students in the culture and faith of that city.

"With high moral and intellectual expectations placed on the students through the core curriculum, one does not find the kind of politically charged 'activism' found at many other universities," observe the editors of "Choosing the Right College." About 70 percent of the students are Catholic, and students and faculty say that non-Catholics are welcome and feel comfortable at the school, which does not emphasize piety. One faculty member says that Dallas attracts "students who are serious about Western tradition but not necessarily serious about Catholicism."

10. Washington and Lee, Lexington, Virginia - W&L is a small, teaching-centered liberal arts college that maintains a strong link with its Southern heritage and traditions. One-time college president Robert E. Lee, now buried in the school's chapel, helped craft W&L's honor code and its genteel customs of civility. Teachers are said to be dedicated, students gracious, and most subjects still taught the way they were 30 years ago ¯ which is good news indeed. What's more, trendy majors such as media studies and gender studies aren't offered.

W&L doesn't have a true core curriculum; required courses take up more than one-third of the credits needed for graduation. Among them are English composition and literature, foreign language, fine arts, history and religion, as well as three courses in science and mathematics. In addition, students are required to take five terms of physical education and pass a swimming proficiency test.

W&L's students have earned a reputation for conservatism ¯ conservative-leaning groups predominate on campus ¯ and most students identify themselves as Republican. "It's a conservative's heaven," says one student, "but liberals still feel comfortable." There is a small but active gay and lesbian group on campus, but that's just about the only organization that could be deemed radical.
~~~~~~~~~~
Time to Get Ready for Christmas
I'll not be making the scented pinecones in the craft below as I have no fireplace. However, yon readers might consider same.
Send me a pic of the finished product.



Scented Pinecones

What You Need:

Try this fireplace-friendly project.

2- x 2-inch pinecones (about 24)
Frankincense powder (1/4 cup, approximately 2 ounces)
Myrrh powder (1/2 cup, approximately 4 ounces)
Gold glitter (1/4 cup)
White crafts glue
Cellophane bags (available from florist or crafts supply store)
Shallow container, such as a shoebox lid
Gold filigree ribbon
Newspapers

Instructions:
1. Prepare the pinecones. Rinse pinecones with water. Lay cones on an old cookie sheet and place in a 300-degree-F. oven for 1 hour. Spread cones out on layers of newspaper and set aside to complete drying. (They'll close tightly when wet and be fully open when dry.)

2. Add scent and glitter. Blend frankincense, myrrh, and glitter in a shallow container. Dab glue on tips of pinecone petals and on bottom of cone. Roll cone in mixture of powder and glitter. Set cones aside to dry.

3. Package for gifts. Put a handful of dried cones in each cellophane bag. Tie bag shut with gold filigree ribbon. Attach a label with a holiday greeting and instructions for using the pinecones.

Directions for use: Remove one or two cones from cellophane wrap and toss onto hot embers. Or set the cones in a dish for a subtly fragrant decoration.

~~~~~~~~~~
Another Google Trick
Last week
I gave a hint on some interesting Google searches
caused by manipulation of the site search features by the Moonbats with no lives.
A reader sent me in this tidbit. First go to Google.com.
FYI: I tried your google trick and guess what comes up when you type in moron, then hit the "I'm Feeling Lucky" button.
Enjoy!
~~~~~~~~~~
More Miscellany posts HERE
==================

Who Chewed Up the Red Ink Pen?
He looks as innocent as blood-stained snow.
~~~~~~~~~~
The Katzenjammer Dogs
My two dogs hate each other and don't tell me not.
At one point, long ago, it was rather cute. The rivalry was viewed with impartial amusement by the humans of the household.
"It's just a normal way of establishing dominance," husband would say after the twentieth time the dachshund chased the Belgian Malinois around the house, biting the bigger dog as she yelped for mercy.
But it's progressed beyond this. Frankly, it's progressed to downright sinister and scary. Like when Cleetus, the dachshund, always lifts his leg and pees on Jo-Ann's (the Malinois) bed on the front porch. Immediately upon entry to the porch he does this.
This behavior gets downright obsessive when Cleetus will sniff the entire backyard just to find the exact spot where Jo-Ann just peed. When he finds the spot, yup, he lifts his leg and pees over her pee.
Pee being a very important thing in a dog's world. Can't have Jo-Ann's pee laying around all unfettered. Or so figures the dachshund.
Which is not to say that Jo-Ann, a bit of a galoot, doesn't have her little acts of treachery. Like that trick with her toy balls.
Jo-Ann has a "swimming pool". Which is really the top of a wheel barrow laid flat on the ground and filled with water during the hotter months. The dachshund hates water and hates to be anywhere near water. Jo-Ann's balls will, if she takes them to her swimming pool and holds them under the water, take on water INSIDE the little squeak hole. Then when the ball is squeezed, it not only squeaks, it squirts a big stream of water.
Which is part of Jo-Ann's diabolical plan. She will then bring the water filled ball to me that I will throw and she may chase. Only Jo-Ann makes sure that Cleetus is standing by my side all innocent like. Thus when I extract the ball from Jo-Ann's mouth, you guessed it, a long stream of water will squirt Cleetus in the face.
She plans it this way, yes she does. For Jo-Ann will never bring you one of her squeaky balls unless she first dunks it in the pool and fills it with water. Cleetus hasn't figured this out yet.
Cleetus has his own diabolical acts. Should Jo-Ann have a cherished bone or chew-flip that Cleetus wants his own handsome self, he does not fight and growl with Jo-Ann over the object. Indeed not. Cleetus knows that Jo-Ann has a short attention span and he knows how to make her jealous. The dachshund will allow Jo-Ann to chew the desired object contentedly. Cleetus will then find ANOTHER cherished object, such as a toy from the toy box. He will then begin to play with the toy as if it were the greatest thing since popcorn.
Jo-Ann, of course, immediately wants the object Cleetus has. Because Jo-Ann doesn't want Cleetus to have anything that makes him happy. She will then drop the bone or chew flip and run towards the happily playing Cleetus. Cleetus will obligingly drop the toy for Jo-Ann and then trots over to obtain the object of his desire that had just been claimed by Jo-Ann. Jo-Ann will play joyously with the toy, thinking she intimidated Cleetus out of his toy. Cleetus then chews the bone of chew flip, also joyously.
They've been together three years and still they hate each other. It used to be funny. Even now, filled with exasperation, it still is amusing at times.
I know a lot of humans like this. Whatever happened to the pure innocence and happiness of the canine?
~~~~~~~~~~
One Very Bad Penguin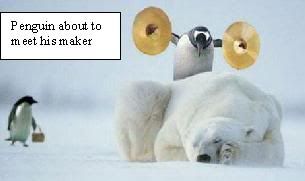 ~~~~~~~~~~
Top five ways to tell if your pooch has taken over the car:
1. Your CD rotation includes Ozzy Osbourne's Bark at the Moon, Elvis Presley's Hound Dog and the Baha Men's Who Let the Dogs Out.

2. Your car no longer has that new-car smell. Instead, it reeks of liver treats.

3. The fuzzy dice dangling from your rearview mirror can double as squeezy toys.

4. You keep a bottle of Windex in the car to wipe the nose smudges off the passenger-side window.

5. The back of your car features not only an "Animal Friendly" specialty license plate but a bumper sticker that reads "My Dog is an Honor Student at Obedience School."
~~~~~~~~~~
More Pampered Pets HERE

Read the Comments. That's The Funny Part
If you yelled for 8 years, 7 months and 6 days you would have produced enough sound energy to heat one cup of coffee.
(Hardly seems worth it.)
~~~~~~~~~~~~~~~~~~~~
If you farted consistently for 6 years and 9 months, enough gas is produced to create the energy of an atomic bomb.
(Now that's more like it!)
~~~~~~~~~~~~~~~~~~~~
The human heart creates enough pressure when it pumps out to the body to squirt blood 30 feet.
(O.M.G.!)
~~~~~~~~~~~~~~~~~~~~
A A pig's orgasm lasts 30 minutes.
(In my next life, I want to be a pig.)
~~~~~~~~~~~~~~~~~~~~
A cockroach will live nine days without its head before it starves to death. (Creepy.)
(I'm still not over the pig.)
~~~~~~~~~~~~~~~~~~~~
Banging your head against a wall uses 150 calories a hour
(Don't try this at home,maybe at work)
~~~~~~~~~~~~~~~~~~~~
The male praying mantis cannot copulate while its head is attached to its body. The female initiates sex by ripping the male's head off.
("Honey, I'm home. What the....?!")
~~~~~~~~~~~~~~~~~~~~
The flea can jump 350 times its body length. It's like a human jumping the length of a football field.
(30 minutes..lucky pig! Can you imagine?)
~~~~~~~~~~~~~~~~~~~~
The catfish has over 27,000 taste buds.
(What could be so tasty on the bottom of a pond?)
~~~~~~~~~~~~~~~~~~~~
Some lions mate over 50 times a day.
(I still want to be a pig in my next life...quality over quantity)
~~~~~~~~~~~~~~~~~~~~
Butterflies taste with their feet.
(Something I always wanted to know.)
~~~~~~~~~~~~~~~~~~~~
The strongest muscle in the body is the tongue.
(Hmmmmmm......)
~~~~~~~~~~~~~~~~~~~~
Right-handed people live, on average, nine years longer than left-handed people.
(If you're ambidextrous, do you split the difference?)
~~~~~~~~~~~~~~~~~~~~
Elephants are the only animals that cannot jump.
(okay, so that would be a good thing)
~~~~~~~~~~~~~~~~~~~~
A cat's urine glows under a black light.
(I wonder who was paid to figure that out?)
~~~~~~~~~~~~~~~~~~~~
An ostrich's eye is bigger than its brain.
(I know some people like that.)
~~~~~~~~~~~~~~~~~~~~
Starfish have no brains
(I know some people like that too.)
~~~~~~~~~~~~~~~~~~~~
Polar bears are left-handed.
(If they switch, they'll live a lot longer)
~~~~~~~~~~~~~~~~~~~~
Humans and dolphins are the only species that have sex for pleasure.
(What about that pig??)
~~~~~~~~~~~~~~~~~~~~
More Fish Giggles HERE
=======================