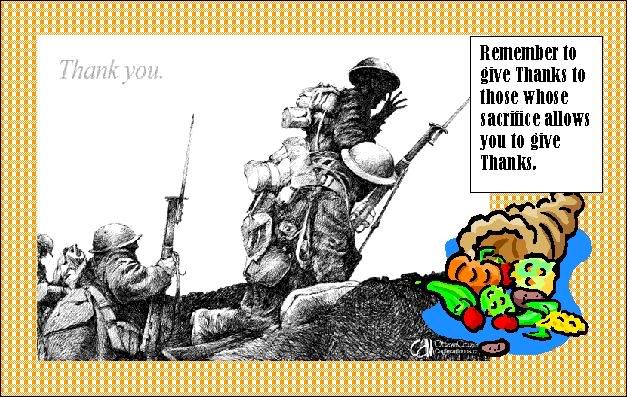 Any Soldier
In time for the holidays, below is information for helping our military. Many of whom will be serving in a hot desert while America celebrates. Heed the following, those who want to make Christmas and New Years a little better for our soldiers.

As the Veterans Day weekend wraps up, a letter-to-the-editor published in today's Nevada Appeal tells about a wonderful program called "Any Soldier" in which all of us across the country can do something a little more substantive than slapping a "I Support Our Troops" bumper sticker on the backs of our cars.

"Anysoldier.com is a Website with a huge database of troop names and units where one may read their messages and choose whomever you would like to adopt," Jessi Winchester notes. "The contact person for each unit has agreed to accept mail and packages for distribution to those in their unit who get little or no mail. Adopting a unit is such a small thing to do and can bring such happiness - especially with the holidays just around the corner.

"Our brave military men and women can't run to the store for items needed to make their lives easier, but we can. They need medicated foot powder, baby wipes (to get the sand off their FACES!), lip balm, hand lotion, toothbrushes, moisturizing soap, body wash, shampoo, room deodorizers (they sleep several to a room in nasty temperatures), Crystal Lite powdered lemonade mix (to mix with their water) Little Debby snack cakes (nothing that will melt), protein or breakfast bars, trail mix, crackers, microwave popcorn, canned tuna (a frequent request), gum, black socks, phone cards, games of any kind, paperback books, magazines (sports, physical fitness, cars), rechargeable batteries (and charger), DVDs (most units try to have a movie night to help the troops forget where they are), post cards to decorate their walls (anything green - no sand!) and remind them of home - and the ultimate luxury ... pillows. Be sure to include your name and return address as many recipients will write back."




Although the website is known as "Any Soldier," once there you can choose to "adopt" a soldier, a Marine, an airman, a sailor or a Coast Guardsman.

Folks, let's make this Veterans Day weekend more than just a three-day holiday. And let's make "support" for our troops something more than a cheap slogan. Do what our family is doing today: Adopting a trooper and heading down to the local drug store to fill up a care package. Just go to www.anysoldier.com for additional information and a list of potential "adoptees."

And, pssssst. Spread the word.
~~~~~~~~~~
In Time for Thanksgiving
Of course, how to carve a turkey.

CARVING A WHOLE TURKEY:

* Let it Sit
Once the bird is removed from the oven, it should stand for 20 to 35 minutes, depending on its size. This gives the juices a chance to soak into the flesh, allowing for succulent cuts of meat. Before you begin carving, have a warm serving platter ready and waiting for all the juicy white and dark meat you'll
soon be slicing and digging into.

* Remove the Legs
Arrange the turkey, breast side up, on a cutting board. Steady the turkey with a carving fork. Using a sharp knife, slice through the meat between the breast and the leg. Next, using a large knife as an aid, press the thigh outward to find the hip joint. Slice down through the joint and remove the leg. Cut between the thigh bone and drumstick bone to divide the leg into one thigh piece and one drumstick.

To carve the drumstick, steady it with a carving fork and cut a thick slice of meat from one side, along the bone. Next, turn the drumstick over so that the cut side faces down. Cut off another thick slice of meat. Repeat, turning the drumstick onto a flat side and cutting off meat, carving a total of four thick
slices.





To slice the thigh, place it flat side down on a cutting board. Steady the thigh with a carving fork. With a knife, cut parallel to the bone and slice off the meat. Be sure to place all the cuts on the warmed serving platter as you work.

* Remove the Wings
Before you carve the breast, the wings must be removed. Slice diagonally down through the edge of the breast toward the wing. Using a knife as an aid, press the wing out to find the shoulder joint; cut through the joint and remove the wing. Place the wing on the serving platter as is.

* Carve the Breast
To carve the breast meat, hold the back of the carving fork against the breastbone. Starting parallel to the breastbone, slice diagonally through the meat. Lift off each slice, holding it between the knife and fork, and place on the warm serving platter. Continue until you have carved all the meat on one side of the breast. Repeat, carving the other side of breast.

Now just enjoy your feast!
~~~~~~~~~~
Is This Neat or What?

Grand Canyon Skywalk
Scheduled to open Jan. 1, 2006 Hualapai Indian Reservation


~~~~~~~~~~
From No Less an Expert Than "Toys R Us"
Toy trends this holiday season.

Toys "R" Us Identifies Top Toy Trends for the 2005 Holiday Season

Five Gift Giving Themes Have Already Emerged for This Holiday Season

WAYNE, N.J., Nov. 8 /PRNewswire/ -- Toys "R" Us has identified five toy categories that have already caught shoppers' attention even before the 2005 holiday season is in full swing. Shoppers, eager to get an early start on their holiday shopping, have gravitated towards some distinct product categories and several trends have emerged, including: entertainment-on-the- go, electronic learning aids, return of the classics, get up and play and music "accessories."


"This holiday season, there's some great innovation and exciting new product introductions that are striking a chord with customers," said John Barbour, president, Toys "R" Us, U.S. "We continue to see an evolution of toys designed for today's tech-savvy kids and the customer response to these items has been fantastic," continued Barbour. "At the same time, many parents remember their own magical experiences with toys and are hoping to introduce their children to some of the true classics."


Below are the five key toy trends that Toys "R" Us has identified for Holiday 2005 along with some of the best product examples within each trend:


Trend #1: Entertainment On-The-Go
The popularity of portable entertainment products is on the rise with kids of all ages. While this category has been evolving over the past few years, it has never been more exciting than this holiday season. One of the most innovative items in this category is Pixel Chix(TM) from Mattel, which combines LCD screen technology with the excitement of 3-D video play. In the Pixel Chix world, a virtual girlfriend lives inside a small 3-D house where kids can interact with her and build relationships.

In addition, an electronic version of the addictive Japanese puzzle game, Sudoku is creating a lot of excitement among game-enthusiasts. The new Handheld Sodoku from Techno Source, perfect while traveling or during dedicated game time, features an LCD touch-screen that allows players to easily place and replace numbers as they zero in on the right combinations. In the growing segment of handheld video gaming units, Game Boy Advance (GBA) Micro from Nintendo helps keep kids occupied on long road trips with the smallest screen yet while utilizing the entire GBA library of more than 700 games. And, Hasbro has introduced VCamNow(TM), a pocket-size digital video camera that lets budding film makers or photographers capture memorable moments by recording a movie or taking still pictures.

Trend #2: Electronic Learning Aids
Parents continue to seek the newest interactive toys that can provide educational value for their children. As technology improves, so does the opportunity to make learning fun. Heading up the list of teaching toys for the young school-age set are the new V.Smile(TM) Pocket Learning System from V-Tech and Leapster L-Max(TM) Learning Game System by LeapFrog. For tweens and early teens, LeapFrog has introduced the FLY(TM) Pentop Computer which acts as a pocket-sized tutor by helping students solve math homework problems, practice spelling lists and translate words from English to Spanish. In addition, LeapFrog, in partnership with Enfora, has introduced TicTalk(TM), the first parent- controlled cell phone with parents and educators in mind. This special cell phone for elementary school-aged children comes loaded with fun learning games that teach over 400 school skills.

Trend #3: Return Of The Classics
Several beloved toys are returning this holiday season, ready to delight a whole new generation of kids -- and kids at heart. Off store shelves since the 1970's, Classic Mystery Date(TM) from Hasbro Games is back challenging players to dress appropriately for their prom, snowboarding or "popular guy" date. The Magic Glow(TM) Doodle Bear(TM) from Play Along is an updated version of the loveable plush toy that combines cuddling and drawing in one. Kids can write messages on the bear with
their magic glow light pen and see them glow in the dark. Cabbage Patch Kids(R) Baby Twins from Play Along are new versions of the beloved Cabbage Patch Kids from the 1980's. And now, for the first time ever, the patient speaks (his mind) in the classic game of Operation(R) from Hasbro Games. Homer Simpson is the patient in this updated version of the game, and players will hear some of Homer's famous phrases as they are challenged to cure his many ailments from a "chip on shoulder" to a "pea brain."

Trend #4: Get Up and Play
A whole new crop of toys are being introduced that inspire children to get up off the couch and play. Among the items designed to promote active play is JoJo's Dance Mat from Pop Rocket, an interactive playmat that encourages pre-schoolers to march, spin and jump. The Bella Dancerella(TM) Cinderella Dance Studio from Spin Master lets young princesses-in-training learn the steps to ten classic dances, with fun excerpts from the Disney classic, Cinderella. Also, kids can become karate masters with the Black Belts(TM) Karate Studio from Spin Master.

This item includes a step-by step training video and inflatable heavy bag that allows children to safely learn karate moves, punches, blocks, stances and kicks. And, for hours of outdoor play, the Nerf(TM) Big Bad Bow from Hasbro helps kids take their archery skills to a whole new level.

Trend #5: Music "Accessories"
In this MP3 player generation, it was only a matter of time before toy manufacturers found a way to marry today's hottest musical "must have" item with some cool new toys. I-Dog(TM) from Hasbro is a palm-sized robot dog that plugs into any music system and plays tunes through a built-in speaker. This loveable pooch loves to listen to music and will wiggle its ears and sway its head along to every beat. iZ(TM) from Zizzle celebrates the fusion of music and toy by allowing owners to plug into any music source and listen to their favorite songs. Plus, music fans can twist iZ's ears to create new rhythms or press his belly to change the beat.

For the car lover and music enthusiast, the new Lincoln Navigator (1:6 Scale RC) with MP3 Player Sound System from Fast Lane is a full function radio control car with detailed street styled interior. It features a real MP3 player built into the vehicle that allows kids to download 30 minutes of their favorite tunes into the car's sound system.

About Toys "R" Us
Toys "R" Us, Inc. is one of the leading specialty toy retailers in the world. It currently sells merchandise through more than 1,500 stores, including 674 toy stores in the U.S. and 633 international toy stores, including licensed and franchise stores as well as through its Internet sites at www.toysrus.com, www.imaginarium.com and www.sportsrus.com. Babies "R" Us, a division of Toys "R" Us, Inc., is the largest baby product specialty store chain in the world and a leader in the juvenile industry, and sells merchandise through 223 stores in the U.S. as well as on the Internet at www.babiesrus.com.

Source: Toys "R" Us, Inc.
~~~~~~~~~~
More Miscellany posts HERE
==================

TV Review: 2005 Country Music Awards
It was a big year for the 3 hour Country Music Awards show, featured on Tuesday evening, 11/15/05, on NBC. For New York, home of sophisticated metrosexuals and Maureen Dowd, who sniff at the notion of the twangy, train wreck, cheating heart, lost love that so typifies this music genre, is hardly the most welcome forum for this music genre.
Myself is no great fan of country music but some of my all time favorite songs are country songs. While I do not normally tune into country radio stations, I was shocked to learn that New York, the biggest radio market in the country, has not one country music station.
For our entertainment, and amusement, NY Mayor Bloomberg donned a spiffy cowboy hat. Though all in fun, he did look a bit silly.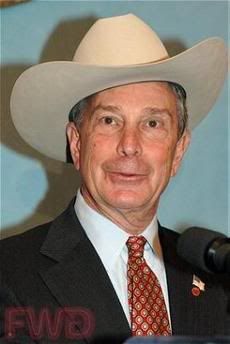 So how was the show?
For a live presentation, it wasn't bad. Lots of stars, lots of songs. Yes, lots of goofs.
I was surprised that Carrie Underwood, the winner of this past year's
American Idol
awards, not only got to perform a song, but she was also a presenter. Carrie does fit the mold of female country singer quite nicely. She's very young, however. What a grand experience the whole thing had to be for her.
Glen Campbell and Alabama were inducted into the Country Music Hall of Fame.
What the hell happened to Alabama?
All I know is the group came up to accept their award as planned. One member of the group got to giggling. Members of the audience would let out a whoop and the musicians would giggle again. I waited, along with the rest of the country, for someone to say SOMETHING. Instead they looked like deer in the headlights. OR musicians stoned on something dare I say it?
It isn't as if this award was a surprise or anything. Shouldn't someone have written something for these guys?
Instead the self-conscious giggling continued and eventually, to my complete surprise, NBC pulled the plug on the embarrassing silence and went off to a commercial.
So here it is, the biggest award of their lifetime, and the country group "Alabama" didn't say a word in response. What a damn shame.
The songs went well although there was some really bad singing. Billy Joel should have practiced more.
The worst song presentation of the night, by me, was the strange duet of Dolly Parton and Elton John.
You read that right. First, whatever the hell Dolly was wearing made her resemble Little Bo Peep with big boobs. All the woman needed was a shepherd's crook, perhaps a sheep or two.
And Elton John? Sure he's a great musician but hardly of the country music genre. That strange duo performed two songs. The second song was so inappropriate as to be laughable. "Imagine" by John Lennon? How on earth is this a country song?
Or were these two trying to insinuate a peace message into a show known for its loyalty of America?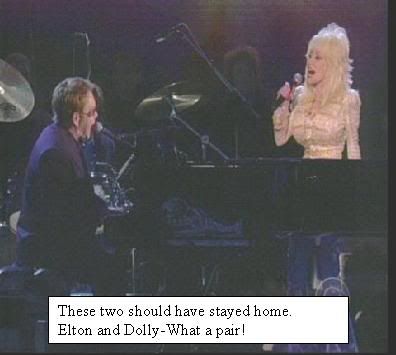 The show lasted three hours, which was about an hour and a half too long. For fans of country music, it was a once a year blessed event and for the most part, everything passed muster.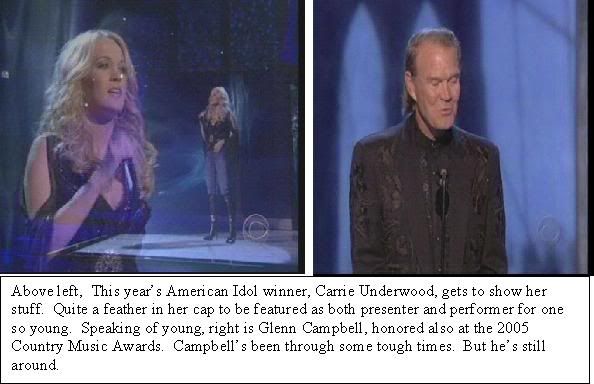 DAILY UPDATE
ENTERTAINER OF THE YEAR

Kenny Chesney
Alan Jackson
Toby Keith
Brad Paisley
Keith Urban-WINNER



SINGLE OF THE YEAR

'Alcohol,' Brad Paisley
'As Good As I Once Was,' Toby Keith
'Baby Girl,' Sugarland
'Bless the Broken Road,' Rascal Flatts
'I May Hate Myself In The Morning,' Lee Ann Womack-WINNER

ALBUM OF THE YEAR
(Award goes to artist and producer)

'Be Here,' Keith Urban
Produced by Dann Huff/Keith Urban
Capitol Records Nashville

'Feels Like Today,' Rascal Flatts
Produced by Mark Bright/Marty Williams/Rascal Flatts
Lyric Street Records

'Live Like You Were Dying,' Tim McGraw
Produced by Tim McGraw/Byron Gallimore/Darran Smith
Curb Records

'Somewhere Down In Texas,' George Strait
Produced by Tony Brown/George Strait
MCA Nashville

'There's More Where That Came From,' Lee Ann Womack
Produced by Byron Gallimore/Greg Droman
MCA Nashville-WINNER



SONG OF THE YEAR
(Award goes to songwriter and primary publisher)

'Alcohol,' Brad Paisley
EMI April/Sea Gayle Music

'As Good As I Once Was,' Toby Keith/Scotty Emerick
Tokeco Tunes/Sony/ATV Songs/Big Yellow Dog Music/Florida Cracker Music

'Bless The Broken Road,' Marcus Hummon/Bobby E. Boyd/Jeff Hanna
Careers-BMG Music/Jeff Diggs Music

'I May Hate Myself In The Morning,' Odie Blackmon
Cal IV Songs

'Redneck Woman,' Gretchen Wilson/John Rich
Sony/ATV Cross Keys/Hoosiermama Music/WB Music Corp

'Whiskey Lullaby,' Bill Anderson/Jon Randall
Sony/ATV/Mr. Bubba Music/Reynsong/Wha Ya Say Music-WINNER


FEMALE VOCALIST OF THE YEAR

Sara Evans
Alison Krauss
Martina McBride
IGretchen Wilson-WINNER
Lee Ann Womack


MALE VOCALIST OF THE YEAR

Kenny Chesney
Alan Jackson
Brad Paisley
George Strait
Keith Urban-WINNER


VOCAL GROUP OF THE YEAR

Alison Krauss + Union Station Featuring Jerry Douglas
Diamond Rio
Lonestar
Rascal Flatts-WINNER
Sugarland


VOCAL DUO OF THE YEAR

Big & Rich
Brooks & Dunn-WINNER
Montgomery Gentry
Van Zant
The Warren Brothers


MUSICAL EVENT OF THE YEAR

George Strait (Duet with Lee Ann Womack)
'Good News, Bad News'
MCA Nashville-WINNER

Willie Nelson with Lee Ann Womack
'I'll Never Be Free'
Lost Highway Records

Brad Paisley/Sara Evans
'New Again'
Wind Up Records

Shania Twain (with Billy Currington)
'Party For Two'
Mercury Records Nashville

Jimmy Buffett with Martina McBride
'Trip Around The Sun'
RCA Records

MUSICIAN OF THE YEAR

Jerry Douglas - Dobro-WINNER
Paul Franklin - Steel Guitar
Dann Huff - Electric Guitar
Brent Mason - Guitar/Electric Guitar
Randy Scruggs - Guitar/Mandolin


MUSIC VIDEO OF THE YEAR
(Award goes to artist and director)

'Alcohol,' Brad Paisley
Directed by Jim Shea

'As Good As I Once Was,' Toby Keith
Directed by Michael Salomon-WINNER

'Days Go By,' Keith Urban
Directed by Wayne Isham

'I May Hate Myself In The Morning,' Lee Ann Womack
Directed by Trey Fanjoy

'When I Think About Cheatin,'' Gretchen Wilson
Directed by Robert Deaton/George J. Flanigen IV

HORIZON AWARD

Dierks Bentley-WINNER
Big & Rich
Miranda Lambert
Julie Roberts
Sugarland
~~~~~~~~~~~~~~~~~~~~~~~~~~~~~~~~~
More TV Reviews HERE
===============

Since All My Dried Herbs Look Like Catnip
Well I thought hanging them to dry in the garage was a good idea. All of it, thyme, oregano, basil, all of it looks like dried catnip. I wouldn't put one speck of it on my food.
So now I know how to do it.

TIP FOR DRYING HERBS:

* Tie herbs into small bunches
* blanch by dipping bunches into boiling water to which a pinch of salt has been added.
* Shake off or towel blot excess water and lay herbs flaton a large baking sheet.
* Preheat oven to 400 degrees
* as soon as oven reaches temperature, turn off and place baking sheet in oven. Keep in oven until completely cooled.
* Remove from oven and crumble dried herbs.
* Store in an airtight container. (You can also recycle old spice containers for this.)
~~~~~~~~~~
A Truly Awful Cake
If you like ooey-gooey affairs that call themselves cakes, this one's for you.
Although, I suggest, someone liked it enough to insert it proudly somewhere along my reading/internet path. Since I baked it, and since I ate only one awful slice, I decided to take a picture and include the recipe on my Blog.

Pecan Pie Cake

1 package - plain yellow cake mix
1/2 cup butter, melted
4 eggs
1 1/2 cup light corn syrup
1/2 cup firmly packed dark brown sugar
1 teaspoon vanilla
2 cups chopped pecans

1. Heat oven to 350 degrees F

2. Place cake mix, melted butter and 1 egg in large bowl. Beat on low speed until well-combined, about 30 seconds.
Measure out 2/3 cup of batter; set aside.Spread remaining batter in bottom of ungreased 13 x 9 x 2 inch baking dish.

3. Bake in 325 oven 15 min or until lightly brown and puffs up. Remove dish and cool for 10 min. Leave oven on.

4. Place reserved 2/3 cup batter, corn syrup, sugar, remaining 3 eggs and vanilla in a large bowl of electric mixer.
Beat on low speed for 1 min. stop machine; scrape down bowl. Beat on medium speed until well combined about 1 min.
Fold in pecans.
Pour pecan mixture on top of warm cake in baking dish.Gently smooth out evenly over cake.

5. Bake in 325 oven for 40-45 min. or until edges are browned but middle is
still soft. Remove and cool 30 min.
Since I took a pic of the cake I decided to include a pic of my excellent spaghetti sauce. Excellent at least by husband's standards. Who requests spaghetti sauce filled with meat. So I used pre-made meatballs, Italian sausage and three pounds of ground beef. It's more of a meat mélange flavored with tomato sauce. But hey, I like it too.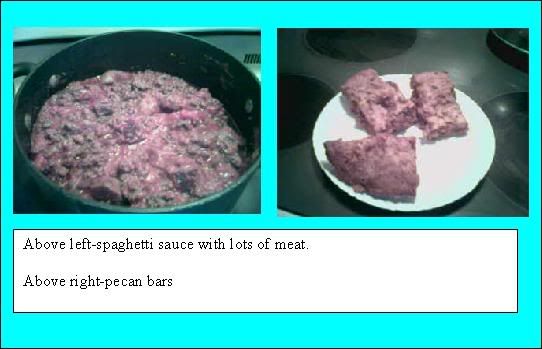 ~~~~~~~~~~
So Here's a Cute Cake
Came upon it in an email cooking group. What a great idea. Not sure I'd eat it though.

CAT LITTER CAKE RECIPECAKE INGREDIENTS

1 box spice or German chocolate cake mix
1 box of white cake mix
1 package white sandwich cookies
1 large package vanilla instant pudding mix
A few drops green food coloring
12 small Tootsie Rolls or equivalent

SERVING "DISHES AND UTENSILS"

1 NEW cat-litter box
1 NEW cat-litter box liner
1 NEW pooper scooper

Prepare and bake cake mixes, according to directions, in any size pan. Prepare pudding and chill. Crumble cookies in small batches in blender or food processor. Add a few drops of green food coloring to 1 cup of cookie crumbs. Mix with a fork or shake in a jar. Set aside.When cakes are at room temperature, crumble them into a large bowl. Toss with half of the remaining cookie crumbs and enough pudding to make the mixture moist but not soggy. Place liner in litter box and pour in mixture.





Unwrap 3 Tootsie Rolls and heat in a microwave until soft and pliable. Shape the blunt ends into slightly curved points. Repeat with three more rolls. Bury the rolls decoratively in the cake mixture. Sprinkle remaining white cookie crumbs over the mixture, then scatter green crumbs lightly over top.

Heat 5 more Tootsie Rolls until almost melted. Scrape them on top of the cake and sprinkle with crumbs from the litter box. Heat the remaining Tootsie Roll until pliable and hang it over the edge of the box. Place box on a sheet of newspaper and serve with scooper. Enjoy!
~~~~~~~~~~
MORE COOKING/HOME ARTS HERE