Link to the House of Representatives Story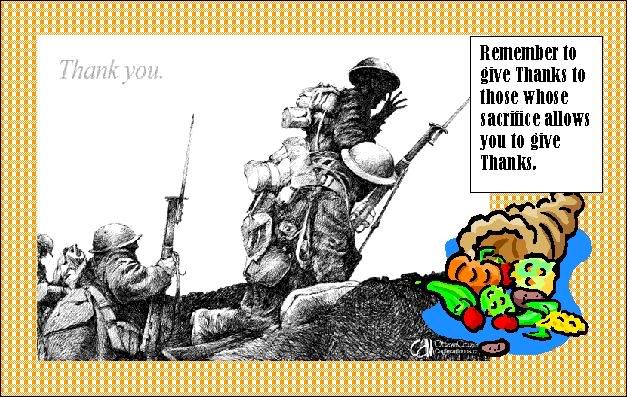 Daily Update: Day- Wednesday Date-11/23/05
-Boston Red Sox Trading On Up
...the Babe curse now gone, Boston cruises to Florida for some new players
-John Kerry invents new verb:"swiftboating"
...the Swiftboat vets create verb in response:"kerrying"
-What's with the CNN X-ing out Dick Cheney's face?
...says it was a "technical" glitch



Today's Auxiliary Blog Post
...Because there's more to life than politics.


Auxiliary Blog Post
======================
Just in time for tomorrow, this Miscellany post includes instructions on how to carve a turkey.

And wow, check out the new Grand Canyon walkway scheduled to open in 2006. Neato!
~~~~~~~~~~~~~~~~~~~~
Here's a TV review on the Country Music Awards last week.

With some great pics, especially that one with Dolly dressed as Little Bo Peep.
~~~~~~~~~~~~~~~~~~~~
Since tomorrow's Thanksgiving, here's a Cooking post.

Including a recipe for a truly awful cake, how to dry herbs and spaghetti sauce with nothing but meat.

Oh, you got to see this "kitty litter" cake recipe.
~~~~~~~~~~~~~~~~~~~~
CLICK HERE FOR "TODAY'S AUXILIARY BLOG POST
~~~~~~~~~~
Day- Wednesday Date- 11/23/05
"X"-ing Out Dick Cheney
Well it's been pooh-poohed all over the place. I might well be the only Blogger save a few even mentioning the incident.
Although it was reported over at Drudge.
Because on Monday, 11/21/05, as Vice-President Dick Cheney was giving his speech, somehow CNN managed to insert big "X's" over his face.
CNN responds by saying, well essentially it was a technical glitch.
A technical glitch that occurred only during the Cheney speech. Not during the Biden speech which followed. Not before the Cheney speech. Not after the Cheney speech.
I am reminded of USA Today and the famous "Condoleeza" demon eyes.
~~~~~~~~~~
The Verb "To Kerry"-To Say Things About Others That Are Not True
....usually for the benefit of your own wise self.
Came upon this Op-Ed by John O'Neill
and he took umbrage at John Kerry's recent speech during which Kerry said he didn't want to see John Murtha "swift-boated". O'Neill is leader of the "Swiftboat Vets" group that challenged Kerry's Vietnam service this past 2004 campaign.
You're absolutely right, Mr. O'Neill. That was a low blow and this humble Grandmother Blogger quite enjoys your new verb. Because by Kerry referring to his new verb, "swiftboating", he is once again degrading the service of those Vietnam "swiftboat" veterans, just like he did when he testified before congress about atrocities being committed in Vietnam. Atrocities that never happened. So this group of veterans comes forward during this last election and tells the truth about John Kerry, only to be vilified by the Kerry campaign and now Kerry wants to create a new and degrading verb to vilify these men forever.
It's a low blow for Kerry to use the verb "swiftboating" as if it means "to lie" about someone. Those Swiftboat vets presented a lot of evidence this past campaign and goodness knows I remember Kerry's testimony my own self, back when I was a young Liberal and believed all those lies.
Kerry had no right to do that and the Conservative Blogosphere should help point out just what the hell Kerry's doing here. Because if Kerry gets to keep spouting his new verb without challenge it will shred forever the good name of those Swiftboat vets.
| | |
| --- | --- |
| | To us, Mr. Kerry's comments meant that no one should do to Mr. Murtha that which Mr. Kerry did to all of us and our fellow Vietnam veterans, living and dead. Mr. Kerry's disgraceful comments on many occasions in 1971 (while we were locked in combat), claiming falsely that we were "murdering" hundreds of thousands of Vietnamese and committing rape and mayhem on a daily basis, are a part of the public record for which he has never apologized. This might be called "Kerrying" our soldiers. |
~~~~~~~~~~
Boston Red Sox Trading On Up
The Red Sox win a series and now they're out and about buying a series team that will keep the Red Sox a contender for many years to come. At least that's speculation based on the
latest scuttlebutt from ESPN.
| | |
| --- | --- |
| | The Red Sox and cost-cutting Marlins have come to a tentative agreement on a trade that would send Beckett, the MVP of Florida's 2003 World Series win over the Yankees, and three-time All-Star third baseman Mike Lowell to Boston for highly touted shortstop Hanley Ramirez, right-handed prospect Anibal Sanchez and a minor-league pitcher. |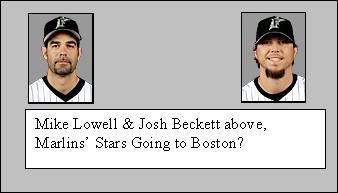 ~~~~~~~~~~
Links to this month's Daily Updates
W/E 11/6/05
W/E 11/13/05
W/E 11/2005
~~~~~~~~~~
CLICK HERE FOR "TODAY'S AUXILIARY BLOG POST




TV Events of Note


Anger Management (2003)

FOX: Wednesday, November 23 8:00 PM
2003, PG-13, **1/2, 01:46, Color, English, United States,

A meek businessman (Adam Sandler) clashes with an aggressive therapist (Jack Nicholson) after being ordered to undergo 20 hours of counseling.

Cast: Adam Sandler, Jack Nicholson, Marisa Tomei, Luis Guzman, Allen Covert, Lynne Thigpen, Kurt Fuller, Jonathan Loughran, Krista Allen, January Jones, Woody Harrelson, John Turturro Director(s): Peter Segal Producer(s): Jack Giarraputo, Barry Bernardi Executive Producer(s): Adam Sandler, Allen Covert, Tim Herlihy, Todd Garner, John Jacobs
Kenny Chesney: Somewhere in the Sun

ABC: Wednesday, November 23 8:00 PM
Music special

The singer performs new and old songs; a glimpse backstage and with the performer in the Caribbean.
~~~~~~~~~~
================================
Daily Update: Day-Tuesday Date-11/22/05
-Vice-President Dick Cheney delivers smashing speech
...hard to dispute one word. Link to full text and condensed version provided.
-Senator Biden, (D-Del), hints that Dems have strategy against Alito
...we're thinking Roe versus Wade not resonating as they hoped.



Today's Auxiliary Blog Post
...Because there's more to life than politics.


Auxiliary Blog Post
======================
Check out this editorial folks, cause it's clever and, well it's true.

It's the truth the administration can't quite tell the American people.

With PICTURES of Saddam's Weapons of Mass Destruction...on this Blog only.
~~~~~~~~~~~~~~~~~~~~
It took a while but I found another female confessed Conservative and you've got to read her witty article on how she became a "starch" conservative.

You read it right. Now read the article.
~~~~~~~~~~~~~~~~~~~~
There's so many comments this week I simply could not copy them all.

But I provided a link to comments on the President's speech.

Also, more on Martha's Apprentice and a comment from my namesake.

She hates me!
~~~~~~~~~~~~~~~~~~~~
CLICK HERE FOR "TODAY'S AUXILIARY BLOG POST
~~~~~~~~~~
Day- Tuesday Date-11/22/05
Cheney's Speech 11/21/05
I heard Vice-President Dick Cheney's speech on 11/21/05, with my own lying ears.
Folks, the administration's still fighting back. Some would consider it small joy after the weeks of battering and shrillness from the Moonbats and those with Selective Memory Syndrome. By me, Cheney's remarks were fair and yes there are people who do not like fairness. These would be people who can only win by cheating: small children who want to win the next Monopoly game, adolescents who dream of a sports career, adults who want to get the job over the next guy. All examples of those who might cheat if given a chance and if desperate enough. Oh. And Democrats who lost the last election and want to get their way anyway. They might cheat too.
In a younger and more naïve time I would never thought such a thing possible. Indeed one of my better strategies to obtain customer satisfaction across the merchant realm is to appeal to our human innate sense of fairness.
Indeed our entire culture is based on a sense of fairness, to include every board game designed, our sports and our personal interactions. Every day we who carry this country on our backs must negotiate purchases and prices, ascertain if the teacher was right or wrong, decide if little Johnny is lying, debate tonight's use of the wide-screen TV. The games and sports events are based on pre-defined rules on which everyone must agree beforehand. Parents make important decisions based on their personal history combined with the love they have for their children. The courts across the land wrestle with judicial issues and juries decide life or death. All based on a broad sense of fairness inculcated into our culture.
It might be a broad assumption, but as Americans we generally agree that you don't get to vote one way earlier then claim "unfair" later. Criminals who confess are rarely found "not guilty", even if they recant their confession later.
I hope the administration continues to firmly restate their case and continue to demand fairness as well. For too long it seemed that demanding fairness is somehow shameful, as if we would play a game of poker and knowingly allow our opponent five or six extra aces.
We understand fairness out here in la-la land is what I'm saying. We understand the constant vigil to keep the opponent from cheating, even if the opponents are our own children who cheat through lies and deception.
We are not surprised or disdainful at a proud attempt to state your case and demand fairness. We expect the same every day as we live our lawful lives.
Below, an especially pertinent paragraph from Cheney's speech.

Some of the most irresponsible comments have come from politicians who actually voted in favor of authorizing the use of force against Saddam Hussein. These are elected officials who had access to the intelligence materials. They are known to have a high opinion of their own analytical capabilities. (Laughter.) And they were free to reach their own judgments based upon the evidence. They concluded, as the President and I had concluded, and as the previous administration had concluded, that Saddam Hussein was a threat. Available intelligence indicated that the dictator of Iraq had weapons of mass destruction, and this judgment was shared by the intelligence agencies of many other nations, according to the bipartisan Silberman-Robb Commission. All of us understood, as well, that for more than a decade, the U.N. Security Council had demanded that Saddam Hussein make a full accounting of his weapons programs. The burden of proof was entirely on the dictator of Iraq -- not on the U.N. or the United States or anyone else. And he repeatedly refused to comply throughout the course of the decade.

Full Text of Speech
"Their only chance for victory is for us to walk away from the fight." Vice-President, Dick Cheney, referring to the terrorist enemy, 11/21/05
Below, the condensed version of VP Cheney's speech:
~~~~~~~~~~
Biden (D-Del) Throws Hint Across the Bow
Senator Joseph Biden got the nod from the DNC to go out and about this past Sunday, 11/20/05, and pass the word. For they culled and they mined and they employed key search words. Yet for all the verbiage collected and/or distributed about Supreme Court nominee Judge Alito, it would seem they found something, however small.
Which leads The Wise I to conclude that their Roe versus Wade shibboleth is not as effective as it once was. I may be a humble Grandma Blogger here, but I am a woman and I've been a woman all my life. I was there when Roe versus Wade came down and indeed cheered that horrible decision in my youthful naiveté as the final freedom for enslaved females such as myself.
Abortion is not the big deal it once was.
Insert common sense here. Birth control today is extremely safe and simple. Sexually transmitted diseases have encouraged the use of condoms. In short, surprise pregnancies are simply not all that common any more.
Of course some women use abortion as a form of birth control. Of course again abortion has been abused, with babies ripped up until the day of birth from the womb, a needle inserted into their brains the death instrument. Formerly liberated females such as myself gasp in shock as abortions are considered for babies of an undesirable sex or to reduce the number of babies- in the case of a multiple birth- in utero that we do not have to shop at Walmart the rest of our lives.
We American women who carry this country on our backs don't necessarily want to see Roe versus Wade overturned. We sure are not happy with how it's all turned out and it will not be the sacred cow the Democrats and their big contributors, the lesbians at the National Organization of Women want it to be.
His exact words, according to
Lycos.com
, were:
| | |
| --- | --- |
| | "If he really believes that reapportionment is a questionable decision -- that is, the idea of Baker vs. Carr, one man, one vote -- then clearly, clearly, you'll find a lot of people, including me, willing to do whatever they can to keep him off the court. We don't know that. We have to hear it," Biden said. "That would include a filibuster if need be." |
I did hear this from mine own fine senator, himself from a state that gets 2% representation in the Senate while Delaware's population comprises 1/3% of the total population of the country. I also did a little investigation into what Biden hints might be a big enough thing to bring out the F-word. That would be "Filibuster", a silly notion that does not even apply to Supreme Court nominees only the Democrats-who do tend to make their own rules on the fly-managed to use it to block legitimate Supreme court nominees by the lawfully elected President. The recent "gang of 14", a cabal of alleged "moderate" senators, agreed that filibusters would not be used except for "exceptional circumstances".
Heh. If the Democrats think this arcane notion of reapportionment-in short the Warren court's decision to have courts become part of how local districts are apportioned to avoid giving greater power to rural districts over heavily populated urban ones-is going to be the exceptional circumstance that resonates with the American people, they should think again.
Sure, with some study and to those with no life to research such things, there was some sense in the Warren decision. The local legislatures, which are elected by the very districts they create, shouldn't be the ones designing the things. The Warren court decided the courts should be in charge of such things. Judge Alito disagreed with that decision, known as the "one-man, one-vote" rule. Alito- who's never denied his ingrained belief that the fewer unelected judges decide the better our individual freedoms will be protected- felt that the courts should keep out of local issues such as districting.
Democrats love sound bites and short ones really appeal. The Wise I suggests the Democrats plan to go out and shout from the cable news rooftops that Judge Alito is against the "one man, one vote" ruling although that's not the case at all.
Americans, hey they're not going to get all bent over this. Such as apportionment of districts is the stuff of congress critters. We're too busy out here in la-la land carrying this country on our backs to get knee-deep in this minutia.
We shall see if the idea of bandying about their cute sound bytes works. Will Americans spring straight up from their beds in mid of night, concerned and scared that in this day and age, one man, one Judge among nine- and even then at the top of a judicial system that allows for a pyramid of prior decisions- will suddenly take away their right to vote?
I think not.
They must really think we're dumb.
~~~~~~~~~~
Murtha's Somalia Strategy
Vietnam was bad but in the annals of United States' military defeats the horror of Mogadishu has to be the worst. Dead U.S. soldiers were dragged through the streets of Mogadishu in Somalia. The shameful event was filmed that the disgrace would be witnessed world wide.
President Clinton immediately pulled troops out of Somalia and I'm betting that same President needed legitimacy for the pullout.
Since Rep. Murtha (D-PA) was considered the premier expert in the House on all matters military, and since Murtha's brother's lobbying company got plenty of defense contracts from the Clinton administration, well it was a quid pro quo.
A President who cared about the image of America would have sent in reinforcements and beat those Islamofacist terrorists out of the bushes and achieved a victory for those soldiers who died and were humiliated.
It's always about THEM. It's about THEM and their relative's businesses and their co-congress critters' relatives.
Clinton was having entirely too good a time during his tenure at the nation's helm, both in this country's Oval Office with Monica as well as providing on-the-job training for Hillary, to be bothered with such nastiness as winning a war.
From Newsmax.com:

"Our welcome has been worn out," Rep Murtha told NBC's "Today" show in Sept. 1993, after the Mogadishu battle cost the lives of 18 U.S. Rangers.

The Pennsylvania Democrat announced that President Clinton had been "listening to our suggestions. And I think you'll see him move those troops out very quickly."

Two weeks later, Murtha visited U.S. forces in Somalia - and upon his return he proclaimed to the world that the Mogadishu defeat had a devastating impact on the Rangers' morale.

"They're subdued compared to normal morale of elite forces," Murtha said. "Obviously, it was a very difficult battle. A lot of Somalis were killed, but it was a brutal battle."

Murtha said the U.S. had to no choice but to pull out now, explaining, "There's no military solution. Some of them will tell you [that] to get [warlord Mohamed Farrah] Aidid is the solution. I don't agree with that."
~~~~~~~~~~
Links to this month's Daily Updates
W/E 11/6/05
W/E 11/13/05
W/E 11/2005
~~~~~~~~~~
CLICK HERE FOR "TODAY'S AUXILIARY BLOG POST




TV Events of Note


2005 American Music Awards
ABC: Tuesday, November 22 8:00 PM
Music special, Awards

Cedric the Entertainer hosts the event at Shrine Auditorium in Los Angeles; scheduled performers include the Rolling Stones, Mariah Carey, Kenny Chesney, Sheryl Crow, Hilary Duff, Lindsay Lohan, Rob Thomas, Bow Wow, Cyndi Lauper and Sarah McLachlan.

Director(s): Jeff Margolis Producer(s): Larry Klein Executive Producer(s): Allen Shapiro
~~~~~~~~~~
================================
Daily Update: Day- Monday Date- 11/21/05
We expect the Plamegate thing to heat up in the next week or so. To that end, I went snooping around and discovered, as reported by the Communist Manifesto known as a San Francisco newspaper, that 16 former CIA analysts wrote Bush a letter all about the CIA leak.
Thought you might enjoy the little somethings I found out about these "former" CIA analysts.



Today's Auxiliary Blog Post
...Because there's more to life than politics.


Auxiliary Blog Post
======================
Here's the Week Just Passed and it was a doozy.

We had teenage murder in the heart of Pennsylvania Dutch country, Senate shenanigans, Confessed female suicide bombers.

Oh, and a midnight Rocky Horror Show in the House of Representatives that had me going three bags of popcorn.
~~~~~~~~~~~~~~~~~~~~
Check out this week's Notable/Quotables.

We've got Australia's message to Islamofacists, Rockefeller, and the definition of "Bush Derangement Syndrome"
~~~~~~~~~~~~~~~~~~~~
Here's the Web Site of the Week. It's a review of "right-wing" web sites.

Every one of them listed and analyzed are among my faves.
~~~~~~~~~~~~~~~~~~~~

CLICK HERE FOR "TODAY'S AUXILIARY BLOG POST
~~~~~~~~~~
Day- Monday Date- 11/21/05
Look for Plamegate to Rev Up Again
Just when we thought it was safe to go back in the water, Bob Woodward, yes he of Watergate fame, comes out of the woodwork and alleges that he knew the identity and CIA status of the sleazy Joe Wilson's wife, Natasha, er, Valerie, Plame.
Causing Chris Matthews to cry. For this admission lays suspicion to the Libby indictment. IF Woodward knew about it way before Joe Wilson ever wrote his anti-American op-ed, and Woodward claims Libby was NOT his source, then how could Libby be guilty of the first revelation?
In my travels I came upon
this article from SFGate
about this case and decided to do a little snooping.
Bearing in mind that San Francisco is no longer part of the United States of America, at least in terms of ideal logy and loyalty, I got curious when I saw that bit about 16 former intelligence officers.
First, I wonder, why are they "former" intelligence officers? Could be that they were fired? Porter Goss has been appointed top gun at the CIA, a viper's nest full of moles.

Also on Thursday, 16 former intelligence officers released a letter they wrote to Bush early in the week asking for a pledge to not pardon anyone involved in the leak and to pull security clearances of anyone at the White House who spoke to reporters about the CIA status of Wilson's wife.

One of the letter's authors, former CIA analyst Larry Johnson, said the pledge on security clearances "definitely ... would apply to Woodward's source."

Johnson noted that Bush ordered everyone in the administration to cooperate with Fitzgerald nearly two years ago. "Clearly, there's someone at a senior level who hasn't fully cooperated," he said.
I also note the quote from this Johnson fellow, bolded above. So Larry Johnson is also a "former" CIA analyst and of course he has no water he's carrying.
With but a quick search of Google, well my, my. Seems this Johnson fellow is quite well known in Moonbat circles.
From the Democratic Underground
no less, we get this from the Larry Johnson. Who essentially, read his tripe, accuses Bush of ignoring his warnings about the 9/11 in NY soon to come.
Now the San Francisco papers quote this Moonbat as if an expert?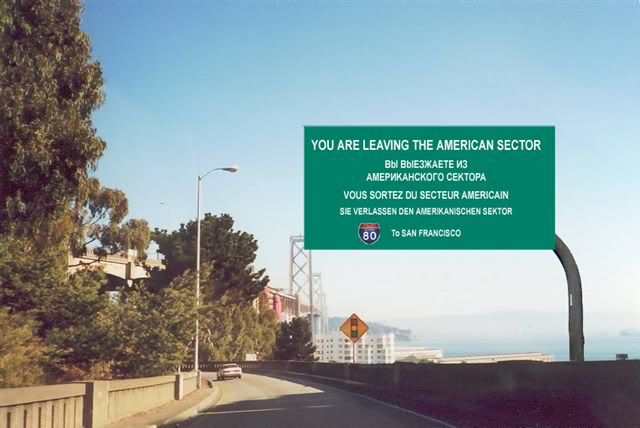 JOHNSON versus PRESIDENT BUSH

by Larry C Johnson

July 25, 2005

With the rightwing smear machine gearing up to try to draw attention from the treasonous behavior of prominent White House officials who participated in the outting of CIA undercover officer, Valerie Plame, it is time to look back and determine who was right on Iraq? Me or the President?

The rightwing is resurrecting an op-ed I wrote in July 2001. I stand by the full article. It is still relevant today. I am accused, incorrectly, of ignoring the threat of terrorism. In fact, I correctly noted that the real threat emanated from Bin Laden and Islamic extremism.

President Bush, for his part, ignored the CIA warning in August of 2001 that Al Qaeda was posed to strike inside the United States.

Reprinted below is the article I wrote in January 2003. My key warning is contained in the second paragraph. I wrote, "In fact there is a serious risk that a U.S. led war against Iraq may crystallize the diffused anger in the Arab and Muslim world -- a heretofore unattained goal of bin Laden and his followers -- and persuade more Muslim youths to take up the terrorist banner against American and her citizens."
Well I thought my whole investigation was really cool. Not that I thought for a minute San Francisco would report the truth or anything.
Welcome to any new Freepers tuning in today. Check out my auxiliary Blog posts, because, heh, there's more to life than just politics.
~~~~~~~~~~
Links to this month's Daily Updates
W/E 11/6/05
W/E 11/13/05
W/E 11/2005
~~~~~~~~~~
CLICK HERE FOR "TODAY'S AUXILIARY BLOG POST




TV Events of Note


NFL Football

ABC: Monday, November 21 9:00 PM
Sports event, Football

Minnesota Vikings at Green Bay Packers
==============
Guide to Holiday Entertainment
TVGC: Monday, November 21 10:00 PM
Special

A look at what the world of entertainment has to offer this holiday season.

~~~~~~~~~~
==================================