To Be Published on Monday 1/2/06-Tune In!

Bob Novak Leaving CNN
We rather like Bob Novak in a fashion. Certainly his involvement in the Plame scandal intrigues. We also were watching CNN on the day that Novak walked off the set. Well who wouldn't walk off the set as one can only take so much James Carville.
Novak will, to no one's surprise, be a contributor on Fox News Channel.



NEW YORK, Dec. 16, 2005 (AP Online delivered by Newstex) -- Commentator Robert Novak, who hasn't been seen on CNN since swearing and storming off the set in August, will leave the network after 25 years and join Fox News Channel as a contributor next month.

Novak, 74, said Friday he probably would have left CNN anyway when his contract expired this month even if it hadn't been for the incident.

The suspension actually served to eliminate a delicate problem for CNN, which had received some criticism for keeping the political columnist on the air with his involvement in the CIA leak case.
~~~~~~~~~~
The Judge Is the Most Pathetic Here
What on earth was that judge thinking when he granted a restraining order to a kookie David Letterman fan? This because the crazy lady alleged Letterman was "thinking of her" and using code words to convince her to marry him.
So she gets a restraining order to keep Letterman away from her.
Oooookay.
And some wacko judge GRANTS THE RESTRAINING ORDER!
What a waste of court time and resources.

From Yahoo:

Letterman Lawyers Fight Restraining Order
Wednesday December 21 12:28 PM ET

Attorneys for television talk show host David Letterman want a judge to quash a
restraining order granted to a Santa Fe woman who contends the celebrity used
code words to show that he wanted to marry her and train her as his co-host.

A state judge granted a temporary restraining order to Colleen Nestler, who alleged in a request filed last Thursday that Letterman has forced her to go bankrupt and caused her "mental cruelty" and "sleep deprivation" since May 1994.

Nestler requested that Letterman, who tapes his show in New York, stay at least three yards away and not "think of me, and release me from his mental harassment
and hammering."

Attorneys for Letterman, in a motion filed Tuesday, contend the order is without merit and asked state District Judge Daniel Sanchez to quash it.

"Celebrities deserve protection of their reputation and legal rights when the occasional fan becomes dangerous or deluded," Albuquerque attorney Pat Rogers wrote in the motion.
~~~~~~~~~~
Bono? Gates Couple Named Time "People of Year"
Had Jennifer Aniston just showed her boobs she would have gotten the nod.
Heh.
So okay, Gates and wife, maybe. Michelle Malkin does an
excellent analysis
on the hypocrisy of naming Bill Gates, founder of Microsoft, and his wife, people of the year. In that Time never gave Gates any credit for founding only the greatest software company on the planet.
AND BONO! Go to hell. This guy doesn't have a thing going for him save a wacky mission to absolve African thugs and despots of their debt. Debt they wouldn't have if they would allow their people to properly farm the land and engage in commerce.
Here's an article written by my own wise self about the time
Bono forgot his hat.
~~~~~~~~~~
Driver ticketed in carpool lane cites fetus as passenger
This has been tried before and the case is not likely a winner.
What's especially notable in this story is the fact that, according to the article, the statute doesn't define a "person". On the surface it might seem a simple thing.
Legislators shouldn't be passing laws unless they do their job.
Oddly, this case might have ramifications on the whole abortion issue.

From Azcentral.com:

Sarah Muench and Geri Koeppel
The Arizona Republic
Dec. 14, 2005 01:55 PM

A pregnant Ahwatukee Foothills woman ticketed for driving in a carpool lane will take her case to court in January, when she'll argue that her unborn child counts as a passenger.

Candace Dickinson, 23, hopes to overturn her penalty and prove her point that even though her child was still in the womb while she was driving on Interstate 10 on Nov. 8 in Ahwatukee Foothills, it still counted as a second person.

Frank Valenzuela, spokesman for the Arizona Department of Public Safety, said a vehicle can't occupy the high-occupancy vehicle lane unless two or more persons are in it. The statute doesn't define what a "person" is.
~~~~~~~~~~
Arlo Guthrie Raises Money for New Orleans
Two things here. First Guthrie has that wonderful song about New Orleans…"I've gone five hundred miles till the day is done…". He's perfect for the task as Arlo himself envisioned in the quote below.
Second, notice Guthrie didn't rent a canoe, hire some cameramen and go out in search of publicity in the flood waters of that city. Like someone named Bono.
We'll see if Guthrie is next year's Time Person of the Year.


From Powerline:

Arlo placed the idea for the tour in context as we sat and talked just before the entourage's performance at the Canopy Club in Champaign, Ill., Saturday afternoon.

"We saw this disaster unfold in New Orleans, on a level that probably hadn't been seen since the Dust Bowl era, ...and I wanted to do something that would actually help, not just get caught up in the bureaucracy of support. Then I noticed a little scroll coming across the TV screen that noted that Amtrak was resuming service of The City of New Orleans to New Orleans -- and I had an idea.



"Maybe we could ride the train down from Chicago and target some help for the kind of musician that my father was -- playing for tips, playing for beer, in the little clubs, the bars, the street corners. If we can get some instruments into their hands, get the soundboards back into the clubs, microphones into churches and schools and the other places where the music is learned, give the city its voice -- we'd also get more people back into the city to listen to music."

~~~~~~~~~~
More Gossip/Speculation HERE
=============

To End 2005
A pic and a cartoon.
Happy New Year!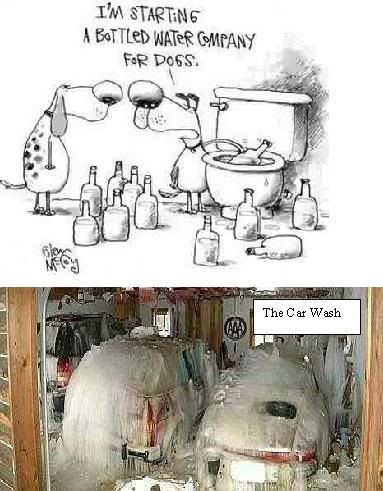 ~~~~~~~~~~
More pics of week HERE
=============