Dancing With the Stars-Round 2
The "Stars" finished round 2 on 1/12/06. This ten-week contest premiered on Thursday, 1/5/06, with ten stars and their dancing partners/trainers.
As I reported
on my first review,
the first couple eliminated were Kenny Mayne and his partner.
This week, to my complete surprise, Tatum O'Neal and her partner were eliminated. The surprise was because I was suspicious that Tatum would continue on through the contest as she is one of the bigger named "stars" of the competition. In my first review I lamented that Tatum received a way higher score than I thought she was entitled. During this round 2, Tatum was given a score of 17/30 compared to her prior score of 23/30. My dancing impaired self thought she didn't do such a good job last round but this week the judges didn't think she did such a good job either.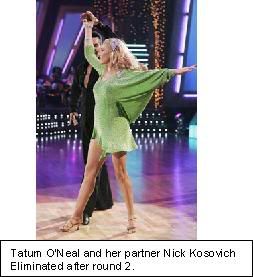 There was evidently some discord between Tatum and her partner. In one segment she stated that the arguments between the partners tended to make her perform and work even harder. Later, when the judges awarded the very low scores and noted her "legs were not in sync with your body", Tatum then declared that the fighting between her and her partner likely caused the low score.
Evidently the audience didn't like Tatum's performance as the judging is split 50-50 between the judges and audience call-in votes.
Now on to the remaining eight and my comments forthwith:
George Hamilton
-Evidently the perennially youthful Hamilton has some sort of bum knee as he mentions it frequently. Hamilton and his partner's performance was clever in that the song "Putting on My Top Hat" was accompanied by George in top hat and tails.
Hamilton and his partner did a handsome quick step no mind George's knee. There was a lot of somewhat confusing choreography in the routine including some cha-cha and amusing tap dancing. In fact the judges commented that their routine could have included more quick step.
George and his partner received 22 points out of 30.
Lisa Rinna
Lisa and her partner performed a rumba, a dance described as "sex while dancing". Lisa wore a very skimpy outfit that went well with her sensual performance. Rinna and her partner scored 20 points out of 30.
A commenter last week asked about Lisa's lips. I took note this week and can only ask the same thing: What is it with the lips?
Drew Lachey
-Drew is a singer with the rock group "98 Degrees". Scuttlebutt has it that he was not such a great singer and that group was not such a great singing group. Lachey is, however, a very good dancer and looks to be heading to the finals in this competition.
This round 2 Drew and his partner performed a fetching quick step, a dance that fit Lachey's smooth footwork like a glove. He seems very light and agile on his feet, almost a natural. The judges, however, noted a stumble during the routine that I didn't see.
Drew and his partner scored a 27 out of 30.
Tia Carriere
-Tia and her partner performed a rumba that I considered rather mediocre. They received a 22 out of 30 points.
P. Miller-Master P
-This rap singer would seem, upon first glance, as one star dancer doomed from the start. He's a big fellow and insists on wearing huge clunky shoes that are hardly amenable to smooth dancing footwork. Miller declares he will not give up his "lucky" shoes although during round 1 and round 2, his dancing was less than stellar. Wearing that cap with the bill backwards looks more street smart than dance glamorous.
And yet Master P has survived two rounds of eliminations even though he had the lowest score in both rounds. This week Master P and his partner scored a 16 out of 30.
Giselle Fernandez
- Giselle is an "award winning journalist", a questionable star status. She and her partner performed a rumba with some very complicated footwork. Judge Bruno, the tough judge, described the routine as "sexy, smooth, with difficult turns".
Giselle and her partner scored a 24 out of 30.
Jerry Rice
-I like Jerry Rice and would like to see him come out on top somewhere in this contest. He's a football player and if nothing else I've learned that football does require some deft footwork that translates well in a dancing milieu.
Rice and his partner performed a quick stop complete with a slow dramatic start to a grand crescendo that was quite pleasant to watch. I thought I saw Jerry and his partner out of sync for one brief moment but they recovered nicely.
Jerry and his partner scored a 23 out of 30.
Stacy Keibler
-Stacy's Bio reads:
Stacy Keibler
PROFESSION:
Professional Wrestler

PARTNER:
Tony Dovolani

BACKGROUND:
Growing up in Baltimore, Maryland, Stacy naturally gravitated towards physical activity. From the time she was three years old, Stacy was taking ballet, jazz and tap. The taste for the spotlight while dancing soon spurred an interest in modeling and acting. Prior to entering the world of wrestling, Stacy worked as a model and actress as well as a physical therapist technician and a Baltimore Ravens cheerleader.
Yes, you read correctly. Stacy is a wrestler and forget any image conjured up by females in that profession, Stacy is beautiful and has a smashing figure. I also like that she's from my beloved Baltimore.
Stacy and her partner performed a sexy rumba the judges termed "impeccable" and the "dance of the night". Her score was an impressive 29 out of 30.
I'm not ready to predict the top three yet but I suggest watching Drew Lachey, Stacy Keibler, and Jerry Rice.
~~~~~~~~~~~~~~~~~~~~~~~~~~~~~~~~~
More TV Reviews HERE
===============

What is Life Without Email?

An unemployed man goes to apply for a job with Microsoft as a janitor. The manager there arranges for him to take an aptitude test (Section: Floors, sweeping and cleaning).

After the test, the manager says, "You will be employed at minimum wage, $5.15 an hour. Let me have your e-mail address, so that I can send you a form to complete and tell you where to report for work on your first day."

Taken aback, the man protests that he has neither a computer nor an e-mail address. To this the Microsoft manager replies, "Well then, that means that you virtually don't exist and can therefore hardly expect to be employed."

Stunned, the man leaves. Not knowing where to turn and having only $10 in his wallet, he decides to buy a 25 LB flat of tomatoes at the supermarket.

Within less than 2 hours, he sells all the tomatoes individually at 100% profit. Repeating the process several times more that day,he ends up with almost $100 before going to sleep that night.

And thus it dawns on him that he could quite easily make a living selling tomatoes. Getting up early every day and going to bed late, he multiplies his profits quickly.





After a short time he acquires a cart to transport several dozen boxes of tomatoes, only to have to trade it in again so that he can buy a pickup truck to support his expanding business. By the end of the second year, he is the owner of a fleet of pickup trucks and manages a staff of a hundred former unemployed people, all selling tomatoes.

Planning for the future of his wife and children, he decides to buy some life insurance. Consulting with an insurance adviser, he picks an insurance plan to fit his new circumstances. At the end of the telephone conversation, the adviser asks him for his e-mail address in order to send the final documents electronically.

When the man replies that he has no e-mail, the adviser is stunned, "What! You don't have e-mail? How on earth have you managed to amass such wealth without the Internet, e-mail and e-commerce? Just imagine where you would be now, if only you had been connected to the Internet from the very start!"

After a moment of thought, the tomato millionaire replied, "Why, of course! I would be a floor cleaner at Microsoft!"
~~~~~~~~~~
More Fish Giggles HERE
=======================

Sleeping in a Shoe and the NEW 2006 Hooters Calendar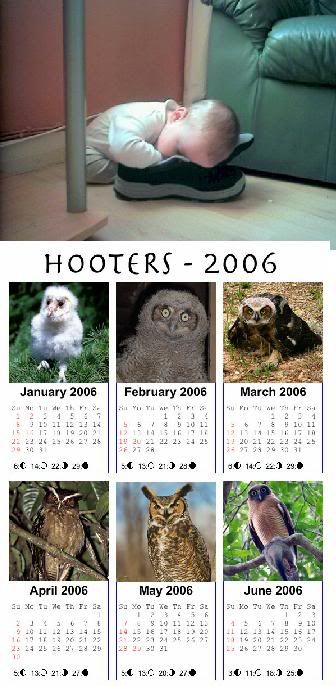 ~~~~~~~~~~
More pics of week HERE
=============